Sake 101 - Vine Connections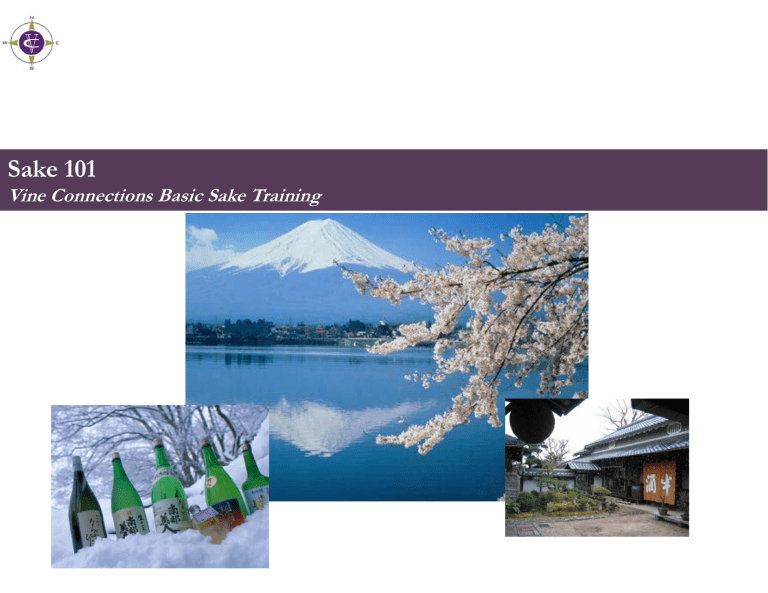 Sake 101
Vine Connections Basic Sake Training
Sake 101
Basic Sake Training
Vine Connections' sake portfolio consists of 13 top-quality, premium brands representing some of the best artisan, family-run brewers in Japan.
Each brand's Japanese prefecture (like an American county or region) is in parentheses.
Sake 101
Basic Sake Training
Water is 1 of the 4 key ingredients for making
junmai
(pure rice) sake. In its final bottled form, sake is about 80% water, so water composition and quality has a huge impact on the flavor and texture of sake.
Traditional, small brewers are always located near a great water source such as pure, deep wells, underground streams and other sources naturally purified by filtration through nearby mountains over hundreds of years.
Sake 101
Basic Sake Training
Sake rice is different than the rice you eat. Premium sake varietals, like Yamada Nishiki, have higher concentrations of starch than other varieties. The starch is also concentrated in the center of the kernel.
This rice is very expensive to grow, must be harvested by hand, and is prone to being knocked over and ruined by the annual typhoons.
Sake 101
Basic Sake Training
Premium sake rice varieties are built like a hard-boiled egg where the "yolk" is pure starch and the "white" is fats, proteins, and amino acids. To get the cleanest fermentation (converting starch
ÆsugarÆalcohol),
brewers use modern milling machines to slowly remove the outer layers of non-starch elements, leaving just the
shinpaku
or "white heart" of starch.
Sake 101
Basic Sake Training
Here you can see table rice at the top and premium sake rice milled at two different grade levels.
Notice the table rice is grayishyellow because the starch, fats, and proteins are all mixed together. When premium sake rice grows, the starch clusters in the middle of the kernel, so with careful milling, they can remove elements that create unwanted flavors and aromas in the brewing process. The higher the ratio of starch to other elements, the better the sake can be.
Sake 101
Basic Sake Training
The Vine Connections portfolio is focused on super-premium grades of
junmai
sake.
Junmai
sake has no distilled alcohol added to it—it is naturally brewed.
The grade level is at the heart of sake quality. Grade levels are achieved by reaching minimum milling rates
(amounts milled away). The more the rice is milled, the closer you get to having kernels with pure starch and the more likely you are to have more fragrant and complex sake. However, the more you mill, the less rice is left over to ferment and thus the higherpriced the sake is.
Sake 101
Basic Sake Training
The white powder, or
nuka
, that is left on the rice after milling is washed away. The rice is then quickly soaked to attain a specific water content.
Sake 101
Basic Sake Training
The degree to which the rice has been milled in the previous step determines what its presteaming water content should be.
The more a rice has been polished, the faster it absorbs water and the shorter the soaking time.
Sake 101
Basic Sake Training
The rice is then steamed in large
koshikis
(vats). This forced steam gives the rice a firm consistency on the outside surface and creates a softer, moist center.
Sake 101
Basic Sake Training
Processes such as transporting steamed rice are done by hand by artisan brewers. The more gently the rice is handled, the better the resulting quality.
Larger brewers or brewers making lower-quality sake will blow rice from the steamer through plastic tubes to the next stage of the process. Less labor intensive, but it results in lower quality.
Sake 101
Basic Sake Training
Once the rice leaves the steamer, it needs to cool quickly (they're not trying to cook it!). Ed lends a hand in this rigorous process.
Sake 101
Basic Sake Training
Now that the rice is milled and steamed, there needs to be a way to start the starch-tosugar (saccharification) process so that the yeast can convert the sugar into alcohol.
Brewers use a common mold spore, called
Koji
mold, and carefully sprinkle it onto the cooled, steamed rice.
The mold spores release enzymes as they seek out the moist center of each kernel, and these enzymes quickly break down the starch molecules into sugar.
Sake 101
Basic Sake Training
"Industrial" sake brewers use a fully automated brewing process, but for higher grades of sake,
koji
is carefully made by hand and is divided up into small trays, or
koji-buta
.
The smaller mass helps ensure uniformity of moisture and temperature which are important for proper enzymatic development.
Sake 101
Basic Sake Training
The
koji
spores do their work over a period of about 48 hours. The trays must be attended to every few hours over these two days so that the rice can be reshuffled to make sure there is uniform temperature and moisture in each tray.
Sake 101
Basic Sake Training
Completed koji (the koji mold and rice combination) looks like rice grains with a slight frosting on them and smells faintly of sweet chestnuts.
Koji is used at least four times throughout the process, and is always made fresh and used immediately.
Sake 101
Basic Sake Training
The yeast starter, or
moto
, is then created by mixing the finished koji, more steamed rice, water, and a high concentration of pure yeast cells.
Over the next two weeks, (typically) a concentration of 100 million yeast cells is developed in just one teaspoon of liquid!
Sake 101
Basic Sake Training
More koji, steamed rice, and water are added in three successive stages over four days, roughly doubling the size of the batch each time.
The mash is often mixed with large poles to ensure consistency of temperature and to keep fermentation flowing well.
Sake 101
Basic Sake Training
In the fermenting
moromi
, carbon dioxide foam will rise in great swaths and settle down again.
Simple jury-rigged machines like this foam beater are often used.
Sake 101
Basic Sake Training
This is the main mash, or
moromi
.
Artisan brewers ferment at low temperatures to preserve delicate aromas and flavors. While
"industrial" brewers can finish a batch in as few as 18 days, artisan brews take up to 32 days.
Temperature and other factors are constantly measured and adjusted to create precisely the flavor profile being sought.
Sake 101
Basic Sake Training
When the alcoholic fermentation is complete, the sake is pressed, or passed through a series of mesh panels to keep the rice solids behind and allow the clear sake to run through. This is most often done by machine.
The older, traditional pressing unit pictured here is known as a
fune.
It does a less efficient job of separating rice lees and sake, but often leads to better quality.
When sake is pressed using the
fune,
the
moromi
is first poured into long cotton bags either manually or with the help of more modern machinery. The bags are then placed into the
fune
and the lid is cranked down into the box, squeezing out the sake.
Sake 101
Basic Sake Training
An even more extravagant way to press sake involves hanging the cotton bags filled with
moromi
and just letting the sake drip out under its own weight—this sake is called
shizuku
or "drip-pressed"
This is traditionally done only for
Junmai Daiginjo grade (only .5% of all sake produced in Japan). This ultra-gentle pressing method ensures that the delicate, refined, ethereal character of the sake is preserved.
Sake 101
Basic Sake Training
If you want to go all the way to the extreme like
Takasago does for its
Ginga
Shizuku
"Divine Droplets" sake, you build an igloo every year outside the main
kura
or brewery building.
This igloo is used strictly for the drip-pressing step of the process. The igloo ensures that no unwanted airborne material (like bacteria or yeast) that usually inhabit the brewery get into the slowly dripping sake.
Sake 101
Basic Sake Training
Drip, drip, drip, drip,…
Sake 101
Basic Sake Training
Ed & Nick enjoy a little happy hour "Hokkaidostyle" inside the igloo.
Sake 101
Basic Sake Training
Careful, gentle pasteurization is often done after bottling by placing the bottles in warm water until the temperature reaches 140
F, and then is quickly cooled. This can be done prior to bottling as well using a heat exchanger that quickly pasteurizes the sake without affecting its quality.
Sake 101
Basic Sake Training
Kanpai! You're now ready to enjoy the "Drink of the
Gods"!!
Sake 101
Basic Sake Training
Premium Japanese sake pairs perfectly with a variety of different foods – not just sushi!
It's great with raw seafood like oysters, for sure, but just about any fish or seafood preparation will match up perfectly with
ginjo
sake. Crab cakes, seared ahi tuna, scallops, and poached or grilled salmon beg for the more subtle flavors of sake vs. white wine.
Pork, beef & chicken? Why not!
The Japanese eat a lot of meat these days and they wash it down with fuller-bodied and fullerflavored sake.
The perfect cheese course wine?
Experts in the field suggest
Japanese sake over both red or white wines!
Sake 101
Basic Sake Training
Vine Connections was the first importer to develop a sake back label that clearly outlines the important facts for describing or learning about each sake.
Brand – Product Name
Grade – Flavor Profile
Origin – Rice Variety Used
Tidbit (relevant story or fact)
The bottle graph shows the
% of each grade of sake produced in Japan, and the darkened cap shows which grade this particular sake is in.
Oh yeah—all of our sake have front labels with English names too!
* Your assessment is very important for improving the work of artificial intelligence, which forms the content of this project