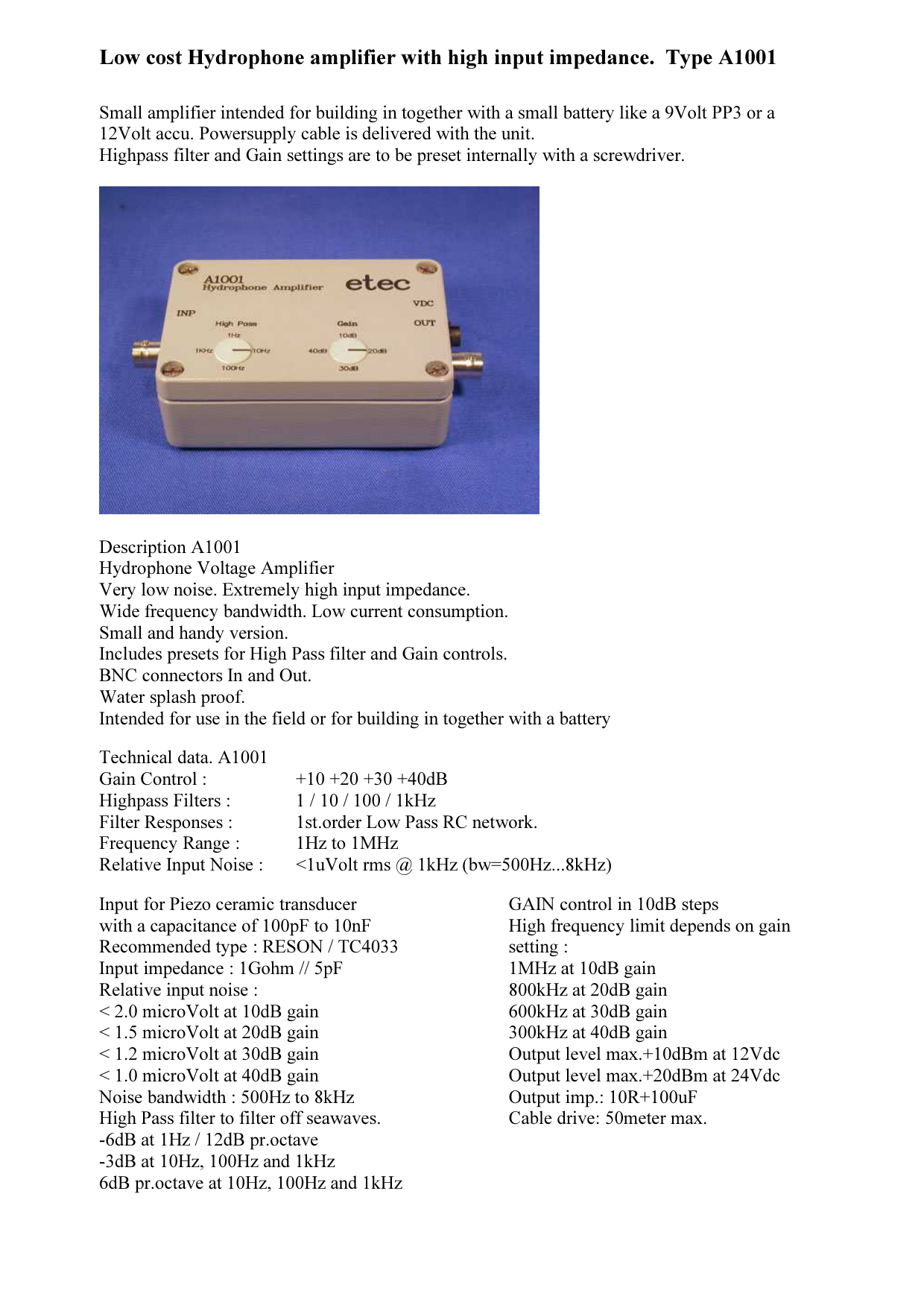 Low cost Hydrophone amplifier with high input impedance. Type A1001
Small amplifier intended for building in together with a small battery like a 9Volt PP3 or a
12Volt accu. Powersupply cable is delivered with the unit.
Highpass filter and Gain settings are to be preset internally with a screwdriver.
Description A1001
Hydrophone Voltage Amplifier
Very low noise. Extremely high input impedance.
Wide frequency bandwidth. Low current consumption.
Small and handy version.
Includes presets for High Pass filter and Gain controls.
BNC connectors In and Out.
Water splash proof.
Intended for use in the field or for building in together with a battery
Technical data. A1001
Gain Control :
Highpass Filters :
Filter Responses :
Frequency Range :
Relative Input Noise :
+10 +20 +30 +40dB
1 / 10 / 100 / 1kHz
1st.order Low Pass RC network.
1Hz to 1MHz
<1uVolt rms @ 1kHz (bw=500Hz...8kHz)
Input for Piezo ceramic transducer
with a capacitance of 100pF to 10nF
Recommended type : RESON / TC4033
Input impedance : 1Gohm // 5pF
Relative input noise :
< 2.0 microVolt at 10dB gain
< 1.5 microVolt at 20dB gain
< 1.2 microVolt at 30dB gain
< 1.0 microVolt at 40dB gain
Noise bandwidth : 500Hz to 8kHz
High Pass filter to filter off seawaves.
-6dB at 1Hz / 12dB pr.octave
-3dB at 10Hz, 100Hz and 1kHz
6dB pr.octave at 10Hz, 100Hz and 1kHz
GAIN control in 10dB steps
High frequency limit depends on gain
setting :
1MHz at 10dB gain
800kHz at 20dB gain
600kHz at 30dB gain
300kHz at 40dB gain
Output level max.+10dBm at 12Vdc
Output level max.+20dBm at 24Vdc
Output imp.: 10R+100uF
Cable drive: 50meter max.

* Your assessment is very important for improving the work of artificial intelligence, which forms the content of this project