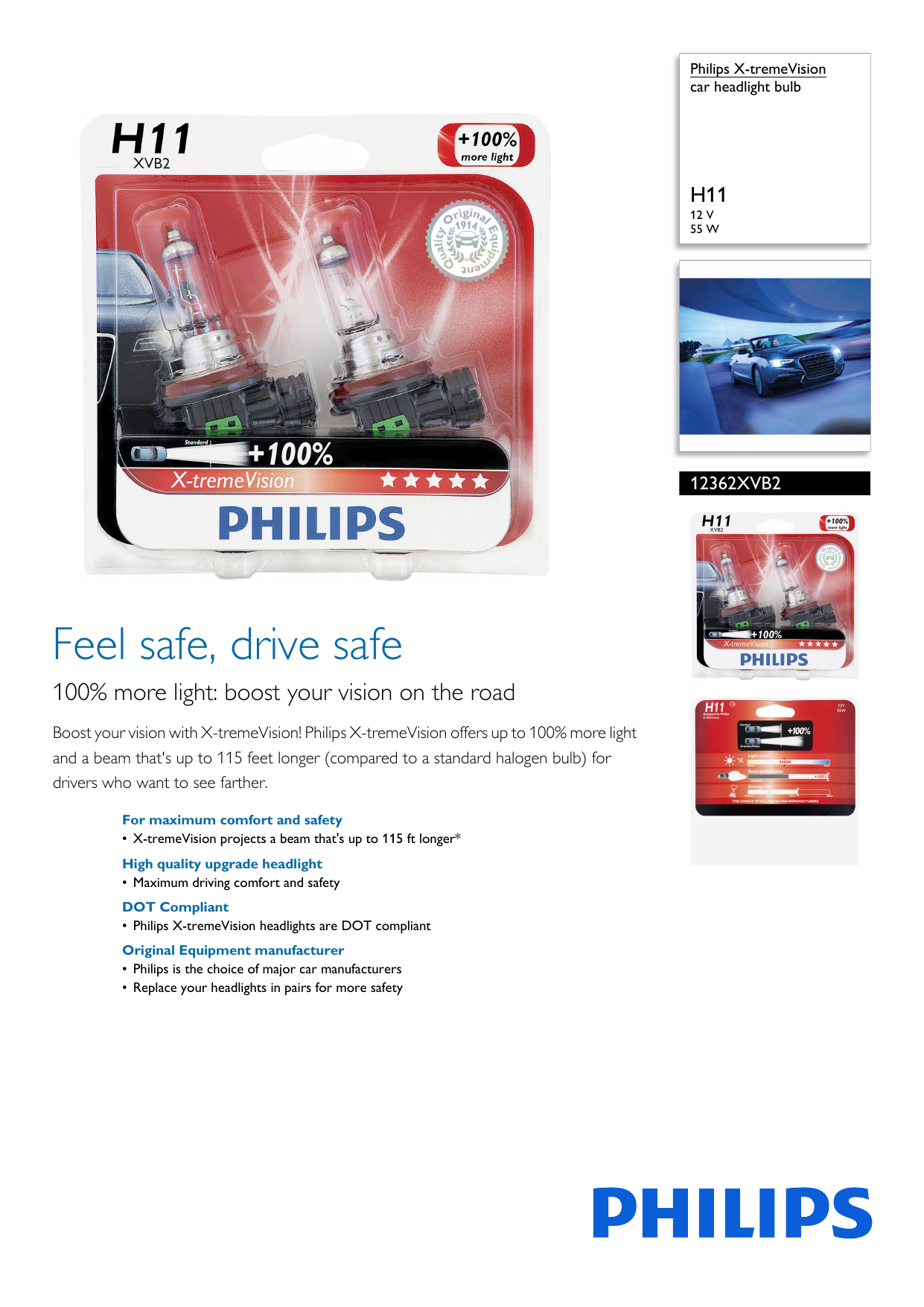 Philips X-tremeVision
car headlight bulb
H11
12 V
55 W
12362XVB2
Feel safe, drive safe
100% more light: boost your vision on the road
Boost your vision with X-tremeVision! Philips X-tremeVision offers up to 100% more light
and a beam that's up to 115 feet longer (compared to a standard halogen bulb) for
drivers who want to see farther.
For maximum comfort and safety
• X-tremeVision projects a beam that's up to 115 ft longer*
High quality upgrade headlight
• Maximum driving comfort and safety
DOT Compliant
• Philips X-tremeVision headlights are DOT compliant
Original Equipment manufacturer
• Philips is the choice of major car manufacturers
• Replace your headlights in pairs for more safety
12362XVB2
car headlight bulb
H11 12 V, 55 W
Highlights
Up to 100% more light
Specifications
DOT compliant
DOT/ SAE and ECE certification and homologation
Car manufacturer choice
Electrical characteristics
• Voltage: 12 V
• Wattage: 55 W
Lifetime
• Life time: 300+ hrs
Product description
•
•
•
•
•
•
Based on a unique filament design and optimized
geometry, X-tremeVision is engineered with stateof-the-art technology for ultimate performance and
bright, white light where it matters the most.* than a
standard halogen headlight
Application: Low beam, Front fog
Technology: Halogen
Base: PGJ19-2
DOT Compliant
Range: X-tremeVision
Type: H11
Marketing specifications
High quality and visibility
For 100 years, Philips has been at the forefront of the
automotive lighting industry, introducing
technological innovations that have become standard
on modern automobiles. Today, one in two cars in
Europe and one in three worldwide is equipped with
Philips lighting.
Replace in pairs
• Expected benefits: More light
• Product highlight: 100% more light
• Product type: Headlights
Light characteristics
• Color temperature: 3400 K
Ordering information
• Order entry: 12362XVB2
• Ordering code: 77717358
Packaging Data
• EAN1: 046677717353
• Packaging type: Twin pack
•
X-tremeVision provides you with a better reactivity
thanks to an earlier recognition of obstacles and
traffic signs. Light is a fundamental part of the driving
experience and light is the first and only part of the
safety circle that actually helps prevent accidents.
Philips promotes active safety protection to prevent
accidents by increasing overall visibility and road
illumination.
It is highly recommended to replace your headlights
in pairs for symmetric light performance.

* Your assessment is very important for improving the work of artificial intelligence, which forms the content of this project