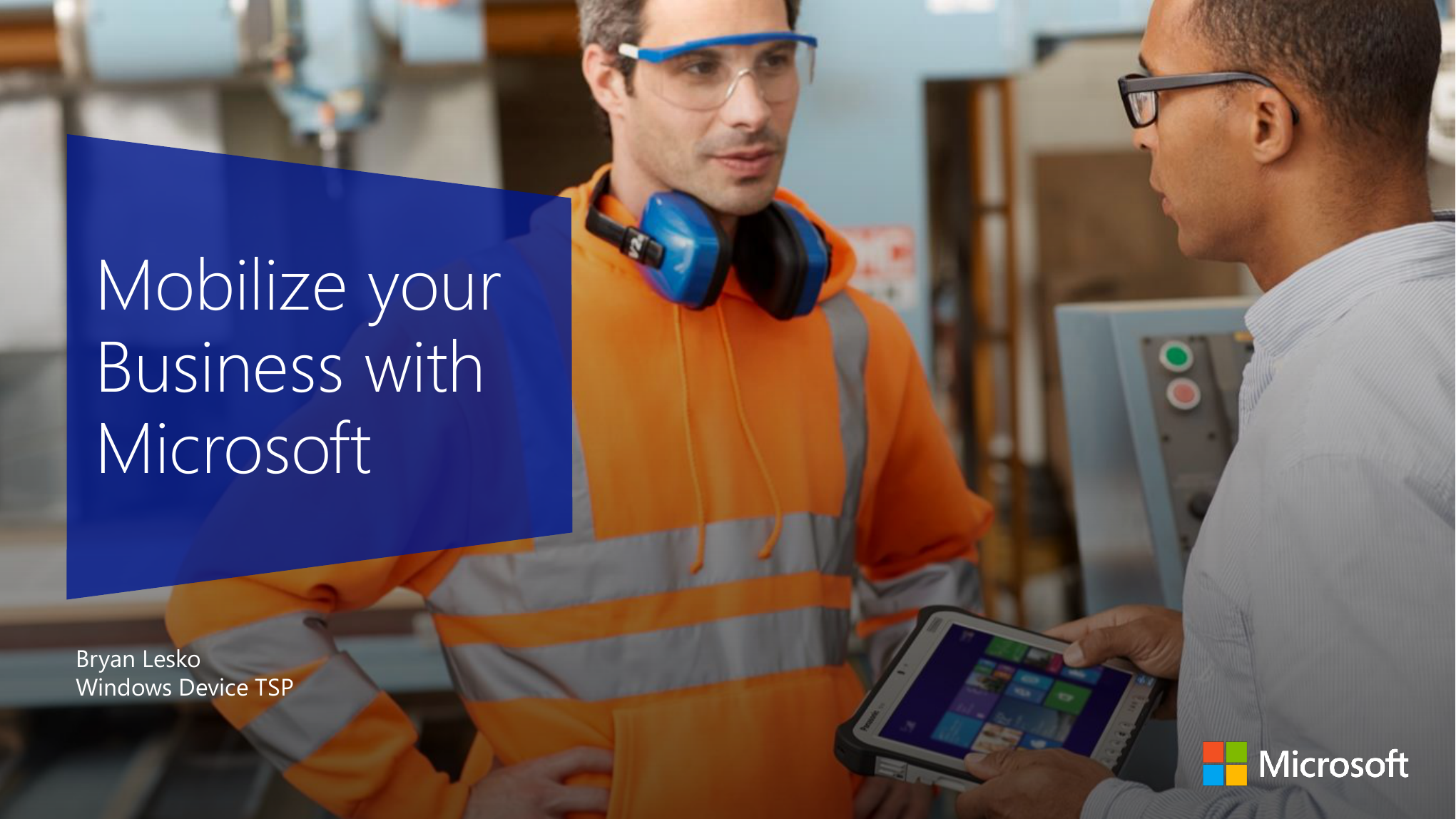 Mobilize your
Business with
Microsoft
Bryan Lesko
Windows Device TSP
3+
Devices
Anywhere Dispersed
Data
Anytime
The world
has changed
Mobility has changed
how we work
…and can change how
we do business
Anywhere, anytime expectations
Consistent user experience
across devices
Protecting data across devices
and the cloud
Mobility has changed how we work
Embrace mobility,
Take your business to the next level
Microsoft for mobility
Microsoft for mobility
Familiar User Experience across Devices
From phone, tablet
and desktop
Touch and Non touch
enabled devices
Familiar desktop
experience along with
modern apps
Microsoft for mobility
Productive on the Go with Microsoft Office
Work folders or
View, edit, and share Office
documents across devices
Microsoft for mobility
Windows 8.1 Security
Shared across Windows Devices
USERS
DEVICES
APPS
DATA
Microsoft for mobility
Unified Device Management
Windows, System Center, and Intune
Devices & Platforms
Microsoft Desktop
Optimization Pack (MDOP)
UE-V, App-V, MBAM
IT
Windows
PCs/Tablets
(x86/64, Intel SoC),
Windows To Go
Single
admin
console
Windows RT
Windows Phone 8
Microsoft for mobility
One Windows for Apps
User Benefits:
Buy on PC Works on Phone
More apps, faster app updates
Experience improvements
Developer Benefits:
Windows API set, shared app model
Converged Controls, unified toolset
One toolset to learn, one model to support
Windows
Phone
Update
Available first
half of 2014
Business mobility is not just about digitization,
it's about changing the way you do business
Microsoft
Customer Immersion
Experience
MicrosoftCIE.com
Next Steps
Evaluate
Windows 8.1
tablets for your
mobile workforce
Pilot Office 365
Evaluate
Windows Phone
for Business
Develop mobile
apps for
Windows devices
Deploy Windows
8.1 across all PC
form factors
© 2013 Microsoft Corporation. All rights reserved. Microsoft, Windows and other product names are or may be registered trademarks and/or trademarks in the U.S. and/or
other countries. The information herein is for informational purposes only and represents the current view of Microsoft Corporation as of the date of this presentation. Because
Microsoft must respond to changing market conditions, it should not be interpreted to be a commitment on the part of Microsoft, and Microsoft cannot guarantee the accuracy
of any information provided after the date of this presentation.
MICROSOFT MAKES NO WARRANTIES, EXPRESS, IMPLIED OR STATUTORY, AS TO THE INFORMATION IN THIS PRESENTATION.

* Your assessment is very important for improving the work of artificial intelligence, which forms the content of this project