Foreign Exchange in Wake County Public High Schools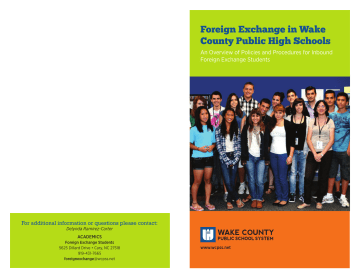 Foreign Exchange in Wake County Public High Schools An Overview of Policies and Procedures for Inbound Foreign Exchange Students For additional information or questions please contact:
Delynda Ramirez-Carter
AcAdemics Foreign exchange students 5625 Dillard Drive • Cary, NC 27518 919-431-7665 [email protected] www.wcpss.net
Introduction
In accordance with Wake County School Board Policy 6201.4.E3, high schools enroll visiting international students who are sponsored by an approved foreign exchange organization. A complete list of organizations can be found at www.csiet.org.
In the spring of each year, foreign exchange organizations that have a local representative submit student applications for approval by the Wake County Foreign Exchange Coordinator.
The deadline for the applications is the end of July. No applications are considered after the deadline.
Minimum criteria for students who wish to be accepted include:
• Eligibility to enroll in grade 11 • Age: between 16 and 18 years of age • Valid J-1 visa issued by approved foreign exchange organization • Adequate English language proficiency to function in a regular classroom as evidenced by an acceptable score on a national recognized test of English proficiency
Requirements of the Host Family
• Be affiliated with an approved foreign exchange organization • Must be a resident and live within Wake County • Assist in registering the foreign exchange student in the high school • May not be a relative of the visiting international student • Provide safe, comfortable, and nurturing environments for the students they host
Role of the local Foreign Exchange Representative
• Works with the appropriate governmental agencies to assist the foreign exchange student with securing a J-1 visa • Provides the Central Services Office with a copy of the student application packet by July 31st of the school year in which the student wishes to enroll • Screens and selects all potential host families involved in the foreign exchange program • Communicates all changes in foreign exchange students matters • Monitors student's academic progress • Provides potential Wake County host families with a detailed summary of the exchange program and the profile parameter of their participation, duties and obligations
Role of the Wake County Public School System Foreign Exchange Administrator
• Screens Foreign Exchange Organizations and their local representatives for compliance with Board policy and the Council on Standards for International Educational Travel • Communicates and upholds School Board Policies regarding foreign exchange • Reviews and approves all student applications submitted by local foreign exchange representatives • Serves as a liaison between the school system and foreign exchange organizations • Informs schools, host families and local representatives of approved students • Coordinates events for all foreign exchange students in the district
Additional Points of Interest
• Foreign Exchange Students are placed in a high school assigned to the host family's address.
• Foreign Exchange students are not eligible to enroll if they have graduated from high school in their home country.
• Foreign Exchange students do not receive a diploma from Wake County Public School System.
• Host families shall not be recruited through the Wake County Public School System.
* Your assessment is very important for improving the work of artificial intelligence, which forms the content of this project