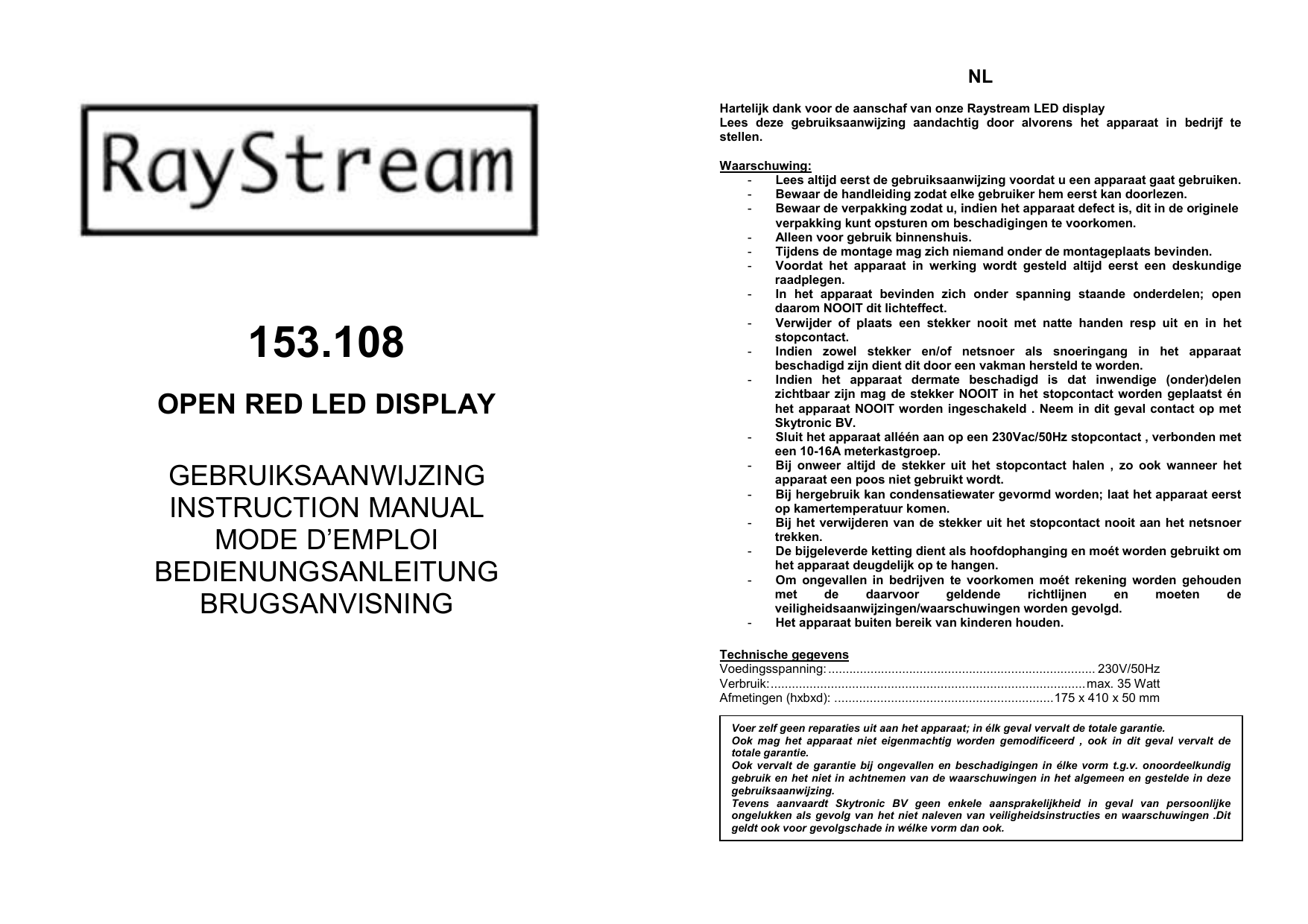 NL
Hartelijk dank voor de aanschaf van onze Raystream LED display
Lees deze gebruiksaanwijzing aandachtig door alvorens het apparaat in bedrijf te
stellen.
153.108
OPEN RED LED DISPLAY
GEBRUIKSAANWIJZING
INSTRUCTION MANUAL
MODE D'EMPLOI
BEDIENUNGSANLEITUNG
BRUGSANVISNING
Waarschuwing:
Lees altijd eerst de gebruiksaanwijzing voordat u een apparaat gaat gebruiken.
Bewaar de handleiding zodat elke gebruiker hem eerst kan doorlezen.
Bewaar de verpakking zodat u, indien het apparaat defect is, dit in de originele
verpakking kunt opsturen om beschadigingen te voorkomen.
Alleen voor gebruik binnenshuis.
Tijdens de montage mag zich niemand onder de montageplaats bevinden.
Voordat het apparaat in werking wordt gesteld altijd eerst een deskundige
raadplegen.
In het apparaat bevinden zich onder spanning staande onderdelen; open
daarom NOOIT dit lichteffect.
Verwijder of plaats een stekker nooit met natte handen resp uit en in het
stopcontact.
Indien zowel stekker en/of netsnoer als snoeringang in het apparaat
beschadigd zijn dient dit door een vakman hersteld te worden.
Indien het apparaat dermate beschadigd is dat inwendige (onder)delen
zichtbaar zijn mag de stekker NOOIT in het stopcontact worden geplaatst én
het apparaat NOOIT worden ingeschakeld . Neem in dit geval contact op met
Skytronic BV.
Sluit het apparaat alléén aan op een 230Vac/50Hz stopcontact , verbonden met
een 10-16A meterkastgroep.
Bij onweer altijd de stekker uit het stopcontact halen , zo ook wanneer het
apparaat een poos niet gebruikt wordt.
Bij hergebruik kan condensatiewater gevormd worden; laat het apparaat eerst
op kamertemperatuur komen.
Bij het verwijderen van de stekker uit het stopcontact nooit aan het netsnoer
trekken.
De bijgeleverde ketting dient als hoofdophanging en moét worden gebruikt om
het apparaat deugdelijk op te hangen.
Om ongevallen in bedrijven te voorkomen moét rekening worden gehouden
met
de
daarvoor
geldende
richtlijnen
en
moeten
de
veiligheidsaanwijzingen/waarschuwingen worden gevolgd.
Het apparaat buiten bereik van kinderen houden.
Technische gegevens
Voedingsspanning: ............................................................................ 230V/50Hz
Verbruik:.........................................................................................max. 35 Watt
Afmetingen (hxbxd): ..............................................................175 x 410 x 50 mm
Voer zelf geen reparaties uit aan het apparaat; in élk geval vervalt de totale garantie.
Ook mag het apparaat niet eigenmachtig worden gemodificeerd , ook in dit geval vervalt de
totale garantie.
Ook vervalt de garantie bij ongevallen en beschadigingen in élke vorm t.g.v. onoordeelkundig
gebruik en het niet in achtnemen van de waarschuwingen in het algemeen en gestelde in deze
gebruiksaanwijzing.
Tevens aanvaardt Skytronic BV geen enkele aansprakelijkheid in geval van persoonlijke
ongelukken als gevolg van het niet naleven van veiligheidsinstructies en waarschuwingen .Dit
geldt ook voor gevolgschade in wélke vorm dan ook.
GB
Congratulations on the purchase of this Raystream LED display.
Please read this manual carefully prior to using the unit.
Warning:
Read the manual prior to using the unit.
Keep the manual for further reference.
Keep the packaging so that you can transport the unit in its original packaging
in order to avoid damage.
For indoor use only.
During installation, nobody should stand beneath the mounting area.
Prior to the first use, have the unit checked by a qualified person.
The unit contains voltage carrying parts. DO NOT open the light effect.
Never plug or unplug the unit with wet hands.
If the plug and/or mains lead are damaged, they need to be repaired by a
qualified technician.
If the unit is damaged to an extent that you can see internal parts, do not plug
the unit into a mains outlet.
Only connect this unit to an mains outlet of 230Vac/50Hz .
Always unplug the unit during a thunderstorm or when it is not in use.
If the unit has not been used for a longer period of time, condensation can
occur inside the housing. Please let the unit reach room temperature prior to
use.
When you unplug the unit from the mains always pull the plug, never the lead.
The supplied chain is the main fixing and must be used to solidly mount the
light effect.
In order to avoid accidents in public premises, the local legal requirements
and safety regulations/warnings must be fulfilled.
Keep out of the reach of children.
Specifications
Power supply:.................................................................................... 230V/50Hz
Wattage:....................................................................................... max. 35 Watts
Dimensions (hxwxd): .............................................................175 x 410 x 50 mm
Do not attempt to make any repairs yourself. This would invalid your warranty.
Do not make any changes to the unit. This would also invalid your warranty.
The warranty is not applicable in case of accidents or damages caused by
inappropriate use or disrespect of the warnings contained in this manual.
SkyTronic UK cannot be held responsible for personal injuries caused by a
disrespect of the safety recommendations and warnings. This is also applicable to
all damages in whatever form.
F
Nous vous remercions pour l'achat de cet effet de Raystream LED display
Lisez attentivement ce manuel avant la première mise en service.
Avertissements:
Lire le mode d'emploi avant la mise en service de l'appareil.
Conservez ce mode d'emploi pour référence ultérieure.
Conservez l'emballage d'origine afin de pouvoir le transporter en toute
sécurité.
Uniquement pour utilisation à l'intérieur.
Veillez à ce que personne ne se trouve en-dessous du lieu de montage.
Avant la première mise en service, faites vérifier l'effet par une personne
qualifiée.
L'appareil contient des pièces sous tension. NE JAMAIS ouvrir le boîtier.
Débranchez l'appareil avant d'effectuer des travaux de réparation ou de
maintenance.
Ne jamais brancher ou débrancher l'appareil avec les mains mouillées.
Si la fiche et/ou le cordon secteur sont endommagés, faites-les remplacer par
un spécialiste.
Si l'effet de lumière est endommagé, ne le branchez pas sur une prise secteur
et ne le mettez pas sous tension.
Branchez l'effet de lumière uniquement sur une prise de 230Vac/50Hz d'une
intensité de 10-16A.
Pendant un orage ou en cas de non-utilisation, débranchez toujours l'effet de
lumière du secteur.
Après une période de non-utilisation prolongée, de l'eau de condensation a pu
se former. Attendez que l'appareil ait atteint la température ambiante.
Pour débrancher, tirer toujours sur la fiche, jamais sur le cordon.
La chaîne fourni est le dispositif de fixation principal et doit être utilisé pour
suspendre solidement l'effet.
Afin d'éviter des accidents dans des lieux publics, il faut tenir compte de la
réglementation locale en vigueur et respecter les consignes de sécurité et
avertissements.
Tenir hors de la portée des enfants.
Caractéristiques techniques
Alimentation:...................................................................................... 230V/50Hz
Consommation: ............................................................................ max. 35 Watts
Dimensions (hxlxp): ...............................................................175 x 410 x 50 mm
N'effectuez jamais de réparations vous-même et n'apportez jamais de modifications sous peine
d'invalider la garantie.
La garantie ne s'applique pas dans le cas de dommages sous quelque forme que ce soit, qui ont
été provoqués suite à une mauvaise utilisation et le non-respect des avertissements et
consignes de sécurité contenus dans ce manuel.
Acceldis décline toute responsabilité en cas de dommages corporels suite au non-respect des
consignes de sécurité et des avertissements. Ceci s'applique aussi aux préjudices ultérieurs
éventuels.
D
DK
Herzlichen Glückwunsch zum Kauf dieses Raystream LED display!
Lesen Sie bitte die Bedienungsanleitung sorgfältig vor der ersten Inbetriebnahme
durch.
Tillykke med købet af dette Raystream LED display.
Læs venligst denne manual grundigt, inden apparatet tages i brug.
Warnung:
Vor Inbetriebnahme des Geräts erst die Bedienungsanleitung durchlesen.
Die Bedienungsanleitung für spätere Bezugnahme aufbewahren.
Die Originalverpackung aufbewahren, um das Gerät bei späterem Transport zu
schützen.
Nur für Innengebrauch.
Während der Montage darf sich niemand unter dem Montagebereich aufhalten.
Vor der ersten Inbetriebnahme die Anlage von einem Fachmann prüfen lassen.
Im Gerät befinden sich spannungsführende Teile. NIEMALS das Gehäuse
öffnen.
Stecker niemals mit nassen Händen anfassen.
Sollten Stecker und/oder Netzschnur, sowie der Kabeleingang zum Gerät
beschädigt sein, müssen diese durch einen Fachmann ersetzt werden.
Wenn das Gerät sichtbar beschädigt ist, darf es NICHT an eine Steckdose
angeschlossen und NICHT eingeschaltet werden. Benachrichtigen sie in
diesem Fall SkyTronic BV.
Das Gerät nur an eine 230V AC/50Hz Netzsteckdose mit 10-16A Leistung
anschließen.
Bei Unwetter, sowie Nichtgebrauch das Netzgerät aus der Steckdose ziehen.
Nach längerem Nichtgebrauch kann sich Kondenswasser im Gehäuse gebildet
haben. Lassen Sie das Gerät erst auf Raumtemperatur kommen.
Beim Abziehen des Steckers immer am Stecker ziehen, niemals an der
Netzschnur.
Der mitgelieferte Kette dient als Hauptbefestigung und muss zum soliden
Aufhängen des Geräts benutzt werden.
Um Unfälle in Betrieben zu vermeiden, müssen die geltenden Sicherheitsbestimmungen und Richtlinien/Warnungen eingehalten werden.
Das Gerät von Kindern fernhalten.
Bemærk:
Læs denne manual grundigt før brug
Gem vejledningen for senere brug
Gem emballagen således at apparatet kan transporteres forsvarligt ved en evt.
reparation
Må kun anvendes indendørs
Ved installation, må ingen personer stå nedenunder
Første gang apparatet tages i anvendelse, bør dette efterses af en teknisk
kvalificeret person
Enheden indeholder dele til højspænding, og må derfor ALDRIG åbnes af
uautoriserede personer
Berør aldrig stikprop eller apparat med våde/fugtige hænder
Såfremt stikprop eller apparat er beskadiget, skal dette indleveres til
reparation omgående. Tilslut aldrig defekte apparater til lysnettet
Må kun tilsluttes lysnet 230Vac/50Hz
Udtag altid stikproppen når apparatet ikke anvendes, eller i forbindelse med
tordenvejr
Hvis apparatet ikke har været anvendt i længere tid, eller kommer fra
udetemperatur kan der opstå kondens. Vent et par timer under stuetemperatur,
før tilslutning sker.
Når lysnetkablet udtages af stikkontakten, tag da fat om selve stikket. Hiv
aldrig i ledningen.
Den medfølgende ophængskæde skal anvendes for at sikre den nødvendige
fastgørelse
Hvis apparatet anvendes i lokaliteter med offentlig adgang, skal der tages
højde for evt. sikkerhedsregler ved anvendelse af dette apparat. Kontakt
myndighederne i tvivlstilfælde.
Apparatet må ikke anvendes af børn, ej heller kunne berøres af børn.
Technische Daten
Versorgungsspannung:...................................................................... 230V/50Hz
Verbrauch:..........................................................................................max. 35 W
Abmessungen (HxBxT):.........................................................175 x 410 x 50 mm
Reparieren Sie das Gerät niemals selbst und nehmen Sie niemals eigenmächtig Veränderungen
am Gerät vor. Sie verlieren dadurch den Garantieanspruch.
Der Garantieanspruch verfällt ebenfalls bei Unfällen und Schäden in jeglicher Form, die durch
unsachgemäßen Gebrauch und Nichtbeachtung der Warnungen und Sicherheitshinweise in
dieser Anleitung entstanden sind.
SkyTronic BV ist in keinem Fall verantwortlich für persönliche Schäden in Folge von
Nichtbeachtung der Sicherheitsvorschriften und Warnungen. Dies gilt auch für Folgeschäden
jeglicher Form.
Specifikationer
Strømforsyning: ................................................................................. 230V/50Hz
Effektforbrug:................................................................................ max. 35 Watts
Dimensioner (hxbxd): ............................................................175 x 410 x 50 mm
Reparationer må kun foretages af autoriserede elektronikværksteder. Forsøg på at åbne,
reparere
eller
modificere
produktet,
medfører
at
reklamationsretten
bortfalder.
Reklamationsretten bortfalder desuden såfremt at skader og defekter på apparatet er opstået
fordi denne vejledning ikke er overholdt. SkyTronic fraskriver sig ethvert ansvar på følgeskader
opstået fordi sikkerhedsanvisninger og advarsler ikke er fulgt. Ved defekter på apparatet, skal
dette indleveres hos den forhandler hvor det er købt, sammen med kopi af faktura/regning.