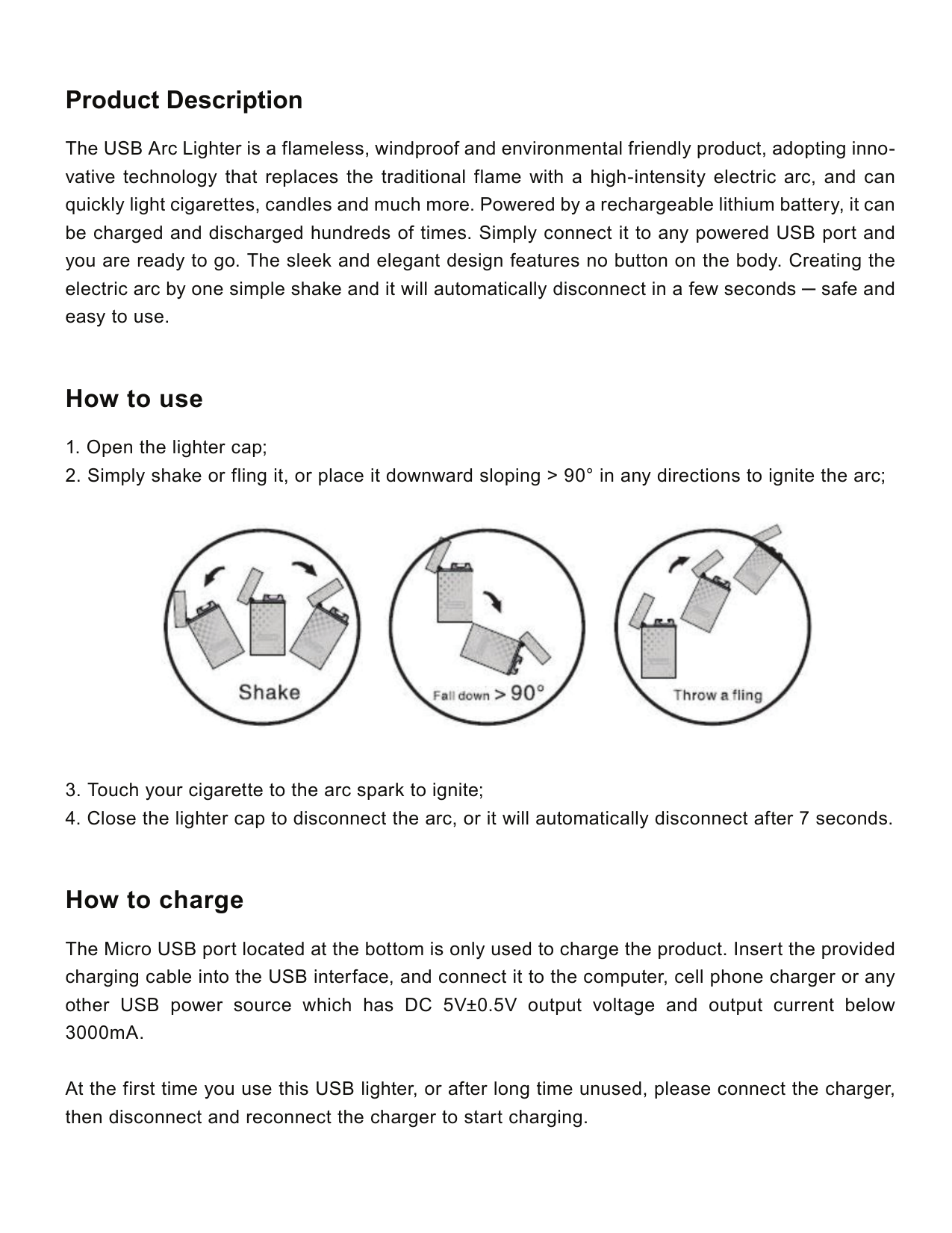 Product Description
The USB Arc Lighter is a flameless, windproof and environmental friendly product, adopting innovative technology that replaces the traditional flame with a high-intensity electric arc, and can
quickly light cigarettes, candles and much more. Powered by a rechargeable lithium battery, it can
be charged and discharged hundreds of times. Simply connect it to any powered USB port and
you are ready to go. The sleek and elegant design features no button on the body. Creating the
electric arc by one simple shake and it will automatically disconnect in a few seconds ─ safe and
easy to use.
How to use
1. Open the lighter cap;
2. Simply shake or fling it, or place it downward sloping > 90° in any directions to ignite the arc;
3. Touch your cigarette to the arc spark to ignite;
4. Close the lighter cap to disconnect the arc, or it will automatically disconnect after 7 seconds.
How to charge
The Micro USB port located at the bottom is only used to charge the product. Insert the provided
charging cable into the USB interface, and connect it to the computer, cell phone charger or any
other USB power source which has DC 5V±0.5V output voltage and output current below
3000mA.
At the first time you use this USB lighter, or after long time unused, please connect the charger,
then disconnect and reconnect the charger to start charging.
With the built-in intelligent charging circuit, the charging
indicator located at the bottom will light on to indicate that
the charging process has started.
It takes about 2 hours to fully charge the battery. The
charging indicator will automatically turn off after a full
charge.
When the battery capacity is low, the arc spark becomes
thinner and the charging indicator will flash. Please
charge the product in time.
Warning
The USB Arc Lighter is a precision product with highest quality and safety standards.
Please strictly abide by the following safety measures.
Keep product out of reach of children.
Dropping the lighter may damage internal components.
Please do not let anybody take this product apart, except professional maintenance
technicians.
Do not put this product into fire, water or other liquid, so as to avoid explosion or short
circuit.
Keep the product away from any people's face, skin and combustible material; Make
sure the arc spark has been extinguished after use.
Do not touch the electric arc.
During daily use, some cigarette tar may remain at the two arc terminals. Regularly use
wipe or tissue to clean the terminals so that the normal ignition wouldn't be affected.
Keep the product away from the fire or heat source which is more than 50°C.
Avoid of longtime direct sunlight. Otherwise it will cause overheat, fire, function recession or service life reduction.

* Your assessment is very important for improving the work of artificial intelligence, which forms the content of this project