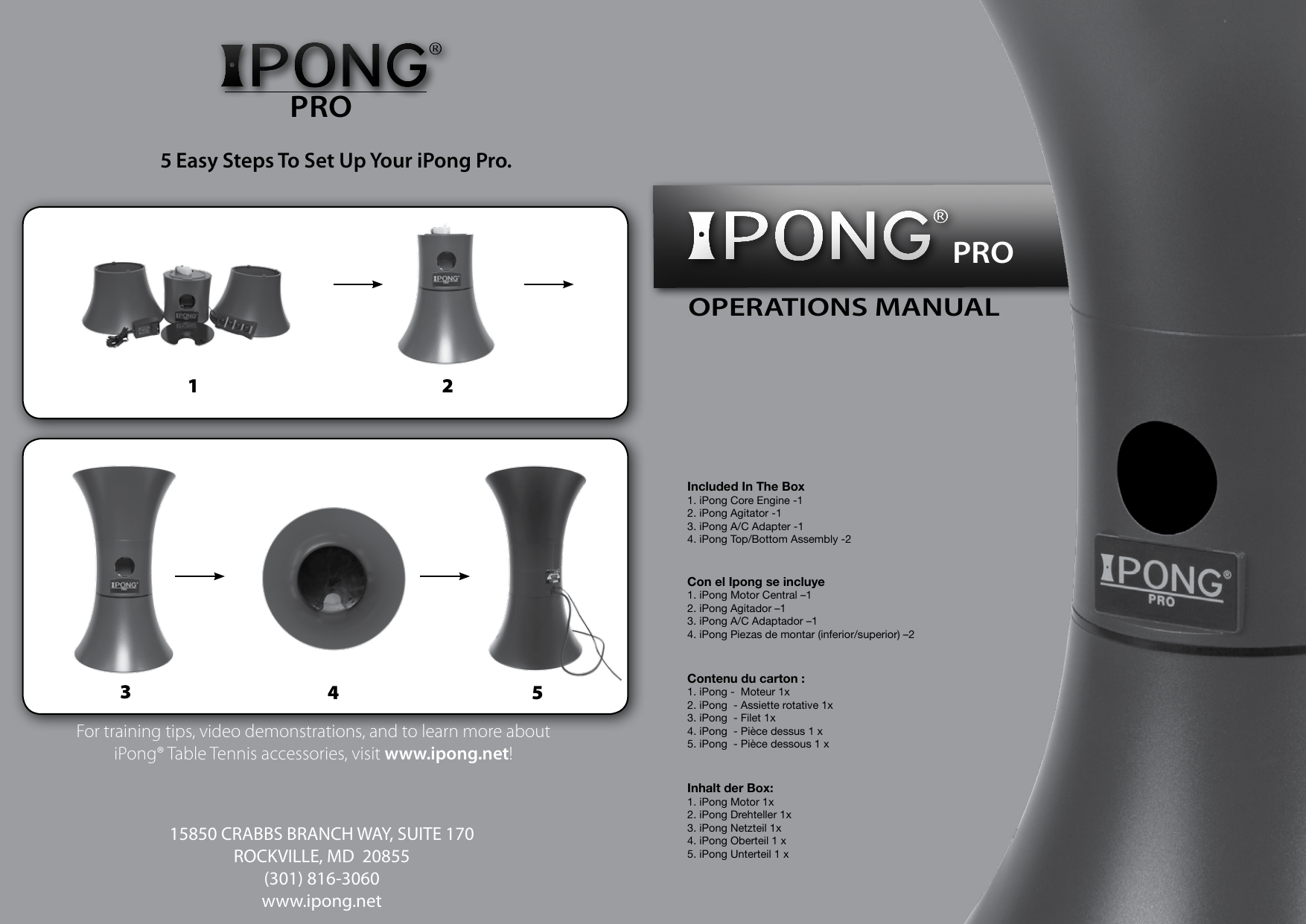 PONG
®
PRO
5 Easy Steps To Set Up Your iPong Pro.
PRO
OPERATIONS MANUAL
1
2
Included In The Box
1. iPong Core Engine -1
2. iPong Agitator -1
3. iPong A/C Adapter -1
4. iPong Top/Bottom Assembly -2
Con el Ipong se incluye
1. iPong Motor Central –1
2. iPong Agitador –1
3. iPong A/C Adaptador –1
4. iPong Piezas de montar (inferior/superior) –2
3
4
5
For training tips, video demonstrations, and to learn more about
iPong® Table Tennis accessories, visit www.ipong.net!
Contenu du carton :
1. iPong - Moteur 1x
2. iPong - Assiette rotative 1x
3. iPong - Filet 1x
4. iPong - Pièce dessus 1 x
5. iPong - Pièce dessous 1 x
Inhalt der Box:
15850 CRABBS BRANCH WAY, SUITE 170
ROCKVILLE, MD 20855
(301) 816-3060
www.ipong.net
1. iPong Motor 1x
2. iPong Drehteller 1x
3. iPong Netzteil 1x
4. iPong Oberteil 1 x
5. iPong Unterteil 1 x
PRO
ENGLISH
iPong ASSEMBLY INSTRUCTIONS
1. Remove contents from the box.
2. Line up the holes from the core engine to the bottom assembly,
then twist to lock.
3. Line up the holes from the core engine to the top assembly, then
twist to lock.
4. Attach the agitator to the core engine by lining up the hole on in
the center of the agitator with the plastic rod on the top of the core
engine. Push to lock.
5. Plug A/C adapter in at rear of core engine and plug into wall.
DEUTSCH
iPong PRO Aufbauanleitung
1. Nehmen Sie die Teile aus der Box
2. Setzen Sie den Motor mit den Löchern auf das Unterteil und
drehen ihn bis zum Einrasten.
3. Setzen Sie den Motor mit den Löchern auf das Oberteil und drehen
ihn bis zum Einrasten.
4. Setzen Sie den Drehteller mit den Löchern auf den Plastikstab auf
der Oberseite des Motors und drücken Sie bis zum Einrasten.
5. Schließen Sie den Netzstecker hinten am Motor an und verbinden
ihn mit einer Steckdose.
OPERATIONAL INSTRUCTIONS
NOTE: iPong® should only be used with 40mm table tennis balls.
Bedienungsanleitung
Anmerkung: Für den iPong PRO sollten nur 40mm Bälle verwendet
werden.
1. Before turning on the iPong®, make sure that there are no table
tennis balls inside the core engine. Rotate agitator so that the
notch in the agitator is not lined up with ball entry hole. This will
reduce the possibility of jamming.
2. Place table tennis balls into top assembly.
3. Place iPong® at the opposite end of the table.
4. Set the remote control on your end of the table and turn the power
button until the green light illuminates.
5. Adjust each dial to your liking. Review the instructions below on
how to customize the spin on the ball.
Remote Control
The iPong® comes with a wired remote control that helps you
maximize the use of your iPong®. Customize your iPong experience
by using the remote to turn it on, adjust the frequency, alter the
spins, control the oscillation, and vary the projection distance. The
frequency adjuster also turns the iPong® on and off.
Spin Adjustment
iPong Pro is designed to offer you maximum control in creating your
own table tennis experience. Use the wired remote to adjust for the
desired amount and type of spin. Here is how it works:
The two dials on the remote control marked 'Topspin' and 'Backspin'
determine how fast the top and bottom projection wheels spin. To
create a topspin ball, minimize the amount of backspin and increase
the topspin position on the dial. To create a no spin or knuckle ball,
place both dials around the same speed setting. To create a backspin
ball, increase the backspin on the dial and decrease the topspin. Projection Distance
Projection distance of the balls on the table can be adjusted using the
wired remote as well. As explained in the spin adjustment section,
this feature is also dependent on the spin settings. To increase the
distance of the projected ball, increase the backspin dial. To decrease
the distance of the ball projected, lower the spin of the backspin dial.
Regarding spin, adjust the topspin dial as necessary to accommodate
the location of the backspin dial.
Table Position/OSCILLATION
Since the iPong® is so compact, users can easily move it around on
the table to create their ideal shot. Place the iPong® near the corner
to maximize the angles or place the iPong® at the end of the table
and maximize the speed to get a fast and strong shot from it. Take
ball placement a step further and set how fast you want the core to
rotate as it shoots out balls.
1. Stellen Sie sicher, dass sich keine Bälle im Motor befinden, wenn
Sie den iPong PRO in Betrieb nehmen. Drehen Sie den Drehteller
so, dass sich die Aussparung nicht über dem Balleingang befindet.
2. Legen Sie die Bälle in das Oberteil.
3. Stellen Sie den iPong PRO am entgegengesetzten Ende auf den
Tisch.
4. Legen Sie die Fernbedienung auf Ihre Tischseite. Das grüne
Licht zeigt an, dass der iPong PRO betriebsbereit ist. Mit dem
Frequenzknopf wird der iPong PRO eingeschaltet und die
Frequenz eingestellt
5. Nehmen Sie die Einstellungen nach Ihren Wünschen vor. Wie Sie
den richtigen Spin einstellen, lesen Sie weiter unten.
Fernbedienung
Der iPong PRO wird mit einer Fernbedienung geliefert, die Ihnen
bei der optimalen Einstellung hilft. Mit der Fernbedienung auf
Ihrer Tischseite wird es noch einfacher, den iPong PRO gemäß
Ihren Wünschen einzustellen. Mit der Fernbedienung können Sie
den iPong PRO einschalten, die Ballfrequenz einstellen, den Spin
verändern und die Auswurfdistanz variieren.
Einstellung von Spin
Bezüglich der Einstellung von Spin ist der iPong PRO sehr vielseitig.
Mit den beiden Reglern 'Topspin' und 'Unterschnitt stellen Sie ein,
wie schnell sich die obere und untere Förderrollen drehen. Um einen
Topspin Ball zu spielen, verringern Sie den Unterschnitt und erhöhen
den Topspin mit dem Regler. Um einen Ball ohne Spin spielen,
stellen Sie beide Regler auf die gleiche Geschwindigkeit ein. Um
einen Unterschnittball zu spielen, erhöhen Sie den Unterschnitt und
verringern den Topspin.
Auswurfdistanz
Die Auswurfdistanz der Bälle auf den Tisch kann ebenfalls
eingestellt werden. Wie unter "Einstellung von Spin" beschrieben,
hängt diese Funktion von den Spineinstellungen ab. Um die
Distanz des ausgeworfenen Balls zu erhöhen, erhöhen Sie die
Unterschnitteinstellung. Um die Distanz zu verringern, verringern Sie
die Unterschnitteinstellung. Stellen Sie den Topspin-Regler gemäß
Ihren Wünschen ein.
Tischposition / Oscillator
Stellen Sie den iPong PRO an eine beliebige Stelle auf der
gegenüberliegenden Tischseite. In Ecknähe erhalten Sie die größten
Winkel, am Ende des Tisches ist die Geschwindigkeit für schnelle und
starke Rückschläge am größten. Der iPong PRO ist für jeden geeignet
und kann für jeden Trainingswunsch eingesetzt werden.
Oszillator
Der iPong PRO hat einen Oszillator, so dass die Bälle an verschiedene
Positionen auf dem Tisch gespielt werden können, ohne den iPong
PRO umzustellen. Die Oszillationsgeschwindigkeit und Ballfrequenz
kann je nach Vorliebe eingestellt werden. Hat man sich mit dem
iPong PRO in einer Position eingespielt, kann man einfach den
Oszillator einschalten und noch effektiver trainieren.
FRANCAIS
Montage du iPong PRO
1. Extraire les pièces du carton
2. Posez le moteur avec les ergots sur la pièce du dessous et tourner
jusqu'à enclenchement.
3. Posez le moteur avec les ergots sur la pièce du dessus et tourner
jusqu'à enclenchement.
4. Posez l'assiette rotative avec les ergots sur l'axe plastique sur la
partie supérieure du moteur et poussez jusqu'à enclenchement.
5. Reliez la prise au moteur et brancher l'adaptateur au secteur.
Mode d'emploi
Attention : Vous devez utiliser que des balles de Ø 40 mm
1. Assurez-vous qu'aucune balle ne se trouve dans le moteur avant
de mettre le iPong en route. Tournez l'assiette rotative de telle
manière à ce qu'aucune pression ne s'exerce sur l'entrée des balles.
2. Introduisez les balles dans la pièce du dessus.
3. Posez le iPong PRO à la l'extrémité de la partie opposée de la table.
4. Posez la commande à distance sur votre côté de la table. La
lumière verte s'allume et vous indique que le iPong PRO est
prêt. En tournant le bouton de réglage des fréquences dans
le sens des aiguilles d'une montre et réglez la fréquence
désirée
5. Réglez l'effet à votre convenance. (Voir ci-dessous).
Commande à distance
Le iPong PRO est livré avec une commande à distance. En la posant
sur votre côté de la table, elle facilitera les réglages optimalisés
de votre appareil. Vous pouvez ainsi le mettre en marche, régler la
fréquence d'éjection des balles, modifier les effets et la longueur de
la trajectoire des balles.
Réglages des effets
Avec les règles de commande « Topspin » et « Coupe » vous pouvez
modifier la vitesse de rotation des 2 roulettes qui éjectent les balles.
Pour jouer un Topspin, réduire la vitesse de rotation « Coupe » et
augmenter la vitesse de rotation « Topspin ». Pour jouer une balle
sans effet = les 2 règles au même niveau. Pour jouer une balle
coupée, augmenter la rotation de la roulette « coupe » et réduire
celle de « Topspin »
Réglage de la longueur de la trajectoire de la balle
La longueur de la trajectoire de la balle dépend du réglage des effets.
Pour augmenter la longueur de la trajectoire, augmenter le réglage
« coupe ». Pour réduire la trajectoire de la balle, réduire le réglage «
Coupe ». Vous pouvez ainsi utiliser toutes les valeurs intermédiaires
pour ajuster le réglage qui vous convient.
Positionnement sur la table
Positionnez le iPong PRO sur la partie opposée de la table. En le
positionnant dans un coin, vous obtiendrez une trajectoire plus
longue. En le positionnant au centre de la table, la vitesse de retour
de la balle sera plus grande. Le iPong PRO peut être ainsi adapté au
jeu et à l'entraînement de chacun.
Oscillateur
Le iPong PRO dispose d'un oscillateur qui vous permet de diriger
la trajectoire des balles sur différents endroits de la table sans
avoir à déplacer celui-ci. Vous pouvez régler la vitesse d'oscillation
et la fréquence d'éjection des balles. Une fois une position de
jeu maîtrisée, vous pouvez mettre l'oscillateur en route pour un
entraînement plus dynamique.
ESPANOL
iPong PRO Instrucciones para el ensamblado
1. Saca el contenido de la caja
2. Alinea los agujeros de la pieza central con motor con la pieza de
abajo, dale la vuelta y asegurala.
3. Alinea los agujeros de la pieza central con motor con la pieza de
arriba, dale la vuelta y asegurala.
4. Añade el agitador a la pieza central con motor alineando los
agujeros en el centro del agitador con la unidad plastica encima de
la pieza central con motor. Presiona para asegurarlo.
5. Inserta el A/C Adaptor de corriente en el agujero detras de la pieza
central con motor y enchufalo en la pared.
Intructiones de Uso:
Nota: iPong debe ser utilizado solamente con 40MM bolas de tenis
de mesa.
1. Antes de encender el iPong, aseguráte de que no hayan pelotas
dentro de la pieza central con motor. Gira el agitador de manera que
la apertura en el agitador no este alineado con el hoyo por el que
entra la pelota. Esto reducirá la posibilidad de que se atore.
2. Coloca las pelotas en la parte de arriba de la máquina.
3. Coloca el iPong en la parte opuesta de la mesa.
4. Ponga el control remoto de su lado de la mesa y dale vuelta al
boton de encender hasta que se encienda la luz verde.
5. Ajusta el marcador a tu nivel preferido.
Control Remoto
El iPong llega con un control remoto con cable que ayuda a maximizar
tu experiencia con el robot. Mejora tu experiencia con el iPong
usando el control remoto para encenderlo, ajustar la frecuencia,
cambiar los giros, y variar la distancia de proyeccion. El ajustador de
frecuencia tambien enciende y apaga el iPong.
Ajustes del Spin El iPong esta disenado para darte el maximo control y permitirte
crear tu propia experiencia con el iPong. Usa el control remoto con
cable para ajustar la cantidad y el tipo de spin.
Funciona Asi:
Los dos botones en el control remoto 'Topspin' y 'Backspin'
determinan cuanto rápidamente giran las ruedas de proyeccion de
arriba y de abajo. Para crear una pelota topspin, minimiza la cantidad
de backspin y aumenta la cantidad de topspin con los botones.
Para crear una pelota sin spin, coloca los dos botones a la misma
velocidad. Para generar una pelota backspin, aumenta el backspin en
el boton correspondiente y disminuya el boton topspin.
Distancia de Proyeccion:
La distancia de proyeccion en la mesa puede ser ajustada con
el control remoto tambien. Como se explica en la sección de los
ajustes de spin, la distancia de proyeccion depende tambien de la
configuracion del spin. Para aumentar la distancia de proyeccion
de la pelota, se aumenta el boton de backspin. Para disminuir la
distancia a la que la bola es proyectada, disminuye el poder en el
boton de backspin. Para obetener el spin deseado, recuerda que se
necesita ajustar los dos botones (Topspin y Backspin), ya que si no se
hace este ajuste no se obtendran los resultados deseados.
Posicion en la mesa /Oscilacion
Por ser tan compacto, el iPong te permite a tus usuarios moverlo
facilmente en la mesa para crear el lanzamiento ideal. Coloca el iPong
cerca de las esquinas para maximizar los ángulos o colocalo al final
de la mesa para maximizar la velocidad, y asi obtener un lanzamiento
fuerte y rapido. Para ir mas alla en la colocacion de las bolas, gracias
a la caracteristica de oscilacion del iPong Pro puedes establecer
cuanto mas rapido gira la pieza central con motor mientras lanza las
pelotas. El iPong es completamente adaptable a las preferencias de
cada usuario.