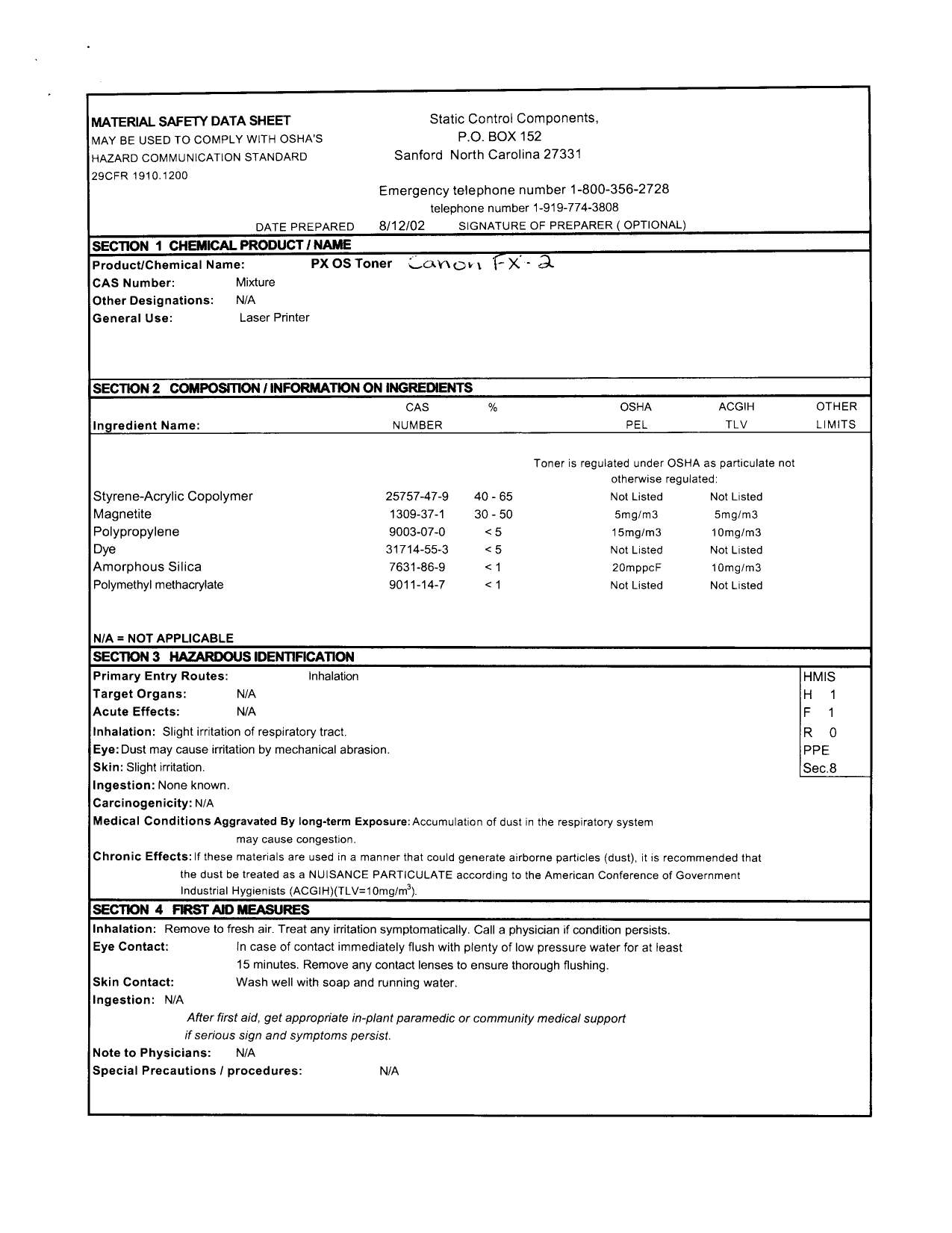 MATERIAL SAFETY DATA SHEET
MAY BE USED TO COMPLY WITH OSHA'S
HAZARD COMMUNICATION STANDARD
29CFR 1910.1200
DATE PREPARED 8/12/02
Static Control Components,
P.O. BOX 152
Sanford North Carolina 27331
Emergency telephone number 1-800-356-2728
telephone number 1-919-774-3808
SIGNATURE OF PREPARER ( OPTIONAL)
SECTION 1 CHEMICAL PRODUCT / NAME
Product/Chemical Name:
CAS Number: Mixture
Other Designations: N/A
General Use: Laser Printer
PX OS Toner ¿ano -X- A
SECTION2 COMPOSITION / INFORMATION ON INGREDIENTS
Ingestion: None known.
Carcinogenicity: N/A
may cause congestion.
Industrial Hygienists (ACGIH)(TLV=10mg/m").
Medical Conditions Aggravated By long-term Exposure: Accumulation of dust in the respiratory system
Chronic Effects: If these materials are used in a manner that could generate airborne particles (dust), it is recommended that
the dust be treated as a NUISANCE PARTICULATE according to the American Conference of Government
CAS % OSHA ACGIH OTHER
Ingredient Name: NUMBER PEL TLV LIMITS
Toner is regulated under OSHA as particulate not
otherwise regulated:
Styrene-Acrylic Copolymer 25757-47-9 40 - 65 Not Listed Not Listed
Magnetite 1309-37-1 30 - 50 5mg/m3 5mg/m3
Polypropylene 9003-07-0 <5 15mg/m3 10mg/m3
Dye 31714-55-3 <5 Not Listed Not Listed
Amorphous Silica 7631-86-9 < 1 20mppcF 10mg/m3
Polymethyl methacryiate 9011-14-7 <1 Not Listed Not Listed
N/A = NOT APPLICABLE
SECTION 3 HAZARDOUS IDENTIFICATION
Primary Entry Routes: Inhalation HMIS
Target Organs: N/A H 1
Acute Effects: N/A F 1
Inhalation: Slight irritation of respiratory tract. R O
Eye: Dust may cause irritation by mechanical abrasion. PPE
Skin: Slight irritation. Sec.8
SECTION 4 FIRST AID MEASURES
Eye Contact:
Skin Contact:
Ingestion: N/A
if serious sign and symptoms persist.
Note to Physicians: N/A
Special Precautions / procedures: N/A
Inhalation: Remove to fresh air. Treat any irritation symptomatically. Call a physician if condition persists.
In case of contact immediately flush with plenty of low pressure water for at least
15 minutes. Remove any contact lenses to ensure thorough flushing.
Wash weli with soap and running water.
After first aid, get appropriate in-plant paramedic or community medical support
Section 5 FIRE FIGHTING MEASURES
Flash Point: N/A
Flash Point Method: N/A
Burning Rate: N/A
Auto Ignition Temperature: Not Determined
LEL: N/A
UEL: N/A
Flammability Classification: 1 Slight ( HMIS, NFPA)
Extinguishing Media: Water spray, dry chemical, foam, carbon dioxide, or halon type extinguishers.
Unusual Fire or explosion hazards: May form flammable dust-air mixture.
Hazardous combustion products: Carbon monoxide, carbon dioxide, nitrogen oxide and smoke.
Under certain conditions some aliphatic aldehydes and carboxylic acids
may form.
Fire- Fighting Instructions: Do not release runoff from fire control methods to sewers or waterways.
Fire-Fighting Equipment: Because fire may produce toxic thermal decomposition products, wear a
self-contained breathing apparatus ( SCBA ) with full facepiece operated
in pressure-demand or positive-pressure mode.
SECTION 6 ACCIDENTAL RELEASE MEASURES
Spill / Leak Procedures: N/A
Small Spills: Scoop into container for disposal, suction up remaining material with high efficiency
vacuum cleaner.
Large Spills: Scoop into container for disposal, suction up remaining material with high efficiency
vacuum cleaner.
Containment: For large spills, avoid suspending particles, collect for later disposal. Do not release
into sewers or waterways.
Cleanup: No special requirements.
REGULATORY REQUIREMENT : Follow applicable OSHA regulations (29CFR 1910.120)
SECTION 7 HANDLING AND STORAGE
Handling Precautions: Keep containers closed at all times. Avoid creating dust. Keep away from ignition sources.
Storage Requirements Store in a cool, dry location.
Regulatory Requirements: N/A
SECTION 8 EXPOSURE CONTROLS / PERSONAL PROTECTION
Engineering Controls:
Ventilation: Provide general or local exhaust ventilation systems to maintain airborne concentrations
below OSHA PELs (sec.2). Local exhaust ventilation is preferred because it prevents contaminant
dispersion into the work area by controlling it at its source.
Administrative Controls:
Respiratory Protection: Seek professional advise prior to respirator selection and use.
Follow OSHA respirator regulations (29 CFR 1910.134) and, if necessary, wear
a MSHA/NIOSH-approved respirator. select respirator based on its suitability
to provide adequate worker protection for given working conditions, level of
airborne contamination, and presence of sufficient oxygen. For emergency or
nonroutine operation ( cleaning spills, reactor vessels, or storage tanks), wear
an SCBA. Warning! Air-purified respirators do not protect workers in oxygen-deficient
atmospheres.
Protective Clothing/Equipment: Wear chemically protective gloves, boots, aprons, and gauntlets to prevent
prolonged or repeated skin contact. Wear protective eyeglasses or
chemical safety goggles, per OSHA eye-and face-protection regulations
(29CFR 1910.133). Contact lenses are not eye protective devices. appropriate
protection must be worn instead of, or in conjunction with contact lenses.
Safety Stations: Make emergency eyewash stations and washing facilities available in work area.
Contaminated Equipment: Separate contaminated work clothing from street clothes. Launder before
re-use. Remove this material from your shoes and clean personal protective
equipment.
Comments: Never eat, drink, or smoke in work areas. Practice good personal hygiene after using this
material, especially before eating, drinking using the toilet, or applying cosmetics
SECTION 9 PHYSICAL AND CHEMICAL PROPERTIES
Physical State: Solid
Appearance and Odor: Black, free flowing powder, odorless.
Odor Threshold: N/A
Vapor Pressure: N/A
Vapor Density(Air=1): Heavier than air.
Formula Weight: N/A
Density: N/A
Specific Gravity: (H,0=1, at 4°C); 1.8
pH: N/A
Water Solubility: Negligible
Other Solubilities: N/A
Boiling Point: N/A
Freezing/Melting Point: N/A
Viscosity: N/A
Refractive Index: N/A
Surface Tension: N/A
%Volatile: N/A
Evaporation Rate: N/A
SECTION 10 STABILITY AND REACTIVITY
STABILITY: N/A
POLYMERIZATION: N/A
CHEMICAL INCOMPATIBILITIES: N/A
CONDITIONS TO AVOID: N/A
HAZARDOUS DECOMPOSITION PRODUCTS: N/A
SECTION 11 TOXICOLOGICAL INFORMATION
Eye Effects:
Skin Effects:
*See NIOSH, RTECS for additional toxicity data.
N/A
N/A
Toxicity Data: *
Acute Inhalation Effects: N/A
Acute Oral Effects:
Chronic Effects:
Carcinogenicity:
Mutagenicity:
Teratogenicity:
N/A
N/A
N/A
AMES Test negative
N/A
SECTION 12 ECOLOGICAL INFORMATION
Ecotoxicity:
Environmental Fate:
Environmental Degradation:
N/A
N/A
Soil Absorption / Mobility:
SECTION 13 DISPOSAL CONSIDERATIONS
Disposal: Waste material may be incinerated / or recycled for its Iron Oxide under conditions which meet
all federal, state and local environmental regulations.
Disposal Regulatory Requirements: N/A
Container Cleaning and Disposal: N/A
SECTION 14 TRANSPORT INFORMATION
DOT Transportation Data ( 49 CFR 172.101 ): Not specifically listed
Shipping Name: N/A
Shipping Symbol: N/A
Hazard Class: N/A
ID No.: N/A
Packing Group: N/A
Label: N/A
Special Provisions
(172.102): N/A
Packaging Authorizations
a) Exceptions: N/A
b)Non-bulk Packaging: N/A
c) Bulk Packaging: N/A
Quantity Limitations
a) Passenger, Aircraft, or
Raitcar: N/A
Vessei Stowage Requirements
a) vessel stowage: N/A
b)Other: N/A
SECTION 15 REGULATORY INFORMATION
EPA Regulations:
RCRA Hazardous Waste Number: Not listed ( 40 CFR 261.33)
RCRA Hazardous Waste Classification: (40 CFR 261 ): Not classified
CERCLA Hazardous Substance (40 CFR 302.4) listed/unlisted specific per RCRA, sec. 3001;
CWA sec.311 (b)(4);
CWA, Sec. 307(a),CAA,Sec.112
CERCLA Reportable Quantity(RQ), Not listed
SARA 311/312 Codes: N/A
SARA Toxic Chemical ( 40 CFR 372.65 ): Not listed
SARA EHS (Extremely Hazardous Substance ) ( 40 CFR 355 ): Not listed, Threshold Planning Quantity (TPQ )
OSHA Regulations:
Air Contaminant ( 29 CFR 1910.1000< Table Z-1-A ): Particulates not otherwise regulated.
State Regulations: Check your states regulations that may specifically list copy machine toner.
All Ingredients are listed on the TSCA inventory.
SECTION 16 OTHER INFORMATION
Prepared By:N/A
Revision Notes: N/A
Additional Hazard Rating System: N/A
THIS INFORMATION IN THIS MSDS WAS OBTAINED FROM SOURCES WHICH WE BELIEVE
ARE RELIABLE. HOWEVER, THE INFORMATION IS PROVIDED WITHOUT ANY WARRANTY
EXPRESS OR IMPLIED, REGARDING IT'S CORRECTNESS.
THE CONDITIONS OR METHODS OF HANDLING, STORAGE, USE AND DISPOSAL OF THE
PRODUCT ARE BEYOND OUR CONTROL AND MAY BE BEYOND OUR KNOWLEDGE.
FOR THIS AND OTHER REASONS, WE DO NOT ASSUME RESPONSIBILITY AND EXPRESSLY
DISCLAIM LIABILITY FOR LOSS, DAMAGE OR EXPENSE ARISING OUT OF OR IN ANY WAY
CONNECTED WITH THE HANDLING, STORAGE, USE OR DISPOSAL OF THE PRODUCT.