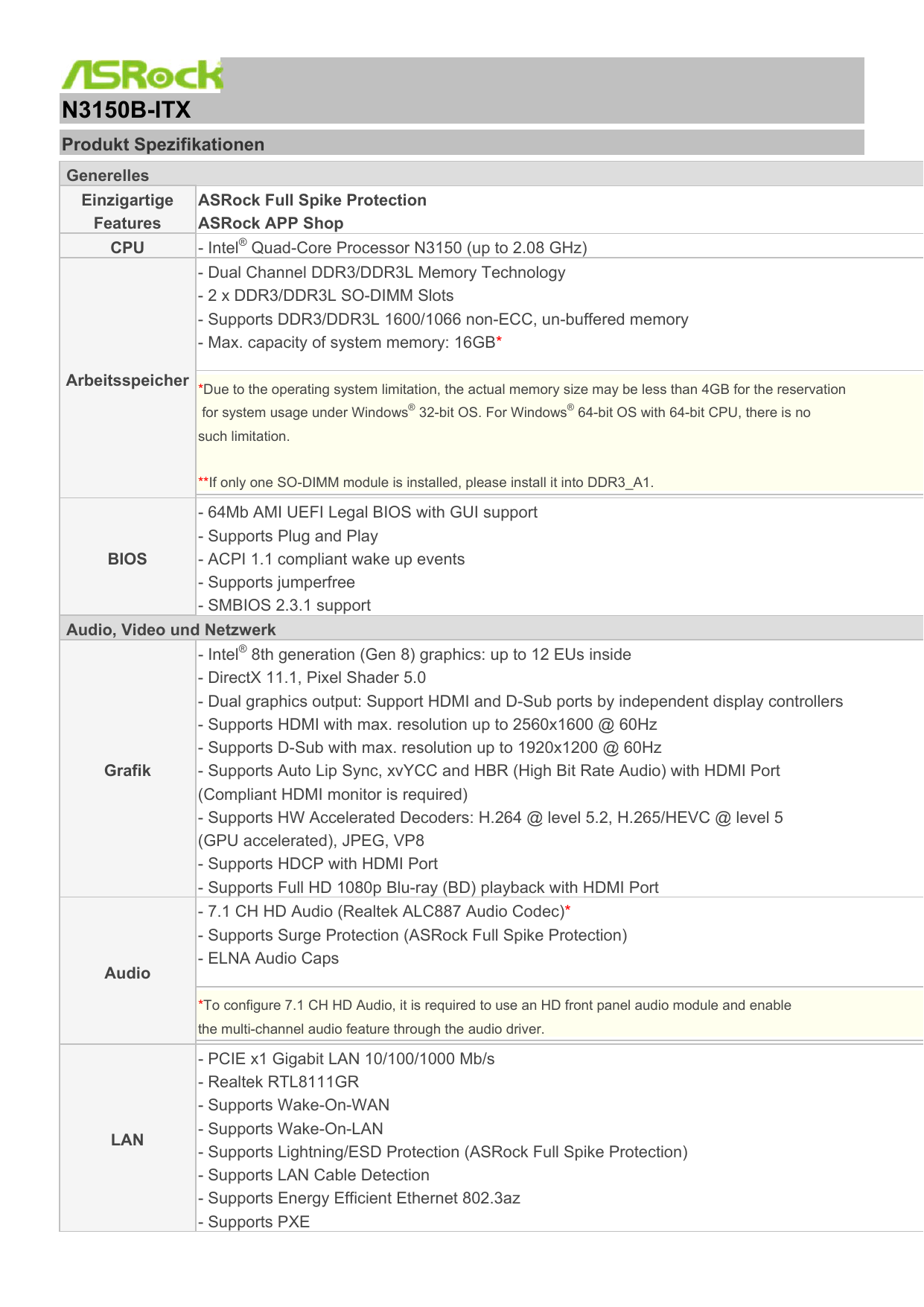 N3150B-ITX
Produkt Spezifikationen
Generelles
Einzigartige
Features
CPU
Arbeitsspeicher
ASRock Full Spike Protection
ASRock APP Shop
- Intel® Quad-Core Processor N3150 (up to 2.08 GHz)
- Dual Channel DDR3/DDR3L Memory Technology
- 2 x DDR3/DDR3L SO-DIMM Slots
- Supports DDR3/DDR3L 1600/1066 non-ECC, un-buffered memory
- Max. capacity of system memory: 16GB*
*Due to the operating system limitation, the actual memory size may be less than 4GB for the reservation
for system usage under Windows® 32-bit OS. For Windows® 64-bit OS with 64-bit CPU, there is no
such limitation.
**If only one SO-DIMM module is installed, please install it into DDR3_A1.
BIOS
- 64Mb AMI UEFI Legal BIOS with GUI support
- Supports Plug and Play
- ACPI 1.1 compliant wake up events
- Supports jumperfree
- SMBIOS 2.3.1 support
Audio, Video und Netzwerk
- Intel® 8th generation (Gen 8) graphics: up to 12 EUs inside
- DirectX 11.1, Pixel Shader 5.0
- Dual graphics output: Support HDMI and D-Sub ports by independent display controllers
- Supports HDMI with max. resolution up to 2560x1600 @ 60Hz
- Supports D-Sub with max. resolution up to 1920x1200 @ 60Hz
Grafik
- Supports Auto Lip Sync, xvYCC and HBR (High Bit Rate Audio) with HDMI Port
(Compliant HDMI monitor is required)
- Supports HW Accelerated Decoders: H.264 @ level 5.2, H.265/HEVC @ level 5
(GPU accelerated), JPEG, VP8
- Supports HDCP with HDMI Port
- Supports Full HD 1080p Blu-ray (BD) playback with HDMI Port
Audio
- 7.1 CH HD Audio (Realtek ALC887 Audio Codec)*
- Supports Surge Protection (ASRock Full Spike Protection)
- ELNA Audio Caps
*To configure 7.1 CH HD Audio, it is required to use an HD front panel audio module and enable
the multi-channel audio feature through the audio driver.
LAN
- PCIE x1 Gigabit LAN 10/100/1000 Mb/s
- Realtek RTL8111GR
- Supports Wake-On-WAN
- Supports Wake-On-LAN
- Supports Lightning/ESD Protection (ASRock Full Spike Protection)
- Supports LAN Cable Detection
- Supports Energy Efficient Ethernet 802.3az
- Supports PXE
Erweiterungsslots/Konnektivität
Steckplätze
- 1 x PCI Express 2.0 x1 Slot
Opslagruimte
Anschluss
- 2 x SATA3 6.0 Gb/s Connectors, support NCQ, AHCI and Hot Plug
- 1 x COM Port Header
- 1 x TPM Header
- 1 x Chassis Intrusion Header
- 1 x CPU Fan Connector (3-pin)
- 1 x Chassis Fan Connector (3-pin)
- 1 x 24 pin ATX Power Connector
- 1 x Front Panel Audio Connector
- 2 x USB 2.0 Headers (Support 4 USB 2.0 ports) (Supports ESD Protection
(ASRock Full Spike Protection))
- 1 x USB 3.0 Header (Supports 2 USB 3.0 ports) (Supports ESD Protection
(ASRock Full Spike Protection))*
*USB3_1_2 is shared with USB2_3.
ATX-Blende
- 1 x PS/2 Mouse Port
- 1 x PS/2 Keyboard Port
- 1 x Parallel Port (ECP/EPP Support)
- 1 x Serial Port: COM1
- 1 x D-Sub Port
- 1 x HDMI Port
- 2 x USB 2.0 Ports (Supports ESD Protection (ASRock Full Spike Protection))
- 2 x USB 3.0 Ports (Supports ESD Protection (ASRock Full Spike Protection))
- 1 x RJ-45 LAN Port with LED (ACT/LINK LED and SPEED LED)
- HD Audio Jacks: Line in / Front Speaker / Microphone
Sonstige Features/Verschiedenes
Software
- ASRock USB Key
- ASRock XFast LAN
- ASRock XFast RAM
- ASRock Restart to UEFI*
Software und UEFI
- ASRock Power Gear
BIOS
- ASRock Instant Flash
- ASRock Internet Flash
- ASRock Crashless BIOS
*These utilities can be downloaded from the APP Shop.
Support-CD
Produktzubehör
Hardware
überwachung
Formfaktor
- Drivers, Utilities, AntiVirus Software (Trial Version), Google Chrome Browser and Toolbar
- Quick Installation Guide, Support CD, I/O Shield
- 2 x SATA Data Cables
- CPU/Chassis temperature sensing
- CPU/Chassis Fan Tachometer
- CPU/Chassis Quiet Fan (Auto adjust chassis fan speed by CPU temperature)
- CPU/Chassis Fan multi-speed control
- CASE OPEN detection
- Voltage monitoring: +12V, +5V, +3.3V, CPU Vcore
- Mini-ITX Form Factor
- Solid Capacitor for CPU power
- High Density Glass Fabric PCB
- Microsoft® Windows® 10 64-bit / 8.1 64-bit / 7 64-bit*
®
Betriebssystem *To install Windows 7 64-bit OS, a modified installation disk with xHCI drivers packed into the
ISO file is required. Please check our User Manual for more detailed instructions.
For the updated Windows® 10 driver, please visit ASRock's website for details.
Zertifizierungen
- FCC, CE, WHQL
- ErP/EuP ready (ErP/EuP ready power supply is required)
Achtung:
Bitte beachten Sie, dass Overclocking, inklusive dem Verändern von BIOS-Einstellungen und der Nutzung von
Overclockingprogrammen von Drittherstellern, immer ein gewisses Risiko bürgt. Overclocking kann ihre Systemstabilität
beeinflussen oder aber zu Schäden Ihrer Komponenten und Geräte führen. Die Ausführung geschieht auf eigene Gefahr und
Kosten. Für Schäden die durch Overclocking verursachet werden sind wir nicht verantwortlich.
Die Spezifikationen können ohne vorherigen Hinweis geändert werden. Die Marken und Produktnamen sind Schutzmarken der
jeweiligen Firmen. Alle Konfigurationen die von den originalen Spezifikationen abweichen werden nicht garantiert.

* Your assessment is very important for improving the work of artificial intelligence, which forms the content of this project