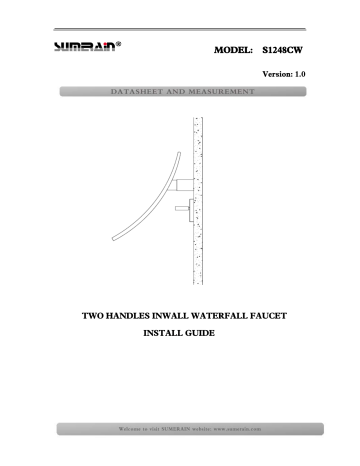 MODEL: S1248CW
Version: 1.0
TWO HANDLES INWALL WATERFALL FAUCET
INSTALL GUIDE
Dear Valued Customer,
SUMERAIN would like to take this opportunity to thank you for purchasing SUMERAIN products. It is our sincere hope that you are completely satisfied with your new purchase. We welcome any questions or comments you may have and look forward to assisting you in the future.
Sincerely,
SUMERAIN customer service department
1. Unpack your new product and ensure that all the parts are contained in the packaging. Keep the product in its original box until you ready to install it.
2. Shut off the water supply if replacing a previously-installed faucet.
3. Observe all plumbing and building codes in your area.
4. It is recommended that installation of the product be done by a professional plumber.
Tools you may need when installing the faucet
Specification
Function: Bathroom Sink Faucets
Feature: Waterfall, Wall mount
Style: Contemporary
Finish: Chrome
Installation Holes: Three Holes
Number of Handles: Two Handles
Spout Spread (mm):200
Spout Width (mm): 168
Valve Type: Ceramic Valve
Faucet Body Material: Brass
Faucet Spout Material: Stainless steel
Faucet Handle Material: Zinc-alloy
Shipping Weight (kg): 2.7
Packing Dimension
:320mm x 215mm x 140mm
Working water press (Mpa): 0.2 ~0.8
Dimension
Please confirm you have all the parts as below, if anything missing, please contact us ASAP.
Packing list
(1) Spout x 1 PCS (2) Cold water handle x 1 SET
(3) Hot water handle x 1 SET (4) Flexible hose x 2 PCS
(5) Washer x 1PCS (6) Nut x 1PCS
(7) Tubes x 1PCS (8) Washer x 1PCS
(9) strainer x 1PCS (10)Tee Fitting 1PCS
(11)Hex wrench (12) plastic cap
Step 1:
Please dig three holes on your board according to below dimensions
Step 2:
Fixing the Spout (1) to center hole of board.
2.1.0 Put the Washer(8) into the spout inlet joint
2.1.1 Rotate Tubes (7) into the spout inlet joint
2.1.2 Put the spout into the center hole of board and fix with Washer(5) and
Nut(6)
Step 3:
Fix the handles to the board.
3.1.0 Remove the handle, cover etc from the handle body (2) and (3)
3.1.1 Install the cover, handles, panel etc according to remove step, and then fix all components to the board.
Step 4:
Connect spout (1) with hot water handle body(2) and cold water handle body(3) with hoses(4).
4.1.0 Put the strainer (9) into the tee fitting and screw to tubes (7)
4.1.1 Connect the tee fitting with handles body by flexible hoses
4.1.2 Connecting the end of the hoses to the connector of the cold and hot water supply system.
4.1.3 Open water source, check all connect point until there isn't any leakage
4.1.4 Fixing the board with faucet to wall and decorate finally.
■
Clean the faucets and showers as and when required. Regular cleaning can prevent calcification.
■
Never use cleaning materials contain hydrochloric, formic, phosphoric or acetic acid, which may cause considerable damage.
■
Never use cleaning materials or appliances with an abrasive effect, such as unsuitable cleaning powders, sponge pads, or micro fiber cloths.
■
After cleaning, rinse thoroughly the faucet with clean water to remove any cleaner residue.
■
Unscrew and clean the aerator regularly.
TROUBLESHOOTING
Symptom
Solution
A. Tighten the packing nut
Faucet leaks from the handle
B. Replace the "O" ring or packing pressure is too low
B. Clean or replace the aerator
C. Check plumbing system for water pressure problems
The spout sprays water all over
A. Clean or replace the aerator
B. Replace the aerator washer
Water is leaking A. Check the water supply connections to the faucet from the faucet B. Inspect the water supply lines or hoses for leaks under the sink
A. Remove the cap and tighten the screw
Handle is loose
B. Locate and tighten the hex set screw
C. Remove the handle and check for stripped teeth on the stem.
HONGKONG SUMERAIN SANITARY INDUSTRY CO..LIMITED
Address: ROOM 1018, HOLLYWOOD PLAZA 610 NATHAN ROAD MONGKOK, KL
Factory Address: Shuikou Industrial Park, Kaiping City, Guangdong Province,
China (Mainland)
Tel: +86-750-2731579
Fax: +86-750-2715258
E-mail:[email protected]
SUMERAIN INTERNATIONAL GROUP – AMERICA Branch
Address: 13455 Harper Dr.
Saratoga, CA 95070
USA
Tel: +1-408-867-8884
FAX: +1-408-867-4272
E-mail:[email protected]
* Your assessment is very important for improving the work of artificial intelligence, which forms the content of this project