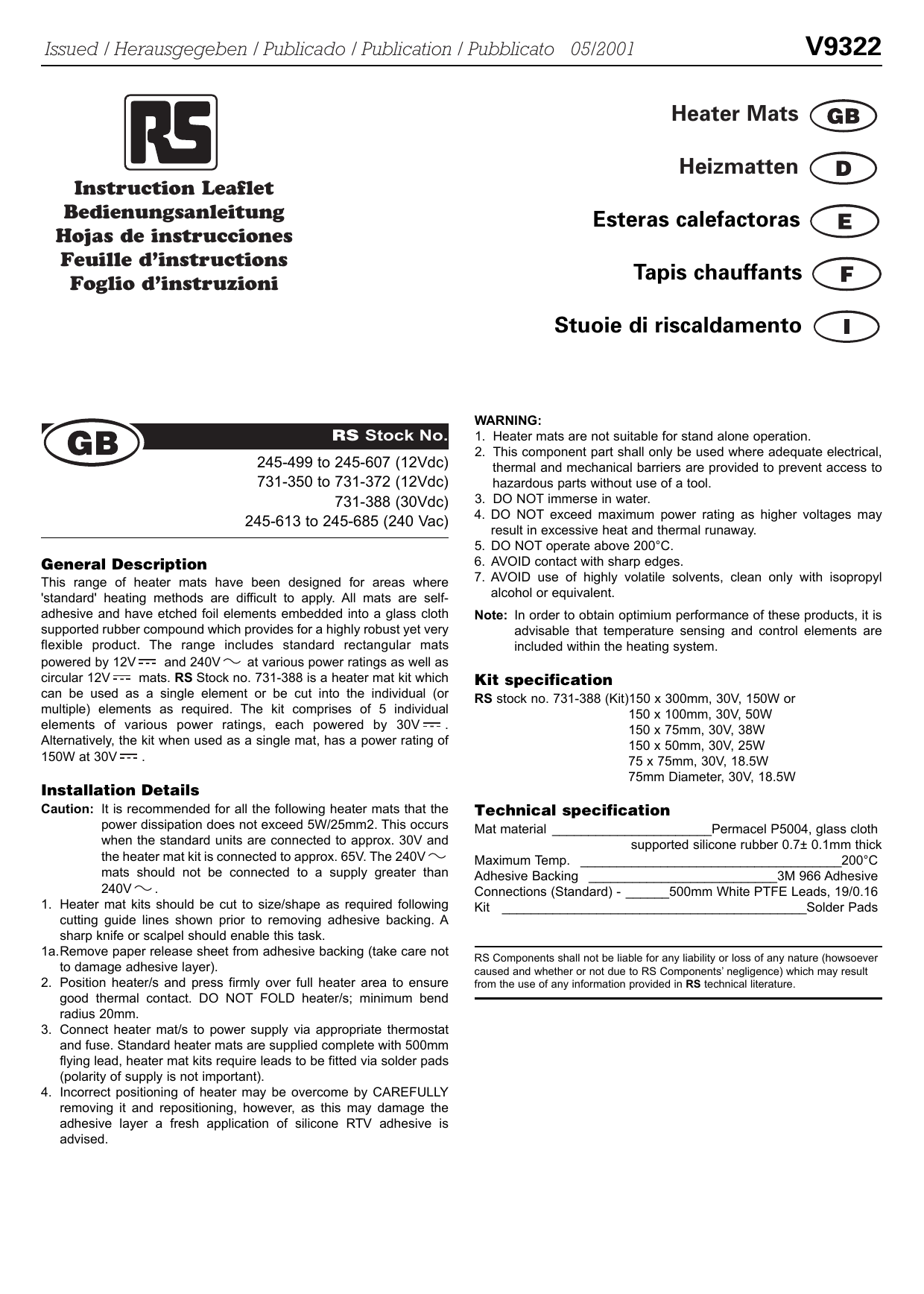 V9322
Issued / Herausgegeben / Publicado / Publication / Pubblicato 05/2001
Heater Mats
Heizmatten
Instruction Leaflet
Bedienungsanleitung
Hojas de instrucciones
Feuille d'instructions
Foglio d'instruzioni
Esteras calefactoras
Tapis chauffants
Stuoie di riscaldamento
RS Stock No.
245-499 to 245-607 (12Vdc)
731-350 to 731-372 (12Vdc)
731-388 (30Vdc)
245-613 to 245-685 (240 Vac)
General Description
This range of heater mats have been designed for areas where
'standard' heating methods are difficult to apply. All mats are selfadhesive and have etched foil elements embedded into a glass cloth
supported rubber compound which provides for a highly robust yet very
flexible product. The range includes standard rectangular mats
powered by 12V
and 240V
at various power ratings as well as
circular 12V
mats. RS Stock no. 731-388 is a heater mat kit which
can be used as a single element or be cut into the individual (or
multiple) elements as required. The kit comprises of 5 individual
elements of various power ratings, each powered by 30V
.
Alternatively, the kit when used as a single mat, has a power rating of
150W at 30V
.
WARNING:
1. Heater mats are not suitable for stand alone operation.
2. This component part shall only be used where adequate electrical,
thermal and mechanical barriers are provided to prevent access to
hazardous parts without use of a tool.
3. DO NOT immerse in water.
4. DO NOT exceed maximum power rating as higher voltages may
result in excessive heat and thermal runaway.
5. DO NOT operate above 200°C.
6. AVOID contact with sharp edges.
7. AVOID use of highly volatile solvents, clean only with isopropyl
alcohol or equivalent.
Note: In order to obtain optimium performance of these products, it is
advisable that temperature sensing and control elements are
included within the heating system.
Kit specification
RS stock no. 731-388 (Kit)150 x 300mm, 30V, 150W or
150 x 100mm, 30V, 50W
150 x 75mm, 30V, 38W
150 x 50mm, 30V, 25W
75 x 75mm, 30V, 18.5W
75mm Diameter, 30V, 18.5W
Installation Details
Caution: It is recommended for all the following heater mats that the
power dissipation does not exceed 5W/25mm2. This occurs
when the standard units are connected to approx. 30V and
the heater mat kit is connected to approx. 65V. The 240V
mats should not be connected to a supply greater than
240V
.
1. Heater mat kits should be cut to size/shape as required following
cutting guide lines shown prior to removing adhesive backing. A
sharp knife or scalpel should enable this task.
1a.Remove paper release sheet from adhesive backing (take care not
to damage adhesive layer).
2. Position heater/s and press firmly over full heater area to ensure
good thermal contact. DO NOT FOLD heater/s; minimum bend
radius 20mm.
3. Connect heater mat/s to power supply via appropriate thermostat
and fuse. Standard heater mats are supplied complete with 500mm
flying lead, heater mat kits require leads to be fitted via solder pads
(polarity of supply is not important).
4. Incorrect positioning of heater may be overcome by CAREFULLY
removing it and repositioning, however, as this may damage the
adhesive layer a fresh application of silicone RTV adhesive is
advised.
Technical specification
Mat material ______________________Permacel P5004, glass cloth
supported silicone rubber 0.7± 0.1mm thick
Maximum Temp. ____________________________________200°C
Adhesive Backing __________________________3M 966 Adhesive
Connections (Standard) - ______500mm White PTFE Leads, 19/0.16
Kit __________________________________________Solder Pads
RS Components shall not be liable for any liability or loss of any nature (howsoever
caused and whether or not due to RS Components' negligence) which may result
from the use of any information provided in RS technical literature.
V9322
Hinweis:
Zur Erzielung einer optimalen Leistung sollten
Temperaturfühler und -regler in das Heizsystem integriert
werden.
RS Best-Nr.
245-499 bis 245-607 (12VDC)
731-350 bis 731-372 (12VDC)
731-388 (30VDC)
245-613 bis 245-685 (240 VAC)
Allgemeine Beschreibung
Die Heizmatten dieser Serie sind für Bereiche konzipiert worden, in
denen "normale" Heizmethoden nur mit Schwierigkeiten angewendet
werden können. Diese Heizmatten sind selbstklebend und besitzen
Elemente aus geätzter Folie, die in einem mit Glasfasergewebe
verstärktem Gummiverbundstoff eingebettet sind, der die Matten sehr
robust, gleichzeitig aber auch sehr flexibel macht.
Die Serie umfasst Standardmatten im Rechteckformat, die mit 12V
und 240V
bei verschiedenen Nennleistungen gespeist werden
können, sowie runde Matten für eine Betriebsspannung von 12
V.
RS Best.-Nr. 731-388 ist ein Heizmattensatz, der sich als
Komplettelement einsetzen lässt und bei Bedarf auch nach den
individuellen Anforderungen zerschnitten werden kann (in seine
einzelnen Elemente oder in Elementgruppen). Der Heizmattensatz
enthält fünf einzelne Elemente mit verschiedenen Nennleistungen, die
jeweils für eine Betriebsspannung von 30V
ausgelegt sind. Falls
der Heizmattensatz alternativ als Komplettelement eingesetzt wird, hat
er bei einer Betriebsspannung von 30V
eine Nennleistung von
1500W.
Abmessungen Heizmattensatz
RS Best.-Nr.731-388 (Satz) 150 x 300, 30V, 150W oder:
150 x 100mm, 30V, 50W
150 x 75mm, 30V, 38W
150 x 50mm, 30V, 25W
75 x 75mm, 30V, 18,5W
75 mm Ø, 30V, 18,5W
Technische Daten
Mattenmaterial
__________Permacel P5004, glasgewebegestützter
Silikongummi, 0,7mm ± 0,1mm stark.
Max. Betriebstemperatur ______________________________200°C
Klebstoff __________________________________________3M 966
Anschlüsse (Standard) ____500mm weiße PTFE-Leitungen, 19/0,16
Satz____________________________________________Lötpunkte
RS Components haftet nicht für Verbindlichkeiten oder Schäden jedweder Art (ob auf
Fahrlässigkeit von RS Components zurückzuführen oder nicht), die sich aus der
Nutzung irgendwelcher der in den technischen Veröffentlichungen von RS
enthaltenen Informationen ergeben.
Código RS.
Installation
Achtung:
Bei allen folgenden Heizmatten sollte die Verlustleistung
nicht mehr als 5W/25mm2 betragen. Eine solche
Verlustleistung wird erzielt, wenn die Standardmatten an
eine Versorgungsspannung von ca. 30V bzw. der
Heizmattensatz an ca. 65V angeschlossen ist. Die
Versorgungsspannung der auf 240V
ausgelegten
Matten sollte 240 V
nicht überschreiten.
1. Heizmatten entlang der Schnittmarkierungen auf die gewünschte
Größe/Form zuschneiden, bevor man das Trennpapier von der
selbstklebenden Rückseite abzieht. Zum Schneiden ein scharfes
Messer oder Skalpell verwenden.
1a.Trennpapier von der selbstklebenden Rückseite abziehen. Darauf
achten, daß dabei die selbstklebende Schicht nicht beschädigt wird.
2. Heizmatte/n in der gewünschten Position anbringen und die
gesamte Mattenoberfläche fest andrücken, um einen guten
Wärmekontakt zu gewährleisten. Heizmatte/n NICHT KNICKEN;
der kleinste zulässige Biegeradius beträgt 20mm.
3. Heizmatte/n mit einem geeigneten Thermostat und einer Sicherung
an die Stromquelle anschließen. Die Standard-Heizmatten werden
mit einem 500mm langen Zuleitungskabel geliefert. Bei den
Heizmattensätzen müssen die Anschlußleitungen durch
Lötanschlüsse befestigt werden (Polarität ist unwichtig).
4. Die Position der Heizmatten kann nach dem Anbringen noch
korrigiert werden, indem man die Matten VORSICHTIG abzieht und
neu anbringt. Hierdurch wird jedoch die Klebstoffschicht der Matten
beschädigt; das Aufbringen einer neuen Schicht RTV-Silikonkleber
wird empfohlen.
WARNUNG:
1. Heizmatten NICHT in Wasser eintauchen.
2. Maximale Nennspannung NICHT überschreiten, um übermäßige
Wärmeentwicklung und thermische Instabilität zu vermeiden.
3. Die Betriebstemperatur darf 200°C NICHT überschreiten.
4. Matten NICHT mit scharfkantigen Gegenständen in Kontakt
bringen.
5. Matten NICHT mit hochflüchtigen Lösungsmitteln in Berührung
bringen; zur Reinigung ausschließlich Isopropylalkohol o.ä.
verwenden.
2
245-499 a 245-607 (12Vc.c.)
731-350 a 731-372 (12Vc.c.
731-388 (30Vc.c.)
245-613 a 245-685 (240 Vc.a.)
Descripción general
Esta gama de esterillas calefactoras se ha diseñado especialmente
para zonas donde la aplicación de métodos de calefacción
"estándares" resulta especialmente problemática. Todas las esterillas
son autoadherentes y cuentan con elementos de metal laminado
grabado integrados en un compuesto de gomas soportado por un
tejido de vidrio que confieren a la esterilla una gran solidez y, al mismo
tiempo, gran flexibilidad.
La gama consta de esterillas rectangulares estándares alimentadas
por 12V
y 240V
con distintos valores de potencia nominal,
así como de esterillas circulares de 12V
. El Código. RS 731-388
es un juego de esterillas calefactoras que puede utilizarse como un
único elemento o dividirse en varios elementos independientes según
sea necesario. El juego consiste en 5 elementos independientes con
varios valores de potencia nominal, alimentados, cada uno de ellos,
por 30V
. De modo alternativo, el juego puede utilizarse como
una única esterilla, con un valor de potencia nominal de 150 W a
30V
.
Detalles de la instalación
Precaución: Para todas las esteras calefactoras siguientes se
recomienda que la disipación de potencia no sea
superior a 5W/25 mm2. Esta situación se obtiene
cuando las unidades estándar se conectan a una
tensión de aprox. 30V, y cuando el kit de estera
calefactora se conecta a una tensión de aprox. 65V. Las
esteras de 240V
no deben conectarse a una
acometida de tensión superior a 240V
.
1. Los kits de esteras calefactoras deben recortarse antes de retirar el
soporte adhesivo, al tamaño o forma deseados, siguiendo las
líneas de orientación de corte. Utilícese para ello una cuchilla bien
afilada o un bisturí.
V9322
1a. Retire el papel protector del dorso adhesivo (teniendo cuidado de
no dañar la capa adhesiva).
2. Coloque en posición el calentador o los calentadores y apriete
firmemente en toda la superficie del calentador para obtener un
buen contacto térmico. NO PLIEGUE los calentadores; radio de
curvatura mínimo 20 mm.
3. Conecte las esteras calefactoras a la fuente de alimentación a
través de un termostato y fusible apropiados. Las esteras
calefactoras estándar se suministran completas con 500 mm de
cables aéreos; en los kits de esteras calefactoras es preciso que los
cables se acoplen a unas bases de soldadura (la polaridad de la
alimentación es irrelevante).
4. Si se coloca el calentador en posición incorrecta se podrá corregir
la posición retirándolo CUIDADOSAMENTE y colocándolo de
nuevo, pero en estos casos se recomienda aplicar una nueva capa
de adhesivo de silicona RTV, ya que es probable que haya quedado
dañada la capa de adhesivo.
Advertencia:
1. Las esteras calefactoras no son adecuadas para funcionar
independientemente.
2. Este elemento solamente se debe utilizar en lugares donde existan
unas barreras eléctricas, térmicas y mecánicas adecuadas que
impidan que se pueda acceder a partes peligrosas sin tener que
utilizar una herramienta.
3. NO LAS SUMERJA en agua.
4. NO REBASE la tensión nominal máxima, ya que una tensión
superior puede dar lugar a un sobrecalentamiento excesivo.
5. NO LAS HAGA FUNCIONAR por encima de 200˚C.
6. EVITE el contacto con aristas vivas.
7. EVITE el uso de disolventes muy volátiles. Limpie únicamente con
alcohol isopropílico o equivalente.
Nota: Con el fin de obtener unas prestaciones óptimas de estos
productos es recomendable incluir en el sistema de
calentamiento elementos para la detección y control de la
temperatura.
Especificaciones del kit
Código RS 731-388 (kit)
150x300 mm, 30V, 150W ó
150x100 mm, 30V, 50W
150x 75 mm, 30V, 38W
150x 50 mm, 30V, 25W
75x 75 mm, 30V, 18,5W
75 mm diámetro, 30V, 18,5W
Especificaciones técnicas
Material de la estera __________Permacel P5004, goma silicona con
soporte de tejido de fibra de vidrio,
0,7 ± 0,1 mm espesor
Temperatura máxima ________________________________200˚C
Soporte adhesivo __________________________Adhesivo 3M 966
Conectores (estándar) ____500 mm, cables PTFE blancos, 19/0,16
Kit __________________________________Soportes de soldadura
RS Components no será responsable de ningún daño o responsabilidad de cualquier
naturaleza (cualquiera que fuese su causa y tanto si hubiese mediado negligencia de
RS Componentscomo si no) que pudiese derivar del uso de cualquier información
incluida en la documentación técnica de RS.
Code commande RS.
245-499 et 245-607 (12Vcc)
731-350 et 731-372 (12Vcc)
731-388 (30Vcc)
245-613 et 245-685 (240 Vca)
Description générale :
Cette gamme de tapis chauffants a été conçue pour les zones dans
lesquelles les méthodes de chauffage habituelles sont difficiles à
mettre en œuvre. Tous les tapis sont adhésifs et comportent des
éléments en feuille métallique gravée, enrobées d'un composé de
caoutchouc armé de toile de verre très solide mais très souple.
La gamme comprend des tapis rectangulaires alimentés sous 12 V
et 240 V
à différents niveaux de puissance, ainsi que des tapis
circulaires en 12 V
. La référence RS 731-388 est un kit de tapis
chauffant qui peut être utilisé pour former un seul tapis ou découpé en
autant d'éléments qu'on le souhaite. Ce kit se compose de 5 éléments
de différentes puissances, alimentés chacun sous 30 V
. Lorsque le
kit est utilisé comme un tapis d'un seul tenant, il a une puissance de
150 W sous 30 V
.
Détails d'installation
ATTENTION: Nous recommandons, pour tous les tapis chauffants
suivants, que la dissipation de puissance ne dépasse
pas 5 W/25 mm2. Cette situation prévaut lorsque les
appareils standards sont raccordés à une tension
approximative de 30 V et lorsque le tapis chauffant est
relié à une tension approximative de 65 V. On ne doit
pas connecter les tapis de 240 V
à une alimentation
supérieure à 240 V
.
1. On doit couper les ensembles de tapis chauffants à la taille et à la
forme requises en suivant les lignes guides de coupe prévues avant
d'enlever l'envers adhésif. On peut se servir à cet effet d'un couteau
aiguisé ou d'un scalpel.
1a.Enlever la feuille de protection de l'envers adhésif (prendre garde
pour ne pas endommager l'adhésif).
2. Mettre le ou les tapis en place et appuyer fermement sur toute sa
surface afin de garantir un bon contact thermique. NE PAS
REPLIER le ou les tapis ; rayon de pliage minimal : 20 mm.
3. Brancher le ou les tapis chauffants à l'alimentation par
l'intermédiaire d'un thermostat et d'un fusible adéquats. Les tapis
chauffants standards comportent un fil volant de 500 mm, tandis
que les ensembles de tapis chauffants exigent que les fils soient
fixés à l'aide de plaques de soudage (la polarité de l'alimentation n'a
aucune importance).
4. Si un tapis a été incorrectement posé, on peut lereplacer en
l'enlevant DOUCEMENT et en le reposant. Puisque cette opération
risque d'endommager la couche d'adhésif, nous conseillons
d'appliquer une nouvelle couche d'adhésif RTV de silicone.
Avertissement
1. Les tapis chauffants ne peuvent pas fonctionner de façon
autonome.
2. On ne doit utiliser ces tapis qu'aux endroits offrant des isolants
électrique, thermique et mécanique adéquats afin que l'accès aux
pièces dangereuses soit impossible sans l'utilisation d'un outil.
3. NE PAS immerger dans l'eau.
4. NE PAS dépasser la puissance nominale maximale, car des
tensions élevées peuvent causer une chaleur excessive et un
emballement thermique.
5. NE PAS utiliser au-dessus de 200 °C.
6. NE PAS toucher avec des bords vifs.
7. NE PAS utiliser de solvants hautement volatils ; ne nettoyer qu'avec
de l'isopropanol ou un produit équivalent.
3
V9322
Remarque: Pour assurer des performances optimales pour ces
produits, nous conseillons de prévoir des capteurs de
température et des thermostats dans le système de
chauffage.
Spécification de l'ensemble
Code commande
RS 731-388 (ensemble)
150 sur 300 mm, 30 V, 150 W ou
150 sur 100 mm, 30 V, 50 W
150 sur 75 mm, 30 V, 38 W
150 sur 50 mm, 30 V, 25 W
75 sur 75 mm, 30 V, 18,5 W
Diamètre 75 mm, 30 V, 18,5 W
Spécifications techniques
Matériau du tapis : ________________Permacel P5004, caoutchouc
de silicone d'une épaisseurde 0,7 ± 0,1 mm
soutenu par une toile de verre
Température maximale ______________________________200 °C
Envers adhésif ______________________________Adhésif 3M 966
Connexions (standard) - ______Fils blancs PTFE 500 mm, 19/0,16
Ensemble ______________________________Plaques de soudage
La société RS Components n'est pas responsable des dettes ou pertes de quelle que
nature que ce soit (quelle qu'en soit la cause ou qu'elle soit due ou non à la
négligence de la société RS Components) pouvant résulter de l'utilisation des
informations données dans la documentation technique de RS.
RS Codici.
245-499 a 245-607 (12Vc.c.)
731-350 a 731-372 (12Vc.c.)
731-388 (30Vc.c.)
245-613 a 245-685 (240 Vc.c.)
Descrizione generale
Questa gamma di tappetini termici è stata progettata specificamente
per quelle zone in cui i metodi di riscaldamento standard risultano
difficilmente applicabili. Tutti i tappetini sono autoadesivi e dotati di
elementi in lamina incisa racchiusi in un composto in gomma con
supporto in tessuto di fibra di vetro, garantendo al tempo stesso
robustezza e flessibilità del prodotto.
La gamma comprende tappetini rettangolari standard, alimentati a
Procedura d'installazione
Attenzione:
Per tutte le seguenti stuoie di riscaldamento, si consiglia che la
dissipazione di calore non superi i 5 W/25 mm2. Questo si verifica
quando le unità standard sono collegate a circa 30 V ed il corredo di
stuoie di riscaldamento è collegato a circa 65 V. Le stuoie da 240 V
non devono essere collegate ad un'alimentazione superiore a
240 V
.
1. Prima di sfilare il supporto adesivo, i corredi devono essere
ritagliati alle dimensioni/forme desiderate seguendo le linee guida
indicate. Per facilitare questa operazione, servirsi di un coltello o di
bisturi per dissezione.
1a. Rimuovere la cartina di separazione dal supporto adesivo (fare
attenzione a non danneggiare lo strato adesivo).
2. Posizionare il riscaldatore (o i riscaldatori) e fare pressione decisas
ull'intera area del riscaldatore per assicurare un buon contatto
termico. NON PIEGARE il(i) riscaldatore(i); il raggio minimo di
piegatura deve essere di 20 mm.
3. Collegare la stuoia (o le stuoie) all'unità di alimentazione tramite il
termostato ed il fusibile appropriati. Le stuoie di riscaldamento
standard vengono fornite complete di cavetto volante da 500 mm.
Nei corredi, i cavi devono essere installati a mezzo di piastrine di
saldatura (la polarità dell'alimentazione non è importante).
4. Se viene posizionato erroneamente, il riscaldatore deve essere
rimosso ATTENTAMENTE e riposizionato. Tale operazione può
però danneggiare lo strato adesivo, per cui si consiglia una nuova
applicazione di adesivo RTV al silicone.
Attenzione:
1. I riscaldatori non sono idonei per funzionamento da soli.
2. Questo componente dovrà essere usato soltanto dove sono fornite
opportune barriere elettriche, termiche e meccaniche per impedire
l'accesso a parti pericolose senza l'impiego di un attrezzo.
3. NON immergere il prodotto in acqua.
4. NON superare la potenza massima nominale poiché tensioni più
elevate possono produrre eccessive dispersioni di calore e
termiche.
5. NON far funzionare il prodotto sopra i 200°C.
6. EVITARE il contatto con bordi taglienti.
7. EVITARE l'impiego di solventi altamente volatili e pulire soltanto
con alcol di isopropilene o con un prodotto equivalente.
Nota: per ottenere il rendimento ottimale da questi prodotti, si
consiglia di includere nel sistema di riscaldamento elementi di
controllo e di rilevamento della temperatura
Specifiche del corredo
12V
e 240V
a varie potenze, e tappetini rotondi da 12V
. L'articolo codice RS n. 731-388 è un kit di tappetini termici che può
essere utilizzato come unità unica o essere tagliato in elementi singoli
(o multipli), in base alle necessità. Il kit comprende 5 elementi singoli a
Codice RS 731-388 (corredo) 150 x 300mm, 30 V, 150 W o
150 x 100mm, 30V, 50W
150 x 75mm, 30V, 38W
150 x 50mm, 30V, 25W
75 x 75mm, 30V, 18,5W
75mm Ø, 30V, 18,5W
varie potenze, ciascuno alimentato a 30V
. Quando il kit viene
utilizzato come tappetino unico, la potenza nominale è di 150W a
Specifiche tecniche
30V
.
Materiale della stuoia __________Gomma al silicone su tela vetrata
Permacel P5004 con spessore di 0,7 mm ±0,1
Max. temperatura di esercizio. __________________________200°C
Supporto adesivo ____________________________Adesivo 3M 966
Connessioni (standard) - ____cavi PTFE bianchi da 500 mm, 19/0,16
Corredo ________________________________Piastrine di saldatura
La RS Components non si assume alcuna responsabilità in merito a perdite di
qualsiasi natura (di qualunque causa e indipendentemente dal fatto che siano dovute
alla negligenza della RS Components), che possono risultare dall'uso delle
informazioni fornite nella documentazione tecnica.