pd3 multiple circuit power distribution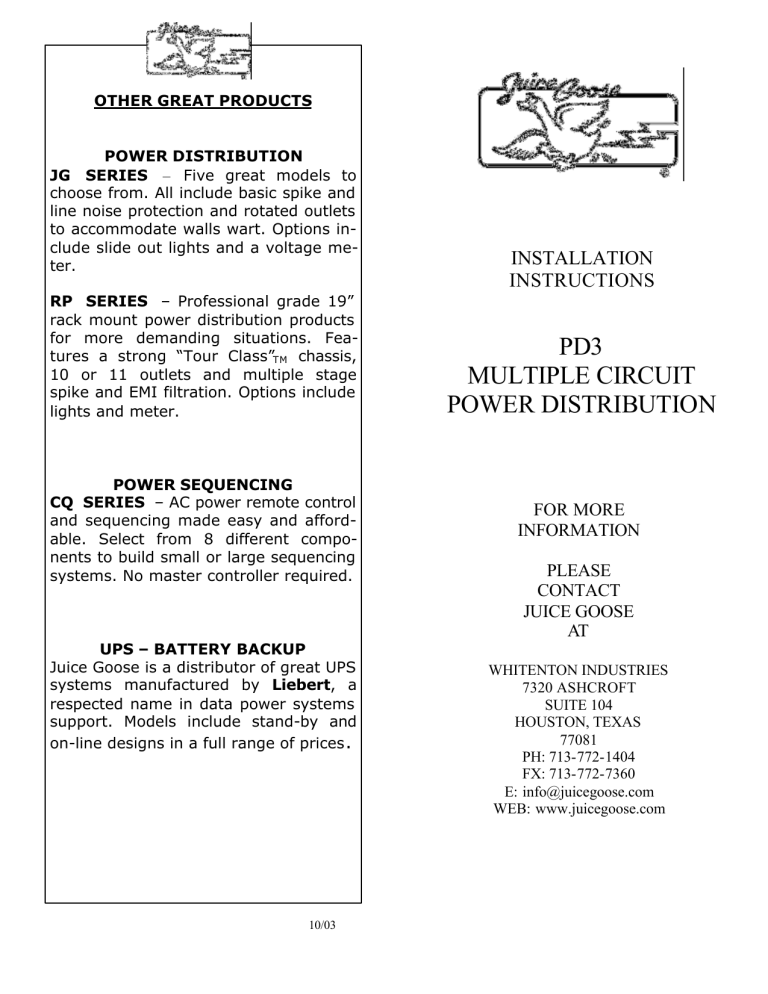 OTHER GREAT PRODUCTS
POWER DISTRIBUTION
JG SERIES – Five great models to
choose from. All include basic spike and
line noise protection and rotated outlets
to accommodate walls wart. Options include slide out lights and a voltage meter.
RP SERIES – Professional grade 19"
rack mount power distribution products
for more demanding situations. Features a strong "Tour Class"TM chassis,
10 or 11 outlets and multiple stage
spike and EMI filtration. Options include
lights and meter.
POWER SEQUENCING
CQ SERIES – AC power remote control
and sequencing made easy and affordable. Select from 8 different components to build small or large sequencing
systems. No master controller required.
UPS – BATTERY BACKUP
Juice Goose is a distributor of great UPS
systems manufactured by Liebert, a
respected name in data power systems
support. Models include stand-by and
on-line designs in a full range of prices .
10/03
INSTALLATION
INSTRUCTIONS
PD3
MULTIPLE CIRCUIT
POWER DISTRIBUTION
FOR MORE
INFORMATION
PLEASE
CONTACT
JUICE GOOSE
AT
WHITENTON INDUSTRIES
7320 ASHCROFT
SUITE 104
HOUSTON, TEXAS
77081
PH: 713-772-1404
FX: 713-772-7360
E: [email protected]
WEB: www.juicegoose.com
GENERAL WIRING DESIGN
The PD3 is configured, within the bounds
of certain design constraints, to custom
specifications.
The PD3 includes multiple, single phase
circuits and therefore multiple "hot" and
"neutral" wire leads. These circuits may be
rated for either 20 amp or 30 amp current.
The rating of a particular circuit is indicated by the rating of the AC receptacle(s)
connected to it. Alteration of this assembly or use of underrated connectors may be
hazardous.
Individual grounds are provided for each
circuit in a PD3, unless otherwise specified
at the time of order. The "hot" leads are
distinguished by the color of the wire used.
The design of the various circuits is specified at the time of order. The designation
of the circuits begins with the outlets nearest the place where the wire harness exits
the chassis. This circuit is considered
"Circuit #1". Outlets on this circuit are
connected to the black wire lead. Outlets
for each succeeding circuit are attached to
a different color lead in order as follows
Red
Yellow
Blue
Orange
Violet
Brown
For additional circuits, designations begin
again with black.
All "neutral" leads are white. All ground
leads are green. The exact configuration of
the wiring is determined by the specifications communicated with the purchase order.
INSTALLATION
The PD3 chassis is assembled with two
movable side mounting brackets. These
brackets may be positioned as required to
match available rack mounting hardware.
The distance between mounting points
should not exceed 48". Always attach the
PD3 to a stable surface using appropriate hardware such as a #10 machine screw and nut.
The PD3 is not an "all weather" device. The surface to which the PD3 is mounted should be stable and protected from moisture and temperature
extremes.
GROUND CONNECTION
Ground connection for the PD3 is to be made
with the green ground wire lead(s) installed in the
unit. The ground wires are connected to the AC
receptacles and to the PD3 chassis. Grounding is
not to be made solely by way of any metal conduit connected to the chassis.
CAUTION
This PD3 is intended for commercial use only
and is to be installed only by a qualified electrical
technician. Installation or use in any manner inconsistent with this documentation or with customary practice or local wiring code may cause
serious damage or injury. If a malfunction is observed or suspected, disconnect this device from
AC power immediately and contact Juice Goose
or an electrical technician.
Each circuit in the PD3 is rated at either 20 or 30
amps. All wiring and components have appropriate maximum current ratings. Do not exceed this
capacity. Do not disconnect, rewire or replace
any components.
There are no user servicable components inside
the PD3. Do not open the chassis.
SPECIFICATION
The internal and external wiring of the PD3 is
either 10 or 12AWG THHN. The length of the
external wire harness is specified with the purchase order. The electrical receptacles and all
current conducting components are UL recognized.
CONTACT
For technical or application support use the contact information on the front of this document.

* Your assessment is very important for improving the work of artificial intelligence, which forms the content of this project