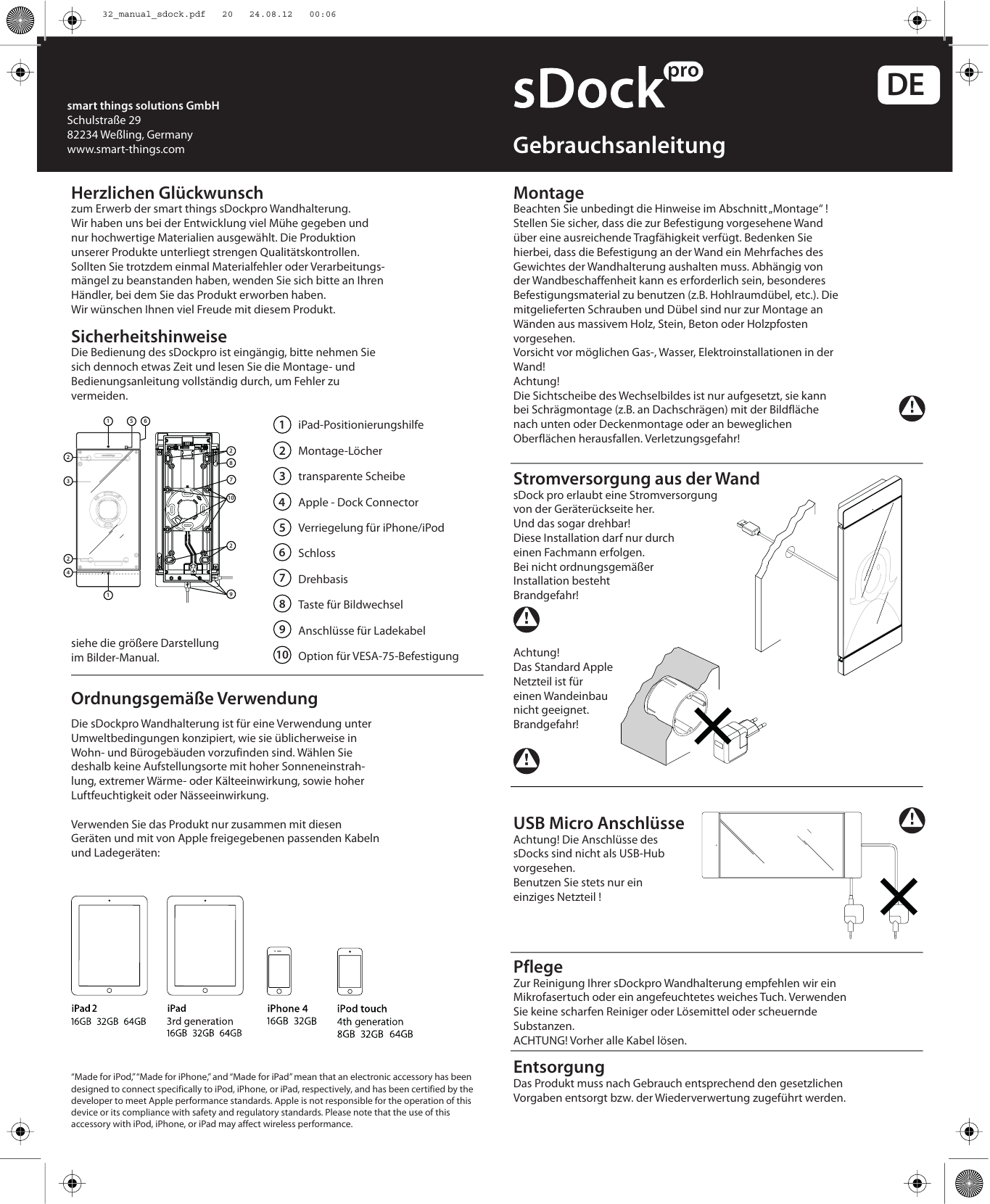 32_manual_sdock.pdf
20
24.08.12
00:06
DE
smart things solutions GmbH
Schulstraße 29
82234 Weßling, Germany
www.smart-things.com
Gebrauchsanleitung
Herzlichen Glückwunsch
zum Erwerb der smart things sDockpro Wandhalterung.
Wir haben uns bei der Entwicklung viel Mühe gegeben und
nur hochwertige Materialien ausgewählt. Die Produktion
unserer Produkte unterliegt strengen Qualitätskontrollen.
Sollten Sie trotzdem einmal Materialfehler oder Verarbeitungsmängel zu beanstanden haben, wenden Sie sich bitte an Ihren
Händler, bei dem Sie das Produkt erworben haben.
Wir wünschen Ihnen viel Freude mit diesem Produkt.
Sicherheitshinweise
Die Bedienung des sDockpro ist eingängig, bitte nehmen Sie
sich dennoch etwas Zeit und lesen Sie die Montage- und
Bedienungsanleitung vollständig durch, um Fehler zu
vermeiden.
1
5
6
2
2
1
iPad-Positionierungshilfe
2
Montage-Löcher
3
transparente Scheibe
4
Apple - Dock Connector
5
Verriegelung für iPhone/iPod
6
Schloss
7
Drehbasis
8
Taste für Bildwechsel
9
Anschlüsse für Ladekabel
Montage
Beachten Sie unbedingt die Hinweise im Abschnitt "Montage" !
Stellen Sie sicher, dass die zur Befestigung vorgesehene Wand
über eine ausreichende Tragfähigkeit verfügt. Bedenken Sie
hierbei, dass die Befestigung an der Wand ein Mehrfaches des
Gewichtes der Wandhalterung aushalten muss. Abhängig von
der Wandbeschaffenheit kann es erforderlich sein, besonderes
Befestigungsmaterial zu benutzen (z.B. Hohlraumdübel, etc.). Die
mitgelieferten Schrauben und Dübel sind nur zur Montage an
Wänden aus massivem Holz, Stein, Beton oder Holzpfosten
vorgesehen.
Vorsicht vor möglichen Gas-, Wasser, Elektroinstallationen in der
Wand!
Achtung!
Die Sichtscheibe des Wechselbildes ist nur aufgesetzt, sie kann
bei Schrägmontage (z.B. an Dachschrägen) mit der Bildfläche
nach unten oder Deckenmontage oder an beweglichen
Oberflächen herausfallen. Verletzungsgefahr!
8
7
3
10
2
2
4
1
siehe die größere Darstellung
im Bilder-Manual.
9
10 Option für VESA-75-Befestigung
Ordnungsgemäße Verwendung
Die sDockpro Wandhalterung ist für eine Verwendung unter
Umweltbedingungen konzipiert, wie sie üblicherweise in
Wohn- und Bürogebäuden vorzufinden sind. Wählen Sie
deshalb keine Aufstellungsorte mit hoher Sonneneinstrahlung, extremer Wärme- oder Kälteeinwirkung, sowie hoher
Luftfeuchtigkeit oder Nässeeinwirkung.
Verwenden Sie das Produkt nur zusammen mit diesen
Geräten und mit von Apple freigegebenen passenden Kabeln
und Ladegeräten:
Stromversorgung aus der Wand
sDock pro erlaubt eine Stromversorgung
von der Geräterückseite her.
Und das sogar drehbar!
Diese Installation darf nur durch
einen Fachmann erfolgen.
Bei nicht ordnungsgemäßer
Installation besteht
Brandgefahr!
Achtung! Das Standard Apple
Netzteil ist für
einen Wandeinbau
nicht geeignet.
Brandgefahr!
USB Micro Anschlüsse
Achtung! Die Anschlüsse des
sDocks sind nicht als USB-Hub
vorgesehen.
Benutzen Sie stets nur ein
einziges Netzteil !
Pflege
Zur Reinigung Ihrer sDockpro Wandhalterung empfehlen wir ein
Mikrofasertuch oder ein angefeuchtetes weiches Tuch. Verwenden
Sie keine scharfen Reiniger oder Lösemittel oder scheuernde
Substanzen.
ACHTUNG! Vorher alle Kabel lösen.
"Made for iPod," "Made for iPhone," and "Made for iPad" mean that an electronic accessory has been
designed to connect specifically to iPod, iPhone, or iPad, respectively, and has been certified by the
developer to meet Apple performance standards. Apple is not responsible for the operation of this
device or its compliance with safety and regulatory standards. Please note that the use of this
accessory with iPod, iPhone, or iPad may affect wireless performance.
Entsorgung
Das Produkt muss nach Gebrauch entsprechend den gesetzlichen
Vorgaben entsorgt bzw. der Wiederverwertung zugeführt werden.

* Your assessment is very important for improving the work of artificial intelligence, which forms the content of this project