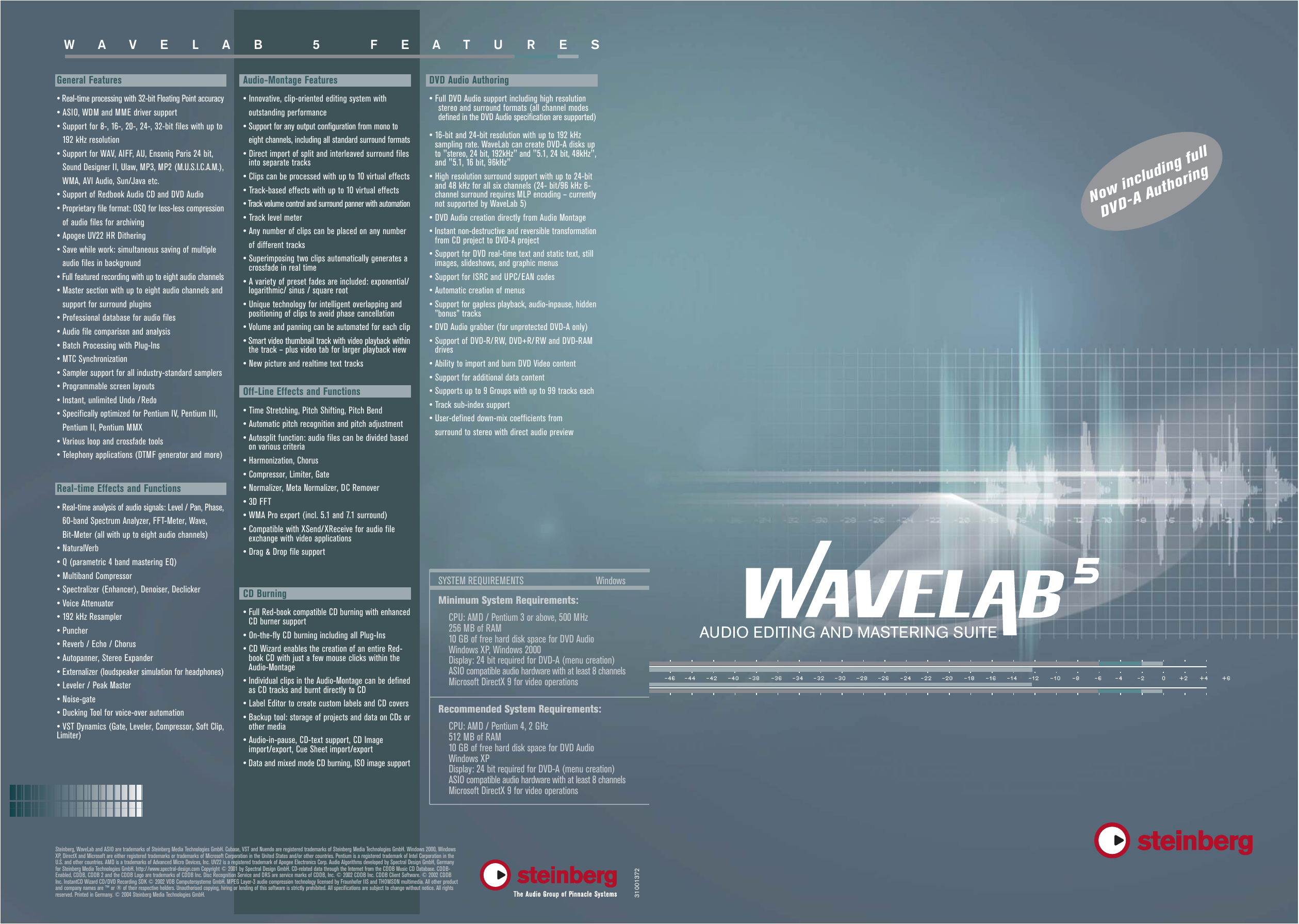 A
V
E
L
A
B
5
F
E
A
T
U
R
E
S
General Features
Audio-Montage Features
DVD Audio Authoring
• Real-time processing with 32-bit Floating Point accuracy
• ASIO, WDM and MME driver support
• Support for 8-, 16-, 20-, 24-, 32-bit files with up to
192 kHz resolution
• Support for WAV, AIFF, AU, Ensoniq Paris 24 bit,
Sound Designer II, Ulaw, MP3, MP2 (M.U.S.I.C.A.M.),
WMA, AVI Audio, Sun/Java etc.
• Support of Redbook Audio CD and DVD Audio
• Proprietary file format: OSQ for loss-less compression
of audio files for archiving
• Apogee UV22 HR Dithering
• Save while work: simultaneous saving of multiple
audio files in background
• Full featured recording with up to eight audio channels
• Master section with up to eight audio channels and
support for surround plugins
• Professional database for audio files
• Audio file comparison and analysis
• Batch Processing with Plug-Ins
• MTC Synchronization
• Sampler support for all industry-standard samplers
• Programmable screen layouts
• Instant, unlimited Undo / Redo
• Specifically optimized for Pentium IV, Pentium III,
Pentium II, Pentium MMX
• Various loop and crossfade tools
• Telephony applications (DTMF generator and more)
• Innovative, clip-oriented editing system with
outstanding performance
• Support for any output configuration from mono to
eight channels, including all standard surround formats
• Direct import of split and interleaved surround files
into separate tracks
• Clips can be processed with up to 10 virtual effects
• Track-based effects with up to 10 virtual effects
• Track volume control and surround panner with automation
• Track level meter
• Any number of clips can be placed on any number
of different tracks
• Superimposing two clips automatically generates a
crossfade in real time
• A variety of preset fades are included: exponential/
logarithmic/ sinus / square root
• Unique technology for intelligent overlapping and
positioning of clips to avoid phase cancellation
• Volume and panning can be automated for each clip
• Smart video thumbnail track with video playback within
the track – plus video tab for larger playback view
• New picture and realtime text tracks
• Full DVD Audio support including high resolution
stereo and surround formats (all channel modes
defined in the DVD Audio specification are supported)
Real-time Effects and Functions
• Real-time analysis of audio signals: Level / Pan, Phase,
60-band Spectrum Analyzer, FFT-Meter, Wave,
Bit-Meter (all with up to eight audio channels)
• NaturalVerb
• Q (parametric 4 band mastering EQ)
• Multiband Compressor
• Spectralizer (Enhancer), Denoiser, Declicker
• Voice Attenuator
• 192 kHz Resampler
• Puncher
• Reverb / Echo / Chorus
• Autopanner, Stereo Expander
• Externalizer (loudspeaker simulation for headphones)
• Leveler / Peak Master
• Noise-gate
• Ducking Tool for voice-over automation
• VST Dynamics (Gate, Leveler, Compressor, Soft Clip,
Limiter)
Off-Line Effects and Functions
• Time Stretching, Pitch Shifting, Pitch Bend
• Automatic pitch recognition and pitch adjustment
• Autosplit function: audio files can be divided based
on various criteria
• Harmonization, Chorus
• Compressor, Limiter, Gate
• Normalizer, Meta Normalizer, DC Remover
• 3D FFT
• WMA Pro export (incl. 5.1 and 7.1 surround)
• Compatible with XSend/XReceive for audio file
exchange with video applications
• Drag & Drop file support
• 16-bit and 24-bit resolution with up to 192 kHz
sampling rate. WaveLab can create DVD-A disks up
to "stereo, 24 bit, 192kHz" and "5.1, 24 bit, 48kHz",
and "5.1, 16 bit, 96kHz"
• High resolution surround support with up to 24-bit
and 48 kHz for all six channels (24- bit/96 kHz 6channel surround requires MLP encoding – currently
not supported by WaveLab 5)
• DVD Audio creation directly from Audio Montage
• Instant non-destructive and reversible transformation
from CD project to DVD-A project
• Support for DVD real-time text and static text, still
images, slideshows, and graphic menus
• Support for ISRC and UPC/ EAN codes
• Automatic creation of menus
• Support for gapless playback, audio-inpause, hidden
"bonus" tracks
• DVD Audio grabber (for unprotected DVD-A only)
• Support of DVD-R/ RW, DVD+R/ RW and DVD-RAM
drives
• Ability to import and burn DVD Video content
• Support for additional data content
• Supports up to 9 Groups with up to 99 tracks each
• Track sub-index support
• User-defined down-mix coefficients from
surround to stereo with direct audio preview
SYSTEM REQUIREMENTS
CD Burning
• Full Red-book compatible CD burning with enhanced
CD burner support
• On-the-fly CD burning including all Plug-Ins
• CD Wizard enables the creation of an entire Redbook CD with just a few mouse clicks within the
Audio-Montage
• Individual clips in the Audio-Montage can be defined
as CD tracks and burnt directly to CD
• Label Editor to create custom labels and CD covers
• Backup tool: storage of projects and data on CDs or
other media
• Audio-in-pause, CD-text support, CD Image
import/export, Cue Sheet import/export
• Data and mixed mode CD burning, ISO image support
full
g
in
lud oring
c
n
i
th
Now -A Au
DVD
Windows
Minimum System Requirements:
CPU: AMD / Pentium 3 or above, 500 MHz
256 MB of RAM
10 GB of free hard disk space for DVD Audio
Windows XP, Windows 2000
Display: 24 bit required for DVD-A (menu creation)
ASIO compatible audio hardware with at least 8 channels
Microsoft DirectX 9 for video operations
Recommended System Requirements:
CPU: AMD / Pentium 4, 2 GHz
512 MB of RAM
10 GB of free hard disk space for DVD Audio
Windows XP
Display: 24 bit required for DVD-A (menu creation)
ASIO compatible audio hardware with at least 8 channels
Microsoft DirectX 9 for video operations
Steinberg, WaveLab and ASIO are trademarks of Steinberg Media Technologies GmbH. Cubase, VST and Nuendo are registered trademarks of Steinberg Media Technologies GmbH. Windows 2000, Windows
XP, DirectX and Microsoft are either registered trademarks or trademarks of Microsoft Corporation in the United States and/or other countries. Pentium is a registered trademark of Intel Corporation in the
U.S. and other countries. AMD is a trademarks of Advanced Micro Devices, Inc. UV22 is a registered trademark of Apogee Electronics Corp. Audio Algorithms developed by Spectral Design GmbH, Germany
for Steinberg Media Technologies GmbH. http://www.spectral-design.com Copyright © 2001 by Spectral Design GmbH. CD-related data through the Internet from the CDDB Music CD Database. CDDBEnabled, CDDB, CDDB 2 and the CDDB Logo are trademarks of CDDB Inc. Disc Recognition Service and DRS are service marks of CDDB, Inc. © 2002 CDDB Inc. CDDB Client Software. © 2002 CDDB
Inc. InstantCD Wizard CD/DVD Recording SDK © 2002 VOB Computersysteme GmbH. MPEG Layer-3 audio compression technology licensed by Fraunhofer IIS and THOMSON multimedia. All other product
and company names are ™ or ® of their respective holders. Unauthorised copying, hiring or lending of this software is strictly prohibited. All specifications are subject to change without notice. All rights
reserved. Printed in Germany. © 2004 Steinberg Media Technologies GmbH.
31001372
W
New in WaveLab 5: DVD Audio
mastering and authoring
WAVELAB 5 –
the perfect all in one solution
The ever-growing demand for high
resolution audio and surround music
productions is in turn placing ever more
demands on producers. In only a few
short years, DVD Audio has established
itself as the standard format for multichannel uncompressed audio with video,
text and DVD ROM content. WaveLab
5 lets you turn a CD mastering project
into a DVD Audio project with one single
mouse click. WaveLab 5 is the first audio
editing application that supports DVD
Audio authoring as well as of powerful
CD mastering and burning features.
WaveLab 5 unites capabilities such as
graphical editing and processing with
full DVD Audio authoring, including
graphic menus, DVD text and even
import and burning of DVD video
content.
Audio editing in real-time
Audio editing includes a broad range of
tasks, which often requires the use of
several software tools. The powerful and
versatile WaveLab 5 does the work of
a dozen other programs in one
outstanding application. WaveLab 5
offers sample-accurate stereo or multichannel audio editing combined with
powerful DSP effects for sound design.
Additionally, WaveLab 5 also supports
many common surround formats with
up to eight channels, as well as surround
plug-ins such as the Steinberg Surround
Edition. And if that wasn't enough,
WaveLab also features non-destructive
real-time fades and crossfades, clip- and
t r a ck - b a s e d e f f e c t s , u n l i m i t e d
Undo/Redo, and a powerful set of batch
processing features. This range of
impressive features makes WaveLab
stand out from the crowd.
CD Mastering – All For One
CD mastering is more than getting the
maximum loudness out of music tracks
and putting them in the right order. A
mastering studio adjusts a range of
qualities of many different audio tracks,
for example volume, EQ and the spatial
qualities of a track, forming them into
one homogenous sonic entity that can
be put together onto the same CD. In
some cases, tracks even have to
repaired. Sometimes the engineer also
has to create complex crossfades
between songs or recordings. WaveLab
5 supports you every step of the way,
with an efficient set of tools that take
the hassle out of professional mastering,
leading you through each stage of the
process, from audio track montage,
audio editing, building first class effects
and crossfades all the way through to
exact placement of CD markers and PQ
editing. WaveLab 5 then creates a CD
image file, burns that onto CD and
compares the final CD with the Master
image, making any CD burning errors
visible and allowing the engineer to
correct them. WaveLab 5 can also create
color CD covers and labels from within
the project itself.
See for yourself:
from audio to video
The new "smart" video thumbnail track
makes WaveLab 5 the perfect tool for
editing audio for video. WaveLab 5 offers
more possibilities for detailed, accurate
audio editing than ordinary video editing
software. WaveLab 5 offers a whole
range of editing capabilities to build a
powerful and impressive sonic
experience, from trimming and editing
audio clips to complex sound design
tasks. WaveLab 5 is a comprehensive
audio editing solution, tailored to
producing sound effects, background
loops, crystal-clear dialogs, or using the
renowned Audio Montage features,
complex multitrack projects. And now
that WaveLab 5 offers up to 8 audio
channels, WaveLab has become the
ideal mastering tool for soundtracks in
all common surround formats, including
5.1 and 7.1. With integration of
functions such as Xsend and Xreceive,
WaveLab 5 can be integrated seamlessly
in to many video applications such as
Pinnacle Liquid Edition.
The Audio Montage in WaveLab 5 now offers full surround support, picture and text tracks for DVD-Audio authoring and a video thumbnail track. WaveLab
users will find the DVD Audio capabilities extremely easy to use as the additional and DVD-A – specific features are seamlessly integrated in WaveLab
5's familiar user interface.
1996 saw the first chapter in the
long and distinguished story of
WaveLab. Since then, WaveLab has
been continually developed, and
has become a leading application
in digital audio editing.
With version 5, WaveLab can once
again claim to be the standard
which other applications have to
measure themselves by.
WaveLab 5 is probably the only allin-one solution for high resolution
stereo and multi-channel audio
editing, mastering, CD/DVD burning
and for complete CD or DVD Audio
production in outstanding audio
quality.
New extended feature set
The uses WaveLab is put to are just as
multifaceted as the WaveLab feature
set. That's why WaveLab is found in top
flight audio facilities as well as in project
studios. WaveLab is not just a top level
mastering tool, offers capabilities ideal
for multimedia, and sound design with
samplers or radio broadcast and
computer telephony applications.
Besides full support for video still images, slideshow transitions, real-time
and static text, WaveLab5 also includes a full-featured menu graphics
creator. The graphics editor works hand in hand with the project and Audio
Montage. Menu background templates are included.
The expanded Master Section supports surround plug-ins such
as the optional eight-channel Steinberg Surround Edition plugin suite. The Q equalizer plug-in and Multiband Compressor are
just two of the pro quality plug-ins included in WaveLab 5.
The WaveLab 5 metering toos give you a detailed view of your
audio, with support for up to 8 audio channels, including the FFT,
Level and Spectrum Meter tools illustrated here.