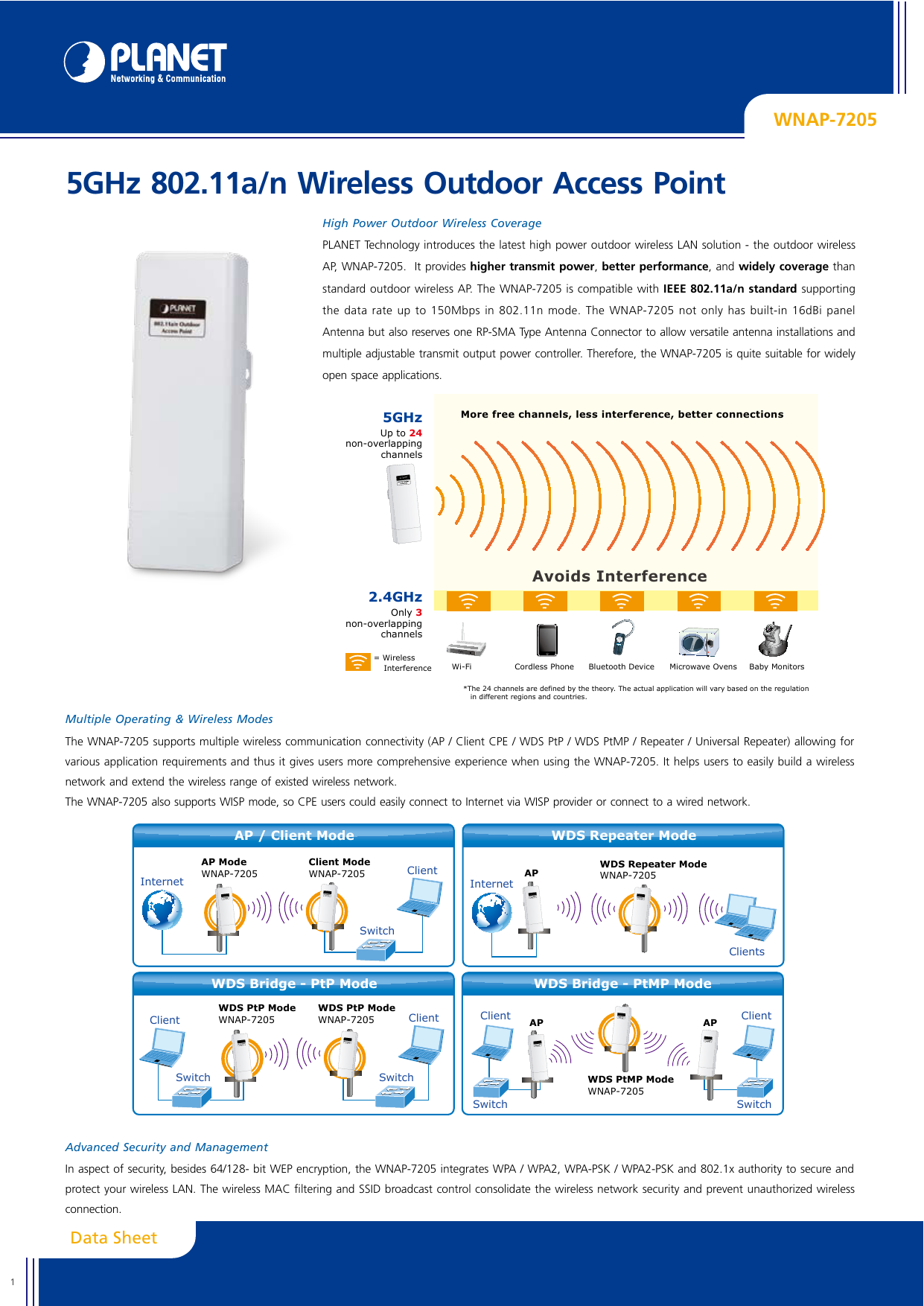 WNAP-7205
5GHz 802.11a/n Wireless Outdoor Access Point
High Power Outdoor Wireless Coverage
PLANET Technology introduces the latest high power outdoor wireless LAN solution - the outdoor wireless
AP, WNAP-7205. It provides higher transmit power, better performance, and widely coverage than
standard outdoor wireless AP. The WNAP-7205 is compatible with IEEE 802.11a/n standard supporting
the data rate up to 150Mbps in 802.11n mode. The WNAP-7205 not only has built-in 16dBi panel
Antenna but also reserves one RP-SMA Type Antenna Connector to allow versatile antenna installations and
multiple adjustable transmit output power controller. Therefore, the WNAP-7205 is quite suitable for widely
open space applications.
5GHz
More free channels, less interference, better connections
Up to 24
non-overlapping
channels
Avoids Interference
2.4GHz
Only 3
non-overlapping
channels
= Wireless
Interference
Wi-Fi
Cordless Phone
Bluetooth Device
Microwave Ovens
Baby Monitors
*The 24 channels are defined by the theory. The actual application will vary based on the regulation
in different regions and countries.
Multiple Operating & Wireless Modes
The WNAP-7205 supports multiple wireless communication connectivity (AP / Client CPE / WDS PtP / WDS PtMP / Repeater / Universal Repeater) allowing for
various application requirements and thus it gives users more comprehensive experience when using the WNAP-7205. It helps users to easily build a wireless
network and extend the wireless range of existed wireless network.
The WNAP-7205 also supports WISP mode, so CPE users could easily connect to Internet via WISP provider or connect to a wired network.
AP / Client Mode
Internet
AP Mode
WNAP-7205
WDS Repeater Mode
Client Mode
WNAP-7205
Client
Internet
AP
WDS Repeater Mode
WNAP-7205
Switch
Clients
WDS Bridge - PtMP Mode
WDS Bridge - PtP Mode
Client
WDS PtP Mode
WNAP-7205
Switch
WDS PtP Mode
WNAP-7205
Client
Client
Switch
AP
AP
Client
WDS PtMP Mode
WNAP-7205
Switch
Switch
Advanced Security and Management
In aspect of security, besides 64/128- bit WEP encryption, the WNAP-7205 integrates WPA / WPA2, WPA-PSK / WPA2-PSK and 802.1x authority to secure and
protect your wireless LAN. The wireless MAC filtering and SSID broadcast control consolidate the wireless network security and prevent unauthorized wireless
connection.
Data Sheet
1
WNAP-7205
Highly Reliable Outdoor Device
The WNAP-7205 is perfectly suitable to be installed in outdoor environments and exposed locations. With its IP55 casing protection, the WNAP-7205 can
perform stably under rigorous weather conditions including heavy rain and wind. With the proprietary Power over Ethernet (PoE) design, the WNAP-7205 can
be easily applied in the areas where power outlets are not available. It is the best way using the WNAP-7205 to build outdoor wireless access applications
between buildings on campuses, business, rural areas and etc.
16dBi
FP Ant.
PoE LAN/WAN
Optional RP-SMA Type
for External Ant.
Data Sheet
2
WNAP-7205
Key Features
Industrial Compliant Wireless LAN & LAN
Multiple Operation & Wireless Mode
•• Compliant with IEEE 802.11n wireless technology capable of up to
•• Multiple Operation Modes: Bridge, Gateway, Ethernet Converter
150Mbps data rate
•• Multiple Wireless Modes: AP, Client CPE(WISP), WDS PtP, WDS PtMP,
•• Backward compatible with 802.11a standard
Repeater, Universal Repeater
•• Equipped with 10/100Mbps RJ-45 Ports for LAN & WAN, Auto MDI/
MDI-X supported
Secure Network Connection
•• Supports Software Wi-Fi Protected Setup (WPS)
Fixed-network Broadband Router
•• Supported connection types: Dynamic IP / Static IP / PPPoE / PPTP /
•• Advanced security: 64/128-bit WEP, WPA/WPA2, WPA-PSK/WPA2PSK(TKIP/AES), and 802.1x Authentication
L2TP
•• Supports NAT firewall features, with SPI function to protect against
•• Supports multiple sessions IPSec, L2TP and PPTP VPN pass-through
•• Supports Virtual Server, DMZ and Port Forwarding for various
DoS attacks
•• Supports IP / Protocol-Based access control and MAC Filtering
networking applications
•• Supports DHCP Server, UPnP, Dynamic DNS
Easy Installation & Management
•• Web-Based UI and Quick Setup Wizard for easy configuration
RF Interface Characteristics
•• Remote Management allows configuration from a remote site
•• Built-in 16dBi Directional Antenna
•• System status monitoring includes DHCP Client, System Log
•• High Output Power Up to 300mW with multiple adjustable transmit
power control
•• Reserve RP-SMA Type Connector
Outdoor Environmental Characteristics
•• IP55 Enclosure
•• Passive Power Over Ethernet Design
•• Reset Button on PoE Injector
•• Operating Temperature: -20 ~ 70 Degree C
Data Sheet
3
WNAP-7205
Applications
Longer distance coverage between LAN connections
The WNAP-7205 is a cost-effective outdoor wireless solution for widely open space applications. It is best suitable for outdoor wireless connections between
buildings.
a/n
a/n
WNAP-7205
WNAP-7205
PoE
a/n
PoE
a/n
WNAP-7205
Campus
Government
PoE
a/n
a/n
WNAP-7205
WNAP-7205
PoE
PoE
Internet
Service Provider
100Base-TX UTP with PoE
PoE
Antenna Wire (External Antenna Mode)
a/n
Enterprise
Community
5GHz 802.11a/n
With built-in RP-SMA Type Antenna connector, the WNAP-7205 brings higher coverage and longer distance of wireless connection. The WNAP-7205 provides
high output power with multiple adjust Tx controller, which allows CPE users to easily install and adjust the suitable value in appropriate locations. The WISP
mode supported also enables CPE users to connect to Internet via local WISP provider.
N
AP Client
Mode
N
AP Mode
PoE
IP Camera
*Sincerely suggest matching the same model in outdoor wireless bridge application for getting best performance.
Data Sheet
4
WNAP-7205
Specification
Product
150Mbps 802.11a/n Wireless Outdoor Access Point
Model
Hardware
WNAP-7205
Standard support
Chipset
Memory
PoE
Interface
Antenna
Data Rate
Media Access Control
Modulation
Opt. Channel
Frequency Band
RF Output Power
Receiver Sensitivity
Output Power Control
Power Requirements
Environment & Certification
Operation Temp.
Storage Temp.
IP Level
Regulatory
Data Sheet
5
IEEE802.11a/n
IEEE 802.3
IEEE 802.3u
IEEE 802.3x
Ralink RT2880
32 Mbytes DDR SDRAM
4 Mbytes Flash
Passive PoE
Reset Button on PoE Injector
Wireless: IEEE 802.11a/n, 1T1R
LAN: 1 x 10/100Base-TX, Auto-MDI/MDIX
WAN: 1 x 10/100Base-TX, Auto-MDI/MDIX
Internal (Default): 16dBi directional antenna (Vertical Polarization)
 Horizontal: 60 degree
 Vertical: 30 degree
External (Option): RP-SMA type Connector
 Switchable by Software
 For External Antenna Mode, attach antenna before power on
802.11a: 54, 48, 36, 24, 18, 12, 9 and 6Mbps
802.11n (20MHz): up to 72Mbps
802.11n (40MHz): up to 150Mbp
CSMA / CA
Transmission/Emission Type: OFDM
Data modulation type: OFDM with BPSK, QPSK, 16-QAM, 64-QAM
5.180GHz
CH36
5.580GHz
5.200GHz
CH40
5.600GHz
5.220GHz
CH44
5.620GHz
5.240GHz
CH48
5.640GHz
5.260GHz
CH52
5.660GHz
5.280GHz
CH56
5.680GHz
5.300GHz
CH60
5.700GHz
5.320GHz
CH64
5.745GHz
5.500GHz
CH100
5.765GHz
5.520GHz
CH104
5.785GHz
5.540GHz
CH108
5.805GHz
5.560GHz
CH112
5.825GHz
*The 24 channels are defined by the theory. The actual application will vary
in different regions and countries.
5.180GHz ~ 5.825GHz
802.11a: 25 ± 1dBm
802.11n: 22 ± 1dBm
IEEE 802.11a: -90dBm
IEEE 802.11n: -88dBm
Range 1~100, default:100
12V DC, 1A (switching)
Temp.: -20~70 Degree C, Humidity: 10~90% non-condensing
Temp.: -30~80 Degree C, Humidity: 5~90% non-condensing
IP55
CE / RoHS
CH116
CH120
CH124
CH128
CH132
CH136
CH140
CH149
CH153
CH157
CH161
CH165
based on the regulation
WNAP-7205
Software
Built-in DHCP server supporting static IP address distributing
Supports UPnP
Supports IGMP Proxy, DNS Proxy
Supports 802.1d STP (Spanning Tree)
 Static IP
 DHCP (Dynamic IP)
 PPPoE
 PPTP
 L2TP
 PPTP
 L2TP
 IPSec
 Bridge
 Gateway
 Ethernet Converter (WISP)
NAT firewall with SPI (Stateful Packet Inspection)
Built-in NAT server supporting Port Forwarding (Virtual Server), and DMZ
Built-in firewall with Port / IP address / MAC / URL filtering
 AP
 Client
 WDS PTP
 WDS PTMP
 WDS Repeater (AP+WDS)
 Universal Repeater (AP+Client)
20MHz / 40MHz
Enable to isolate each connected wireless clients
64/128-bits WEP, WPA, WPA-PSK, WPA2, WPA2-PSK, 802.1x
Provides wireless LAN ACL (Access Control List) filtering
Wireless MAC address filtering
Supports WPS (WIFI Protected Setup)
Enable/Disable SSID Broadcast
25
4
60
Network Time Management
Web UI, DHCP Client, Configuration Backup & Restore, Dynamic DNS
System Log
LAN
WAN Protocol
VPN Passthrough
Operating Mode
Firewall
Wireless Mode
Channel Width
Wireless Isolation
Encryption Type
Wireless Security
Max. Wireless Client
Max. WDS AP
Max. Wired Client
NTP
Management
Diagnostic tool
Ordering Information
WNAP-7205
802.11a/n Wireless Outdoor Access Point
Related Products
CB-STP-25
25 Meters STP Cat5 Cable
ELA-100
Ethernet Lightning Arrest Box
Accessories
ANT-OM10A
5GHz 10dBi Omni-Directional Antenna
ANT-FP18A
ANT-FP23A
ANT-SE17A
WL-SMA-0.6
WL-SMA-6
5GHz 18dBi Flat Panel Directional Antenna
5GHz 23dBi Flat Panel Directional Antenna
5GHz 16.5dBi Sector Antenna
0.6M RP-SMA(M) to N(M) Cable
Data Sheet
6
09-11
6M RP-SMA(M) to N(M) Cable
PLANET Technology Corporation
11F., No.96, Minquan Rd., Xindian Dist., New Taipei City 231,
Taiwan (R.O.C.)
Tel: 886-2-2219-9518 Fax: 886-2-2219-9528
Email: [email protected] www.planet.com.tw
C-WNAP-7205
PLANET reserves the right to change specifications without prior notice. All brand names and trademarks are property of
their respective owners. Copyright © 2011 PLANET Technology Corp. All rights reserved.