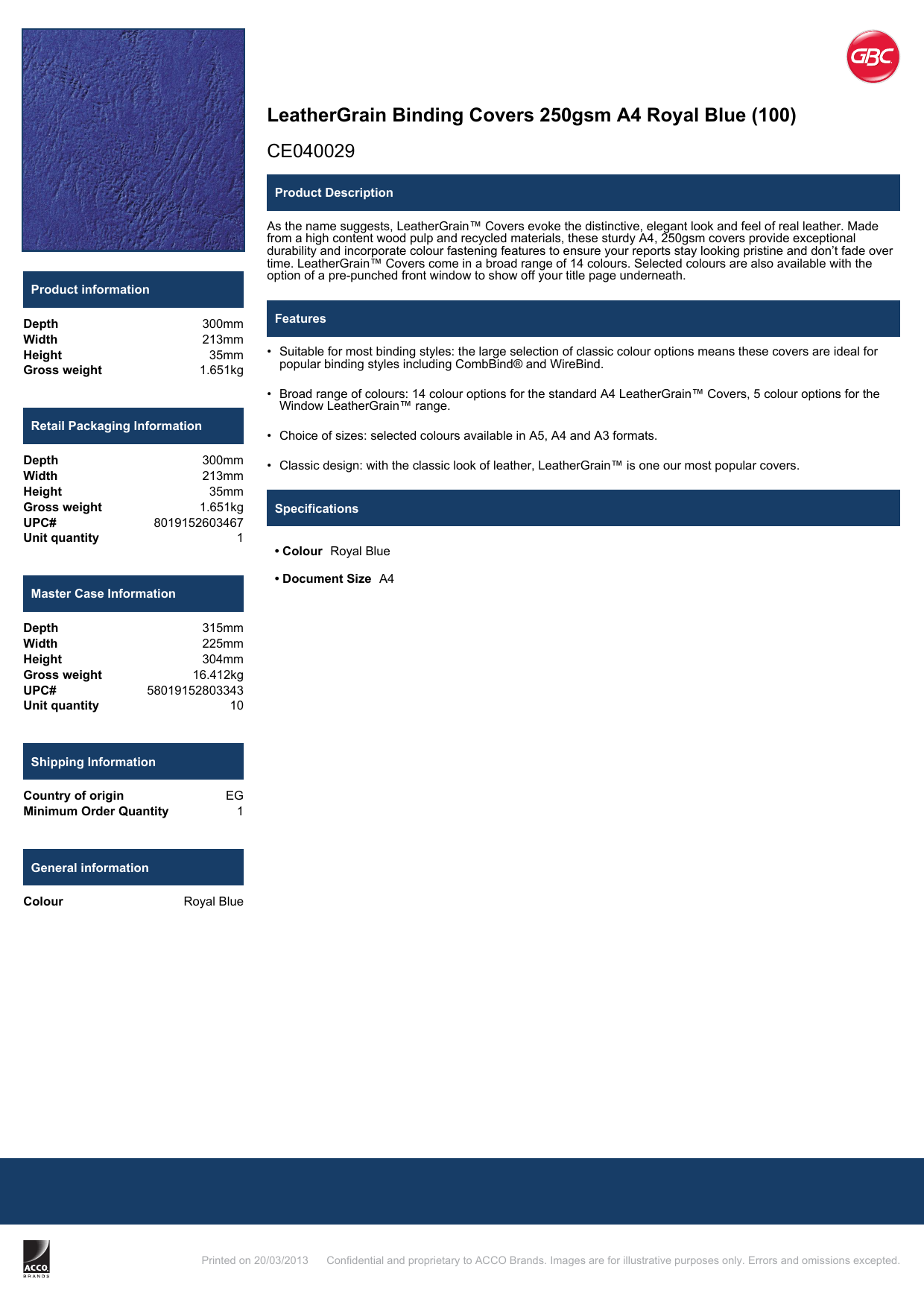 LeatherGrain Binding Covers 250gsm A4 Royal Blue (100)
CE040029
Product Description
As the name suggests, LeatherGrain™ Covers evoke the distinctive, elegant look and feel of real leather. Made
from a high content wood pulp and recycled materials, these sturdy A4, 250gsm covers provide exceptional
durability and incorporate colour fastening features to ensure your reports stay looking pristine and don't fade over
time. LeatherGrain™ Covers come in a broad range of 14 colours. Selected colours are also available with the
option of a pre-punched front window to show off your title page underneath.
Product information
Depth
Width
Height
Gross weight
300mm
213mm
35mm
1.651kg
Features
• Suitable for most binding styles: the large selection of classic colour options means these covers are ideal for
popular binding styles including CombBind® and WireBind.
• Broad range of colours: 14 colour options for the standard A4 LeatherGrain™ Covers, 5 colour options for the
Window LeatherGrain™ range.
Retail Packaging Information
Depth
Width
Height
Gross weight
UPC#
Unit quantity
• Choice of sizes: selected colours available in A5, A4 and A3 formats.
300mm
213mm
35mm
1.651kg
8019152603467
1
• Classic design: with the classic look of leather, LeatherGrain™ is one our most popular covers.
Specifications
• Colour Royal Blue
• Document Size A4
Master Case Information
Depth
Width
Height
Gross weight
UPC#
Unit quantity
315mm
225mm
304mm
16.412kg
58019152803343
10
Shipping Information
Country of origin
Minimum Order Quantity
EG
1
General information
Colour
Royal Blue
Printed on 20/03/2013
Confidential and proprietary to ACCO Brands. Images are for illustrative purposes only. Errors and omissions excepted.

* Your assessment is very important for improving the work of artificial intelligence, which forms the content of this project