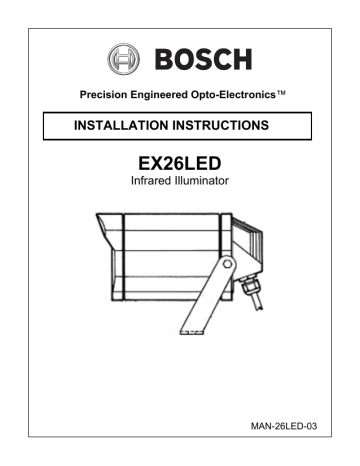 Precision Engineered Opto-Electronics™
INSTALLATION INSTRUCTIONS
EX26LED
Infrared Illuminator
MAN-26LED-03
IMPORTANT SAFETY INSTRUCTIONS
1. Read these instructions.
2. Keep this instruction.
5. Do not use this apparatus near water.
6. Clean only with dry cloth.
7. Do not block any ventilation openings. Install in accordance with manufacturer instructions.
8. Do not install near any heat sources such as radiators, heat registers, stoves or other apparatus (including amplifiers) that produce heat.
9. Do not defeat the safety purpose of the polarized or grounding-type plug. A polarized plug has two blades with one wider than the other. A grounding type plug has two blades and a third grounding prong. The wide blade or the third prong is provided for your safety. If the provided
plug does not fit into your outlet, consult an electrician for replacement of the obsolete outlet.
10. Protect the power cord from being walked on or pinched particularly at plugs, convenience receptacles, and the power where they exit from the apparatus.
11. Only use attachments/accessories specified by the manufacturer.
12. Use only with the cart, stand, tripod, bracket, or table specified by the manufacturer, or sold with the apparatus. When a cart is used, use caution when moving the cart/apparatus combination to avoid injury from tip-over.
13. Unplug this apparatus during lightning storms or when unused for long periods of time.
14.
Refer all servicing to qualified service personnel. Servicing is required when the apparatus has been damaged in a way, such as power-supply cord or plug is damaged, liquid has been spilled or objects have fallen into the apparatus, the apparatus has been exposed to rain or moisture, does not operate normally, or has been dropped.
IMPORTANT
For best results, please read this Instruction Booklet prior to installing the EX26LED illuminator.
WARNING !
CSA Certified / UL Listed CLASS 2 power adaptors must be used in order to comply with electrical safety standards.
EU Directives covered by this declaration:
72/9/EC Low Voltage Directives
89/336/EEC Electromagnetic Compatibility Directive
Bosch Security Systems, Inc. will not be responsible for injuries or damages resulting from the improper installation or use of any product sold by Bosch Security Systems, Inc their agents, distributors or dealers.
NOTE: This equipment has been tested and found to comply with the limits for a digital device, pursuant to part
15 of the FCC rules. These limits are designed to provide reasonable protection against harmful interference in a residential installation. As part of its' normal operation this device can generate radio frequency energy and if not installed and used in accordance with the installation manual may cause interference to radio communications.
However, there is no guarantee that interference will not occur on a particular installation. If the device does cause interference to radio or television reception the user is encouraged to try to correct the interference by one or more of the following measures:
1) Fit Ferrite beads on all cable to and from the power supply box, within the box walls.
2) Route the composite cable between the camera and the power supply in steel conduit piping over the entire run of the cable up to and including connection to a deep conduit base fitted under the camera and a conduit fitting adaptor in the wall of the PSU box.
3) Contact BOSCH Service Center for further advice.
INDEX – EX26
Page
Description...................................................1
Unpacking....................................................2
Parts List......................................................2
Items Required for Installation.....................2
Mechanical Specifications ...........................3
Initial Preparations .......................................5
Guidelines....................................................6
Section 1. Voltage Setting ...........................7
Section 2. Adjustments – Illuminator……...10
Section 3. Illuminator Mounting .................12
Section 4. Troubleshooting - Illuminator ....13
Section 5. General Specifications..............15
DESCRIPTION
The EX26LED Infrared Illuminator is a versatile short to mid-range illuminator (60 feet / 20 m with 850 nm LED's, at a 30° beam angle). It is encased in a weather-tight cast and extruded aluminum housing and is equipped with a Ubracket for instant installation. As a 12 VDC / 24
VAC unit, it is ideal for existing CCTV installations and new CCTV projects that specify
24 hour surveillance in and around buildings in
24V ac operation, and a range in between, also providing protection from voltage surge, transient spikes, and reverse voltage. covert or semi-covert conditions.
A voltage regulator circuit allows for 12V dc or
1
UNPACKING
Care should be taken when unpacking. Check the parts list and confirm all items have been located.
Inspect the equipment thoroughly to ensure nothing was damaged in transit.
Contact BOSCH Service Center if a problem is noted, see the rear page of this booklet for contact numbers.
PARTS LIST
(items supplied with unit)
- EX26 illuminator assembly
- Installation Instructions
- "U" shaped Mounting Bracket
ITEMS REQUIRED FOR INSTALLATION
(not supplied with unit)
- Phillips screwdriver
- 3mm Allan key
- Optional heavy duty "L" mounting bracket or
die-cast aluminum mounting bracket (contact
Bosch Security Systems, Inc. for details and prices)
- Hardware for illuminator mounting (bolts, etc.)
2
EX26 MECHANICAL SPECIFICATIONS
(See Section 5- General Specifications, for additional information)
Side View
3
EX26 MECHANICAL SPECIFICATIONS
(See Section 5- General Specifications, for additional information)
Front View
4
INITIAL PREPARATIONS

Determine the operating voltage at the installation site. The illuminator has been pre-wired at the factory for 24V ac operation.
Section 1 – Voltage Setting.

All illuminators have been tested prior to shipment. After the wiring has been reconnected, it is advisable to check the illuminator's operation before installation.
Select a suitable location that is protected from accidental damage, tampering, and environmental conditions exceeding the illuminator's specifications.
Caution: The selected mounting location should not place the illuminator in a situation where its environmental specifications could be exceeded.
Ensure the selected location is protected from falling objects, accidental contact with moving objects, and unintentional interference from personnel. Follow all applicable building codes.
5

The following installation guidelines must be followed:
• Locate the illuminator such that it cannot be easily interfered with, either intentionally or accidentally.
• Select a mounting surface capable of supporting the combined weight of the illuminator and mounting hardware under all expected conditions of vibration and temperature.
• Secure all cabling.
•
Installations on drywall must use a ¼" bolt and drywall butterfly type anchor or superior connection.
GUIDELINES
Two basic requirements must be met before the
EX26 can be installed.
2. Illuminator Wiring & Settings
Sections 1 and 2 will guide the installer through these settings and adjustments.
6
The EX26, when shipped, is connected for
24V ac operation.
Note: Input voltages between 13.5 and 28V, ac or dc, will work in the 24V ac input setting.
Step 1.1 - If 12V dc operation is required, remove the screw located at the rear of the housing. (Figure 2-1)
Step 1.2 - For 24Vac operation:
For 12V dc operation: Power is
black (GND) and red (+ dc).
Step 1.3 - Before closing the end, ensure the gasket is seated properly on the enclosure (flat against the edge).
Close the end and tighten the screw.
Step 1.4 - Test the illuminator for proper operation.
7
See Section 2, Figures 2-1 if access to VRB is required.
( )
8
FIGURE 1 – 2
Terminal Block
9
2. ADJUSTMENTS - ILLUMINATOR
For optimum picture quality the illuminator brightness can be adjusted to match the camera. It would be beneficial for the installer to have a connected IR sensitive camera during this adjustment phase.
The following steps show the installer how to access the Illuminator/LED board.
Step 2.1 - Disconnect the power source to the illuminator.
Step 2.2 - Remove the four cap screws with a
3mm Allan key. See Figure 2-1 on page 11.
10
Step 2.3 - Carefully slide out the rear housing from the main enclosure. Make sure the gasket remains with the rear section..
Step 2.4 - Make the necessary adjustments as per Figures 1-1 to 1-2 on pages 8 to 9 respectively.
Step 2.5 - Carefully slide rear section back into the main enclosure and re-install the cap screws.
FIGURE 2 – 1
Rear Housing Removal
11
3. ILLUMINATOR
The EX26 can be mounted using the optional "L" bracket or the supplied "U" bracket.
12
4. TROUBLESHOOTING GUIDE – LEDs
PROBLEM
Fuse Blows
POSSIBLE SOLUTION
-
Check the fuse rating.
Don't know if
LEDS are "ON"
- Check for shorting between the housing and the input power wires.
-850nm LEDs will have a faint red glow when
"ON".
-940nm LEDs are covert.
-Aim the LEDs directly at an IR sensitive camera, or use a mirror to see the lights through the EX35 camera, or wait for the
LEDs to warm up (two minutes).
13
LEDs are not
"ON"
LEDs are not turning "OFF" when sufficient ambient light is present
- Cover the photocell to activate power to the
LEDs (up to 30 seconds delay for activation).
- Adjust the photocell's variable resistor towards the "ON" position.
- Adjust power to the
LEDs.
- Make sure the photocell is not covered or hidden behind any object.
- Adjust the photocell's variable resistor towards the "OFF" position (up to
30 seconds delay). The
LEDS will stay "ON" or
"OFF" if the adjustments are at full turn.
14
5. GENERAL SPECIFICATIONS
LED Type............High Perf. 850nm / 940nm
LED Beam Angles ... 60deg. (W), 30deg. (M)
Operational Range...................
-50
°C to +60°C
(-58
°F to +140°F)
Humidity Range .............Up to 85% (relative)
Power Supply..................... 12V dc or 24V ac
Housing…………………….Extruded Aluminum
Dimensions ............ 168mm x 91mm x 89mm
Weight................................................ 1.5 lbs.
Subject To Change Without Notice.
15
Note:
16
Note
17
Americas
Bosch Security Systems, Inc.
850 Greenfield Road
Lancaster, Pennsylvania 17601
USA
Telephone+1 888-289-0096
Fax +1 585-223-9180
Email: [email protected] www.boschsecurity.us
Europe, Middle East, Africa:
Bosch Security Systems B.V.
P.O. Box 80002
5600 JB Eindhoven,
The Netherlands
Phone: + 31 40 2577 284
Fax: +31 40 2577 330 [email protected] www.boschsecurity.com
Asia-Pacific:
Bosch Security Systems Pte Ltd
38C Jalan Pemimpin
Singapore 577180
Phone: +65 6319 3450
Fax: +65 6319 3499 [email protected] www.boschsecurity.com
© Bosch Security Systems, Inc. 2009; Data subject to change without notice.
* Your assessment is very important for improving the workof artificial intelligence, which forms the content of this project