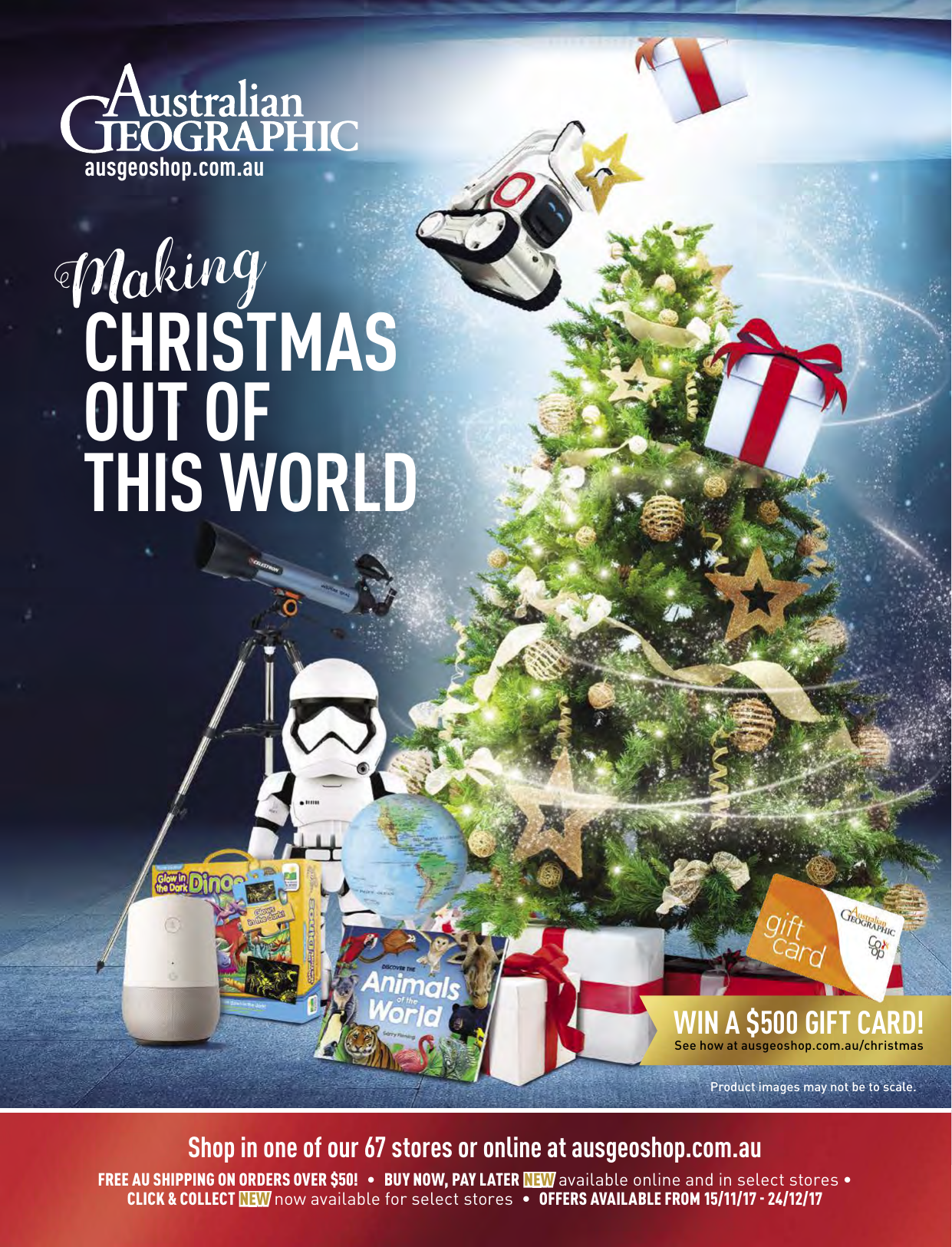 ausgeoshop.com.au
g
n
i
k
a
M
CHRISTMAS
OUT OF
THIS WORLD
WIN A $500 GIFT CARD!
See how at ausgeoshop.com.au/christmas
Product images may not be to scale.
Shop in one of our 67 stores or online at ausgeoshop.com.au
FREE AU SHIPPING ON ORDERS OVER $50! • BUY NOW, PAY LATER NEW available online and in select stores •
CLICK & COLLECT NEW now available for select stores • OFFERS AVAILABLE FROM 15/11/17 - 24/12/17
CODING TIME
CAN'T DECIDE?
NEW OSMO GENIUS KIT
BUY A GIFT CARD!
$159.99
Introduce children to
coding and develop
their confidence in
maths. This fun and
interactive kit comes
with a tablet base and
includes five games for
children aged 5-12.
iPad not included
Searching for a resource rich introduction
to coding and all things programming?
Our Christmas collection will teach,
engage and provide fun for everyone!
FEEL THE FORCE
THIS CHRISTMAS
NEW BB-8 ON THE RUN
$24.99
NEW LITTLEBITS
DROID INVENTOR KIT
NEW STAR WARS
$159.99
CODING PROJECTS
Create your own droid and bring it to life
using littleBits electronic blocks! Complete
with multiple controllers, authentic sounds
and a Droid Inventor app, you can take your
droid on 16+ missions.
$24.99
NEW STAR WARS
NEW OSMO CODING
AWBIE GAME
$79.99
Snap together coding blocks
to lead Awbie on a strawberrymunching adventure. Learning
to code is all fun and games!
NEW MAKEY MAKEY
$99.95
This invention kit will connect
everyday objects to a computer
via a simple circuit board. Perfect
for beginners and experts!
KANO
NEW CUBETTO PLAYSET
NOW $249.95
WAS $299.95
$389.95
SAVE $50
Turn screen time into creative time.
Follow the storybook, page-by-page
and build your own computer.
ABSOLUTELY
EVERYTHING YOU
NEED TO KNOW
UPDATED AND
EXPANDED
$39.99
Made of tactile and hardwearing wood Cubetto is a
child's screenless guide into
the world of coding.
NEW FIRST ORDER
STORMTROOPER
ROBOT BY UBTECH
$499.00
NEW CIRCUIT SCRIBE
MAKER KIT
$119.95
Build your understanding of inputs, outputs
and signal processing in your circuits.
Explore light sensing, timed circuits,
piezoelectric materials and more!
LITTLEBITS CODE KIT
$549.95
Inspire creativity and learn the foundations
of coding. This kit combines electronic
building blocks with easy to use drag and
drop based programming.
NEW CODE GAMER
NEW JEDI TRAINING REMOTE HELIBALL
NEW STAR WARS VR VIEWER
Learn to code through gaming! Solve
puzzles, challenge yourself, write your own
programmes and develop new applications.
The proximity sensors make this hand controlled
heliball the perfect toy to hone your Jedi skills.
5 assorted designs.
$249.95
$39.95
Equipped with voice
and facial recognition
technology, you
can issue orders to
your Stormtrooper,
create a database of
faces for customised
interactions, and even
have them detect and
respond to intruders!
Available Late
November.
$24.95
NEW SPHERO
STAR WARS BB-9E
$249.99
NEW SPHERO
STAR WARS R2-D2
$299.99
NEW SPHERO
STAR WARS BB-8
RASPBERRY PI 3 STARTER KIT
$169.95
Interested in electronics? Perfect for
beginners in the field of coding, this kit
features essential components and
tutorials for all your robotic projects.
2
RASPBERRY PI 3 PREMIUM KIT
$119.95
Includes the Pi 3 computer board and
NOOBS OS on micro-SD card, a premium
black Pi case, official black HDMI cable
and official USB power supply.
$219.95
NEW STORMTROOPER HOLOPANE LIGHT
$29.95
Bring this 25% life size Stormtrooper 3D
optical illusion to life with light! Reproduced
with photo realistic detail and a detachable
plinth base for a freestanding display.
3
WE HAVE THE
BEST BOTS
ANKI COZMO
$319.99
With over 300 parts, this
supercomputer is curious,
clever and playful. The
more time you spend with
him, the more he'll learn
and evolve!
If you, or someone you know, is
interested in design, construction,
operation and computer systems,
we've got just the gift in mind…
GO ABOVE
AND BEYOND
Give a gift that will last beyond Christmas Day
our range of drones are fun, safe and innovative,
with each delivering excellent flying control.
NEW SILVERLIT RACING HYPER DRONE 2
$199.95
Lift your racing track into the air. Easy to
fly thanks to a built-in altitude lock, this is
equipped with an intelligent station to record
your best lap time.
NEW VEX IQ
$499.95
Follow step-bystep instructions
to design, program
and complete your
own robot, then
expand on it to
build whatever
you can imagine!
NEW SILVERLIT
NEW SILVERLIT
$119.95
$79.95
NEW SILVERLIT NANO
SILVERLIT NANO
FALCON XS
NEW SILVERLIT
Various colours available.
SELFIE DRONE
NEW ROBOTICS:
UB TECH TANKBOT
NOW $219.95
SMART MACHINES
$199.95
SPEED GLIDER
Engage your child in STEM learning with this
interactive robotic building block system.
Ages 8+
XCOPTER II
VEX AMBUSH
STRIKER BY HEXBUG
NEW M.A.X
$279.95
$59.95
$59.95
$59.95
Various colours available.
Various colours available.
NEW SILVERLIT XION
NEW AIRBLOCK DRONE
WAS $249.95 SAVE $20
The first modular drone that can
turn into a hovercraft, car and more!
perform stunts through drag-anddrop programming.
HYDROCOPTER
$49.95
Design, program and complete your own
robot with this amazing construction set for
kids! Don't just build a robot, build a friend!
VEX SNAP SHOT
BY HEXBUG
$34.95
IT'S BOT VS. BOT
VEX ZIP FLYER
BY HEXBUG
$24.95
NOW $229.95
NEW HEXBUG BATTLEBOTS RIVALS
NEW HEXBUG BATTLEBOTS ARENA
Infrared controlled.
Infrared controlled.
$99.95
4
$149.95
Enjoy the immersive flying experience of a real
pilot and discover a whole new way to explore.
This set is equipped with a remote controlled
camera and in-house designed FPV goggles.
$299.95
NEW SILVERLIT SPY ROVER
NOW $229.95
WAS $249.95 SAVE $20
Capable of driving over tough terrain this 2.4Ghz
full function control FPV vehicle is designed with a
remote controlled camera as well as a microphone.
Get set for an exciting FPV driving experience!
5
THE SMART
WAY TO LIVE
ALL YOUR
3D NEEDS
Creativity made easy. Print amazing
3D objects in your very own home.
Streamline your space and your life with
this collection of smart home gadgets.
HUDWAY HEAD UP
DISPLAY
$99.95
GOOGLE HOME
See the bigger picture
with the ultimate car
accessory. Designed to
turn any Smartphone
into a head-up display,
the Hudway's transparency
allows for a clearer view
of the road, whatever
the weather.
$199.99
Simplify your search with Google Home! Easy
to use, simply integrate this global companion
to your WiFi network and get your answers (and
music!) in an instant.
XYZ DA VINCI
MINIMAKER 3D
XYZ DA VINCI 1.0 PRO 3D
$1399.99
$499.99
Designed with beginners in mind, this printer features
auto calibration and auto-loading mechanisms.
This high performance printer
offers you the freedom of creativity
in your 3D printing.
XYZ 3D SCANNER
$399.99
A compact and light design
enables you to move this scanner
around a desired target with ease.
Exclusive
to
Australiahnic
Geograp
Exclusive to
Australiahnic
Geograp
NEW RING DOORBELL
NEW TP-LINK SMART WIFI PLUG
Selected stores and online only.
Enjoy next level security and
convenience! Connect to your WiFi
network and use your Smartphone
to answer your door.
Make it even easier to manage
your household electronic devices
anywhere in the world with a tap
of your Smartphone. Compatible
with Google Home. Compatible
with Android, iOS and the Google
Assistant.
$329.00
$59.95
NEW TP-LINK SMART BULB
NEW TP-LINK SMART BULB
$59.95
$99.95
WITH DIMMABLE LIGHT
A convenient smart WiFi bulb with no
extra hardware required. Customise
your lighting to suit your mood.
Compatible with Google Home.
WITH COLOUR CHANGING HUE
Manage your lights with your
Smartphone or tablet; adjust colour
and brightness, set schedules
and scenes, and track energy use.
Compatible with Google Home.
NEW MICRO 3D
PRINTER - BLACK
to
NEW SEEDLING MAZE - GAME DESIGNER
Features
hic positioning
raprapid
Geogintelligent
for precision,
heating and
carbon fibre rods for a sturdy and
lightweight build.
Engage your imagination! Design your own virtual reality.
The Seedling Maze combines high quality materials with
cutting edge VR technology.
clusive
Ex
$499.95
Australian
$59.95
VIRTUALITY VR GLASSES
$19.95
Exclusive to
Australiahnic
Geograp
CREATE THIS CHRISTMAS
In a whole new dimension...
Exclusive to
Australiahnic
Geograp
NEW NONDA SMART CAR
CHARGER/LOCATOR
$79.99
Charge compatible devices and
keep track of your car's location
with this compact and versatile
gadget.
NEW NONDA REAR
VIEW CAMERA
$199.99
Selected stores and online only.
Linking today's technology with
yesterday's car; install this
gadget for 170˚ rear view
clarity on your integrated
smart phone.
6
NEW NONDA TYRE
PRESSURE MONITOR
$199.99
Selected stores and online only.
The first ever slow air leak
detection with real time
alerts, this gadget will boost
safe driving and help you
save on fuel.
NEW NONDA HD
MUSIC ADAPTOR
$79.99
Stream music wirelessly
in any car and enjoy HD
sound quality and hands
free calls.
Exclusive to
Australian
NEW
ographic CREATE PEN
Ge3DOODLER
$149.95
3Doodler is the world's first 3D
printing pen. Compact and easy
to use, the 3Doodler allows you
to literally draw in the air.
NEW 3DOODLER START
NEW 3DOODLER START
NEW 3DOODLER START
$99.95
$149.95
$149.95
ESSENTIAL SET
Includes 3Doodler Start Pen, 2
Packs of 3Doodler Start
Eco-Plastic, and 3Doodler
Start Activity Guide.
ROBOTICS SET
Includes 3Doodler Start Pen, 4
Mixed Plastic Packs, 5 Doodle
Sheets, 2 Doodle Blocks, Motor +
Battery Housing & Activity Guide.
ARCHITECTURE SET
Includes 3Doodler Start Pen, 4
Mixed Plastic Packs, 5 Doodle
Sheets, Architecture Doodle Mold,
Optic Wire Unit & Activity Guide.
7
SPEEDY
SUMMER
SKY'S
THE LIMIT
Ready for a hot lap? Fuel
automotive competition on
Christmas Day with high energy
driving fun that both the kids
and adults are sure to love!
Whether you're into racers,
camera drones or you're looking
for a way to get the kids into
quadcopters, we'll help you find
the right drone for Christmas.
NEW ANKI OVERDRIVE
STARTER KIT
$269.95
CAN'T DECIDE?
BUY A GIFT CARD!
Use your mobile device to
battle and race real robotic
supercars. Build your own
track in seconds.
DJI SPARK COMBO
NOW $938.95
WAS $1198.95 SAVE $260
A
This mini drone features a stabilised camera with simple to
use photography modes as well as multiple intuitive functions
including Quicklaunch, FaceAware and PalmControl.
Exclusive
to
Australiahnic
Geograp
NEW ANKI OVERDRIVE
B
Exclusive to
Australiahnic
Geograp
NEW ANKI OVERDRIVE TRUCKS
SPEED TRACK
A. FREEWHEEL TRUCK
B. X52 ICE TRUCK
$34.95
$99.95ea
E
Exclusive to
Australiahnic
Geograp
D
C
NEW PARROT MAMBO MISSION
NEW PARROT MAMBO FLY
WAS $239.95 SAVE $40
WAS $169.95 SAVE $20
$199.95
$149.95
Robust and easy to handle, this minidrone will
enable racing as well as aerobatic or highflying
challenges that will guarantee you hours of fun.
Thanks to an advanced flight controller and
powerful senses, this quadcopter drone enables
you to take steady photos from the air.
NEW PARROT BEBOP 2 POWER
NEW PARROT MAMBO FPV
DJI FPV
GOGGLES
$708.95
Combines large ultra-high quality screens,
long-range, low lag wireless connectivity, and
direct control of photo and video capture.
Exclusive to
Australiahnic
Geograp
NEW ANKI OVERDRIVE CARS
C. GUARDIAN CAR
D. NUKE CAR
E. THERMO CAR
NEW ANKI OVERDRIVE
CORNER TRACK
$89.95ea
$34.95
Exclusive to
Australiahnic
Geograp
Exclusive to
Australian
Geographic
NEW SCALEXTRIC SUPERCAR
NEW SCALEXTRIC BATHURST
NOW $199.95
$299.95
CHALLENGE SLOT CAR SET
WAS $229.95 SAVE $30
Bring the thrill of V8 Supercars to your lounge
room. Battles have intensified now that speed
can be altered on both cars.
Limited stock.
8
$899.95
WAS $999.95 SAVE $100
With 60 minutes battery life (two batteries),
FPV goggles and a new flight assistance
system, now you have more freedom to
explore and take photos/videos.
LEGENDS SLOT CAR SET
Start your engines! This impressive set features an
elevated bridge, hand controllers, numerous track
configurations, power supply and accessories.
Limited stock.
NOW $229.95
WAS $269.95 SAVE $40
Small, easy to fly and complete with
intuitive controls and interchangeable
parts, the FPV headset turns this fun
item into an entry level racing drone.
TRAXXAS ATON PLUS QUAD 2.4GHZ
NOW $799.95
WAS $899.95 SAVE $100
DROMIDA VISTA QUAD DRONE
$149.95
Capture amazing aerial footage across one
of three modes of fun: Film Mode, Sport
Mode and Expert Mode.
NEW DJI MAVIC PRO COMBO
NOW $1798.95
WAS $1998.95 SAVE $200
This combo includes a small yet powerful
drone featuring 24 high performancecomputing cores, 5 vision sensors and
a 4K camera stabilised by 3 axis.
9
PEACE ON
EARTH
Unsure whether to gift a traditional, contemporary,
antique-style or kids globe? We've got all these and so
many more on offer this year. Joy to the world!
WHATEVER
THE WEATHER
OREGON PRO
WMR300 WEATHER STATION
$799.95
WAS $899.95 SAVE $100
Provides smart weather monitoring with greater
accuracy. This all in one weather station monitors
a wide range of weather conditions, including
temperature, humidity level, wind speed and
direction, rainfall and barometric pressure.
Planning to entertain outside? Come rain,
hail or shine, keep abreast of the weather this
Christmas, and all year round, with one of
these handy weather forecast stations.
NEW MOVA
SATELLITE CLOUD
6" GLOBE
$499.95
Depicting earth as it
appears from space,
this desktop model
with clear acrylic
modern base features
a thin white cloud
cover that spans
the globe, and vivid
colours for the oceans
and landmasses.
NEW MOVA CASSINI
TERRESTRIAL 8.5"
WHITE GLOBE
RELIEF 6" GLOBE
OREGON EMR211
WEATHER STATION
$499.95
$599.95
This design features
a historical map
chronicling the three
voyages of Captain
James Cook produced
in 1790 by Giovanni
Maria Cassini.
Exclusive
to
Australian
Geographic
NEW MOVA BLUE
NOW $59.95
This globe, made
from finely polished
polymer resin
hemisphere shells
and a careful mixture
of non-toxic fluids, is
able to rotate freely.
WAS $69.95 SAVE $10
View reliable up to the
minute weather updates
at a glance. Also includes
the added convenience
of an App for your
Smartphone or tablet.
OREGON RAR213HG
WEATHER STATION
$99.95
Features 12hr+ weather
forecast with pressure
trends, indoor and
outdoor humidity trends,
ice alert, LED backlight,
data logger and a
wireless temperature/
humidity sensor.
Australiahnic
Geograp
OREGON
INFINITY III
SMART GLOBE
NEW 30CM REPLOGLE
NEW 30CM REPLOGLE
$499.95
Australianic
$199.95
LEATHERExEXPEDITION
GLOBE
clusive to
NOW $129.95
SelectedGstores
eograph
WAS $229.95 SAVE $100
and online only.
Features genuine
leather, political map styling
and is mounted on
a walnut
usive to with semi
Exclstand
finish wood
n
a
li
meridian.
Austra hic
p
AvailableGe
Late
ograNovember.
This is the ultimate learning
tool! Use the wireless touch pen
to discover multiple learning
activities for over 250 countries.
NOW $99.95
NOW $229.95
Automatic self-emptying
rain collector measures
and then eliminates
collected rainfall. Displays
daily, nine-day historical
and total rainfall records.
See the forecast, time, wind
speed and direction, indoor
and outdoor temperature,
humidity, barometric
pressure and rainfall
reading at a glance.
WAS $129.95 SAVE $30
HASTINGS ANTIQUE
GLOBE
This antique raised
relief globe features
a solid hardwood base,
and a painted die-cast
semi meridian.
Available Late November.
NEW EVAPOLAR PERSONAL
Australiahnic
Geograp
$279.95
Create your own
microclimate! Small and
lightweight this compact
evaporative air cooler and
humidifier will keep you
cool in small spaces.
Available Late November.
Exclusive to
Australiahnic
Geograp
LIVINIA NIXON'S
WEATHER KIT
$29.95
GALILEO
Exclusive
THERMOMETER
to
28CM
$29.95
Australiahnic
Geograp
$19.95
2 FOR $30 10
$34.95
AustraliahnicNOW $99.95
Geograp
NOW $374.96
WAS $299.95
SAVE 25% OFF
ALL NETATMO
WAS $129.95 SAVE $30
30CM BLUE
WOOD BASE GLOBE
SAVE 25% OFF
ALL NETATMO
WAS $99.95 SAVE $20
Home weather station
with indoor and outdoor
modules.
NOW $79.95
NETATMO PRESENCE
CAMERA
NETATMO URBAN
WEATHER STATION
NOW $224.96
1000PC EDUCA ANTIQUE
usive to 30CM ANTIQUE FULL
WORLD JIGSAW PUZZLE Excl
MERIDIAN GLOBE
WAS $249.95 SAVE $20
Exclusive to
MICROCLIMATE
CLOUD WEATHER
STATION
$29.95
Available Late November.
Exclusive to
FIND IT!
AUSTRALIA PUZZLE
OREGON WMR86/WMR86N
WEATHER STATION
Exclusive
to
Australiahnic
Geograp
Exclusive to
HOT OFFER
OREGON RGR126N
RAIN GAUGE
WAS $499.95
This outdoor security
camera features
people, car and
animal detection.
Phone not included.
Australiahnic
Geograp
13CM STORM GLASS
TEARDROP SHAPE
to
clusive
Ex
$29.95
Australian
Geographic
Exclusive to
Australiahnic
Geograp
NEW LA METRIC TIME
Exclusive to
Exclusive
stralian
Au$299.95
lianintelligent
phic precise
incredibly
ogra
Austraand
GeAn
timepiece; LaMetric
synchronizes
time
ra
g
Geo phic
automatically via the Internet so you
to
never have to set the time yourself.
Works with Netatmo Weather.
usive to Late November.
Available
Excl
Australian
Geographic
Exclusive to
Australian
Geographic
11
CAN'T DECIDE?
BUY A GIFT CARD!
THE PERFECT GIFT FOR
Look at the bright lights
of the night sky, locate
Santa and explore the
constellations; there's so
much fun to be had with the
right equipment.
SANTA SPOTTING
Exclusive
to
CELESTRON INSPIRE
100AZ TELESCOPE
Australiahnic
$499.95
Geograp
The easiest beginner
telescope to set up! Comes
with a fully integrated
smartphone adapter
built-in for the budding
astrophotographer.
Exclusive
to
Australiahnic
CELESTRON
Geograp
EXPLORASCOPE
70AZ
CELESTRON NEXSTAR 130SLT
TELESCOPE
TELESCOPE
Exclusive to
Australiahnic
Geograp
$229.95
Engineered with the beginner in mind,
discover the Moon, rings of Saturn,
moons of Jupiter and other intriguing
celestial objects.
CELESTRON ASTRO FI
130 WI-FI TELESCOPE
NOW $849.95
NOW $949.95
A computerised hand control allows
you to automatically slew to over
600 galaxies, 300 clusters and
dozens of beautiful binary stars.
Control your telescope
via integrated WiFi
using the free Celestron
e
sivfor
SkyPortal
app
Exclu
iPhone, iPad,
and
to
Android devices.
WAS $899.95 SAVE $50
Exclusive to
Australiahnic
Geograp
WAS $999.95 SAVE $50
Australian
Geographic
Exclusive to
Australiahnic
Geograp
Exclusive to
Australiahnic
Geograp
Exclusive to
Australiahnic
Geograp
Exclusive to
CELESTRON
POWERSEEKER
60AZ TELESCOPE
NOW $99.95
WAS $129.95
SAVE $30
Features a quick and easy no-tool setup,
slow motion controls for smooth tracking
and erect image optics which are ideal for
terrestrial and astronomical use.
GLOBE TROTTING
CELESTRON
e to
Exclusiv70
TRAVEL SCOPE
B-PK TELESCOPE
Australiahnic
NOW $179.95
Geograp
WAS $199.95 SAVE $20
Both telescope and
tripod fit inside your
custom backpack for easy
travelling and storage.
Exclusive to
Australiahnic
Geograp
CELESTRON
ASTROMASTER
130EQ TELESCOPE
NOW $349.95
WAS $399.95
SAVE $50
Australiahnic
Geograp
NOW $999.95
Exclusive to
This telescope is portable, powerful and equipped
with StarPointer, a rugged pre-assembled tripod
with steel tube legs, and all coated glass optics
for clear crisp images.
Exclusive to
Travel regularly throughout our wide world from the comfort of your
home to discover a little more about the galaxy in which
we live…
e to
$29.95
DISCOVER THE NIGHT
SKYASTRONOMY KIT
$49.95
Australiahnic
Geograp
NEW 30CM
REPLOGLE
MOON OFFICIAL
NASA GLOBE
$199.95
12
Available Late
November.
MOVA 4.5" GLOBES
JUPITER
NEW MOON
$229.95ea
Utilises solar technology to rotate
silently on its own with any ambient
indoor light or indirect sunlight.
No batteries or wires required.
$1399.95
an
traliautomatic,
AusThis
instant
p
ra
alignment
g
Geo hic telescope
Exclusive to
WAS $2199.95
SAVE $100
SAVE $200
Selected stores & online only.
With all the latest features to
provide the best stargazing
experience for beginners and
experienced observers alike.
This portable Schmidt-Cassegrain
Wi-Fi controlled telescope has a
rechargeable lithium ion phosphate
battery with enough power for
10 hours of stargazing.
KIT-UP THIS CHRISTMAS!
Exclusiv
ASTRONOMY 2018
CELESTRON SKYPRODIGY
130 TELESCOPE
NOW $1999.95
WAS $1099.95
Australiahnic
Geograp
Australian
Geographic
CELESTRON
EVOLUTION 6
WI-FI TELESCOPE
CELESTRON
NEXSTAR 4SE
TELESCOPE
requires no input from
the user; simply turn
it on, push a button and
enjoy the view!
Exclusive to
Australiahnic
Geograp
Make the most out of your telescope this Christmas
with these stargazing accessories.Exclusive to
Australiahnic
Geograp
Exclusive to
CELESTRON
POWERTANK LITHIUM
$349.95
A small, light and safe
portable power pack for your
computerised Celestron telescope.
CELESTRON
1.25 EYEPIECE
& FILTER KIT
NOW $399.95
WAS $429.95
SAVE $30
Australian
Geo
CELESTRON ASTROMASTER ACCESSORY
graphic KIT
NOW $129.95
WAS $149.95 SAVE $20
This eight piece eyepiece and filter accessory set
comes in a foam lined, hard plastic carry case.
13
NEW CELESTRON
NEW CELESTRON
MICROSCOPE KIT
DIGITAL
MICROSCOPE KIT
NOW $69.95
$99.95
WAS $79.95
SAVE $10
At high power this
is suited to examining
specimen slides of yeasts
and moulds, cultures, plant parts,
fibers, bacteria and more!
NEW CELESTRON
LCD DIGITAL II
MICROSCOPE
$399.95
This professional
digital biological
microscope has a
180˚ rotating head
and a 4x digital zoom
for magnification
up to 1600x.
Exclusive
to
Australiahnic
Geograp
Exclusive
to
Australian
Geographic
NEW CELESTRON 28PC
MICROSCOPE KIT
$49.95
This entry-level digital
microscope kit with
magnification from
40x to 600x is the
perfect tool for the
budding scientist.
Australian
Geographic
Exclusive to
COMPLETE
$399.95
Exclusive
to
Australiahnic
Geograp
Australiahnic
Geograp
Exclusive to
Australiahnic NEW CELESTRON LABS
Geograp CM1000C MICROSCOPE
Kids will be amazed to see objects too small
to be seen by the naked eye.
$199.95
Australiahnic
Geograp
Includes two eyepieces
(10x and 25x) and three
object lenses (4x, 10x
and 40x) to allow for
magnifications of 40x,
100x, 250x, 400x and 1000x.
Exclusive to
Australian
Geographic
BARSKA CROSSOVER
10X42 WP BINOCULAR
Lightweight and compact, these binoculars
feature a folding dual hinge bridge design
with a centred focus knob.
O-Ring sealed for 100% waterproof protection,
these have been dry nitrogen purged and sealed
to prevent fogging, clouding and moisture
damage. Includes carry case and neck strap.
Australiahnic
Geograp
NOW $249.95 WAS $299.95 SAVE $50
Exclusive to
Australiahnic
Geograp
CELESTRON SKYMASTER
15X70 BINOCULARS
$159.95
Exclusive to
Australiahnic
Geograp
WAS $129.95 SAVE $30
The ruby lenses help to minimise UV glare
while large 50mm objective lenses increase
light transmission in the darkest conditions.
BARSKA TREND COMPACT
8X21 BINOCULAR
$59.95
Exclusive to
Australiahnic
Geograp
NOW $99.95
WAS $189.95 SAVE $20
Australiahnic
Geograp
Exclusive to
$299.95
Featuring a two-way
fluid pan head.
Perfect support for
a spotting scope,
binocular, camera,
or small telescope.
Exclusive to
Exclusive to
BARSKA GLADIATOR 10-30X50
MULTI COATED BINOCULAR
NOW $169.95
Geo
$29.99
A lab-ready compound
microscope with 2000x
magnifying power, this is
strong, stable and offers
advanced features at
an economical price.
CELESTRON NATURE
DX 10X42 BINOCULAR
With phase-coated BaK-4 prisms and fully
multi-coated optics these binoculars are
a great first step into the world of serious
sport optics.
CELESTRON
TRAILSEEKER TRIPOD
BOOK OFATHE
ustralianic
MICROSCOPE
graph
CM2000CF MICROSCOPE
TAKE A CLOSER LOOK
THIS CHRISTMAS
Whether you're bird watching, hunting,
or simply seek to enjoy bright, sharp,
high-contrast views through our wide
selection of binoculars; we've got the
perfect pair just for you.
Exclusive to
NEW CELESTRON LABS
Exclusive to
SEEING IS
BELIEVING
Lightweight yet durable,
high performance yet
affordable, these water
resistant binoculars have
large objective lenses
suitable for astronomy and
other low light conditions.
Exclusive to
Australiahnic
Geograp
Exclusive to
SEEK YOUR OWN TREASURES
Australiahnic
Geograp
Exclusive to
Australiahnic
Geograp
20% OFF ALL
METAL DETECTORS
GO-FIND 20
METAL DETECTOR
NOW $159.96
WAS $199.95
Experience the fun and excitement
of treasure discovery with this high
performance detector.
14
Exclusive to
Australiahnic
Geograp
GO-FIND 60
METAL DETECTOR
NOW $319.96
WAS $399.95
It's compact, ultra
lightweight, easy-to-use
and there's no assembly
required. Just unfold, turn
on and start your search!
BARSKA PRO-200
METAL DETECTOR
NOW $239.96
CELESTRON HUMMINGBIRD
ED 9-27X56MM SPOTTING SCOPE
CELESTRON ULTIMA
45DEG 65MM SPOTTING SCOPE
CELESTRON LANDSCOUT
12-36X60 SPOTTING SCOPE
Selected stores and online only
With a clean and modern design,
this is small enough to carry in a
coat pocket, belt pack
or shoulder bag.
WAS $299.95 SAVE $50
Lightweight, portable and
packable this features a large
focus wheel with rubber grip.
$699.95
NOW $249.95
With a portable and hardwearing
refractor design, this scope
comes standard with an
18-55x zoom eyepiece.
$149.95
BARSKA BLACKHAWK
20-60X60 SPOTTING SCOPE
NOW $399.95
WAS $429.95 SAVE $30
Complete with fully multi-coated
optics to maximise light
transmission and increase
viewing clarity.
WAS $299.95
Start your treasure seeking
adventure with a userfriendly metal detector with
adjustable sensitivity and an
easy-to-read display.
15
CHRISTMAS
KITS FOR THE
GROWN UPS Create your own jolly time with these make it yourself kits.
From beer brewing to cheese making and everything in
between these sets make delicious gifts.
Designed to help
first-timers and
hobbyists alike make
the best possible beer,
cider and wine in their
very own kitchens,
right out of the box.
Dazzle your
family &
friends with
striking
molecular
cocktails,
easy recipes
that combine classic
mixology and basic
molecular gastronomy
techniques.
Ever thought, how do
you make cheese or
yoghurt? These kits
include recipes and
instructions how to
make classics like feta,
halloumi, mozzarella,
cheddar, goat's cheese
and more.
16
NEW CHARDONNAY WINE KIT
$99.95
Also available in
Cabernet Sauvignon.
Available Mid November.
NEW EXPERIMENTS
IN THE KITCHEN
$39.95
NEW STONE PALE ALE BEER
BREWING KIT
$89.95
NEW HARD CIDER KIT
$89.95
Also available in
Oktoberfest Amber Ale.
Available Mid November.
Make a dry sparkling cider at
home. This kit will work with
apple juice or cider.
Available Mid November.
NEW GIN & TONIC
NEW CUISINE
NEW COCKTAIL
$59.95
$99.95
$99.95
R-EVOLUTION KIT
R-EVOLUTION KIT
R-EVOLUTION KIT
NEW MAD MILLIE
NEW MAD MILLIE
NEW MAD MILLIE
$69.95
$39.95
$24.95
FRESH CHEESE KIT
ITALIAN CHEESE KIT
GREEK YOGHURT JAR
NEW 4M MAGNETIC
SCIENCE KIT
$24.95
NEW EXPLOSIVE SCIENCE
$39.95
NEW INVENTIONS FACTORY
$39.95
4M KIDZLAB CRYSTAL
MINING KIT
$24.95
NEW CRYSTAL
GROWING KIT
$39.95
4M KIDZLAB VOLCANO
MAKING KIT
$24.95
SCIENCE FUN
THIS SUMMER Nurture a love of STEM with any of our science kits. These
easy experiments and cool projects are a fun way to introduce
children of all ages to the basics of science.
NATIONAL GEOGRAPHIC:
DINOSAUR DIG KIT
METEORITE DIG KIT
GEMSTONE DIG KIT
GLOW IN THE DARK SLIME LAB
2 FOR $40
WERE $24.95ea SAVE $4.95
17
CAN'T DECIDE?
ENVIRONMENTALLY FRIENDLY AND EDUCATIONAL
BUY A GIFT CARD!
NATURE TUBE AQUATIC
14 IN 1 EDUCATIONAL SOLAR
NOW $39.95
WAS $49.95 SAVE $10
A GREEN
CHRISTMAS
NEW GREEN SCIENCE
Christmas gift ideas that are not only great
for the kids, but for the environment too!
$24.95 EA
BOX ROBOT OR
BOX RACER
AIR POWER ENGINE CAR
NOW $29.95
WAS $39.95 SAVE $10
RECYCLED
PAPER BEADS
$19.95
$19.95
Dive to the depths of
the ocean with this
turtle, shark, walrus
and more. Durable
play mat included.
NATURE TUBE
AUSTRALIANA
$19.95
Enjoy hours of imaginative
play as you explore the
Australian wetlands with
these animal figurines.
ANT JUNGLE
$24.95
EVERYTHING FOR
YOUR DINO NEEDS
VENUS FLYTRAP
NEW LITTLE SUN
$39.95
WORM FARM
$24.95
PUZZLE DOUBLES:
$14.95
NEW GLOW IN THE DARK
FIND IT! DINO FLOOR PUZZLE & GAME IN ONE
2 FOR $30
An iconic, high quality,
portable solar lamp that gives
up to 50hours of soft light.
LARGE PTERODACTYL
OR T-REX
FIGURINE
WERE $19.95ea SAVE $4.95
$19.95 EA
SUNFLOWER
$14.95
POLYBAG
DINOSAUR
WATER GARDEN
NOW $149.95
$14.95
WAS $174.95
SAVE $25
Grow your own herbs using this selfcleaning fishtank. The plants clean
the water and the fish feed the plants!
*Fish not included.
18
NEW SUN JAR
NEW DINOSAUR
NOW $39.95
WAS $49.95
SAVE $10
OR TRICERATOPS
BACKPACK GREEN
TERRA SPHERE
$49.95
$24.95 EA
Take prehistoric
fun with you
wherever you go!
These lightweight,
durable toys are
fun at home or
while you travel!
NEW DINOSAUR
MAGNET KIT
$19.95
19
PICTURE PERFECT
FASCINATING FACTS
Beautiful photography makes a beautiful
gift. Check out our picturesque range in
store now!
Exclusive
to
Australian
Geographic
SEE INSIDE
THE UNIVERSE
$19.99
AUSTRALASIAN
NATURE
PHOTOGRAPHY
$34.95
100 THINGS
TO KNOW
ABOUT SCIENCE
$19.99
STEVE PARISH:
50 YEARS PHOTOGRAPHING
AUSTRALIA
AUSTRALIA
GONE WILD
$59.95
Exclusive to
$79.95
Australiahnic
Geograp
FACTS:
ESSENTIAL
KNOWLEDGE
FOR CURIOUS
KIDS
PAPER AIRPLANES
$19.99
Exclusive to
Australiahnic
Geograp
$14.95
AUSTRALIAN
BUSH PUBS
CREATURES
WITH FEATURES
$49.99
MY LITTLE
NIGHT LIGHT
$14.95 EA
AUSTRALIA ALL
WRAPPED UP
$24.99
$24.99
READ ALL
ABOUT IT
There is so much to discover about our world! Go on a
rollercoaster ride through history, geography, science and
more this summer, with our selection of books.
How are rocks and minerals identified?
Are there volcanoes on Mars?
What's the universe made of?
Delight curious minds and
educate them along the way.
usive to
ExcExlucl strivaelian
s
Auto
Geographic
Australian
Geographic
Exclusive to
Australiahnic
Geograp
ORIGAMI
DINOSAURS KIT
$16.99
FIELD GUIDE TO
AUSTRALIAN BIRDS
Exclusive to
Australiahnic
Geograp
WONDERS OF LEARNING
BOX SETS - ROCKS & MINERALS
OR
usive to
ExclSCIENCE
n
$39.95
AustraliaEA
ic
Exclusive to
Australiahnic
Geograp
Geograph
NOW $49.95
Exclusive to
Australiahnic
Geograp
LONELY PLANET
AUSTRALIA
PLANNING MAP
$12.99
LONELY PLANET
THE WORLD
$39.99
JACARANDA
ATLAS 50TH
ANNIVERSARY
EDITION
Exclusive to
$74.95
HOW ANIMALS BUILD
LONELY PLANET
WORLD TRAVEL
MAP
$24.99
$19.99
THE ANIMAL BOOK
DINOSAUR ATLAS
$29.99
$27.99
Exclusive to
TOUCH & FEEL RANGE
KANGAROO, CROCODILE,
KOALA, PLATYPUS
Australiahnic
Geograp
$10.95 EA
LONELY PLANET
ATLAS OF
ADVENTURE
$44.99
20
FIND YOURSELF
THE BIG
EARTH BOOK
$29.99
Travel the world with our fantastic
range of atlases and maps.
Australiahnic
Geograp
ANIMAL INSTINCTS
From marine life and native fauna, to
Australia's most deadly animals, discover all
there is to know about Aussie bush and sea
life, and the ecosystems where they reside.
DINOSAURIUM
$39.99
ANIMALS
OF THE WORLD
$24.95
21
HOURS OF FUN
CAN'T DECIDE?
AWESOME OUTDOOR ACTIVITIES
FOR THE WHOLE FAMILY
BUY A GIFT CARD!
There's nothing quite like a good game! Keep the team entertained this
Christmas with our range of great puzzles, brainteasers and board games.
NEW DISC JOCK-E
NEW KIDS
KNOW BEST GAME
5 SECOND RULE GAME
WAS $24.95 SAVE $5
WAS $29.95 SAVE $5
$39.95 EA
NOW $24.95
NOW $19.95
NEW MONOPOLY AUSTRALIA
$39.95
Exclusive
to
Australiahnic
Geograp
No matter where you are, you can spin
tunes with Disc Jock-e ... A game of
catch never sounded so good! Features
a Bluetooth® speaker.
CODE BREAKER
JAPANESE
PUZZLE BOX
NEW PUB TRIVIA
WAS $29.95
$29.95
SAVE $10
$24.95 EA
$24.95
SKITTLES
$19.95
NOW $69.95
ROPE
QUOITS
Exclusive to
NOW $19.95
NEW 3D KITES
PHLAT BALL
Australiahnic
Geograp
WAS $89.95 SAVE $20
$69.95
PREMIUM BOULES
$69.95
Exclusive to
Australian
Geographic
TOP SELLERS!
Exclusive to
NEW MOLE-CUBE
GEAR BALL
$29.95
Exclusive to
Australiahnic
Geograp
RUBIK'S CUBE 3X3
Australiahnic
Geograp
$26.95
$19.95
MENSA'S MIND BOGGLING PUZZLES
$69.95 EA
Exclusive to
Australiahnic
Geograp
Exclusive to
Australian
Geographic
Exclusive to
Australiahnic
Geograp
MENSA'S SUDOKU CUBE
$12.95
tralian
22Aus
Geographic
Exclusive to
MENSA'S SIX OF THE
BEST PUZZLES
$24.95
NEW MENSA'S 8
NEW MENSA'S EXTRA
$16.95
$19.95
SQUARE PUZZLE
PIECE PUZZLE
LARGE WOODEN TOWER
$69.95
KUBB
$69.95
FINSKA
$69.95
23
NEW SPHERO MINI
From $79.99 EA
NEW SCRATCH MAP
DELUXE TRAVEL EDITION
$29.95
NEW
KURIO KIDS
SMART WATCH
NEW ORBIT KEY FINDER
From $39.95 EA
$99.95 EA
Available in various colours.
The ultimate smart
watch for kids.
Available in
Blue or Pink.
TOP
GIFTS
When it comes to selecting a few of our
favourite things, we simply can't go past
these essentials for Christmas…
AUSTRALIAN GEOGRAPHIC
MAGAZINE SUBSCRIPTION
$69.99
NEW SMOOTH Q
SMARTPHONE GIMBAL
$199.95
Capture steady footage on
the go!
With a 220g payload and up
to 12 hours of run time, the
compact and lightweight
Smooth Q Gimbal provides
you with beautifully
cinematic control over your
Smartphone camera.
*Phone not included.
Subscribe and receive a year's worth of Australian
Geographic Magazine for $69.99 – save 22% off
the RRP. (6 issues released per year.)
Australian Geographic has been the nation's
foremost geographical destination magazine for
over 30 years. It captures the essence and spirit
of Australia through its meticulously crafted and
beautifully presented stories and photography.
By subscribing, you will automatically become an
Australian Geographic Society member, where
you can receive exclusive member offers and
discounts. The AG Society supports scientific
environmental research, conservation, community
projects and Australian adventurers.
NSW Bondi Junction, Chatswood, Erina, Green Hills, Hurstville, Hornsby, Kotara, Macquarie, Miranda, Penrith, Parramatta, Rhodes, Rouse Hill, Tweed City, Warringah Mall, Warriewood
VIC Chadstone, Doncaster, Fountain Gate, Frankston, Geelong, Highpoint, Knox, Melbourne Emporium, Northland, Ringwood, Royal Children's Hospital, Southland, Werribee
QLD Brisbane Myer Centre, Brisbane Queens Plaza, Browns Plains, Cairns, Carindale, Chermside, Hervey Bay, Indooroopilly, Loganholme, Mackay, Maroochydore,
Mt. Gravatt, Morayfield, North Lakes, Robina, Rockhampton, Springfield, Toowoomba, Townsville ACT Belconnen, Canberra, Woden
SA Colonnades, Elizabeth, Marion, Rundle Mall WA Booragoon, Carousel, Cockburn, Joondalup, Karrinyup, Mandurah, Midland Gate, Morley, Rockingham and Whitford TAS Hobart.
New stores opening in November: NSW Shellharbour QLD Mt Ommaney, Pacific Fair
FREE online shipping* at ausgeoshop.com.au
Terms and Conditions: FREE shipping applies to online orders over $50 delivered within Australia only. Not all offers available online or in all stores. Subject to stock availability. Offers valid from 15/11/2017 – 24/12/2017. Australian Geographic members discount
on full priced products only, discount does not apply to DJI Drones, selected computerised Telescopes, Google Home, Ring, FrontRow, Traxxas products, journal subscriptions, gift card and voucher purchases. Please see in store for further details, exclusions and
conditions. Offers cannot be used in conjunction with any other offer unless otherwise stated. All offers are correct at the time of publishing this catalogue and may be subject to change without prior notice. No special orders. No rain checks – offer only valid
on stock available at the time of purchase. Prices include GST. Multi-buy prices only apply when bought in one transaction, otherwise the single price shown applies. Australian Geographic trade mark used under licence from Bauer Consumer Media Limited.