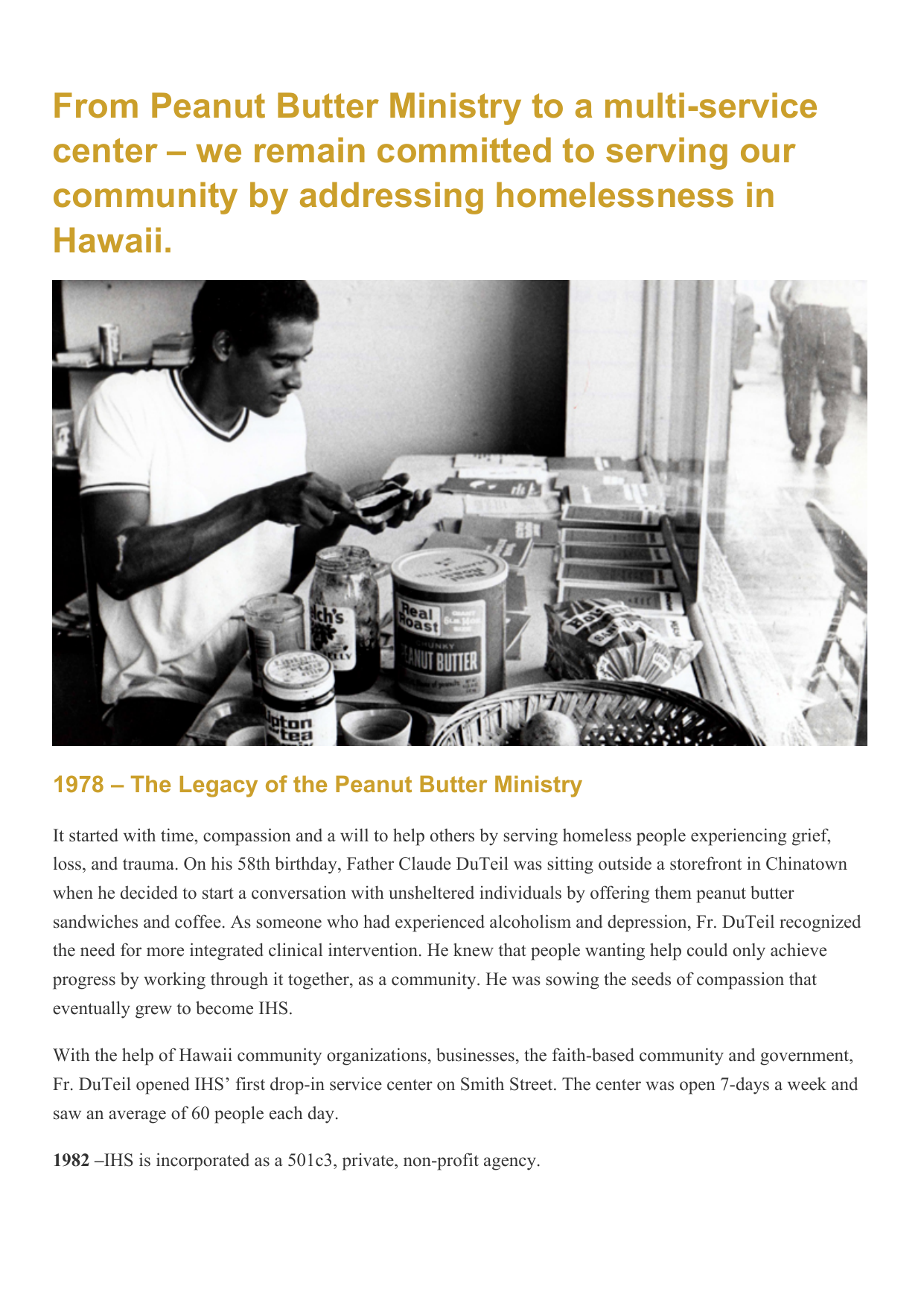 From Peanut Butter Ministry to a multi-service
center – we remain committed to serving our
community by addressing homelessness in
Hawaii.
1978 – The Legacy of the Peanut Butter Ministry
It started with time, compassion and a will to help others by serving homeless people experiencing grief,
loss, and trauma. On his 58th birthday, Father Claude DuTeil was sitting outside a storefront in Chinatown
when he decided to start a conversation with unsheltered individuals by offering them peanut butter
sandwiches and coffee. As someone who had experienced alcoholism and depression, Fr. DuTeil recognized
the need for more integrated clinical intervention. He knew that people wanting help could only achieve
progress by working through it together, as a community. He was sowing the seeds of compassion that
eventually grew to become IHS.
With the help of Hawaii community organizations, businesses, the faith-based community and government,
Fr. DuTeil opened IHS' first drop-in service center on Smith Street. The center was open 7-days a week and
saw an average of 60 people each day.
1982 –IHS is incorporated as a 501c3, private, non-profit agency.
1986 – Mayor Frank Fasi's Administration builds the IHS Sumner Shelter
IHS changed locations frequently after opening its drop-in service center. With the help of city and federal
funding, 350 Sumner Street was built expressly for IHS to provide respite and access to shelter, meals and
other services. Sumner was able to shelter up to 250 to 300 single men, women and/or families per night.
With wide-spread public support, churches, multiple businesseses, and restaurants began taking turns to
cook and serve an average 3,600 to 4,800 meals per week.
1990– Fr. Claude DuTeil leaves IHS and passes his legacy onto new leadership.
Fr. DuTeil achieved so much while battling alcoholism, depression, and later complications due to
Parkinson's disease. He and his family moved to Argyle, Texas, in 1993 to retire. Fr. DuTeil passed away on
January 23, 1997.
1990 – 1991 – Rev. Richard Rowe, Former IHS Executive Director
1991 – 1992 – Rev. Lee Kiefer, Former IHS Interim Executive Director
1992 – 1997 – Deborah Morikawa, Former IHS Executive Director
1997 – 2005 – Lynn Maunakea, Former IHS Executive Director
1997 – IHS opens the Kaaahi Women & Family Shelter
With the help of Mayor Jeremy Harris' Administration and with financial support from The Harry and
Jeanette Weinberg Foundation, IHS fulfilled Fr. DuTeil's vision of opening a separate shelter that solely
served women and families with children.
2006 – Present – Connie Mitchell, Current IHS Executive Director
2006 – Present – IHS grows to become a fully-integrated homeless service provider
2007– IHS begins expansion to of homeless services, including case management, housing, employment and
two health and wellness centers at the Kaaahi and Sumner shelters
2012 – IHS expands services into North Shore, Oahu
Providing homeless outreach and a weekly drop-in service center at the Waialua Community Service Center
in Haleiwa.
2012 – IHS opens the Kaamahu Housing and Employment Service Center
2013 – IHS opens it's first specialty shelter, the V.E.T. House in Kalihi Valley
2015 – IHS expands services into Waikiki & Moiliili providing homeless outreach, transportation and a
monthly drop-in service center
2015 – IHS & the City & County of Honolulu opens Hale Mauliola Housing
Navigation Center
2016 – In partnership with Queens Medical Center and Castle Medical Center, IHS expands its specialty
shelter options to include medical respite homes known as the Tutu Bert Houses to medically frail homeless
discharged from the hospital.

* Your assessment is very important for improving the work of artificial intelligence, which forms the content of this project