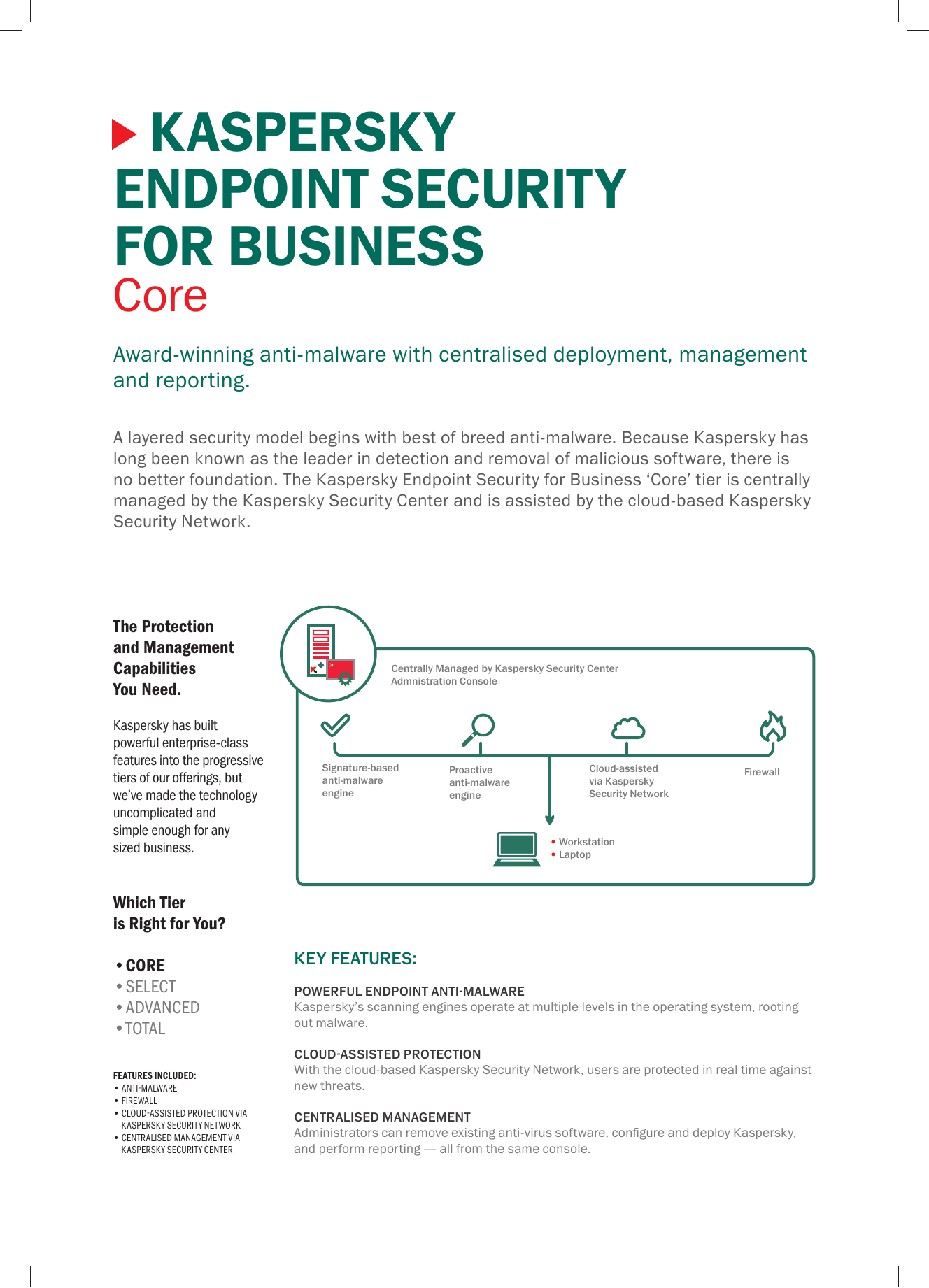 KASPERSKY
ENDPOINT SECURITY
FOR BUSINESS
Core
Award-winning anti-malware with centralised deployment, management
and reporting.
A layered security model begins with best of breed anti-malware. Because Kaspersky has
long been known as the leader in detection and removal of malicious software, there is
no better foundation. The Kaspersky Endpoint Security for Business 'Core' tier is centrally
managed by the Kaspersky Security Center and is assisted by the cloud-based Kaspersky
Security Network.
The Protection
and Management
Capabilities
You Need.
Kaspersky has built
powerful enterprise-class
features into the progressive
tiers of our offerings, but
we've made the technology
uncomplicated and
simple enough for any
sized business.
Centrally Managed by Kaspersky Security Center
Admnistration Console
Signature-based
anti-malware
engine
Proactive
anti-malware
engine
Cloud-assisted
via Kaspersky
Security Network
Firewall
ȊWorkstation
ȊLaptop
Which Tier
is Right for You?
•CORE
•SELECT
•ADVANCED
•TOTAL
FEATURES INCLUDED:
• ANTIMALWARE
• FIREWALL
• CLOUDASSISTED PROTECTION VIA
KASPERSKY SECURITY NETWORK
• CENTRALISED MANAGEMENT VIA
KASPERSKY SECURITY CENTER
KEY FEATURES:
POWERFUL ENDPOINT ANTIMALWARE
Kaspersky's scanning engines operate at multiple levels in the operating system, rooting
out malware.
CLOUDASSISTED PROTECTION
With the cloud-based Kaspersky Security Network, users are protected in real time against
new threats.
CENTRALISED MANAGEMENT
Administrators can remove existing anti-virus software, configure and deploy Kaspersky,
and perform reporting — all from the same console.
CENTRAL MANAGEMENT FEATURES:
ENDPOINT PROTECTION FEATURES:
ONE CENTRAL CONSOLE
For remote management of all your Kaspersky protected
endpoints.
FREQUENT UPDATES AND SIGNATUREBASED
PROTECTION
Industry-proven traditional signature-based method for
detecting malware threats.
INTUITIVE USER INTERFACE
Clear, actionable information in an uncluttered dashboard
allows administrators to view real-time protection status, set
policies, manage systems and obtain reports.
WEB INTERFACE
Remotely monitors protection status and reports on key
events from an accessible interface.
SCALABLE SUPPORT
Whatever your infrastructure size, Kaspersky Security Center
offers deployment and management tools, flexible policy
options and robust reporting to meet your growing needs.
BEHAVIOURAL ANALYSIS PERFORMED BY SYSTEM
WATCHER
Delivers proactive protection against threats that have not
yet been recorded in signature databases.
HOSTBASED INTRUSION PREVENTION SYSTEM (HIPS)
WITH PERSONAL FIREWALL
Predefined rules for hundreds of the most common
applications reduce time spent on configuring the firewall.
CLOUDASSISTED PROTECTION
The Kaspersky Security Network (KSN) provides a response
to suspected threats, much faster than traditional methods
of protection. KSN's response time to a malware threat can
be as little as 0.02 seconds!
BROAD PLATFORM SUPPORT
Kaspersky offers endpoint security for Windows®,
Macintosh® and Linux®, easing the workload of the
administrator supporting diverse networks.
THE INDUSTRY'S ONLY TRUE SECURITY PLATFORM.
One Management Console
From one 'single pane of glass', the administrator can view and manage the entire security scene — virtual
machines, physical and mobile devices alike.
One Security Platform
Kaspersky Lab developed our console, security modules and tools in-house rather than acquiring them from
other companies. This means the same programmers working from the same codebase have developed
technologies that talk together and work together. The result is stability, integrated policies, useful reporting
and intuitive tools.
One Cost
All tools are from one vendor, delivered in one installation — so you don't have to go through a new budgeting
and justification process to bring your security risks in line with your business objectives.
CONTACT DETAILS
Not all features are available on all platforms
www.kaspersky.com.au/business
Download a free trial
www.kaspersky.com.au/trials
© 2013 Kaspersky Lab Australia & New Zealand | 1/82 Lorimer Street, Docklands Victoria 3008 | 1300 930 655 | [email protected] | www.kaspersky.com.au
All rights reserved. Registered trademarks and service marks are the property of their respective owners. Microsoft and Windows are registered trademarks of
Microsoft Corporation in the United States and other countries.

* Your assessment is very important for improving the work of artificial intelligence, which forms the content of this project