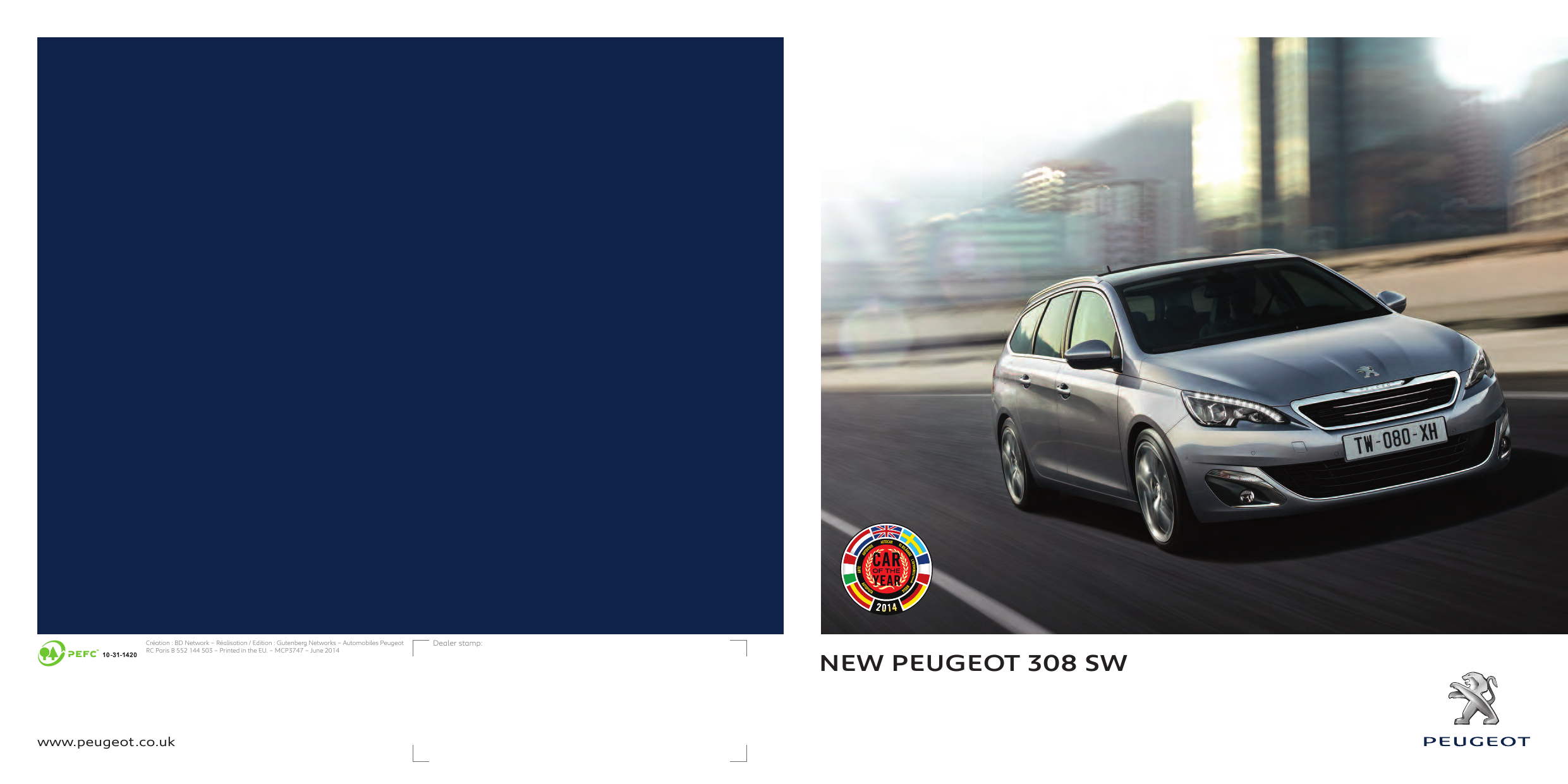 Création : BD Network – Réalisation / Edition : Gutenberg Networks – Automobiles Peugeot
RC Paris B 552 144 503 – Printed in the EU. – MCP3747 – June 2014
Dealer stamp:
NEW PEUGEOT 308 SW
www.peugeot.co.uk
CHANGE YOUR
PERSPECTIVE
The quality of New Peugeot 308 SW can be
seen in its pure design. This sleek, modern
estate benefits from improved aerodynamics
and uses innovative technology to ensure
that it is both elegant and efficient. New
fuel efficient engines, lighter materials and a
significant reduction in vehicle mass ensure
that New Peugeot 308 SW redefines
standards in terms of CO2 emissions and fuel
consumption*.
Discover the style and practicality of this
comfortable, family estate. The large,
flexible boot space is made especially
functional thanks to the rear bench seat
which folds down instantly to create a
completely flat floor.
The New Peugeot 308 SW is packed full of
technology to give you the ultimate driving
experience. Every aspect of the refined
interior has been carefully designed to
deliver the maximum space and comfort
while the intuitive driving position places
controls within easy reach. A dynamic drive
encased in the latest innovations.
*Combined drive cycle up to 88.3mpg with CO2 emissions
from 85g/km.
STREAMLINED
Curved, slender, pure lines form the
athletic silhouette of New Peugeot 308
SW. This stunning design doesn't shy
away from its natural elegance.
Streamlined glazing accentuates its
dynamism and reveals a luxurious and
spacious interior. Precision, cutting-edge
technology and the finest materials: be
seduced by the New Peugeot 308 SW.
SLEEK AND
ELEGANT
The New Peugeot 308 SW is a large,
sleek and sporty estate. The pyramid
shaped tailgate, large wheel arches and
lowered ground clearance reinforce its
balanced and aerodynamic design.
The streamlined rear lights benefit from
the latest LED technology and blend
seamlessly with the curves of New
Peugeot 308 SW to create a precise and
chic silhouette.
SIMPLICITY
The New Peugeot 308 SW will fulfil all of
your expectations. The flexible interior is
simple yet efficient: organise the interior
according to your requirements and take care
of your passengers by offering them
maximum space. At the touch of a button,
the rear seats fold down to create a perfectly
flat floor, the ideal configuration for
optimising interior volume to facilitate
loading. The generous dimensions and
avant-garde design of New Peugeot 308 SW
offer style and practicality.
THE CAPACITY
TO ADAPT
4585mm long, 2043mm wide (including door
mirrors) and 1472mm high, the New Peugeot
308 SW has the perfect dimensions for a
family estate car with exceptional interior
space and boot volume. There are several
useful storage spaces under the boot floor
which add to the New Peugeot 308 SW's boot
volume of 660 litres, making it one of the best
in its segment. Adapting to all your
requirements, the load capacity is increased
to an optimal 1775 litres in flat floor
configuration. The adjustable tie down hooks
fitted to chrome boot rails* allow you to
organise and secure your luggage with ease.
*Standard or unavailable according to version.
FULL LED
TECHNOLOGY*
Equipped with full LED technology*, the
headlights complement the chiselled
design of the radiator grille and feline
appearance of the New Peugeot 308 SW
to create a captivating light signature.
This cutting edge LED technology can
also be seen in the rear lights and
courtesy lighting that is integrated in the
door mirrors.
*100 % light emitting diode technology.
Standard or unavailable according to version
PEUGEOT
i-Cockpit
Peugeot has created an ultra-modern interior
architecture for the New Peugeot 308 SW:
the Peugeot i-Cockpit. The pure, minimalist
design is crafted around a raised centre
console, 9.7" touch screen, sports steering
wheel and head up instrument cluster.
Created in black gloss and satin chrome,
the Peugeot i-Cockpit is a refined and
distinctive space.
LARGE MULTIFUNCTION
TOUCH SCREEN
Perfectly integrated at the top of the central console, the latest generation 9.7" touch
screen allows easy access to all functions. The touch sensitive buttons and numerous
shortcuts make it easier to use and personalise*.
*For safety reasons, it is advisable to only use the touch screen when the vehicle is stationary.
AIR CONDITIONING
You can control the dual zone air
conditioning and ventilation system via
the touch screen.
DRIVING AIDS
All driving aid systems (speed limiter,
speed regulator, inter-vehicle distance,
City Park …) can be adjusted using the
touch screen.
AUDIO
The New Peugeot 308 offers exceptional
audio quality and the large volume button
highlights the sleek design of the centre
console.
SATELLITE NAVIGATION
Combining satellite navigation with large
touch screen technology brings incredible
clarity to mapping information, to further
improve driving experience.
SETTINGS
Ergonomic and intuitive touch screen
technology means you can set all of the
functions in a matter of seconds.
PHONE
You can respond to calls safely with
Bluetooth®. The address book and hands free
system is accessible via the central touch
screen, leaving you in charge of your vehicle.
PEUGEOT CONNECT APPS**
Specific applications have been created to
simplify your journey by providing
information such as the closest car parks,
cheapest service stations, weather
conditions and traffic news.
**Available as a cost option. Please refer to the price and
specification guide for details of availability.
PEUGEOT CONNECT APPS*
PEUGEOT CONNECT APPS IS REALLY EASY TO USE:
Insert the key into the USB port and the applications will appear on the touch screen.
FUEL
Find the nearest fuel and service stations, view pricing information and
facilities and navigate to them at the touch of the screen. PC Apps will
even recognise when the vehicle is running low on fuel and prompt the
user to open the Fuel application.
MY PEUGEOT
Find the nearest Peugeot dealer, access PCA account details and
renew your contract from the comfort of your Peugeot. Users can
even browse genuine accessories in the MyPeugeot app.
PARKING
Locate parking close by and, where possible, view real-time space and
pricing information (additional functionality varies by parking provider).
TRIP ADVISOR
An up to date and comprehensive database of local attractions,
hotels, restaurants, pubs and cafés. Read user reviews before making
your choice, then call the venue or navigate there using the
convenient on screen links.
MICHELIN TRAFFIC
View real time traffic information around the vehicle, on the current route
or at your destination to plan ahead and avoid delays.
MICHELIN GUIDE
If you're looking for somewhere more upmarket, why not use the
world-renowned Michelin Guide. This app contains details of
Michelin-starred restaurants, as well as more affordable
'recommended' establishments, including hotels.
FACEBOOK
View your Facebook wall, post status updates and keep in contact
with your friends, all from the comfort of your car.
*For safety reasons, it is advisable to only use the touch screen when the vehicle is stationary.
PEUGEOT
PEUGEOT CONNECT SOS*
CONNECT
Peugeot Connect SOS is now in use in most major European
countries including the UK and is technology that could prove vital in
an emergency.
A PERMANENT CONNECTION BETWEEN YOUR PEUGEOT
AND THE OUTSIDE WORLD.
During and even after your trip, Peugeot Connect offers a variety
of services to make sure that your journeys are easy, convenient
and personalised.
Peugeot Connect Apps are designed to respond to all of your
requirements during your journey. They include driving aids, live
information services and some well respected household names.
Automatic emergency call: if the airbags inflate or the seat belt
pretensioners are triggered, the vehicle automatically makes an
emergency call on behalf of the driver. PEUGEOT CONNECT SOS*
then locates the vehicle, establishes telephone communication with
its occupants and arranges for the appropriate emergency service to
be dispatched. Based on the point of sale of the vehicle, the
communication will be made in the vehicle owner's language.
Manual emergency call: whether the victim or the witness of an
emergency situation, the driver is able to call PEUGEOT CONNECT
SOS* quickly by pressing the SOS button located on the dashboard
(and holding for 3 seconds).
*PEUGEOT CONNECT SOS is available as a cost option on all New Peugeot 308 SWs
subject to acceptance when ordering the vehicle. Terms and conditions apply.
A SERENE
DRIVE
The New Peugeot 308 SW responds to even
the slightest prompt from the driver. Get
behind the compact steering wheel to
discover the ergonomic driving position and
exceptional comfort generated from a
lowered ground clearance, excellent road
holding and soundproofed interior.
Experience the performance you'd expect
from a saloon when you drive the New
Peugeot 308 SW. Intuitive and precise
handling ensures a stable yet dynamic road
performance and numerous driving aids such
as ESP, blind spot monitoring*, Emergency
Collision Alert System* and Emergency
Collision Braking System* increase the safety
of the vehicle and its occupants.
The New Peugeot 308 SW doesn't leave
anything to chance and improves driving
experience further with functions such as
City Park*, Hill Assist*, reversing camera* and
electric parking brake*.
*Standard, optional or unavailable according to version.
A SENSE OF
WELLBEING
Exterior light will filter into your New Peugeot 308 SW through the panoramic cielo
glass roof*, which has a surface area of 1.69 m2, adding to the sense of interior space
and comfort. Your journeys will never be the same again, as natural light, high
quality finishes and top of the range audio equipment create a serene atmosphere for
you and your passengers to travel in.
*Standard, optional or unavailable according to version.
EXPERIENCE THE ROAD
A stylish, practical estate, the New Peugeot 308 SW will make
you rediscover the road. Plus, the Driver Sport Pack*, offered as a
cost option, will heighten the dynamic driving sensations.
Activated by the driver pressing the "Sport" button on the centre
console, this system increases the responsiveness of the power
steering and the sensitivity of the engine and gearbox to
the accelerator pedal. In addition, the instrument display panel
changes colour from white to red and displays vehicle dynamic
parameters (acceleration, power delivery, turbo pressure).
A new 6 speed automatic gearbox is equipped with Quickshift
technology allowing for faster gear changes while retaining
excellent fluidity and comfort. It has been designed to
significantly reduce CO2 emissions, emitting approximately
5g/km less than an equivalent manual, making it extremely well
positioned in both drivability and consumption.
* Optional according to version.
ENGINES
NEW PureTech THREE CYLINDER PETROL TURBO
Peugeot PureTech is advanced three cylinder petrol engine
technology that offers drive and performance normally associated
with much bigger engines but with significantly improved fuel
consumption and CO2 emissions.
It is a product of Peugeot's 100 years of intelligent, innovative
engineering and combines reduced weight materials with the
efficiency of applying direct fuel injection to three cylinders.
On New 308 SW we've even added turbo power optimising torque at
all revs to delivering an engine with a unique personality, which will
give you maximum driving pleasure and responsiveness.
PureTech 1.2 e-THP 130 6 speed manual stop & start
Maximum power hp (Kw)
130 (96) @ 5500 rpm
Maximum torque lb/ft (Nm)
173 (230) @ 1750 rpm
Combined drive cycle MPG
From 60.1
CO2 emissions (g/km)
From 109
BlueHDi TECHNOLOGY
BlueHDi is the next generation of Peugeot's diesel engine technology,
targeted to meet Euro 6 emissions standards. BlueHDi is designed to
drastically reduce nitrogen oxides – by more than 90% – while
minimising CO2 emissions and optimising fuel consumption.
BlueHDi engines
Gearbox
CO2 emissions (from)
6 speed manual
99 g/Km
6 speed automatic
111 g/Km
6 speed manual
85 g/Km
2.0 BlueHDi 150
1.6 BlueHDi 120
Maximum torque lb/ft (Nm)
277 (370) @ 2000 rpm
(Combined drive cycle from 88.3 mpg, CO2 from 85 g/km)
225 (300) @ 1750 rpm
PEUGEOT AND
Fuel consumption mpg***
Gearbox
PureTech 1.2 e-THP 110
THE ENVIRONMENT
Peugeot is a leading manufacturer of
low emission vehicles and more than
half of its global sales are for vehicles
emitting less than 140g of CO2 per
km. This performance is based on
proven technology: the Diesel
Particulate Filter.
Launched in 2000, and equipped as
standard on more than 2.1 million
vehicles, it reduces particle emissions
by 99.99%. Peugeot has also led the
way on other breakthrough
technologies including Stop & Start
and a new generation of HDi engines.
The vehicle mass of New Peugeot
308 SW has been significantly
reduced saving 140 kg compared to
the previous version and the body
style has been designed to achieve
optimal aerodynamics. These
improvements combined with the
latest generation of PureTech petrol and
BlueHDi diesel engines offer excellent rates
of fuel consumption and CO2 emissions.
PureTech
Peugeot's PureTech 3 cylinder petrol engine
technology is available on New Peugeot 308
SW and offers drive and performance with
significantly improved fuel consumption and
CO2 emissions. PureTech ensures that the
New Peugeot 308 SW balances performance
with driving sensations.
BlueHDi engines
BlueHDi, Euro 6 diesel engines, are
available on the New Peugeot 308 SW: an
exclusive new technology that combines a
Selective Catalytic Reduction (SCR) function
with the diesel particulate filter system. This
BlueHDi technology drastically reduces NOx
(the combination of mono-nitrogen oxides
NO and NO2) by more than 90%, which
optimises CO2 emissions, improves fuel
consumption and almost totally eliminates
particle emissions (99.9%).
5 speed manual stop & start
CO2 (g/km)
Urban
Extra urban
Combined
47.1
70.6*/68.9**
60.1*/58.8**
109*/111**
PureTech 1.2 e-THP 130
6 speed manual stop & start
47.9*/45.6**
70.6*/65.6**
60.1*/56.5**
109*/115**
PureTech 1.2 e-THP 130
6 speed automatic stop & start
44.8*/43.5**
68.9*/64.2**
57.6*/54.3**
114*/119**
1.6 HDi 92
5 speed manual
62.8*
80.7*
74.3*
99*
1.6 e-HDi 115
6 speed manual
67.3*/64.2**
85.6*/80.7**
76.3*/74.3**
95*/100**
1.6 BlueHDi 120
6 speed manual stop & start
78.5*/78.4**
94.2*/88.3**
88.3*/85.6**
85*/88**
2.0 BlueHDi 150
6 speed manual stop & start
64.2*/60.1**
80.7*/76.3**
74.3*/70.6**
99*/105**
2.0 BlueHDi 150
6 speed automatic stop & start
56.5**
74.3**
67.2**
111**
*Access, Active or Allure with 15" or 16" wheels.
**Allure or Feline with 17" or 18" wheels.
***Please refer to the price and specification sheet for the latest information.
SAFETY
BRAKING AND ESP®
The New Peugeot 308 SW is equipped with a complete braking
and ESP control system that improves handling in difficult driving
conditions:
• ESP® (Electronic Stability Program), with its traction control
(ASR), acts on the brakes and engine control to limit wheelspin
in the case of loss of grip.
• Dynamic Stability Control (CDS) continuously compares
stability information to detect understeer or oversteer. It then
works to keep the New Peugeot 308 SW on its original
trajectory.
• Anti-lock Braking System (ABS) helps to control loss of traction
during emergency braking.
• Electronic Brake Force Distribution (EBFD) works wheel by
wheel for greater efficiency, particularly when braking on
bends.
• Emergency Brake Assist (EBA) increases the effectiveness of
braking when necessary.
INTELLIGENT TRACTION CONTROL
This clever traction control system brings a new feature to classic
traction. It helps to identify situations that could hinder grip and
the progress of the vehicle on icy or snowy roads. In these
situations, the system of Intelligent Traction Control replaces
ASR to reduce wheelspin and promote good traction.
ENHANCED SECURITY
In keeping with the philosophy of the New Peugeot 308 SW,
many facilities are available to provide you with maximum
security. In addition to excellent handling, a strong structure
helps to withstand and absorb the energy of frontal and side
impacts.
AIRBAGS
The New Peugeot 308 SW is equipped with 6 airbags: two front
airbags, two side airbags and two curtain airbags.
COLOURS
Bianca White
Tornado Grey
Aluminium
Twilight Blue
Hurricane Grey
Pearlescent White
Rich Oak
Nera Black
Rioja Red
Cumulus Grey
le in
ailab
Unav
rim
the U
K
ather
pa le
*
lcant
ara t
half a
ck Na
p
black
Mistr
al bla
Mistr
al
cloth
tail
erstit
ch de
ith ov
K
the U
loth w
istral
ton M
Mars
le in
Unav
ailab
x Mis
tral c
Meta
th
tral c
lo
x Mis
Meta
TRIMS
*Seats in leather and other materials.
Please refer to the Price and
Specification guide for details.
WHEELS
15" steel wheels
with Ambre trims
*Available according to version.
Please refer to the price and
specification guide for details.
16" Quartz alloy wheels
17" Rubis alloy wheels
16" Diamond alloy wheels
18" Saphir alloy wheels
NETWORK AND SERVICES
When you choose Peugeot, you have the reassurance of knowing that your vehicle has been designed and built to give you years of worry free
motoring. As a Peugeot owner, you can also rely on the customer care services of your Dealer. This will ensure that you're talking to a
specialist who'll listen to you, understand your problems and respond efficiently - someone who also has the expertise to maintain your
Peugeot correctly, using trained technicians, Peugeot Diagnostic Equipment and Peugeot Original parts.
ACCESSORIES
FOR YOUR PEACE OF MIND
MANUFACTURER WARRANTY
Any New Peugeot 308 SW first registered
in the UK and purchased from a UK
Peugeot Dealer will benefit from a 2 year
unlimited mileage manufacturer warranty
and a free optional additional year of
warranty (up to 60,000 miles) provided by
the Peugeot Dealer Network. At the end
of the 3 year Warranty period (or after
60,000 miles) you have the option to
purchase a Peugeot Platinum Extended
Warranty. Our cars also come with a 12
year Anti- Perforation and 3 year Paint
Warranty (6 and 2 years on vans). For full
terms and conditions on all of these,
please contact your Peugeot Dealer.
1 Vehicle equipped with 18" Saphir alloy
wheels, black side rubbing strips and roof
bars with ski carrier
2 Multimedia headrest support and dvd player
3 Side window sun blinds
4 Boot organiser with retractable strap
5 Stainless steel boot sill protector
6 Boot tray
7 Door sill protectors
PEUGEOT ASSISTANCE
All new Peugeots come with 12 months of
Peugeot Assistance - our breakdown
assistance service. This covers all
incidents involving vehicle based faults for
you and anyone else driving your car with
your permission. It is available 24 hours a
day, 365 days a year.
Peugeot Assistance includes European
cover, homestart, roadside assistance,
vehicle recovery and a free replacement
car or accommodation if required. It can
be extended for a further 12 months, or 24
months, and to protect you against nonvehicle faults (such as punctures) at
specially discounted rates, by calling 0870
752 7050.
PEUGEOT SERVICE CARE
Please refer to the maintenance book for
details of the service intervals for New
Peugeot 308 SW and the specifics of
vehicles operating in arduous conditions.
FINANCE - LET THE SPECIALISTS HELP
Peugeot Financial Services offer a range of
flexible finance plans to make owning a
new Peugeot easy. As specialists, we will
provide choice, convenience and flexibility.
Written quotations are available on
request from Peugeot Financial Services,
Quadrant House, Princess Way, Redhill,
RH1 1QA. Over 18s only, a guarantee
may be required.
(8am-8pm weekdays, 9am-5pm
Saturdays. Max call charge from a BT
landline is 8p/minute. Calls from other
networks may vary. Calls may be
recorded). Peugeot Insurance is
underwritten by UK Insurance Limited.
PEUGEOT ACCESSORIES
Peugeot Accessories are designed
specifically for each model meaning no
compromises on fit or function. In addition
they are tested to a rigorous standard for
complete confidence and peace of mind.
PEUGEOT AND THE ENVIRONMENT
Our website has details of Peugeot's
environmental and recycling policies.
FURTHER INFORMATION
1
PEUGEOT INSURANCE
Designed for Peugeot to offer tailored
cover at a competitive price. In the event of
an accident, a Peugeot Approved Accident
Repair Centre will repair your car, using
Peugeot original parts and offer a courtesy
car (subject to availability). Call Peugeot
Insurance for a quote on 0870 0240 206
ABOUT THIS BROCHURE
The information contained in this brochure is based on the data and images available at the time of printing. Some features may not be available in the UK and some photography may
feature left hand drive models. As part of a policy of continuous specification improvement, Peugeot reserves the right to modify specification, options and colours at any time. For full
details ask your Peugeot Dealer, or click on www.peugeot.co.uk. Print and photographic processes used in this brochure may alter the depth and tone of the colours shown.
2
5
3
6
4
7
This brochure is not a contractual document or offer of sale.
The details in this brochure cannot be reproduced without the expressed authorisation of Peugeot.
Issued by: Sales and Marketing, Peugeot Motor Company plc., Pinley House, 2 Sunbeam Way, Coventry, CV3 1ND.