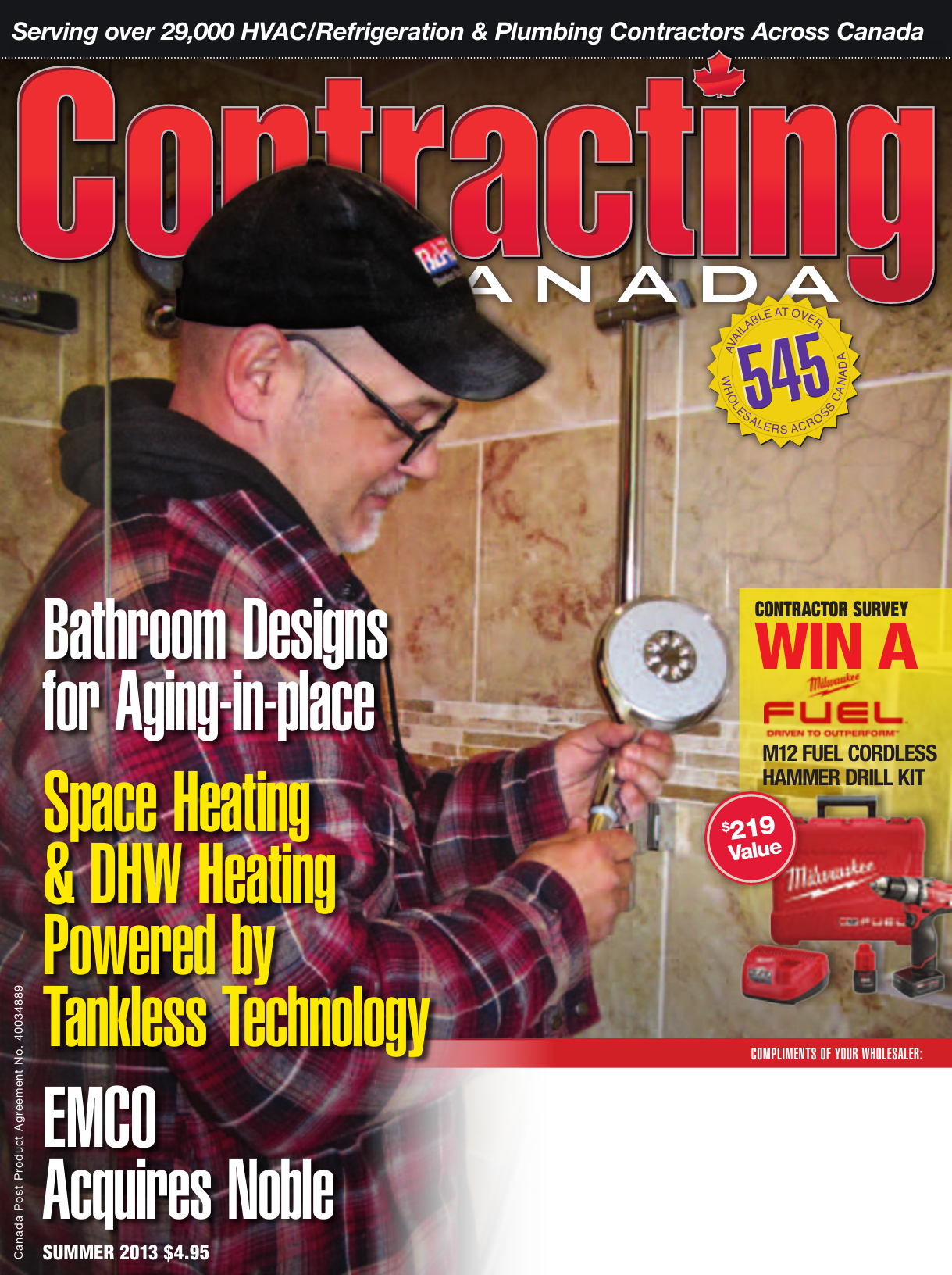 Serving over 29,000 HVAC/Refrigeration & Plumbing Contractors Across Canada
E AT OVER
BL
LA
CA
OL
Canada Post Product Agreement No. 40034889
E
Bathroom Designs
for Aging-in-place
Space Heating
& DHW Heating
Powered by
Tankless Technology
EMCO
Acquires Noble
SUMMER 2013 $4.95
S
S
WH
NADA
AVA
I
545
SA
LER
S ACR
O
CONTRACTOR SURVEY
WIN A
M12 FUEL CORDLESS
HAMMER DRILL KIT
$
219
Value
COMPLIMENTS OF YOUR WHOLESALER:
SMART. RUGGED. RELIABLE. WE'RE SURE
YOU CAN RELATE.
Finally, a line of HVAC/R tools built to handle the conditions
you face every day. Tools to help you conquer cramped and
sweltering attics in a single bound. And bend tubes with
one hand. Tools to be your extra set of eyes. And add a little
comfort to the cramped and uncomfortable. It's time to get
in, get out and get on to the next job.
See all the innovations you can put to work at hilmor.com.
© 2013 hilmor, Newell Rubbermaid. All rights reserved.
SUMMER 2013
Serving ove
r 29,000
Journeyman plumber,
Rob Chambers of Aqua
Plumbing in Caledonia, ON
installs a Grohe Body and
Soul® shower system.
Contributing Writers:
Jim Bergmann, James Ewart, Matt
Michel, Adolfo Wurts, Russell Harju,
Lorne Kirsch
Art Direction
Norm Lourenco, R.G.D.
Tel.: 416.653.2221 Fax: 416.653.7877
E-mail: norm@k9designco.com
Contracting Canada is written specifically
for service, installation and renovation contractors in Canada's HVAC/Refrigeration, Plumbing,
Mechanical and Hydronic Heating industry. Every
issue Contracting Canada is branded for more
than 80 HVAC/Refrigeration & Plumbing wholesale/distributors having more than 560 branches
throughout Canada. Our authorised Wholesalers
provide Contracting Canada as a value added
resource to their more than 28,800 contractor
customers across Canada.
Contracting Canada magazine is published four
times annually: Spring, Summer, Fall and Winter editions
Total distribution – 28,800 issues
Contents of Contracting Canada magazine may
not be reproduced without the Publisher's written
permission. The publisher is not responsible or liable
for claims made by advertisers, manufacturers and
their representatives or in submitted articles and press
releases.
Contracting Canada magazine is listed by:
Canadian Advertising Rates and Data (CARD)
Standard Rates and Data (SRDS)
Cision MediaSource, CCN Matthews
Canada Post Product Agreement No. 40034889
Postmaster: Return postage guaranteed by publisher,
please forward to: 114 Donjon Blvd., Port Dover, Ontario
Canada N0A 1N7 Subscriptions $19.95 CDN + HST.
U.S. subscriptions $24.95 per year U.S. funds.
Contracting Canada Magazine is published by:
Canadian Trade Publishing Inc.
114 Donjon Blvd., Port Dover, Ontario Canada N0A 1N7
Tel.: 905.569.2777 Fax: 905.569.2444
E-mail: don@contractingcanada.com
www.contractingcanada.com
4Letter from the Publisher
CA
NADA
AV
A
Bathroom Desi s
for Aging-in-plagn
ce
Space Heating
& DHW Heating
Powered by
Tankless Technology
EMCO
Acquires Noble
SUMMER 201
3 $4.9
6Grohe introduces new lower priced
Everyday product line
13029_Contra
AL
ERS
ACR
OS
CONTRACTOR SUR
VEY
WIN A
M12 FUEL COR
DLESS
HAMMER DRI
LL KIT
219
$
Value
cting_Canada_
COMPLIMENTS OF
YOUR WHOLESALER
5
3.indd 1
13-08-07
12:03 PM
11 Venmar EKO 1.5 Air Exchanger
works in perfect harmony with
tankless powered HVAC system
12 Bathroom Designs for Aging-inPlace Living
20 When your Customers Demand
Luxury, Style, Comfort and Hygiene
in a toilet
6
21 Considerations for Walk-in
Bathtubs
:
Summer_201
8 Domestic Water Heating & Space
Heating Powered by Tankless
Technology
22 New Products
26 Service Roundtable the Support
Service for Contractors
27 Five things you should never say to
a customer
28 Industry News
29 Reader Survey
30 Info Source
contractingcanada.com S
No. 4003 4889
Contributing Editor
Margaret Briller
Tel.: 905.569.2777 Fax: 905.569.2444
E-mail: editor@contractingcanada.com
Inside
545
LE
Advertising Sales
Don B. Beaulieu
Tel.: 905.569.2777 Fax: 905.569.2444
E-mail: don@contractingcanada.com
LE AT OVE
AB
R
IL
WHO
Publisher & Editorial Director
Don B. Beaulieu
Tel.: 905.569.2777 Fax: 905.569.2444
E-mail: don@contractingcanada.com
Cana da Post
Produ ct Agree
ment
ISSN Number 1488-4933
Canada
S
Summer 2013 Volume 13, Issue 2
HVAC/Refrig
eration & Plu
mbing Contr
actors Acros
s
12
CONTRACTING CANADA • SUMMER '13 • 3
from the publisher
INe
W
219 Valu
$
Send in the Survey
on page 29 and
you could WIN!!!
R
eading this magazine has its
rewards as does sending in your
completed survey from page 29
for your chance to win great prizes like a
Milwaukee FUEL M12 Cordless Hammer
Drill kit from Milwaukee Tools.
Wayne Waddell, a refrigeration
technician for Display Fixtures in
Calgary, Alberta found out just how lucky
Contracting Canada magazine readers can
be when he sent in his completed survey
and won the DIGI-COOL AK900 Digital
Refrigeration System Analyzer the Survey
prize for the Spring 2013 issue.
Your Survey helps us provide you with
insightful articles on technical issues,
diagnostics and installation techniques
plus the latest products, systems, news
and business information you need and
want to know more about.
Please take time to complete the
survey on page 29 and mail or FAX it
to us. You can also go online to www.
contractingcanada.com to complete
the survey for your chance to win a
Milwaukee FUEL M12 Cordless Hammer
Drill kit compliments Milwaukee Tools
and Contracting Canada magazine.
Enjoy this issue.
Don Beaulieu
Publisher & Editorial Director
Contracting Canada magazine
Tel.: 905-569-2777
FAX: 905-569-2444
Email: don@contractingcanada.com
GROHE Parkfield
™
Inspired by nature, the Grohe Parkfield™ invites interaction
while boldly communicating the GROHE brand DNA.
The lever has a fluid form and is set precisely to 7°.
The sweeping lines and smooth curves flow effortlessly
like water itself and, comparable to the arching curve
of a fountain, the spout guides water to the perfect
position for function and comfort.
www.grohe.ca
4 • SUMMER '13 • CONTRACTING CANADA contractingcanada.com
Grow your business
opportunities by registering as a participating
heating and cooling contractor.
When you register as a participating contractor with the HEATING & COOLING INCENTIVE, your business
will be added to our online listing, giving your company more visibility. Once you are registered you will be able
to offer your customers incentives of up to $650* when they replace their old, inefcient central heating and
cooling systems, and allow them to better manage their energy costs.
Plus, for a limited time only HRAI is pleased to offer a one-day AC Installation Optimization
Training course to participating contractors of the HEATING & COOLING INCENTIVE program.
Courses are lling up fast so register today! For complete
details visit saveonenergy.ca
Subject to additional terms and conditions found at saveonenergy.ca. *Incentives are available for installation of eligible equipment completed between Jan. 1, 2013 and Dec. 31, 2013, and must be submitted no later than
Feb. 2, 2014. Equipment must be purchased from and installed by a participating contractor. Replacement furnaces must be high-efficiency models with an electronically commutated motor (ECM). Funded by the
Ontario Power Authority and offered by your local electric utility.
A mark of the Province of Ontario protected under Canadian trade-mark law. Used under licence.
OMOfficial Marks of the Ontario Power Authority.
new product line
Grohe Everyday Faucet Concetto
Grohe introduces
new lower
priced Everyday
product line
By Don Beaulieu
O
Grohe Everyday Grohe
shower retrofit set
Grohe Everyday Grohe eight inch
wide spread Bau loop faucet set
6 • SUMMER '13 • CONTRACTING CANADA ver the past few years Grohe has
significantly expanded its product
line and is now able to provide
products at lower price points without
compromising on the Grohe quality
on which we have built our reputation.
Consequently, we identified a range of
products that appeal to plumbers working on small and intermediate projects.
Grohe has worked with all its key distributor partners to ensure the Everyday
Grohe program is represented in the
counter area and sufficient stock is available for key models.
The Everyday Grohe program encompasses four bath lines: Arden, Concetto,
Eurosmart and Bau Loop. Contemporary
in design, a single handle brass faucet will range from $120 to $150. To
complement the lavatory fixtures, each
line offers tub and shower fixtures and
accessories so that all fixtures can be
selected during one trip. For plumbers
with customers who want something
different in their shower than the standard shower head, the Everyday Grohe
program offers many shower head and
shower bar solutions. Launched in 2012,
the New Tempesta shower line is available in three styles: rustic, contemporary
and cosmopolitan. Manufactured in
Germany, Tempesta offers multiple spray
patterns and 24" shower bars priced
below $100 for the plumber.
Grohe also includes key GrohFlex control modules and trims in the program.
The GrohFlex system incorporates a
universal rough-in valve that will accommodate any of the control modules in the
GrohFlex family. Once the rough-in is
installed, the plumber can install either
a PBV or THM control module and
select from a few trim design options
(only the number of outlets needs to be
determined prior to the rough-in installation). GrohFlex is simple to install and
allows the plumber to get the job going
while the customer makes a final decision
between PBV and THM and trim design.
For consumers who want to upgrade their
shower with a limited budget, Grohe has
included the Retro-Fit shower bars in
the program. These units are economical, simple to install and can make a big
impact in the shower. By simply removing
the existing shower arm, the new shower
rail uses the existing water outlet. The
diverter at the base of the rail allows
water to be diverted from the shower
head to the hand shower. For the kitchen,
Grohe has included the popular Concetto
pull-down kitchen faucet and added a few
economical basic models.
Everyday Grohe offers the full line that
allows plumbers to offer their customers
a superior product and European design
at a reasonable price. These products are
easy to install saving the plumber time.
The consumer also benefits from Grohe
superior engineering, exceptional quality
and pricing. Ask your wholesaler for
information or visit www.grohe.com. W
contractingcanada.com
W
E
N
The TPI 9080 Smart Trend Meter is
a Simple, Easy to Use, Low Cost Vibration
Meter that Records, Analyzes and Displays
Vibration Signals at the Push of a Button.
The 9080 Smart Vib-Trend software gives you greater
Use the 9080Smart
ease of use and flexibility to:
Trend Meter to
Store, analyze and report on all your • All information is just a click away.
identify the vibration • vibration
parameters in one place;
Colour coded alarms highlight
up to 10 assets (100 readings); up
problems; Trend lines show
problem: unbalance,
to 10,000 readings with optional
problems before they happen.
misalignment
A9084 expanded software;
or looseness; in
addition to the
Features include:
• Collect data
• Easily identify problems with built-in
bearing condition.
• Trend data using Vib-Trend software
band tilters:
Find motor and
• Standard Cable mounted
• 1X (unbalance)
accelerometer with magnet
• 2X (misalignment)
machine faults
• Built-in Bluetooth communication
• 3X (looseness)
capability
•
800 line FFT (spectrum)
before they stop your
• USB docking station to download to a PG • Listen to bearing noise with optional
equipment.
• ISO built-in Alarms
Bluetooth headphones
• Easily identify bearing problems with
BDU Reading
• Ruggedized IP67 case
For the Accuracy,
Performance,
Safety and Value get
the TPI Advantage!
Test Products International Ltd. 342 Bronte Street South, Unit 9
Milton, ON L9T 5B7 | Phone: 905-693-8558
Email: sales@tpicanada.com
Ask your wholesaler for TPI call:
1-866-693-8558
www.testproductsintl.com
h o t w at e r h e at i n g p r o f i l e
Domestic Water
Heating & Space
Heating Powered
by Tankless
Technology
By Don Beaulieu
This feature examines the latest innovations in condensing
tankless water heater technology from Rheem® and its new
Prestige™ series RTGH condensing tankless water heaters, and
how Rheem®'s tankless technology can be used in combination
with Rheem®'s RHWB series hydronic air handlers to provide hot
water for both domestic and space heating requirements.
T
he new Prestige™ RTGH condensing tankless water heaters are
available in both natural and LP
gas models, and are designed to deliver
continuous hot water in both domestic
and space heating in residential and commercial applications. Rheem®'s RTGH95 series 11,000 - 199,900 Btu/h max.
delivers 9.5 gal./min at 35°F rise max.,
and the RTGH-84 series 11,000 -157,000
Btu/h max. 8.4 gal./min. at 45°F rise.
The Rheem® RTGH-DV indoor direct
vent model we installed features Rheem®'s
next generation burner technology. This
new burner technology combined with its
stainless steel condensing heat exchanger
and intelligent electronic controls enables
the Prestige™ RTGH tankless water
heaters to deliver energy efficiencies to
94%. The Prestige™ series is designed
to increase energy efficiency and safety,
offering industry-leading performance
and features, according to Rheem®. This
includes an industry best minimum flow
8 • SUMMER '13 • CONTRACTING CANADA rate of .26 GPM with minimum activation
flow rate of .40 GPM. The Prestige™
is third party efficiency listed by AHRI
Performance.
Rheem® has designed its Prestige™
RTGH tankless series water heaters
to be paired with its RHWB hydronic
heating air handlers in a heating package
that efficiently provides hot water
for domestic and for hydronic space
heating requirements for residential and
commercial applications. For commercial
applications the Prestige condensing
tankless series can be upgraded for hightemperature commercial use to deliver
water temperature up to 185°F.
The Rheem® tankless water heater
serves two purposes when combined with
its RHWB hydronic air handler system. The
tankless water heater provides continuous
hot water for use throughout the home or
building and, when needed, provides hot
water for space heating requirements when
a call for heat is made. The RTGH tankless
Rheem RHWB Hydronic Blower assembly
installed with Rheem case coil, MERV air
cleaner and HEPA-UV IAQ unit ready for piping
water heater serves as the heat source
for the RHWB hydronic coil equipped
air handler which delivers heated air to a
duct system into the home or commercial
space. This system is designed to meet the
domestic hot demand before supplying the
RHWB hydronic coil.
When in heating mode the RHWB with
its integrated stainless steel hydro pump
circulates hot water between the tankless
water heater and the hydronic coil in
a closed loop configuration. Hot start
programming helps minimize fluctuation
in water temperature, referred to as
"cold water sandwich," during periods of
frequent on/off operation.
THE RHWB AIR HANDLER
OFFERS MANY FEATURES:
- Flow switch for the hydronic operation;
- Variable speed ECM motor on the
blower;
- Integrated control board features diagnostics and manages all operational
functions and provides connections for
humidifier and electronic air cleaner;
- Low profile 34-inch design is lighter,
easier to handle and leaves room for
easy installation of an air conditioning
case coil and other optional accessories;
- An insulated blower compartment
makes it one of the quietest hydronic
air handlers on the market today;
- Multi-Position feature is new - Available
in upflow, horizontal left and right
models.
contractingcanada.com
h o t w at e r h e at i n g p r o f i l e
Varieties of cooling coils and plenums
designed to use with the hydronic air handler
are available as optional accessories for air
conditioning models. In cooling mode, the
cooling coil operates the same as any other
Rheem® heating and cooling system.
For this installation profile were using new
Prestige™ RTGH-95 direct vent condensing
tankless water heater in combination with
the Rheem® RHWB hydronic air handler
Eco Tech system and a Rheem® RCFL case
coil with Rheem® 14 SEER condensing
unit to provide an energy efficient heating
and cooling for our two bedroom, three
bathroom home. In addition we've added an
IAQ package consisting of a Rheem® Exact
Fit MERV 11 5 1/4-inch hi-efficiency filter
cabinet and a Five Seasons Duct Mount
HEPA Air Cleaner with UVC and PCO
technologies and the new Venmar EKO 1.5
Energy Star rated HRV unit.
THE BRAINS
The RHWB and the tankless water heater
have two separate brains since the water
heater does not engage until it senses
flow to turn-on and the air handler won't
turn-on unless a demand is sensed and
flow is available.
THE AIR HANDLER SYSTEM VS.
CONVENTIONAL GAS FURNACE
- Air Flow – able to reach areas with
the high flow design (3rd and 4th floor
spaces – Town Homes)
- No Venting or Gas Lines (Can be
placed in a crawl space, closet etc. as
codes permit)
- Heating is Less Dry than Conventional
Gas Furnace
- More efficient heating (Savings with
Combined System)
- Can be combined with Tankless and
A/C (For Premium Operation)
- Able to fit in tighter spaces (Foot print
and Clearances)
- Service friendly compartment (Lots of
Space)
APPLICATIONS FOR THE RHWB
- New construction and retrofit: Town
homes, semi-detached, detached and
condos;
- Tight spaces: Closets, ceiling mount
applications and crawl spaces;
- Combination applications: Tankless/
Tank (Pump Must be Sized Properly);
- Distance spaces: Third floor/fourth
floor installations.
Rob Chambers of Aqua Plumbing installs flow
switch and Uponor hydronic tubing on Rheem
RHWB hydronic blower assembly.
TM
Small Duct High Velocity Heating, Cooling, and Indoor Air Quality Systems
Year-Round Comfort in any Climate, with No Major Remodelling!
• Quiet Operation
• Energy Smart VFD Motors
• Eliminate Hot and Cold Spots
• Easy Installation & Maintenance
• Space Saving Small Diameter Ducts
• Draft-Free Even Temperatures
• New and Retrofit Applications
• Remove 30% more Humidity
• Attractive Vent Plates
Superior Central Heating and Air Conditioning, without compromise!
www.hi-velocity.com
Manufactured by Energy Saving Products Ltd. - Proudly Canadian and Family Owned for over 30 Years!
Contractor Canada 080713.indd 1
c o n2013
t r a Hi-Velocity
c t i n g c a nHalf
a d aPage
. c o Horizontal
m 1-888-652-2219
8/7/2013
2:25:37 '13
PM • 9
CONTRACTING CANADA
• SUMMER
h o t w at e r h e at i n g p r o f i l e
ENERGY STAR® RATED
The ENERGY STAR® rating is what
consumers look for today and the Rheem®
Prestige™ line of tankless water heaters
are ENERGY STAR® rated. The RTGH
indoor direct vent condensing series
features a self-diagnostic system making
for easy installation and service. A digital
display shows temperature setting and
maintenance codes. The RTGH-DV uses
a two-pipe direct vent system designed
for PVC pipe allowing for up to 38 feet
of 3-inch PVC pipe or 5 feet of 2-inch
PVC pipe.
WARRANTY
The Prestige™ RTGH condensing tankless
water heater series is backed by a 12-year
warranty on heat exchanger, 5-year on
parts and 1-year on labour. The stand-alone
warranty on the RHWB air handler is 5
years on the coil, 5 years on the parts and
1 year on service. When both units are
combined as an installed package, the air
handler warranty remains the same, and
the tankless water heater warranty will
drop to 10 years on the heat exchanger, 5
years on parts, and 1 year on service.
SYSTEM OVERVIEW
When combined with Rheem®'s RHWB
series of hydronic air handlers, it makes
for a very efficient home heating system
delivering endless domestic hot water
without temperature fluctuation even
when showers run for extended lengths of
time and hot water consuming appliances
like washers and dishwashers start and
stop. The RHWB hydronic air handler
delivers more than adequate air flow
and even temperatures. We noticed less
temperature differentials with the RHWB
versus a typical gas furnace.
When compared to a typical gas furnace
the RHWB discharge temperatures at
the registers are lower and more even,
the RTGH and RHWB are capable of
maintaining a more constant and even
room temperature without excessively
heating and drying out the air making for a
more comfortable indoor environment. The
RHWB variable speed blower allows you
to select the CFM needed for continuous
indoor comfort. The Rheem® Prestige™
condensing tankless water heaters with
its latest innovations offers an ideal
combination of ultra-high efficiency and
Rheem Prestige™ series RTGH condensing
water heater installed.
continuous hot water especially when
combined with a Rheem® RHWB hydronic
air handler, air conditioning and IAQ
system. For more information call: 1-800268-6966. Visit www.rheem.com. W
TPI's Model 716 Flue Gas
Analyzer Offers Quick and
Simple Set-up
The 716 Flue Gas Analyzer is a state of
the art, easy to use analyzer designed
to calculate and display readings from a
flue and most of the other measurements
associated with combustion.
The 716 Features:
• BUILT-IN DIFFERENTIAL MANOMETER
WITH 0.001" H2O RESOLUTION
• CALCULATES COMBUSTION EFFICIENCY
• PUMP DRIVEN FOR FAST RESPONSE
• DATA LOGGING WITH TIME AND DATE STAMP
• WILL NOT SHUT OFF IF 15 PPM CO IS
PRESENT FOR INCREASED SAFETY
• COMMUNICATE TO A PC VIA THE USB
INTERFACE
• STORE FUNCTION SAVES UP TO 10 READINGS
• BUILT-IN DIFFERENTIAL THERMOMETER
• PUSH ON FITTINGS FOR FAST AND EASY USE
• NEW! OPTIONAL BLUETOOTH INTERFACE
• OPTIONAL A740 IR PRINTER AVAILABLE FOR
HARD COPIES OF TEST RESULTS
The 716 is Nox upgradable
"Get it when you need it"
All TPI analyzers feature quick and
simple set-up. Fast purge and the
ability to perform fuel selection during
start-up enable tests to be performed
quickly. TPI analyzers also use the last
selected fuel as the default setting.
For Accuracy, Performance, Safety & Value get the TPI Advantage!
Test Products International Ltd.
342 Bronte Street South, Unit 9
Milton, ON L9T 5B7 | Phone: 905-693-8558
Ask your wholesaler for TPI call:
1-866-693-8558
Email: sales@tpicanada.com www.testproductsintl.com
10 • SUMMER '13 • CONTRACTING CANADA contractingcanada.com
i a q v e n t i l at i o n
Venmar EKO 1.5 Air Exchanger
works in perfect harmony with
tankless powered HVAC system
By Don Beaulieu
www.contractingcanada.com
F
or our whole home HVAC system
powered by Rheem® tankless technology, we needed an ENERGY
STAR® rated HRV unit, one designed
to integrate with our Rheem RHWB
high-efficiency tankless powered heating
system. For this we chose the latest AVS
EKO 1.5 Air Exchanger from Venmar®
Ventilation Inc. Venmar, based in
Drummondville, Quebec, has become a
global leader in the air exchange system
market and the latest innovations in their
EKO 1.5 Air Exchanger make it the most
energy-efficient HRV air exchanger on
the market.
The EKO's innovative design and
optimal performance makes energy
recovery possible while at the same time
substantially reducing energy costs. This
exceptional innovation provides an ideal,
environmentally friendly solution for
residential ventilation.
By combining their engineering expertise
with technological innovations, Venmar
has redefined residential ventilation with
the EKO. The energy consumption of its
high-performance motors can be compared
to that of a compact fluorescent light
bulb. The ENERGY STAR® rated EKO
can thus significantly lower energy costs
while maintaining optimal output. Its core
recovers up to 80% of a home's heated or
cooled air, thanks to its additional energy
efficiency. In fact, EKO exceeds energy
conservation requirements!
The EKO 1.5 features the following
unique characteristics:
- Two German high-performance ECM
motors that consume 13.5 watts each
(at low speed), which represents 75%
contractingcanada.com FOR THE
TECHNICAL
AND BUSINESS
INFORMATION
YOU NEED
LOOK TO...
-
-
-
-
-
less energy than that consumed by a
light bulb;
2.53 CFM/watt making the EKO 1.5
the industry's most efficient HRV air
exchanger according to Venmar;
4 settings that adjust the speed to meet
the needs of the home's occupants with
simply the touch of a button;
Compact size allowing easy installation
when space is limited;
When installed with the ALTITUDE
control, it offers the completely programmable SMART mode feature that
takes complete control of the unit, along
with an attractive LCD screen;
ENERGY STAR® rated. W
For more information on EKO 1.5
Air Exchangers and other Venmar® HRV
products, ask your wholesaler or call:
1-800-567-3855. Visit www.venmar.ca.
Featuring the
industry's
most authoritative
experts.
Since 1999 Contracting Canada has
delivered the information you need
on the latest products, technical
innovations, trouble-shooting tips,
installation profiles, industry news and
much more.
For more info or to
advertise please contact:
Don Beaulieu, Editorial Director &
Publisher
Contracting Canada magazine
Email: don@contractingcanada.com
Phone: 905-569-2777
Fax: 905-569-2444
www.contractingcanada.com
CONTRACTING CANADA • SUMMER '13 • 11
i n s ta l l at i o n p r o f i l e
Bathroom Designs
for Aging-in-Place
Living
T
By Don Beaulieu
he new home and renovation
market for the baby boomers is
Canada's fastest growing market.
With the 55+ segment of our population
growing every day, contractors and builders alike should pay particular attention
to the needs and wants of consumers in
this segment of the market. This 55+
group tends to have accumulated the
most wealth mainly through real estate
and spending more years in the work
force. As they become empty nesters and
plan for retirement, many boomers look
towards downsizing to smaller, singlelevel, bungalow style housing.
Generally people at this stage of their
lives want to move only one time and
look forward to spending their retirement
years in a house that offers the amenities
and comforts to meet their needs today
and to be able to meet their needs should
their health change in the future, which is
why designing for aging-in-place living is so
desirable amongst the boomer population.
More and more of today's baby boomers
are building homes that they may never
need to leave. Given the choice many
12 • SUMMER '13 • CONTRACTING CANADA prefer the idea of staying in their own
homes rather than moving into senior
housing. Such long-term home occupancy
is known as aging-in-place and it's
becoming increasingly popular as we live
longer, healthier lives. So what is agingin-place living and why is it important to
this older group of consumers? Simply
put, aging-in-place living is a term that
describes allowing people to grow older
and live independently with a focus on
quality of life and independence without
having to move. Generally what people
want is the ability to stay in their homes
longer and live independently for as long
as they are able.
What we are really talking about is
designing and building and renovating
homes to allow people to live independently
longer. This means accessibility
throughout the home is crucial especially
in places such as bathrooms. At least one
bathroom should be large enough for
access by a walker or wheelchair with
wider halls and doorways and room inside
the bathroom to comfortably maneuver.
It also requires fixtures and supports
designed to assist, accommodate and
meet their needs for washing, showering,
bathing and personal hygiene.
Anyone whose parent or family member
has experienced a decline in their health
or mobility issues knows how difficult it
can be to care for and help individuals
in a home that is not designed for ease
of access especially in bathrooms where
assisting someone in and out of a bathtub
or shower can be difficult and dangerous.
Aging-in-place is about lengthening
ones independence; it's about making
modifications and choosing specific
products that allow a person to choose to
live longer in their home rather than an
institution.
Designing for aging-in-place living
doesn't mean that a person is old; it
just means they're forward thinking and
designing a bathroom for aging-in-place
living just makes good sense. It can be as
easy as wider doorways, lower counters
and a few strategically positioned grab
bars, and an accessible tub and/or shower.
But it can encompass much more. Today
consumers tend not want an institutional
looking bathroom in their home, the type
of bathroom that looks like it belongs in
a hospital.
Homeowners,
especially
those
accustomed to nicer amenities, tend
to look for bathroom designs featuring
fixtures, faucets, tile and accessories that
suit their particular taste and style. They
seek out designs that offer functionality
to meet their aging-in-place needs without
having an institutional appearance.
Many consumers are looking for
bathroom designs with a spa-like feel,
contractingcanada.com
i n s ta l l at i o n p r o f i l e
Nuheat electric in-floor heating mat being
installed
with upscale luxury products that create
an environment that can provide them
the features and comforts they both need
and want today and to allow them to agein-place. Let's look at an example of a new
bathroom designed for today's lifestyle
and incorporating some new, innovative
upscale products designed for great looks
and performance and to facilitate agingin-place living.
IN-FLOOR HEATING
We'll start from the floor up and
designing a bathroom for aging-in-place
living also means creating a comfortable
environment in the bathroom so in
addition to the home's forced air
heating system, we've chosen to install
Nuheat® in-floor electric mats under
the tile floors in front of the shower,
tub and vanity. An in-floor heating mat
transforms the entire floor area into
the room's heat source, ensuring even,
consistent heat and maintaining an
even heat source so you are less likely
to become chilled when bathing and
spending time in the bathroom.
Nuheat® electric heating mats are easy
to install and inexpensive to operate using
a programmable thermostat. Operating
costs are relatively low. When using a
standard size heating mat 42-inches wide
by 84-inches long, that's about 25 square
feet of floor that will be heated. Operating
a mat of this size for ten hours a day at
.12 cents a kilowatt hour would cost about
16 cents a day. The mat draws 12 watts
per square foot and produces 41 BTUs
per square foot, providing even heat with
no cold spots. Nuheat® mats typically
contractingcanada.com operate at floor temperatures between
80°-90°F (27°-32°C) and on-off times can
be set and controlled using one of three
available thermostats.
In the installation process, the mat
is encased in a thermal mass (thinset
layers above and below the mat and tile
above). This thermal mass retains and
stores the heat emitted by the mat. Even
after the mat is turned off, this thermal
mass continues to feel warm and emit its
stored heat – again increasing efficiency
and reducing energy costs. Nuheat®
has a 25-year warranty and requires no
maintenance. Nuheat® mats are available
in both standard and custom sizes in
110V and 220V and can be installed in wet
environments such as showers, saunas
and steam rooms.
Elderly people tend to feel the cold
more, so having heated floors provides
considerable comfort. Today having warm
floors in bathrooms and in other rooms
where seniors spend considerable time is
no longer a luxury but rather an affordable
comfort that your customers will thank you
for installing in their home. Information on
how to select, size and install a Nuheat®
electric under floor heating mat is available
at www.nuheat.com.
CONTRACTING CANADA • SUMMER '13 • 13
i n s ta l l at i o n p r o f i l e
Proper planning and product research
should go into your bathroom design to
ensure it will meet your customer's need
both for today and enable them to agein-place.
CONSIDERATIONS FOR THE
SHOWER
Innovative and installer-friendly products
like the new Tile Redi® line of low
threshold ready-to-tile shower bases from
MAAX are an ideal solution for customers
wanting the beauty of a tiled shower with
the benefit of a low threshold for easier
access.
The Tile Redi® shower base line is an
innovative solution for faster installation
and lower costs in a tiled shower. Tile
Redi® shower bases are easy to install
and allow for same day ceramic, stone
or marble tile installation. With no
waterproofing required upon installation,
they are guaranteed leak-proof.
Tile Redi® bases are moulded in a
strong lightweight one-piece preformed
module that includes a drain, splash walls,
curbs and a 1/4 inch per foot pitch to the
drain. MAAX Tile Redi® shower bases are
patented and UL® Listed and available in
standard shower base sizes up to lengths
of 72 inches and widths to 48 inches and
LH, RH, and center drain configurations
14 • SUMMER '13 • CONTRACTING CANADA for corner, alcove, wall mounted
and barrier free applications for left,
right or front door openings.
Accessories like the Tile Redi®
shower niches which are available in
single or double size ensure a leak-free
installation. Tile Redi® shower bases
prevent damaging and unhealthy growth
of mould and mildew which contribute
to water intrusion. Tile Redi® shower
bases by MAAX are easy to handle,
quick to install, ready-to-tile solution.
There's no worry about costly repairs
and call backs. MAAX Tile Redi® shower
bases offer contractors easier and faster
installations, greater range of sizes
and flexibility in drain
and door positioning. When
combined with MAAX's extensive line
of glass shower enclosures with design
features such as adjustable hinges and
sliding glass doors in a wide range of
sizes and attractive styles, it makes
pairing any MAAX shower base and
door system easy. For information on the
complete line of MAAX Tile Redi shower
bases and shower door systems, see your
wholesaler or visit: www.maax.com.
SUPPORT SYSTEMS
FOR THE BATHROOM
Grab bars and safety rails: Given the
choice, most people prefer not to have
institution-style grab bars and safety
rails installed in their bathrooms. Grab
bar systems have come a long way and
are no longer just plain stainless steel
with a knurled surface. Companies like
Moen® offer an extensive line of grab
bars systems in a variety of attractive
colours, finishes, sizes and styles to
match your customer's décor or to suit
your customer's taste.
Moen® has come out with a broad line of
grab bars in concealed, designer, specialty,
exposed and slide styles in a variety of
designer finishes like brushed nickel, old
world bronze and oil rubbed bronze finish
that incorporates the warmth of bronze
with light and dark accents for a rich look.
MOEN also offers models featuring finger
notches on the bar to provide a more
secure place to grab. The Moen® Home
Care model grab bars we selected feature
a grip pad to provide a more comfortable
yet secure grip.
contractingcanada.com
EBRATI
N
CEL
SANIBEST Pro/SANIGRIND Pro
®
G
®
enhanced products
IN
C A N A DA
Install a complete bathroom virtually anywhere you need!
Apartment units, Offices, Rental spaces…
Easy access to internal components
Equipped with a 1 HP grinder pump and 110 volts
Pumping distance of up to 25' vertically or
150' horizontally
Designed to handle accidental flushing of
sanitary items
Sanibest Pro
Sanigrind Pro
The original plumbing solution since 1958
1-800-363-5874
saniflo.ca
Scan this tag to see how
this product works
i n s ta l l at i o n p r o f i l e
Abe Klynstra installs
MOEN folding shower seat
Moen® grab bars are ADA compliant,
corrosion resistant and made of stainless
steel, Moen®'s designer plastic grab
bar series is formed from glass filled
polypropylene and features comfort grips.
All come with a limited lifetime warranty.
You should always follow the
manufactures recommended installation
requirements when installing grab bars
and you should never install grab bars or
shower seats using just the drywall for
support, always securely brace and anchor
the grab bar into a secure structure
capable of providing adequate safety and
support. Bracing needs to be installed in
the walls where you intend to attach grab
bars and rail supports.
A frame with step and deck seating is constructed for the MAAX Optik whirlpool tub
TUBS AND WHIRLPOOLS
One of the biggest challenges for people as
we age can be climbing into and out of tubs.
We need to consider this when helping
our customer choose a tub and whirlpool
system. Considerations need to be given
for installing a tub in order to avoid a slip
or fall and injury. A person shouldn't have
to strain or put themselves at risk of falling
to gain access into a tub. With this in mind,
a frame system to accommodate a drop-in
tub can be a good choice. When building
a frame, deck and step system for a tub,
measurements should be taken to ensure
it will comfortably fit your customer. This
will help ensure a proper step and deck
system that will provide many years of use
and enjoyment of the tub and whirlpool.
Hydrotherapy and whirlpool systems
can be very beneficial as we age so we
need to consider designing and installing
for safe ease of access into and out of a
tub. Support rails and grab bars can be
installed to provide additional support as
needed. Some tub designs offer built-in
or offer grab bars or rails as an accessory
SHOWER SEAT
Sitting on a fold-down or handicap seat
can be the ideal way to enjoy a hot shower
without the fatigue of standing, for our
aging-in-place application we selected the
Moen® Home Care teak folding seat model
#DN7110 made of solid teakwood and
designed to support up to 400 lbs. We
especially liked how easily it was to install
and how little space the seat takes up
when in the folded position, just 3 inches.
This seat is well constructed of aluminium
and solid teakwood with a hinge design so
it's easy to open and close. The seat stays
in position without the worry of falling
open by itself. The Moen® Home Care seat
comes with mounting screws and easy-tofollow instructions. It is ADA compliant
and features a limited lifetime warranty.
16 • SUMMER '13 • CONTRACTING CANADA contractingcanada.com
i n s ta l l at i o n p r o f i l e
that you can install to provide additional
support when entering or exiting a tub.
We chose the new MAAX Optik center
drain whirlpool tub for our bathroom. The
ergonomic design with curved armrests
allow for greater comfort and for additional
support when entering and exiting the
tub. The Optik offers deep well bathing
in a post-minimalism design that combine
straight and curvaceous lines with an
inclined backrest and headrest for comfort.
The Optik is a very stylish tub designed for
either under-mount or drop-in installation
and is available in three colours: white,
bone and biscuit; and in two sizes:
72" long x 36" wide x 23" deep
72" long x 42" wide x 23" deep
BOTH MODELS ARE OFFERED
WITH A RANGE OF AVAILABLE
SYSTEMS, OPTIONS AND
ACCESSORIES, INCLUDING:
AEROFEEL®
The MAAX Collection's premiere
perimeter air injection system features up
to five dozen intelligently positioned air
jets that provide a hushed ripple of wellbeing by cradling your body from head
to toe. Advanced check valves ensure
immaculate purity, making Aerofeel®
the most hygienic as well as the most
delightful system on the market.
contractingcanada.com HYDROFEEL®
The Hydrofeel® therapeutic whirlpool
system, available on select MAAX
Collection bathtubs, is the height of
fine design. Powerful water jets, sized
and shaped to ensure a deep, targeted
massage, line the tub for contact at critical
body points. Back and foot jets round out
a massage as invigorating as it is relaxing.
HYDROFEEL REST
Your customer's ears deserve the same
luxurious treatment as their muscles,
but spa noise can easily disrupt even the
most tranquil atmosphere. MAAX puts
that concern to Rest, a silent whirlpool
massage system available on bathtubs
with our True Whirlpool, Hydromax® or
Hydrofeel® massage systems.
OZONATOR
Clean and purify your whirlpool by
harnessing one of Mother Nature's most
powerful elements.
COMBINED AEROFEEL/
HYDROFEEL
Experiment and discover your perfect
combination of the pulsating healing
ability of water massage and the gentle
reassuring ripple of air jets. Activate
our water and air systems together for
maximum effect or devise an alternating
program that fulfills you head to toe, in
and out – body, mind and soul.
CHROMATHERAPY
Bathe yourself in a kaleidoscope of colour
and envelop yourself in optimal health.
Optik options offered include: ThermoAcoustic system; Water heater assembly;
Two chromatherapy lights; Metal trim
kit for Aerofeel®; Lite deck; Trim kit
for Whirlpool® and combined systems;
Two 12-inch grab bars available in white,
bone, biscuit, chrome, polished brass
and brushed nickel; Flexible main hose
15 ft. for electronic control; Minimalist
cushion (magnetic) available in white or
black and Waste and overflow with 27"
flexible neck; Magnetic cushions available
in black or white; 2½-inch metal grab bars
can be ordered for this model.
We opted for the Optik center
drain with combined Aerofeel and
Hydrofeel®REST options which is one
of the most comfortable and quiet
whirlpool system on the market. The
touch control pad is conveniently
located and easy to operate. The deck
system we designed allows for ease of
entry and exiting the tub, and the deck
and step provide comfortable seating.
MAAX has a broad offering of tubs
and whirlpool tubs in a range of styles,
sizes, systems, colours and features
to suit virtually everyone's taste. They
even offer the Crescendo, an elegant,
luxurious and spacious spa tub for two
designed for face-to-face bathing … how
cool is that.
CONTRACTING CANADA • SUMMER '13 • 17
i n s ta l l at i o n p r o f i l e
Grohe GrohFlex Universal Rough-in Valve
Box installed with Uponor PEX piping
FAUCETS AND SHOWER
SYSTEMS
Faucets, styles, handles, features and
finishes are as plentiful as there are cars
and trucks to choose from, so it often will
come down to your customer's budget and
their décor and taste and what you will
recommend to your customers.
The last thing you or your customer
wants is to call you back to fix a leak,
replace a cartridge or make a repair
soon after you installed the faucets.
There's an old saying that you get
what you pay for, and there is often
a difference in quality and the length
of time a faucet will last before it will
need to be repaired or replaced. And
then there is the finish, the materials
faucets are made of, and the type of seat
18 • SUMMER '13 • CONTRACTING CANADA or cartridge system and the warranty
the manufacture provides. All this and
more influences the decision-making
process along with quality, performance
and value.
Thanks to the internet, consumers have
access to information on every brand, make
and model out there and often know or
have a list of products they want before
they consult a plumbing contractor. When
designing and choosing products for an
aging-in-place bathroom, we are designing
not just for the needs of your customer
today but for a much longer period of
time, so the products you install need to
perform well and stand the test of time. A
customer will not be happy if in a few years
they need to repair or replace products you
recommended and installed. It's important
to consult with your customers and help
them make good product selections so
they will be satisfied with them and you for
years to come. After all, this is the best way
to build referral business – by providing
good workmanship in your installations and
quality products.
A quality-built faucet and shower system
should offer ease of installation, reliable
anti-scald capabilities and accurate
temperature and flow control. This
was a must for our application so we
selected the Grohe system consisting of
the new GrohFlex™ advanced universal
rough-in valve box for the shower valve
and controls. GrohFlex is an advanced
universal rough-in valve system with
simplicity and flexibility built in. One
rough-in works with any shower or tub/
shower application – from a simple singleshower to the popular tub/shower combo
to a luxurious high-flow custom shower.
And it offers pressure balancing and
thermostatic control solutions for both
the master and secondary bath.
GrohFlex offers ease of installation and
flexibility in function and covers a wide
range of installation types. GrohFlex smart
design features easy, intuitive operation
with all functions controlled from a single
contractingcanada.com
i n s ta l l at i o n p r o f i l e
Grohe dual function thermostatic control
module with Authentic trim
SHOWER HEAD AND HAND
SHOWER
For the shower head and hand shower set
we installed Grohe's new and attractively
styled Power&Soul™ shower set
featuring four innovative spray patterns:
GROHE Rain O2, Rain, Active Massage
and Jet. With the introduction of the new
GROHE AquaDirect™ spray selector,
switching among the four spray patterns is
as simple as a push of a button. There are
three sizes of Power&Soul hand showers
available in a choice of two designs:
Cosmopolitan and Contemporary.
INNOVATIVE TECHNOLOGIES
AND FEATURES IN THE
POWER&SOUL INCLUDE:
axis, reducing the need for separate
volume controls and diverters for single
and dual function applications. We really
liked how quick the GrohFlex was to install
and connect the Uponor PEX hot and cold
water tubing. It took only a few minutes to
install and make our rough-in connections.
The integrated service stops, check valves
and enhanced flushing system also saved
us time on installation.
GrohFlex works well with the PEX
plumbing systems and copper, so there
so many benefits to using the GrohFlex
universal rough-in box for this installation.
With a range of Grohe trim kits and
pressure balancing, and the thermostatic
valve options for GrohFlex, there should be
a trim kit and lever style to suit everyone's
taste and décor.
When considering a shower faucet and tub
fill system for aging-in-place applications,
it's important to use quality anti-scald
thermostatic temperature control and
safety devices. For our application using
the GrohFlex, we selected the Grohe dual
function thermostatic control module
with Authentic trim featuring GROHE
TurboStat® technology. The sophisticated
design of the TurboStat® thermostatic
mixer ensures the pre-selected water
temperature is maintained for the duration
contractingcanada.com of your shower or when filling the tub.
Grohe's TurboStat® technology reacts to
abrupt changes in water pressure and
is up to nine times more accurate than
the leading competitors. The desired
temperature is reached in a fraction of
a second and maintained for the entire
duration of showering. The fast reaction
time of GROHE TurboStat® technology
means that the thermostat re-adjusts the
temperature for you – so you don't waste
time (or water) manually adjusting the
shower control.
TESTED TWICE
Grohe takes user safety incredibly seriously.
Every single GROHE thermostatic
cartridge is tested twice – once after the
cartridge has been assembled and once
after the cartridge has been fitted inside
the body of the thermostat. Each full test
comprises leakage, safety and control
tests. Safety tests for Grohe's thermostats
ensure that they meet and exceed industry
standards. Standards vary from country
to country, with France having some of
the toughest regulations, so when leading
French consumer magazine Que Choisir
(September 2010 issue) tested thermostats
from 10 manufacturers, the Grohtherm
1000 was voted "the best choice."
- SpeedClean enabling the removal of
lime scale with a single wipe;
-CoolTouch® that eliminates the risk
of scalding yourself on a hot chrome
surface;
-StarLight® radiant chrome finish that
resists soiling and tarnishing;
-QuickFix® Plus faster, easier and
hassle-free, cutting installation time
by up to 50%;
- EcoJoy™ delivering perfect water flow
while saving water and energy;
- Spray Face Diameter provides
flexibility of spray face diameters;
- Inner WaterGuide system for longer life;
- Adjustable shower rail allowing
full hand shower height and angle
positioning.
For our MAAX Optik jetted tub and the
vanity we selected the Geneva Roman tub
set with hand spray and 8" wide faucet set
by Grohe. The Geneva is both elegant and
timeless and the main bathroom features
Grohe's new Parkfield 8" wide set faucet,
all featuring the StarLight® radiant
chrome finish and Grohe's SilkMove®
ceramic cartridge with its polished
mirror-like surface of the discs. The
disks are coated with a special lubricant
with Teflon® technology for frictionfree, effortless performance, thereby
providing gradual and precise control
and smooth handling of the water flow
and temperature for a lifetime. SilkMove®
guarantees smoothness of operation from
day one – even after 20 years. W
CONTRACTING CANADA • SUMMER '13 • 19
i n s ta l l at i o n p r o f i l e
TOTO Washlet remote control
When your Customers Demand Luxury,
Style, Comfort and Hygiene in a toilet
The TOTO toilet and washlet system will exceed their expectations
By Don Beaulieu
A
comfortable height or ADA compliant toilet is a must for
aging-in-place living. Comfort height toilets are about
two inches taller than a standard height toilet, and can
make it much easier to rise off the toilet. Installing a grab bar
next to a toilet can provide additional support and assistance.
A comfort height toilet with a seat height from 18 to 19 inches
(43 cm to 48 cm) is more comfortable to sit on and easier to
rise off of versus a standard height toilet. A difference of two
inches may not seem like much, but in fact, these extra two
inches (5 cm) in height make it easier for elderly or tall people
to get up and down from the toilet. While the main application
for these types of toilets may seem like they are for hospitals
or businesses with public bathrooms, they actually have a very
widespread benefit for homeowners.
A comfort height toilet may also have assisted flushing that
makes pushing down on the handle easier. This kind of assistance
makes it easier for someone with arthritis or who is handicapped
and may not have sufficient strength in their hand to flush the
toilet. This is where toilets from manufacturers like TOTO can
really benefit homeowners.
THE WASHLET SEAT
TOTO toilets and Washlets offer useful many features and
benefits such as automatic flushing, automatic seat open
and close, auto air deodorizing and other beneficial features
Rob Chambers installing
TOTO Neorest elongated
comfort height toilet
20 • SUMMER '13 • CONTRACTING CANADA and functions that can be selected
through an easy-to-use remote control.
Similar to using a remote to change
the channel on a TV, your customers
can use the TOTO remote control
to select from a menu of functions
and personal hygiene options. Users
can easily program their TOTO toilet so
the seat rises up when a user approaches the toilet, and for
the built-in air deodorizing system to automatically commence
operation when a user sits on the seat. It can also be set to
automatically flush when the user rises up off the seat. Users
can program the operation and functions into the remote so with
each use the Washlet program for a specific user will provide
the hygienic operations programmed into the remote including
functions like: Cleansing water temperature and pressure; front
or rear cleansing function; the air temperature of the dryer; seat
temperature and more.
A washlet seat can provide hygiene benefits and increase
comfort on a new or existing toilet. TOTO offers several models,
all featuring heated seats and adjustable water temperature and
volume. A TOTO Washlet offers state-of-the-art technology,
cleverly disguised as a toilet seat that fits virtually any standard
toilet, or as a built-in washlet as on the TOTO G500 installed
for this aging-in-place application. On command, this Washlet
model extends an integrated wand to release a warm, soothing
stream of aerated water to provide the ultimate in personal
cleansing. But this is not a conventional bidet; the wand selfwashes and retracts after each use. TOTO Washlet seats are
easy to install, all that's require is an 110V GFI outlet.
The TOTO G500 toilet comes complete with TOTO Washlet
together in a stylish compact design featuring TOTO's Dual-Max
Cyclone system flushing either 1.28 or 0.9 GPF. It uses gravity
combined with a cycle bowl cleanse and SanaGloss glaze which
aids in ease of cleaning and long-term bowl sanitation.
THE TOTO G500 FEATURES:
- 1.28 GPF (4.8LPF) / 0.9 GPF (3.4LPF)
- 28-9/16"L x 15-15/16"W x 23-15/16"H
- Dual-Max cyclone flushing system
- SANAGLOSS ceramic glaze
- Sleek, low profile skirted one-piece elongated front bowl
- 12" rough in
- Mounting and connection hardware included
- Universal height
- ADA compliant
- Front and rear warm water washing with temperature and
adjustable pressure controls
contractingcanada.com
i n s ta l l at i o n p r o f i l e
Considerations for
Walk-in Bathtubs
TOTO Neorest G500 installed
-
-
-
-
-
-
-
-
Heated seat with temperature control
Automatic air deodorizer
Warm air dryer
Remote control operation
Illuminated touch pad
2 user memory
Auto open/close lid
Auto flush
SANAGLOSS®
TOTO's patented, super-smooth glazing is engineered to prevent
debris, mold, particles and bacteria from sticking to the porous
surface of ceramic toilets and lavatories. Along with regular
cleaning, SanaGloss® will keep your TOTO chinaware cleaner for
a longer period of time.
DOUBLE CYCLONE® FLUSHING SYSTEM
TOTO's Double Cyclone® Flushing System features a state-of-theart, hole-free rim design that offers a dual-nozzle bowl cleansing
system that creates a centrifugal, cyclonic cleaning action. The
result is the cleanest, most hygienic and most powerful flushing
system available on the market today.
DUAL-MAX® FLUSHING SYSTEM
TOTO's Dual-Max® Flushing System, found on several of the
most popular High Efficiency Toilets, offers the option of a 1.6
gallon flush or 0.9 gallon flush based upon need. Exceptional
water savings paired with outstanding performance -- that's
Dual-Max.
The sleek, contemporary styling of the TOTO G500 with
skirted one-piece elongated bowl is an ideal toilet to meet your
customers' hygienic and comfort needs both today and for agingin-place. Available in a choice of Cotton or Sedona Beige colour.
For more information on TOTO toilets and washlets ask your
wholesaler or visit: www.totousa.com.
What is a walk-in tub and is it a good choice for my
customer? A walk-in bathtub is just that, a bathtub with
a sealed door. The bather walks into the tub, sits down,
closes the door and turns the water on and waits for the tub
to fill. They can enjoy a comfortable bath without having the
challenge of stepping up into a traditional bathtub.
Walk-in tubs are also available with whirlpool jets, air
bath features and hand showers. Walk-in tubs are growing
in popularity among seniors and individuals with handicaps.
Considerations should be given when choosing a walk-in
tub. Bathers enter a walk-in tub and close the door behind
them which must be sealed before filling the tub. The bather
begins filling the tub with water, which takes considerable
time and conversely it takes considerable time to drain the
walk-in tub before the bather can open the tub door and
leave. During this often lengthy period of time, the bather
can become chilled and uncomfortable so measures should
be taken when installing a walk-in tub to provide warmth
and comfort for users. One way to provide your customers
added warmth and comfort is by installing a ceiling
mounted ventilation fan with electric warm air heater.
VENTILATION AND SUPPLEMENTAL HEAT
A Panasonic
WhisperWarm™
ceiling mounted
ventilation fanheater combination
with light provides
a quiet 90 CFM
of ventilation and
can be an ideal
solution to ensure
proper ventilation
and added warmth
when bathing. A Panasonic WhisperWarm fan provides
bathroom ventilation including the removal of humidity and
the heat from a built-in 1,400 electric heater warms in less
than a minute to gently deliver 90 CFM of warmth needed
to keep bathers warm and comfortable. For information
about the Panasonic line of WhisperQuiet ventilation fans,
ask your wholesaler or visit: www.panasonic.ca
To age-in-place can be a relaxing way for your customers to
enjoy retirement, especially if you take the time to research
the products to make their bathrooms both comfortable and
user-friendly for aging-in-place living.
CONTRACTING CANADA • SUMMER '13 • 21
new products
REFRIGERATION SYSTEM
ANALYZER
The
new
AK900SC
Digital
Refrigeration System Analyzer from
UEi offers unprecedented diagnostic
power for the professional HVAC&R
technician. The patented pressure
bar graphs allow you to see pressure
dynamics intuitively for quick diagnosis. Automatic saturation, subcooling and
superheat readings eliminate the need
for wallet cards. Features include an
integrated dual temperature probe to
automatically calculate superheat and
subcooling, and pressure extremes monitoring for simple pressure controls setup and greater convenience during
start-ups. Ask your wholesaler
for info or call: 800-547-5740
www.ueitest.com.
MULTI-FUNCTIONAL FAN COIL
Energy Saving Products Ltd. introduces
the HE-Z Series fan coil, the newest addition to the Hi-Velocity Product line. The
HE-Z fan coil features a new PSB (Pressure
Sensing Board) and motor controller and
Variable Frequency Drive Technology. Five
years ago, we introduced the PWM module
as an add-on, which made zoning the air
side of our system extremxely simple by
regulating the static pressure of the air
in the duct. The new HE-Z Series fan coil
combines all of that technology, and standardizes it so that all of our systems are
Zone-Ready right out of the box. Packaging
the new PSB together with a Variable
Frequency Drive makes the HE-Z series
your ultimate choice in a multi-functional fan coil. Ask your wholesaler or call: 888-652-2219
www.hi–velocity.com.
IN-DUCT WHOLEHOME AND
COMMERCIAL
AIR SANITIZER
The Air Oasis™
nano HTC™
induct
air
purifier uses
a
unique
Patented
Sanifier®
to
cleanse and sanitize the air and surfaces
throughout a home or office. Air Oasis™
reduces bacteria, aeroallergens, mould,
fungi and viruses up to 99%. Removes
odour causing VOCs up to 85% in 1 hour
and reduces MRSA on surfaces up to 63%
in 24 hours according to tests conducted
at West Texas A&M University. The easy
to install and virtually maintenance free
Air Oasis™ is available in three sizes:
6" up to 1,000 sq. ft., 9" up to 3,000
sq. ft. and 14" up to 5,000 sq. ft. Ask
your wholesaler or call: 866-633-1888
NanoShield Environmental Solutions Inc.
www.nanoshieldglobal.com.
NON-KINKING REFRIGERANT
LINE CONNECTORS
RectorSeal NoKink™ is the HVAC
industry's first flexible, non-kinking
refrigerant line connector for quick, easy
and more reliable refrigerant lineset connections to wall and ceiling mounted
mini-split evaporators. Now linesets can
remain recessed and straight in the wall
once they are connected to the evaporator
coil via the 36-inch RectorSeal NoKink™
accommodating operating pressures of
up to 800 psi. Ask your wholesaler or call
1-800-231-3345 www.rectorseal.com
22 • SUMMER '13 • CONTRACTING CANADA UNIVERSAL THERMOSTATS
Climate Technology Corporation, a division of Supco®, introduces the E3 Series
Universal Thermostats that are easy to
install, easy to program and easy to operate. Quick installation, real-life programming and simple operation take the stress
out of getting comfortable with E3 thermostats. E3 universal stats are compatible
with single and two-stage HVAC and heat
pump systems. Ask your wholesaler or call
1-732-223-6644. www.supco.com.
HVAC REPLACEMENT COILS
Trane® SureFit™ Coils are the new
single-source solution for replacement
HVAC coils with same-day quoting and
shipment in three days after ordering.
SureFit coils are designed to meet the
requirements of virtually any HVAC system regardless of manufacturer. Many
models are kept in stock for immediate
delivery through the industry's largest
distributor base. In many cases, shipment of SureFit coils occurs within three
days of ordering, including custom-manufactured coils for specific application
requirements. For more information visit
www.trane.com/surefitcoils.
contractingcanada.com
new products
THERMOSTATIC SHOWER
PANELS
Pfister Thermostatic Shower Panels
takes showering to the next level with
four unique water outputs: a large shower
head that creates a rainfall effect, a handheld shower head for mobility, swiveling
massage water jets and a tub-filling water
spout. A single knob controls water pressure and temperature. All systems come
in a configuration that makes it easy and
affordable to install in both retrofit and
new installations. Ask your wholesaler
for info or call: 905-624-9488. http://
international.pfisterfaucets.com
20-GAUGE DROP-IN &
UNDERMOUNT SINKS
Franke Kindred Canada Ltd. introduces
the newest range of 20-gauge sleek sinks
that can be installed above or below the
counter. These hand-fabricated sinks with
generous square bowls are available in
single, double or drainerboard styles with
optional faucet hole drillings and in-thebowl accessories. Sinks come with waste
fittings and installation hardware. Ask your
wholesaler for information or call 1-866687-7465. www.kindredcanada.com.
contractingcanada.com CONDENSING TANKLESS
WATER HEATERS
Bosch offers two new models of condensing gas-fired tankless water heaters. The domestic Greentherm models C
1050 ES and C 950 ES are both Energy
Star® rated with maximum efficiency
during high demand. The commercial
space-saving Therm C 1210 ESC model
provides up to 98% thermal efficiency
and a cascade option up to 24 units for
requirements up to 240 gal/minute. Ask
your wholesaler for information or visit:
www.Boschheatingandcooling.com.
BOILER RESET
CONTROL
Taco®s FuelMizer™
is an energy-saving
microprocessor-based control and
switching relay that regulates water
temperature in a single boiler based
on outdoor temperature. FuelMizer is
ideal for retrofit and new installations
with functions including automatic reset,
ratio calculation, warm weather shutdown, minimum boiler temperature settings and boiler differential settings.
FuelMizer can control a system or zone
valve circulator as well as over-riding
outdoor resets when a DHW tank calls
for heat. Ask your wholesaler or visit
www.taco-hvac.com/fuelmizer.
on Material and Labour Costs Using Cut-to-Size Headers
and End Caps from Alberta Custom Tee (2006) Ltd.
ALBERTA CUSTOM TEE
HEADERS ARE:
• Faster and easier to install
requiring fewer solder
joints;
• Far less costly than
making headers the
traditional method in the
shop or on the jobsite;
• Manufactured using 100%
lead-free high temperature
brazed joints and polished
to a professional finish;
• Leak tested at every joint;
• CSA approved
END CAPS FEATURE:
• 1/8" vent tap and ½" drain tap
• Available in 1, 1 ¼, 1 ½ and 2" Sizes
CUT-TO-SIZE HEADERS AVAILABLE IN:
• 72" lengths with 12, 18, or 24 outlets on
3, 4, or 6" centers;
• 1, 1 ¼, 1 ½ and 2"pipe runs with ½ or
¾" copper outlets and can be cut and
adapted to any number of outlets.
Get the Alberta Custom Tee advantage working
for you and start increasing your profits. Ask your
wholesaler for Alberta Custom Tee Products.
10037 96 Avenue
Westlock, Alberta, Canada T7P 2P9
Phone: 780-349-6511 Fax: 780-349-4232
www.customtee.com info@customtee.com
CONTRACTING CANADA • SUMMER '13 • 23
new products
HYDRONIC MIXING BLOCK
Viega's Hydronic Mixing Block combines mixing, control, air elimination
and a circulator into a single simple unit.
The hydronic mixing block features only
three connections for simple installations, with clearly labeled fittings and
ports. The block's control offers an intuitive menu structure for quick, simple
programming. Ask your wholesaler or
call 1-800-976-9819. www.viega.com.
SIMPLEX SEWAGE PACKAGE
Turbo Pumps Pro series T01450 is a
preassembled 1/2 HP 24" x 24"simplex
sewage package featuring a polyethylene
basin with dual anti-floatation collars
and a 3" separate vent connection for
easy access. Shallow 24" basin allows for
easier installation in difficult conditions.
Features a clog free cast iron vortex
impeller for solids up to 2". Comes with
4" external inlet hub, check valve and
is prewired with a mechanical switch.
Ask your wholesaler or call: 514-3374415 www.turbopumps.ca
24 • SUMMER '13 • CONTRACTING CANADA GAUGES OFFER TRIPLE-SEAL
VALVE SYSTEM
The new BLACKMAX™ manifold series
from CPS Products, Inc. include proprietary Triple-Seal™ Valve System with
three super neoprene O-ring design.
Precision machined aircraft aluminum
block bodies feature class 1.0 accurate 3
1/8" metal gauges with protective boot
and easy-to-read R-134a / 22 / 404A /
410A refrigerant scales. A mirror-like
port finish provides smooth accurate
metering when the valve stem retracts
fully providing maximum refrigerant flow.
Proprietary Vortech® Deep Vacuum Valve
System is certified 15 micron vacuum
rating. Heavy duty chrome metal valve
handles American made non-permeating
refrigerant hose 800 PSI working, 4,000
PSI burst. Ask your wholesaler or call:
800-277-3808 www.cpsproducts.com
ALL-IN-ONE
COMBUSTION
ANALYZER
E-Instruments
launched the BTU1100HE portable All-In-One
Combustion
Analyzer
High Efficiency Kit for
monitoring and installing
all 90%+ efficiency systems.
It measures, displays, stores
and prints combustion efficiency, O2, CO, CO2, and all of
the necessary temperatures,
draft and pressure measurements. Includes incoming Air
Smart Probe, field-replaceable
sensors, a built-in non-thermal printer, unbreakable metal connections, rugged "boiler-room" design and Bluetooth
wireless communication. A rechargeable
battery and AC charger are included.
Ask your wholesaler for info or call: 215750-1212. www.E-Inst.com.
ANALOG/DIGITAL
ELECTRONIC GAUGE WITH
VACUUM SENSOR
The industry's first hybrid gauge, hilmor's
Electronic Gauge with Vacuum Sensor,
features analog and digital readouts so technicians have the response of the needle and
clarity of an LCD display. Outer displays
show system pressure using the needle
and LSAT/VSAT temperatures in the digital display. Inner LCD displays pressures,
temperatures plus superheat and subcool
calculations. Automatically detects vacuum
down to 50 microns. Accuracy is within 1%.
Protected with high-impact boots. Ask your
wholesaler for info or call: 800-628-8810
www.hilmor.com.
10 TIMES MORE LIFE
Milwaukee® SHOCKWAVE™ Expand
gives professionals more fastening application solutions, while carrying less product in their tool box. Expand enhances
the existing insert bit program with new
extended length magnetic bit holders
and insert nut drivers designed to cover
more applications with fewer products.
SHOCKWAVE™ Expand is built for
extreme durability and up to 10X more
life in impact drivers than standard bits.
www.milwaukeetool.com
contractingcanada.com
new products
COMPACT TUBE BENDER
New Compact Bender from hilmor™
allows smooth precise bends up to 90
degrees on 1/4" to 7/8" tubing with ease.
This lightweight compact bender has a
universal crossbar equipped with quicktwist, size-adjustable shoes and various
sizes of color-coded mandrels able to
be switched out and attached quickly. A
quick-release tube mechanism means the
job can be completed with just one hand.
Ask your wholesaler for info or call: 800628-8810. www.hilmore.com.
UV LEAK DETECTION KITS
Cliplight introduces three Flash™ professional refrigeration system leak detection
kits offering various UV fluorescing light
functions and illuminating ranges. Kits
include three cans of Flash "no mess" dye,
a reusable charging hose, a UV detector
light and a carrying case. Flash treats up
to one five-ton unit. Cliplight's Dry
R™ drying agent combined with the
charging hose's instantly mists the
"industry's fastest die" into the system, keeping it stable and preventing
crystallization. Ask your wholesaler or
call: 866-548-3644. www.cliplight.com.
continued on page 30
MULTI-MATERIAL DRILL BITS
Irwin® Multi Material Drill Bits can drill
through brick, block, tile, metal, wood,
laminate, plastic, marble and any combination of these materials simultaneously.
Unique diamond-ground, four-facet carbide tip with super-sharp cutting edges
guarantee excellent hole quality and fast
drilling. The double-milled flute removes
dust and debris quickly and efficiently.
Bits are compatible with all standard 1/2"
and 3/8" chuck drills. Available in 3 to
5-inch lengths and 16-inch lengths. Ask
your wholesaler or call 1-800-GO-IRWIN.
www.irwin.com.
contractingcanada.com CONTRACTING CANADA • SUMMER '13 • 25
s e r v i c e r o u n d ta b l e
Service Roundtable
the Support Service
for Contractors
Have you been searching for resources and support services to help you
and your business? Many contractors throughout Canada and the U.S.
have found the resources and support they need through the Service
Roundtable, an organization providing contractors services and solutions
to help them overcome their business, sales and marketing challenges.
CREATED BY CONTRACTORS
FOR CONTRACTORS
The Service Roundtable is a revolutionary
organization founded by a collaboration of
leading contractors to share information
and help other contractors improve
their sales, marketing, operations and
profitability. For a very low monthly
subscription, the organization provides
contractors with a variety of business
tools, sales literature, training materials,
pricing spreadsheets and more.
CONTRACTOR FOCUSED
The Service Roundtable is governed by a
brain trust of the nation's best contracting
companies. Accordingly, the business
tools are contractor-focused and relevant
to the way contractors work today. The
Service Roundtable offers the tools most
contractors need but lack. Whether you're
a new or an established business that can't
quite seem to push forward to the next
level, Service Roundtable has the resources
to help you. According to Matt Michel, CEO,
Service Roundtable, "We've been helping
our members grow their businesses for
over ten years. Everything we do is geared
to make our members' companies the best
in the industry."
rugged, well-built furnaces, split systems
and iaq accessories
fEaTUring:
9 Locally stocked product
9 Exceptional customer service
9 Unsurpassed Technical Training
Whatever your company needs to
grow, whether it is sound advice, business
and marketing resources or access to
prominent mentors in the industry, Service
Roundtable has it all right at your fingertips.
HELPING CONTRACTORS
Chris Hunter, owner of Hunter Heat & Air
LLC in Ardmore, Oklahoma, is just one
example of how Service Roundtable helped
a small HVAC company become successful
and grow. Hunter struck out on his own
in 2009, and with the help and support of
the Service Roundtable, managed to grow
his company to 17 full-time employees and
revenues of $2.5M a year. Hunter plans
to branch out in the near future and says,
"Membership in the Service Roundtable
has been vital in this transformation and
growth. The Service Roundtable has been
a big help from early on ... the marketing
material, the industry gurus giving advice,
the editable forms and policies. There are
tons of information at our fingertips and
support from our peers," states Hunter.
SUPPORTED BY
MANUFACTURERS &
DISTRIBUTORS
Manufacturers and distributors support and
promote the Service Roundtable because
dealer use of Service Roundtable business
tools improves the sales performance of
their customer base. They know that more
sales by their dealers ultimately results in
more equipment purchases from them.
Service Roundtable offers much more
than sound advice, marketing solutions
and access to key industry contacts. With
the rebate program, Roundtable Reward$,
members get cash back from big industry
names in OEM, thermostats and zoning
products, as well as office supplies,
consulting services and more. Many
members receive so much through their
quarterly rebates that their membership
more than pays for itself.
The Roundtable Reward$ program is
free to all Service Roundtable members.
WHAT DOES IT COST?
The Service Roundtable only costs $50
(US) per month for HVAC or Plumbing,
Electrical or Solar contractors. That's
it. No catches. No surprises. Get all the
resources and more. For more information
and to join Service Roundtable visit www.serviceroundtable.com.
available now at trane Hvac
supply stores across canada
TiTanHVaC.Com
Toll free: 1-877-262-3341
26 • SUMMER '13 • CONTRACTING CANADA TITAN - Contracting Canada - SPRING ver2.indd 1
contractingcanada.com
02/22/13 11:07:44 AM
c u s t o m e r s e rv i c e
Five things
you should
never say to
a customer
By Marc Gordon
N
o matter how great you treat your
customers, at some point one of
them is going to find fault. And
when they express their displeasure, the
response they get from you or someone in
your company will be the true test of your
customer service and your company's policies. Here are five responses that many
businesses are guilty of giving to angry
customers, but shouldn't.
"THAT'S OUR POLICY."
Nothing sends a customer over the edge
like being told the decision to not provide
satisfaction was made before they even
came in to your company or before you
provided your product or service. Treat
every complaint as a unique situation and
instead of telling them what you CAN'T do,
but rather tell them what you CAN and are
willing to do.
"NO ONE ELSE HAS
COMPLAINED."
This puts the onus on the customer to
defend their complaint. If they care enough
to tell you they're unhappy with your
product or service, then you should care
enough to listen.
"YOU'RE WRONG."
We all know the customer may not always
be right, but there's no need to tell them
that. Graciously take the blame or politely
explain what you can do to make the
situation better - even if it's not much.
"IT'S NOT OUR FAULT."
The customer doesn't care if it's your fault.
They only care how you can help them so
don't expect a sympathetic ear when you
talk about an unreliable supplier.
SURVEY WINNER!!!
Congratulations to Wayne Waddell winner of a
DIGI-COOL AK900 Digital Refrigeration System
Analyzer valued at $299 compliments DIGI-COOL
and Contracting Canada magazine.
Wayne Waddell is a refrigeration technician with Display
Fixtures in Calgary, Alberta. Waddell won his AK900
by sending in his Survey from the Spring'2013 issue
Contracting Canada.
You could be the winner of
a Milwaukee M12 FUEL
Cordless Hammer Drill kit
a $219 value. Send in your
Survey Today page 29
for your chance to WIN!!!
NE
W
"COME BACK WHEN THE
MANAGER OR OWNER IS
AVAILABLE."
If an installer or service tech doesn't have
the authority to appease an angry customer
then they should have the authority to
manage the situation. Have them get all
relevant information from the customer
and forward it to the right person. Then
make sure that person promptly follows-up
with the customer.
It's worth noting that an unhappy customer
who does not receive satisfactory service,
product or resolution to a problem will likely
tell ten people what poor or unsatisfactory
service they received. Although you may not
be able to resolve every customer complaint
if you go that extra mile to satisfy a customer
they will likely tell others what good service
you provided. This is how you can generate
satisfied customers, build loyalty; repeat
business and get recommend to others
needing your products and services.
Editor's note: Marc Gordon is a professional
speaker and marketing expert. For more of
Marc's business tips visit: marcgordon.ca and
view his online show at marctv.net.
from the Value Leader
THE 621C3 DUAL INPUT
DIGITAL MANOMETER KIT
USE THE 621C3 TO:
Adjust appliance regulators; Set delivery pressures;
Make regulator adjustments for pressure and lock-up
tests; Test pressure switch operation on 2-stage gas
furnace in positive and negative pressures; Test air flow
static pressure drop; draft pressure measurements;
Check static pressure in exhaust stack when installing
high efficiency gas hot water heaters.
THE 621C3 FEATURES:
• 0.001 inH2O resolution at less than 40 inH2O;
• +/- 120 inH2O range, over-pressure protected to 4 PSI
• Temperature compensated to ensure repeatable measurements
• Dual input differential
• Seven units of pressure: inH2O, mbar,
KPa, PSI, mmH2O, mmHg, inHg
• Trim mode to stabilize readings
621C3 KIT INCLUDES:
• 621 Dual Input Digital Manometer
• A612 protective boot with tilt stand
• A605 (2) 1/4" tapered "T"
• A603 (2) brass fitting, 1/4" NPT to 1/4" barb
• A774 6' silicone tubing
• A776 (2) static tip
• A908 shoulder strap carrying case
Test Products International Ltd.
342 Bronte Street South, Unit 9
Milton, ON L9T 5B7
Phone: 905-693-8558
Ask your wholesaler for the
621C3 kit or call tpi toll free:
866-693-8558
Email: sales@tpicanada.com www.tpithevalueleader.com
contractingcanada.com CONTRACTING CANADA • SUMMER '13 • 27
i n d u s t ry n e w s
RONA SELLS NOBLE TO EMCO
FOR $215 MILLION
Rona Inc. (RON), Canada's largest
home-improvement store chain, agreed
to sell its commercial and professional
unit under the Noble, Don Park and
MPH Supplies names to EMCO Corp.
for $215 million as it focuses on its retail
operations. The sale will result in a
pretax loss of about $125 million, mostly
to write down the division's goodwill,
Boucherville, Quebec-based Rona said
today in a statement.
London, Ontario based EMCO will
add the unit to its Talisker Plumbing
Corp. subsidiary. The sale is subject to
a number of usual conditions, including
a review by the Competition Bureau.
The company's intention is to grow and
develop Noble as a distinct subsidiary,
with a separate management structure.
Until then, nothing changes and Noble
is still part of RONA and will continue to
service and support its customers.
SANIFLO CANADA APPOINTS
NEW NATIONAL SALES
MANAGER
Saniflo Canada,
the worldwide
leader
of
macerating
toilet systems
and gray water
pumping systems
for residential
and commercial
applications, has
appointed Ross Evans as National Sales
Manager. Evans brings over 20 years
industry experience to his new role
at Saniflo, having previously held top
management positions in the industrial,
automotive, plumbing and HVAC
industries.
"We are honoured to have Ross Evans
join our team as the new National Sales
Manager for Canada," said Arnaud
Corbier, CEO, SFA Saniflo. "His sales
experience and leadership skills make
him expertly qualified to provide
guidance to our distributor and sales
network. We are confident that Ross's
strategic and results-driven management
style will help grow Saniflo's presence
28 • SUMMER '13 • CONTRACTING CANADA in the Canadian market, while driving
innovation and profitability."
Saniflo solutions are produced in
France and have been sold in Canada
for over 25 years. The Company strongly
believes that there are many untapped
channels in both wholesale and retail, and
is confident that Ross will implement the
appropriate strategies to realize strong
growth. Prior to Saniflo Canada, Evans
served as Regional Sales Manager for
Nobel Trade, a related company of Rona
Inc. He also held several key leadership
positions at Marks Supply.
SANIFLO CANADA offers a complete
line of macerating and grinding toilet
systems as well as gray water pumping
systems for residential and commercial
applications. Saniflo products are
available at plumbing wholesalers and
hardware retailers located throughout
the country. www.saniflo.ca.
SINCLAIR SUPPLY PARTNERS
WITH RHEEM IN ALBERTA
Rheem announced that it has formed a
new partnership with Edmonton, Albertabased HVAC distributor, Sinclair Supply,
Ltd. Through this relationship, Sinclair
Supply will sell Rheem residential and
commercial, heating and cooling systems,
as well as replacement parts and indoor
air quality products.
Today, we are proud to be associated
with the quality and dependability of
the Rheem brand," said Tony Buhnai,
general sales manager, Sinclair Supply.
"This partnership will help Rheem
have a stronger presence in Alberta,
and we are thrilled to collaborate
with a trusted distributor like Sinclair
Supply," said Dave McPherson, general
manager, Rheem Canada. "Sinclair
Supply goes above and beyond to
build strong relationships with both
its suppliers and customers. Its team
members have substantial technical
expertise in the HVAC sector. We're
confident that our products will help
them grow in Alberta."
Sinclair Supply has been in business
for more than 65 years, and has 17
distributorship locations. It is a
leading wholesale distributer of HVAC,
refrigeration, hydronics, solar equipment
and controls throughout Western Canada.
For more information, please see www.
sinclairsupply.ca. www.rheem.com.
NRCAN TO ADD WATER
HEATERS TO HVAC
ENERGUIDE PROGRAM
HRAI has announced that the association
has finalized an agreement with
manufacturers who sell electric and
gas/propane water heaters in Canada
to participate in the industry managed
HVAC EnerGuide Program. Through
this activity, the consumer will be
provided with verified energy efficiency
information in an easy-to-understand
format. This initiative is supported by
the Canadian Institute of Plumbing &
Heating (CIPH). www.hrai.ca.
RMC INCREASES CFC 11
DISPOSAL FEE
Refrigerant Management Canada
(RMC) announced that effective
July 1, 2013 the disposal fee for
accepting CFC‐11 refrigerant into
the disposal program will be $12.00/
kilogram for CFC‐11 refrigerant. www.
refrigerantmanagement.ca.
TRENT METALS EXPANDS
BRANCHES
TML Supply Company has expanded
their branch location in London, Ontario
to a new 16,000 sq. ft. facility located at
30 Adelaide Street North. In addition, the
company has also moved its Barrie, Ont.
branch to a new and larger facility at 90
Anne Street South in Barrie. Phone and
fax numbers remain the same for both
locations. http://trentmetals.com/
E INSTRUMENTS APPOINTS
REP FIRMS
E Instruments International, LLC
of Langhorne, PA manufacturers of
portable, multifunctional Combustion
Gas Analyzers, Calibrators and Indoor
Air Quality test and measurement
instruments has appointed AIR FORCE
1 to represent the E Instrument
product line for Ontario and Mechanical
Systems 2000 Inc. for western
continued on page 30
contractingcanada.com
Reader Survey
RETURN THIS
SURVEY AND
YOU COULD
WIN
A MILWAUKEE
M12 CORDLESS
HAMMER DRILL
KIT A $219
VALUE.
Send us your completed Survey by FAX or mail by October 30, 2013 for your chance to WIN!
You can also complete this survey and enter online at: www.contractingcanada.com
Please note only one entry per person will be entered into the draw.
Hurry! - We must receive your completed survey by October 30,
2013 to be entered into the drawing for your chance to WIN.
Please help us meet your information needs by answering the following questions:
1. Are you satisfied with the product and technical support provided
through your wholesaler? Yes No
$CLIP or COPY
2. If you install and/or service combustion equipment do you as a
normal practice perform a CO test Yes No; If no please
explain:
3. Do you utilize your wholesaler's showroom and staff to assist you
and your customers with product selections (i.e.) kitchen and bath
fixtures, faucets and accessories, heating, air conditioning and
other home comfort products? Yes No
4. What do you believe is important to consumers when choosing an
HVAC or Plumbing contractor to do their installations and service?
Please rank each from 1 to 5 with 1 being least important and 5
being most important: Price ; Brand of products offered ;
Your reputation ; Number of years in business ; Warranty on
your work and the products you install ;
5. Are you interested in learning about Solar heating systems for
DHW, space heating and power generation? Yes No
6. If planning to add or replace your service vehicle what type of
vehicle are you planning to purchase or lease: Van; Pick-up
Truck; Cube Van; if other vehicle type please indicate: 7. Are you planning to purchase or lease service vehicle(s) within the
next: Three months: Six months: One Year ; Have you
decide on a make and model and if so please indicate: 8.
Please check the products you plan to purchase in the near future:
Power tools, corded and or cordless
Instruments, Diagnostic test meter
Instruments for temperature measurement
Infrared temperature gun
Combustion analyzer
Instruments for Airflow measurement
Carbon Monoxide Detector/Alarm
Drain cleaning equipment
Drain inspection equipment
Pipe & tubing cutting and crimping tools
Pipe threading, bending & grooving equipment
contractingcanada.com 219
$
Value
Pipe freezing equipment
Sheet metal working tools & equipment
Refrigerant recovery equipment
Refrigerant charging & evacuation equipment
Refrigerant system analyzer
Refrigerant leak detector
Business management software programs
Welding and/or brazing equipment, torches
Vehicle shelving, ladder carries & storage bins
9. Are you planning to purchase any of these products in the next 3
months? Yes No
10. Has information in Contracting Canada magazine helped you make
a product selection? Yes No
11. Would you recommend Contracting Canada to other contractors,
service technicians, installers and apprentices? Yes No
12. From which wholesaler did you receive Contracting Canada
magazine: Please mail or fax your completed survey today to:
Contracting Canada Magazine
114 Donjon Blvd., Port Dover, Ontario N0A 1N7
Fax: 905.569.2444
Go to www.contractingcanada.com to complete this survey online.
Please enter my survey into the draw to win Milwaukee M12 Cordless Hammer
Drill Kit valued at $219. We must receive your completed survey by October 30,
2013 for your chance to win. Winner will be contacted by telephone.
Note: Odds of winning depend on total number of eligible entries received.
Only one entry per person will be entered into the draw. Please print clearly.
Name­____________________________________________________________________
Company_________________________________________________________________
Address__________________________________________________________________
City__________________________________Prov.___________PC_______________
Tel___________________________________ Fax ____________________________
Email____________________________________________________________________
CONTRACTING CANADA • SUMMER '13 • 29
i n d u s t ry n e w s
continued from page 28
Canada Phone: 403-291-1244 www.
mechanicalsystems2000.com;
AIR
FORCE 1 www.airforce1.ca Toll free:
800-707-6297 www.e-inst.com
LIBERTY PUMPS ENDS
PRODUCTION OF THE
PEDESTAL SUMP PUMP
May 17th marked the end of an era
for Liberty Pumps with the final
model 101 pedestal sump pump
being produced in its Bergen, NY
facility. The model 101 is the last
remaining pump from the company's
original product offering dating
back to 1965 and demand for the
model 101 has fallen off. "It's pretty
amazing that this product sustained
a 48 year production life given the
advancements and popularity of
submersible pump technology. It is not
often a product can sustain 4 decades
of sales with very little changes to
it" stated Randall Waldron, VP of
Sales and Marketing. Liberty Pumps
INFOSOURCE
aggressive product development and
new innovative designs has lead the
way for new Liberty Pump products.
TRANE CELEBRATES 100
YEARS OF HVAC INNOVATION
Trane is celebrating 100 years
of heating, ventilating and air
conditioning (HVAC) innovation in
2013 and foresees a wide range of
ground breaking innovations in high
performance building technologies,
operating practices and intelligent
building services that will create
better, healthier, more comfortable and
more productive indoor environments
in the years to come.
Trane is a leading provider of indoor
comfort solutions and services and
a brand of Ingersoll Rand. Founded
in 1913 by James and Reuben
Trane, the company is celebrating
its 100th anniversary this year. To
learn more visit www.trane.com/
commercial/100years/.
For the Information you need FAST!
Alberta Custom Tee (2006) Ltd...............................Page 23
Tel.: 780-349-6511
www.customtee.com
DiGi-Cool Industries Ltd..........................................Page 10
Toll free 1-866-511-2665
www.digi-cool.com
Energy Saving Products Ltd...................................... Page 9
Toll free 1-888-652-2219
www.hi-velocity.com
Grohe Canada............................................................. Page 4
www.grohe.ca
hilmor.......................................................................... Page 2
www.hilmor.com
Liberty Pump Inc......................................................Page 32
Toll free 1-800-543-2550
www.libertypumps.com
N-TWO Cryogenic Inc..............................................Page 25
Toll free 1-888-410-6487
www.n-two.com
Ontario Power Authority............................................ Page 5
www.saveonenergy.ca/AC
Saniflo.......................................................................Page 15
Toll free 1-800-363-5874
www.saniflo.com
Service Round Table................................................Page 31
Toll free 1-877-262-3341
www.serviceroundtable.com
new products
Test Products Int'l/tpi...................................Pages 7, 10, 27
Toll free 1-866-693-8558
www.testproductsintl.com
continued from page 25
Trane Supply.............................................................Page 26
TITANHVAC.COM
Advertise your products
and services to more
than 29,000 contractors
across Canada
LCD DISPLAY DATA LOGGER
Dwyer's new model GDL-T Four
Temperature Graphical Display Data Logger
provides local, real time data and graphical trends on a large LCD display. Front
panel buttons allow users to see all four temperatures, graph display, logging summary,
sample rates, memory used and memory
left. It can record up 87,000 data points and
download them to a PC for further analysis.
Includes software, USB cable, digital manual
and batteries. Ideal for refrigeration/freezer
applications and more. Ask your wholesaler or
call 1-800-872-9141. www.dwyer-inst.com.
30 • SUMMER '13 • CONTRACTING CANADA PRESS TOOL
RIDGID®'s new RP 200-B Press Tool
offers a fast and reliable way to join copper and stainless steel tubing (3/8" to 1
½"diam.) in hard-to-reach spaces. This
lightweight cordless tool produces a
hydraulic ram output of 5,400 lbs. and can
make connections in as few as 4-5 seconds.
The press tool comes standard with two
RIDGID® Advanced Lithium Batteries
that can produce more than 200 lbs. of
pressure per charge for jobsite efficiency.
Ask your wholesaler or call 1-800-769-7743.
www.RIDGID.com/pressing.
Ad reservations for
the next issue close
September 20th
For advertising rates and editorial information
visit- www.contractingcanada.com
Call Don Beaulieu Tel.: 905.569.2777
Email: don@contractingcanada.com
Branded for and distributed by more than
550 wholesalers across Canada
contractingcanada.com
...You decide!
SIMPLEX SYSTEM
Stop the jamming associated with solids-handling
sewage pumps and move over to the new ProVoreTM
1 hp. residential grinder - now available in compact
simplex or duplex packages!
ProVoreTM residential
grinders feature:
• Powerful 1 hp. motor
• Patented V-Slice® cutter technology –
easily shreds feminine products and
other tough debris known to jam
standard sewage pumps
DUPLEX SYSTEM
• No special wiring - runs on standard
115V or 230V, 20 amp circuitry
US Patent # 7,159,806
and Patent Pending
• 2 discharge
ll
Patented V-Slice®
Cutter Technology
8 0 0 . 5 4 3 . 2 5 5 0 libertypumps.com
7 0 0 0 A p p l e Tr e e Av e . • B e r g e n , N e w Yo r k 14 416
Copyright © Liberty Pumps, Inc. 2013 All rights reserved.