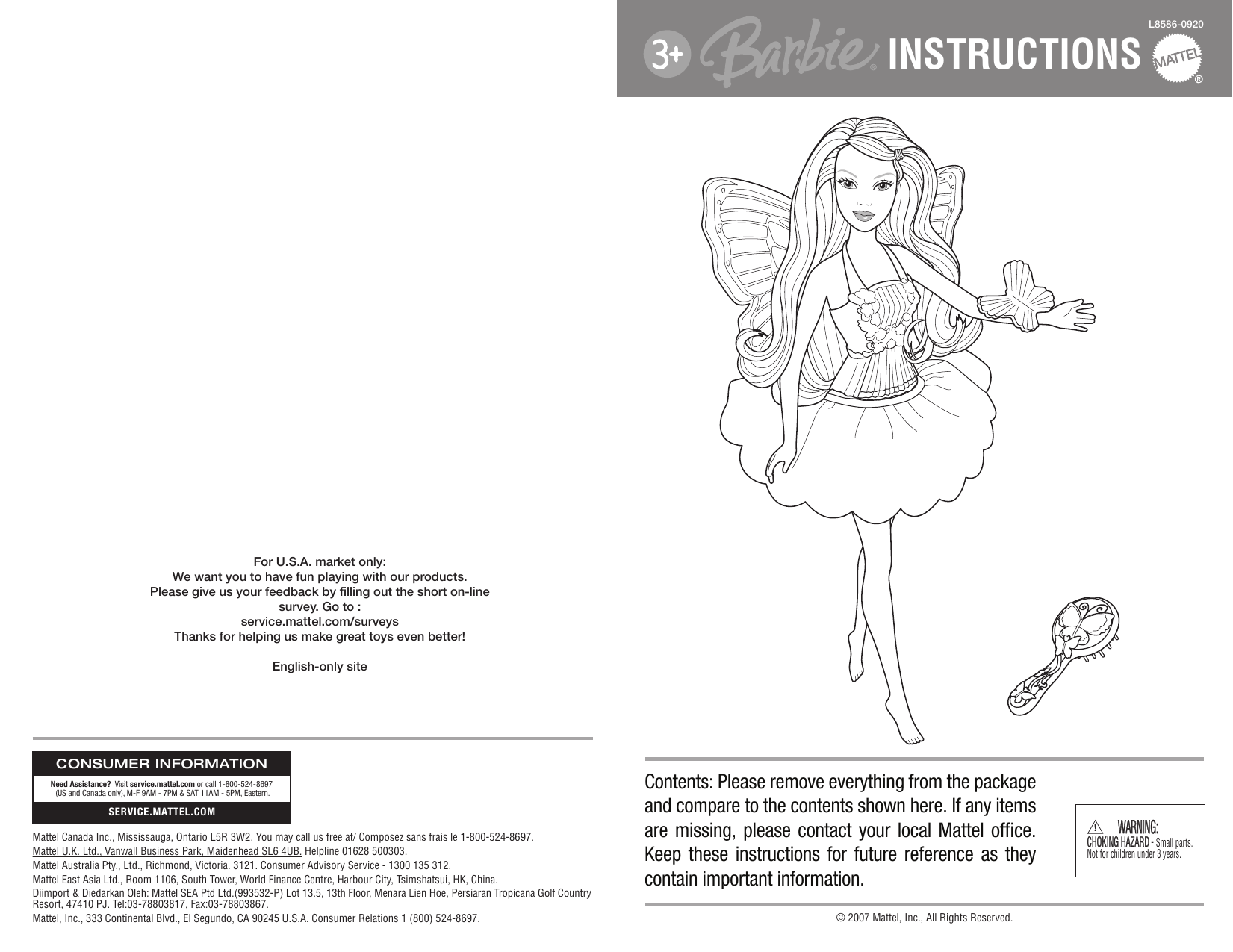 L8586-0920
INSTRUCTIONS
For U.S.A. market only:
We want you to have fun playing with our products.
Please give us your feedback by filling out the short on-line
survey. Go to :
service.mattel.com/surveys
Thanks for helping us make great toys even better!
English-only site
CONSUMER INFORMATION
Need Assistance? Visit service.mattel.com or call 1-800-524-8697
(US and Canada only), M-F 9AM - 7PM & SAT 11AM - 5PM, Eastern.
SERVICE.MATTEL.COM
Mattel Canada Inc., Mississauga, Ontario L5R 3W2. You may call us free at/ Composez sans frais le 1-800-524-8697.
Mattel U.K. Ltd., Vanwall Business Park, Maidenhead SL6 4UB. Helpline 01628 500303.
Mattel Australia Pty., Ltd., Richmond, Victoria. 3121. Consumer Advisory Service - 1300 135 312.
Mattel East Asia Ltd., Room 1106, South Tower, World Finance Centre, Harbour City, Tsimshatsui, HK, China.
Diimport & Diedarkan Oleh: Mattel SEA Ptd Ltd.(993532-P) Lot 13.5, 13th Floor, Menara Lien Hoe, Persiaran Tropicana Golf Country
Resort, 47410 PJ. Tel:03-78803817, Fax:03-78803867.
Mattel, Inc., 333 Continental Blvd., El Segundo, CA 90245 U.S.A. Consumer Relations 1 (800) 524-8697.
Contents: Please remove everything from the package
and compare to the contents shown here. If any items
are missing, please contact your local Mattel office.
Keep these instructions for future reference as they
contain important information.
© 2007 Mattel, Inc., All Rights Reserved.
!
WARNING:
CHOKING HAZARD – Small parts.
Not for children under 3 years.
PLAY TIME!
Rotate butterfly knob clockwise, doll's
head turns to left as butterfly swirls
up her arm. When knob is released
gently, butterfly swirls back down her
arm and doll's head turns forward.
If knob does not return to the original
upright position, manually rotate it
counterclockwise.
If butterfly does not swirl
down from doll's upper
arm, slightly turn butterfly
knob counterclockwise.
Doll cannot stand alone.
Doll's left arm contains a magnet. Do not use around items that
are sensitive to or affected by magnetic fields. Butterfly contains
a magnet.
REMOVABLE WINGS!

* Your assessment is very important for improving the work of artificial intelligence, which forms the content of this project