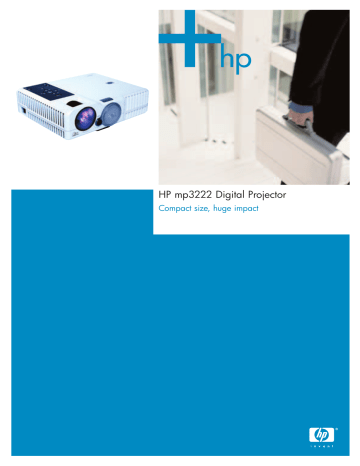 HP mp3222 Digital Projector
Compact size, huge impact
Crisp, clear presentations anywhere.
Conventional
High contrast ratio
Vivid and life-like images with 2000:1 high contrast ratio
For professionals constantly on the move, HP has a new
projector tailor-made to help you make that all-important
sales pitch or presentation. The HP mp3222 Digital
Projector is a highly mobile, user-friendly and powerful
tool for making an impact on your audience, at a very
affordable price point.
DLP Board
Processor
Memory
Projection lens
DMD
Shaping lens
Powerful brilliance
A 2000 peak ANSI lumens ensures projection of
bright images that are visible under extreme ambient
light conditions. You achieve amazing visual impact for
your presentations in a wide variety of environments.
Colour filter
Screen
Condensing lens
Light source
Advanced DLPTM technology is implemented in the HP mp3222 Digital Projector
Sharp, rich graphics
The 2000:1 contrast ratio and 16.7 million colours deliver
outstanding richness and vibrancy in your presentation
graphics. Get your point across easily with superb clarity
and crisp details.
Quality images, all the time
You can rely on the HP mp3222 Digital Projector
presentation after presentation. With DLP™ technology,
picture quality is consistently more durable and longer
lasting than LCD type projectors1.
Before correction
After correction
Before correction
Square, undistorted images with vertical keystone correction
In addition, the DLP™ scaling engine delivers greater
legibility, smoother graphics and improved clarity
all the time.
• Scalable resolutions. Converts input to the projector's
XGA native resolution seamlessly. Scalability works with
resolutions from VGA to UXGA (1600 x 1200) and with
a multitude of sources, such as PCs, hand-helds,
composite and component video.
With text processing
Without text processing
Text processing eliminates vertical and horizontal scaling distortion and minimises ringing
• Electronic keystone correction. Adjusts output
up to +/-20%, to keep a squared, undistorted image and
delivering a professional presentation every time.
• Text processing. Sharpens and processes text to reduce
blurriness in both vertical and horizontal dimensions.
• Aspect Ratio Scaling. Adapts the output aspect ratio
to conform to any given signal input (16:9 widescreen
input mode). Smooth scaling is also achieved when
expanding the image to fit the viewing area.
4:3 aspect ratio
See the big picture with 16:9 widescreen mode
16:9 widescreen
Easy to move, easy to use
Designed with ease in mind, the HP mp3222 Digital
Projector is small and lightweight, with many built-in
user-friendly features. The sliding lens cap is built into
the body and will not be misplaced.
Integrated sliding
lens cap
Elevator foot
release button
1.2x zoom
Deploying the elevator foot requires only a single hand
and a 1.2x manual zoom dial gives you added flexibility
in placement. Dimensions of 70 x 251 x 210 mm,
together with a weight of 1.7 Kg, allow it to fit into
a briefcase or suitcase with room to spare.
Focus on your presentation,
not the projector
Additional ergonomic features include quiet 37 dB
operation, vertical keystone correction, easy access
lamp module and an image optimisation selector that
quickly optimises your display for data or video input
by selecting the best colour contours and contrast levels
for your presentation at the push of a button.
It also comes complete with a credit card style remote
control with full mouse functionality.
Flexible connectivity
User-friendly top-mounted
control and menu buttons
Ergonomic features for easy operability
The HP mp3222 Digital Projector is compatible with
a range of accessories, giving you greater flexibility
and convenience. These include a combo carrying
case for your projector, notebook and accessories,
a variety of audio and video cables and spare
lamp modules.
Left-click and right-click
mouse button
Mouse pad
Page-up and page-down
buttons
Source button
Auto sync button
Page-up and
page-down buttons
Picture mode button
Enter button, back button,
and directional arrows
Remote control with mouse function
A full array of audio and video inputs allows you
to use the HP mp3222 Digital Projector with virtually
any source, from your laptop computer to a PDA or
DVD player. The projector is equipped with built-in
audio as well as full-screen NTSC/PAL/SECAM video
capability and is compatible with VGA, composite,
component, S-video and HDTV inputs.
Maximising your
projector's performance
Power button
Hide button
Left-click and right-click
mouse button
PC computer
PDA
Laptop
Audio input
USB input
Composite
video input
VGA input
S-video input
HP mp3222 Digital Projector
DVD player
Connect to a variety of input sources easily
Carrying case
1
HP Component Video RCA
to VGA 1.8m Cable
Information regarding DLP™ technology provided by Texas Instruments from research
conducted by the Munsell Colour Science Laboratory (MCSL) at the Rochester Institute
of Technology.
Mobile screens
Lamp module
An extensive range of optional accessories for enhancing your presentation
Ceiling Mount
HP mp3222 Digital Projector
Ordering information
Technical specifications
Number
Description
L1742A
HP mp3222 Digital Projector
Accessories and supplies
Brightness
2000 ANSI (max) lumens1
Resolution
1024 x 768 True XGA
Image contrast
2000:1 full on/full off
Lamp life
2000 hours/3000 hours in economy mode
Weight
1.7 kg (3.8 lb)
Projected image
Size
Adjustable from 0.62 to 7.4 m diagonal (24.4 to 292.5 inches)
Uniformity
Greater than 75% typical
Cables
Throw distance
Approximately 1.2 to 12 m (3.3 to 29.4 ft)
Projection offset
115% of image above center line
Display technology
Single-panel 0.7 in 12° DDR DMD XGA projection system (TI DLP)
Scalable resolution
Native XGA (1024 x 768)—scales up from VGA (640 x 480)
and scales down from UXGA (1600 x 1200);
Automatic resizing supported
L1532A
L1625A
L1635A
L1661A
L1713A
L1717A
Projector lens
~2.4 (wide), ~2.65 (tele); manual zoom; manual focus;
digital and optical zoom
For more information, call your local Hewlett-Packard sales office
or your nearest HP authorised dealer:
Keystone correction
Advanced electronic keystone correction +/- 16° (32° total) typical
HP customer information centre (for product information)
Noise level
Normal mode: 37 dB(A) peak; Economy mode: 35 dB(A) peak, under
25 degrees C
Light source
200-watt compact P-VIP projector bulb
Audio
1 watt, mono internal speaker
Video capability
S-video, composite, component, HDTV (up to 1080i)
Video formats
NTSC, PAL, SECAM
Input connections
Computer input (VGA terminal), composite video input (RCA jack),
S-video inputs (Min Din 4 pin), audio input (3.5 mm phone jack),
USB input, component/HDTV via L1713A adapter cable
Detection of computer signal input
Automatic
Australia
China
Hong Kong
India
Indonesia
Korea
Malaysia
New Zealand
Philippines
Singapore
Taiwan
Thailand
Vietnam
Computer compatibility
NTSC-M (3.58 MHz), 4.43 MHz, PAL-B, D, G, H, I , M , N, SECAM-B,
D, G, K, K1, L, HDTV-480i, 480P, 576i/P, 720P, 1080i
HP customer care centre (for post-sales service)
Image synchronization
Automatic
Remote control
With power, page up/down, mouse, menu, sync,
and source buttons
Menus
User-friendly 11-language On Screen Display (OSD)
Mounting capability
Ceiling, tripod and table top
Tilt angle
8 degrees with elevator foot
Dimensions (w x d x h)
70 x 251 x 210 mm (2.77 x 9.88 x 8.27 inches)
What's in the box
HP mp3222 Digital Projector, power cable, VGA cable,
USB cable, remote control, remote control battery, carry case,
documentation kit, including Quick Setup Card, CD-ROM with User's
Guide, Important Safety Information booklet, Worldwide Limited
Warranty and Technical Support booklet, Worldwide Telephone
Numbers booklet
Environmental ranges
Operating
5 to 35° C (41 to 95° F )
Storage
-20 to 60° C (-4 to 140° F)
Relative humidity
80% RH, (max) non-condensing
Altitude
Operating: 10000 ft; Storage: 40000 ft
Acoustics
Normal mode: 37 dB(A); Economy mode: 35 dB(A);
under 25 degrees C
Power
Requirements
Universal 100 to 240 VAC, 50/60 H
Consumption
250 watts maximum
Certifications
Safety
L1678A
L1703A
L1720A
L1671A
L1633A
L1622A
L1586A
L1712A
Australia
China
Hong Kong
India
Indonesia
Korea
Malaysia
New Zealand
Philippines
Singapore
Taiwan
Thailand
Vietnam
HP mp3222 cover case (included)
HP mp3222 ceiling mount
HP mp3222 lamp module
Screen, 50-inch presenter
Screen, 60-inch mobile
Deluxe combination travel case (RS 150)
Remote control, smart wireless (IR)
Remote control, w/mouse function (included)
Cable, audio mini plug, 1.8 m
Cable, VGA (included)
Cable, S-video, 1.8 m
Cable, USB, 1.8 m (included)
Cable, component/S-video to VGA, 1.8 m
SCART/S-video adapter
13 23 47
800 820 2255
800 938 833
1600 444 999
0800 1111 222
080 703 0700
1800 88 4848
0800 733 547
1800 1441 6688
1800 278 8100
0800 236 686
+66 2 353 9000
+84 8 823 6215
13 10 47
800 810 5959
+852 3002 8555
1600 112 267
+62 21 350 3408
+82 2 3270 0700
1800 80 5405
+64 9 356 6640
+63 2 867 3551
+65 6 272 5300
+886 2 8722 8000
+662 353 9000
+848 823 4530
For the following countries, please fax your queries to: +65 6275 6707
• Bangladesh • Bhutan • Brunei • Cambodia • Maldives • Nepal
• Pakistan • Sri Lanka
For more information on
HP Care Pack, visit: http://www.hp.com/apac/hpservices/carepack
HP Instant Support Professional Edition (ISPE), visit:
http://www.instantsupport.asiapac.hp.com
For more information on support, visit: http://www.hp.com/support
For more information on HP genuine parts, visit:
http//www.hp.com/go/hpparts
For specific warranty details, please check with your local country resellers.
cULus, TUV-GS, CCC, EN60950, PSB, NOM, B-mark, GOST,
FDA DHHS, SHOAN
Electromagnetic compatibility
FCC Part 15 Class B, EN55022: 1998, EN55024: 1998, VCCI,
MIC, C-Tick
Warranty
2 year standard unit warranty with customer choice of express
exchange or repair; 90-day Standard Bulb warranty, within the
bulb warranty period, defective bulbs will be replaced via overnight
shipment; HP's toll-free support 1-800-474-6836 (1-800-HP invent),
available 24 hours a day, 7 days a week; certain restrictions and
exclusions apply, consult the Product Information Center for details.
HP Product Number
The DLP™ logo and DLP™
Medallion are
trademarks of Texas
Instruments.
© 2004 Hewlett-Packard Development Company, L.P.
The information contained herein is subject to change without notice. The only
warranties for HP products and services are set forth in the express warranty
statements accompanying such products and services. Nothing herein should
be construed as constituting an additional warranty. HP shall not be liable for
technical or editorial errors or omissions contained herein.
Printed in Singapore, PN?, 08/2004
1
The ANSI (max) lumens rating is based on ANSI/NAPM IEC 61947-1 tests of 33 units, in May, 2004, with a projector mean ANSI lumens
of 1759 and maximum ANSI lumens of 2019. The ANSI (max) lumens specification is provided to enable customers to accurately compare
HP Digital Projectors lumens with the lumen ratings of other vendors. Lamp brightness will decline with use. Replacing the used lamp with a
new factor lamp will restore the projector's output to its original brightness range.

* Your assessment is very important for improving the work of artificial intelligence, which forms the content of this project