WatchGuard® XTM Products at a glance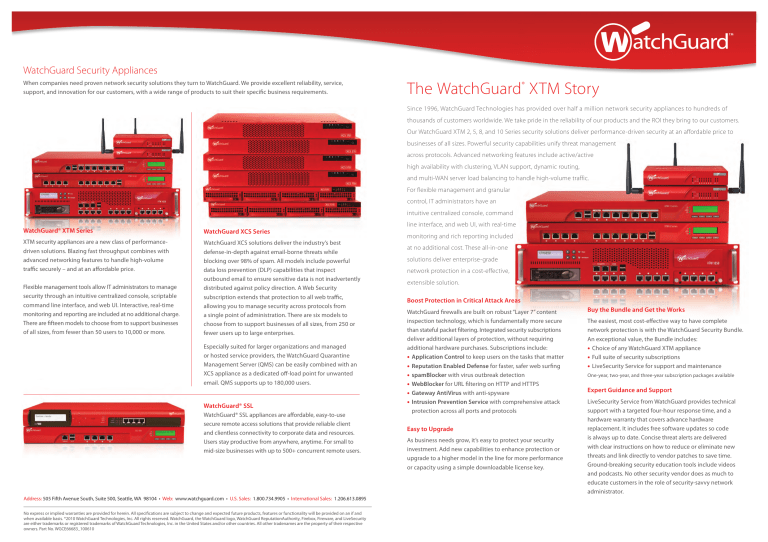 WatchGuard Security Appliances
When companies need proven network security solutions they turn to WatchGuard. We provide excellent reliability, service,
support, and innovation for our customers, with a wide range of products to suit their specific business requirements.
The WatchGuard® XTM Story
Since 1996, WatchGuard Technologies has provided over half a million network security appliances to hundreds of
thousands of customers worldwide. We take pride in the reliability of our products and the ROI they bring to our customers.
Our WatchGuard XTM 2, 5, 8, and 10 Series security solutions deliver performance-driven security at an affordable price to
businesses of all sizes. Powerful security capabilities unify threat management
across protocols. Advanced networking features include active/active
high availability with clustering, VLAN support, dynamic routing,
and multi-WAN server load balancing to handle high-volume traffic.
For flexible management and granular
control, IT administrators have an
intuitive centralized console, command
WatchGuard® XTM Series
WatchGuard XCS Series
XTM security appliances are a new class of performancedriven solutions. Blazing fast throughput combines with
advanced networking features to handle high-volume
traffic securely – and at an affordable price.
WatchGuard XCS solutions deliver the industry's best
defense-in-depth against email-borne threats while
blocking over 98% of spam. All models include powerful
data loss prevention (DLP) capabilities that inspect
outbound email to ensure sensitive data is not inadvertently
distributed against policy direction. A Web Security
subscription extends that protection to all web traffic,
allowing you to manage security across protocols from
a single point of administration. There are six models to
choose from to support businesses of all sizes, from 250 or
fewer users up to large enterprises.
Flexible management tools allow IT administrators to manage
security through an intuitive centralized console, scriptable
command line interface, and web UI. Interactive, real-time
monitoring and reporting are included at no additional charge.
There are fifteen models to choose from to support businesses
of all sizes, from fewer than 50 users to 10,000 or more.
Especially suited for larger organizations and managed
or hosted service providers, the WatchGuard Quarantine
Management Server (QMS) can be easily combined with an
XCS appliance as a dedicated off-load point for unwanted
email. QMS supports up to 180,000 users.
WatchGuard® SSL
WatchGuard® SSL appliances are affordable, easy-to-use
secure remote access solutions that provide reliable client
and clientless connectivity to corporate data and resources.
Users stay productive from anywhere, anytime. For small to
mid-size businesses with up to 500+ concurrent remote users.
Address: 505 Fifth Avenue South, Suite 500, Seattle, WA 98104 • Web: www.watchguard.com • U.S. Sales: 1.800.734.9905 • International Sales: 1.206.613.0895
No express or implied warranties are provided for herein. All specifications are subject to change and expected future products, features or functionality will be provided on an if and
when available basis. ®2010 WatchGuard Technologies, Inc. All rights reserved. WatchGuard, the WatchGuard logo, WatchGuard ReputationAuthority, Firebox, Fireware, and LiveSecurity
are either trademarks or registered trademarks of WatchGuard Technologies, Inc. in the United States and/or other countries. All other tradenames are the property of their respective
owners. Part No. WGCE66683_100610
line interface, and web UI, with real-time
monitoring and rich reporting included
at no additional cost. These all-in-one
solutions deliver enterprise-grade
network protection in a cost-effective,
extensible solution.
Boost Protection in Critical Attack Areas
WatchGuard firewalls are built on robust "Layer 7" content
inspection technology, which is fundamentally more secure
than stateful packet filtering. Integrated security subscriptions
deliver additional layers of protection, without requiring
additional hardware purchases. Subscriptions include:
• Application Control to keep users on the tasks that matter
• Reputation Enabled Defense for faster, safer web surfing
• spamBlocker with virus outbreak detection
• WebBlocker for URL filtering on HTTP and HTTPS
• Gateway AntiVirus with anti-spyware
• Intrusion Prevention Service with comprehensive attack
protection across all ports and protocols
Easy to Upgrade
As business needs grow, it's easy to protect your security
investment. Add new capabilities to enhance protection or
upgrade to a higher model in the line for more performance
or capacity using a simple downloadable license key.
Buy the Bundle and Get the Works
The easiest, most cost-effective way to have complete
network protection is with the WatchGuard Security Bundle.
An exceptional value, the Bundle includes:
• Choice of any WatchGuard XTM appliance
• Full suite of security subscriptions
• LiveSecurity Service for support and maintenance
One-year, two-year, and three-year subscription packages available
Expert Guidance and Support
LiveSecurity Service from WatchGuard provides technical
support with a targeted four-hour response time, and a
hardware warranty that covers advance hardware
replacement. It includes free software updates so code
is always up to date. Concise threat alerts are delivered
with clear instructions on how to reduce or eliminate new
threats and link directly to vendor patches to save time.
Ground-breaking security education tools include videos
and podcasts. No other security vendor does as much to
educate customers in the role of security-savvy network
administrator.
©2009 WatchGuard Technologies, Inc.
WatchGuard® XTM Products at a glance
XTM 21
XTM 2 Series*
XTM 22
XTM 5 Series
XTM 510
XTM 520
XTM 530
XTM 810
XTM 8 Series
XTM 820
XTM 23
XTM 505
Firewall throughput**
110 Mbps
150 Mbps
195 Mbps
850 Mbps
1.4 Gbps
VPN throughput**
35 Mbps
55 Mbps
55 Mbps
210 Mbps
XTM aggregate throughput**
18 Mbps
30 Mbps
40 Mbps
Interfaces 10/100
3
3
Interfaces 10/100/1000
3
XTM 830
XTM 10
XTM 1050
1.9 Gbps
2.3 Gbps
3 Gbps
4 Gbps
5 Gbps
10 Gbps
350 Mbps
550 Mbps
750 Mbps
1 Gbps
1.4 Gbps
1.7 Gbps
2 Gbps
275 Mbps
400 Mbps
600 Mbps
800 Mbps
1 Gbps
1.3 Gbps
1.6 Gbps
2.0 Gbps
3
1
1
1
1
–
–
–
–
3
3
6
6
6
6
10
10
10
2 USB
2 USB
2 USB
1 Serial / 2 USB
1 Serial / 2 USB
1 Serial / 2 USB
1 Serial / 2 USB
1 Serial / 2 USB
1 Serial / 2 USB
1 Serial / 2 USB
1 Serial / 2 USB
Unrestricted
Unrestricted
Unrestricted
Unrestricted
Unrestricted
Unrestricted
Unrestricted
Unrestricted
Unrestricted
Unrestricted
Unrestricted
Concurrent connections
(bi-directional)
10,000
20,000
30,000
40,000
50,000
100,000
350,000
500,000
750,000
1,000,000
2,500,000
VLAN support (incl/max)
20/50***
20/50***
50/50
75
75
75
75
200
300
400
500
Local user database limit
100
200
200
500
500
1,000
2,500
4,000
5,000
6,000
10,000
5/5
20/20
50/50
65/65
75/75
200/200
600/600
1,000/1,000
2,000/2,000
6,000/6,000
7,000/7,000
Throughput and Connections
I/O Interfaces
Nodes supported (LAN IPs)
†
12 (optional - 4 fiber)
VPN Tunnels (incl/max)
Branch Office VPN
Mobile VPN IPSec
Mobile VPN SSL
1/11
5/25
5/55
5/75
25/100
50/300
400/1,000
600/2,000
700/6,000
800/8,000
15,000/15,000
1/11***
1/25***
55/55
1/65***
1/75***
1/300***
1/600***
1,000/1,000
4,000/4,000
6,000/6,000
15,000/15,000
802.11a/b/g/n
802.11a/b/g/n
802.11a/b/g/n
–
–
–
–
–
–
–
–
–
–
–
–
–
–
Optional
Optional
Optional
Optional
Included
Included
Wireless Security
Wireless LAN*
Wireless WAN
Available with purchase and deployment of WatchGuard® 3G Extend wireless bridge
accessory / Supports over 50 cellular modem cards and ISP plan options / USB model
includes CE certification
–
–
Advanced OS
Fireware® XTM Pro
Optional
Optional
Included
Included
Included
Networking Features
Standard
NAT: static, dynamic, 1:1, IPSec traversal, policy-based PAT / Traffic shaping and QoS: 8 priority queues, DiffServ, modified strict queuing / IP address assignment: static, DynDNS, PPPoE, DHCP (server, client, relay) / Port independence / VLAN support / VPN failover / WAN failover†† / Multi-WAN failover†† / Transparent/drop-in mode
Advanced OS
Dynamic routing (BGP, OSPF, RIPv1,v2) / Policy-based routing / Multi-WAN failover /
Multi-WAN load balancing
High availability (active/passive, and active/active for clustering) / Dynamic routing (BGP, OSPF, RIPv1,v2) / Policy-based routing / Multi-WAN load sharing / Multi-WAN load balancing / Virtual IP for server load balancing
XTM 2 Series has initial 90-day, 1-year , 2-year, and 3-year LiveSecurity subscriptions available
XTM 5, 8, and 10 Series appliances have initial 1-year , 2-year, and 3-year LiveSecurity subscriptions – LiveSecurity Plus, Gold, and Platinum level service are available as a purchase upgrade
Support and Maintenance
LiveSecurity® Service
No matter which XTM appliance you choose, you'll enjoy:
Security Features
Security Subscriptions
Management Software
User Authentication
Logging and Reporting
• Stateful packet firewall, deep application inspection,
application proxies: HTTP, HTTPS, SMTP, FTP, DNS, TCP, POP3
• Blocks spyware, DoS attacks, fragmented packets,
malformed packets, blended threats and more
• Protocol anomaly detection, behavior analysis,
pattern matching
• Static and dynamic blocked sources list
• Time-based rules
• Instant messaging. P2P, and Skype allow/deny
• VoIP: H.323 and SIP, call setup and session security
Available in 1-, 2-, and 3-year subscriptions
All WatchGuard XTM appliances can be managed with
the IT administrator's choice of:
• Transparent Active Directory Authentication (single sign-on)
• XAUTH for Radius, LDAP, Secure LDAP, Windows Active
Directory
• RSA SecurID® and VASCO
• Web-based, local
• 802.1X for XTM 2 Series wireless
• Microsoft Terminal Services and Citrix
•
•
•
•
•
•
•
•
•
•
•
•
•
•
spamBlocker
Application Control
Reputation Enabled Defense
WebBlocker
Gateway AntiVirus
Intrusion Prevention Service
Buy an XTM Bundle and get all subscriptions plus appliance
and support and maintenance contract at a great price.
• Command line interface with direct connects and scripting
• Web UI for access to management tools from anywhere
• WatchGuard System Manager (WSM) – an intuitive,
centralized console that provides interactive real-time
monitoring and logging for network-wide system status
at a glance. Includes drag-and-drop VPN creation and rich
historical reporting
Multi-appliance log aggregation
HTML and PDF reports
SQL log database
Encrypted log channel
SNMP v2 & v3
Syslog
Logging and reporting with server health status
Web-based configurable reports portal
*All XTM 2 Series appliances are available in a wireless version, under model numbers XTM 21-W, 22-W, and 23-W. **Throughput rates will vary depending on environment and configuration. Contact your WatchGuard reseller or call WatchGuard directly (1.800.734.9905) for help determining the right model for your network.
***Maximum number available with upgrade to Fireware XTM Pro advanced OS. †XTM 830 appliances come with 6 copper and 4 fiber 10/100/1000 interfaces under model number WatchGuard XTM 830-F. †Requires Fireware Pro upgrade on XTM 21, 21-W, 22, and 22-W appliances.

* Your assessment is very important for improving the work of artificial intelligence, which forms the content of this project