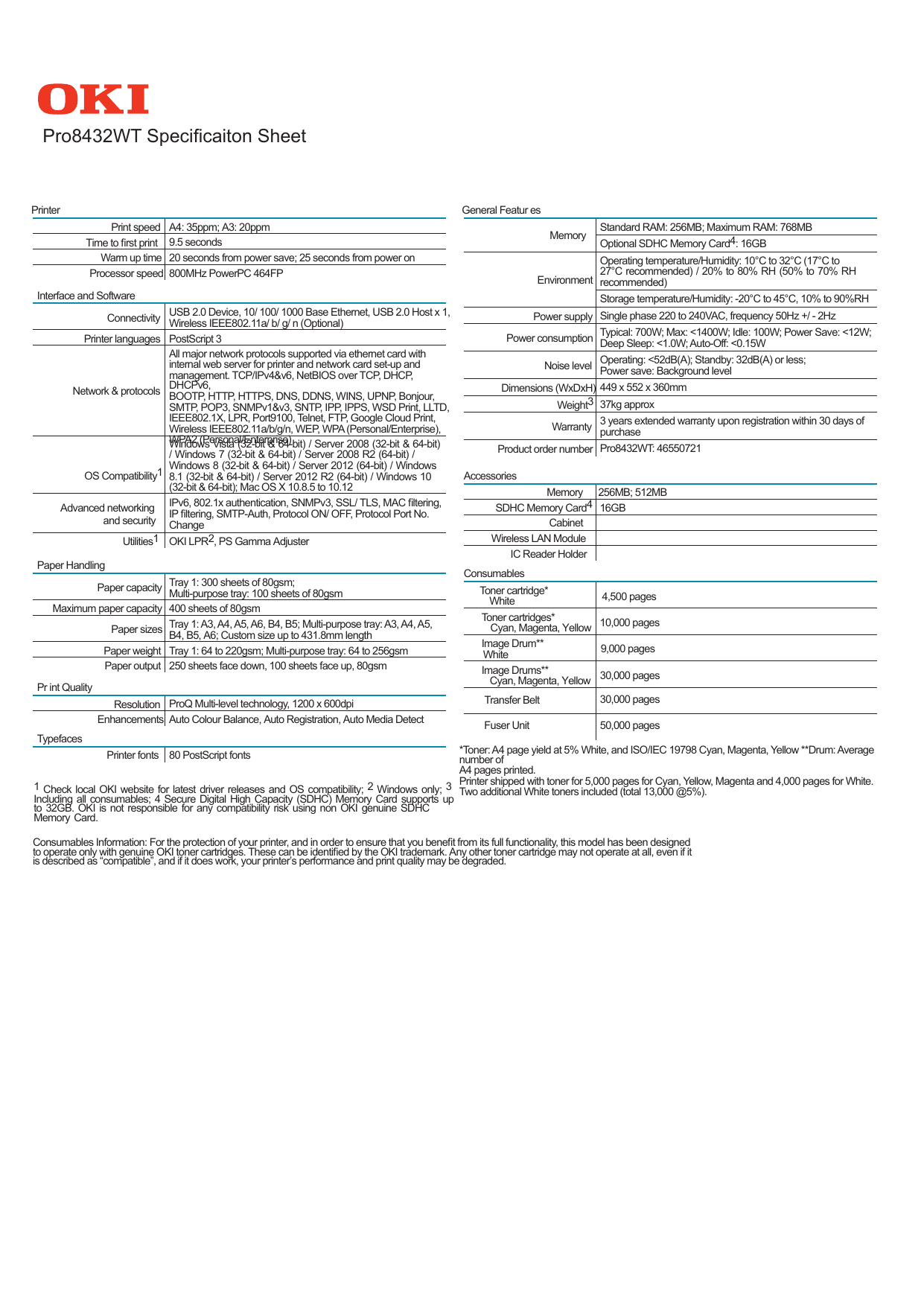 Pro8432WT Specificaiton Sheet
Printer
General Featur es
Print speed
Time to first print
Warm up time
Processor speed
A4: 35ppm; A3: 20ppm
9.5 seconds
20 seconds from power save; 25 seconds from power on
800MHz PowerPC 464FP
Memory
Operating temperature/Humidity: 10°C to 32°C (17°C to
27°C recommended) / 20% to 80% RH (50% to 70% RH
Environment recommended)
Interface and Software
USB 2.0 Device, 10/ 100/ 1000 Base Ethernet, USB 2.0 Host x 1,
Connectivity Wireless IEEE802.11a/ b/ g/ n (Optional)
Printer languages PostScript 3
All major network protocols supported via ethernet card with
internal web server for printer and network card set-up and
management. TCP/IPv4&v6, NetBIOS over TCP, DHCP,
DHCPv6,
Network & protocols BOOTP, HTTP, HTTPS, DNS, DDNS, WINS, UPNP, Bonjour,
SMTP, POP3, SNMPv1&v3, SNTP, IPP, IPPS, WSD Print, LLTD,
IEEE802.1X, LPR, Port9100, Telnet, FTP, Google Cloud Print,
Wireless IEEE802.11a/b/g/n, WEP, WPA (Personal/Enterprise),
WPA2
(Personal/Enterprise)
Windows
Vista (32-bit & 64-bit) / Server 2008 (32-bit & 64-bit)
/ Windows 7 (32-bit & 64-bit) / Server 2008 R2 (64-bit) /
Windows 8 (32-bit & 64-bit) / Server 2012 (64-bit) / Windows
OS Compatibility1 8.1 (32-bit & 64-bit) / Server 2012 R2 (64-bit) / Windows 10
(32-bit & 64-bit); Mac OS X 10.8.5 to 10.12
Advanced networking IPv6, 802.1x authentication, SNMPv3, SSL/ TLS, MAC filtering,
IP filtering, SMTP-Auth, Protocol ON/ OFF, Protocol Port No.
and security Change
Utilities1 OKI LPR2, PS Gamma Adjuster
Paper Handling
Paper capacity Tray 1: 300 sheets of 80gsm;
Multi-purpose tray: 100 sheets of 80gsm
Maximum paper capacity 400 sheets of 80gsm
1: A3, A4, A5, A6, B4, B5; Multi-purpose tray: A3, A4, A5,
Paper sizes Tray
B4, B5, A6; Custom size up to 431.8mm length
Paper weight Tray 1: 64 to 220gsm; Multi-purpose tray: 64 to 256gsm
Paper output 250 sheets face down, 100 sheets face up, 80gsm
Pr int Quality
Resolution ProQ Multi-level technology, 1200 x 600dpi
Enhancements Auto Colour Balance, Auto Registration, Auto Media Detect
Standard RAM: 256MB; Maximum RAM: 768MB
Optional SDHC Memory Card4: 16GB
Storage temperature/Humidity: -20°C to 45°C, 10% to 90%RH
Power supply Single phase 220 to 240VAC, frequency 50Hz +/ - 2Hz
Typical: 700W; Max: <1400W; Idle: 100W; Power Save: <12W;
Power consumption Deep Sleep: <1.0W; Auto-Off: <0.15W
Operating: <52dB(A); Standby: 32dB(A) or less;
Noise level Power save: Background level
Dimensions (WxDxH) 449 x 552 x 360mm
Weight3 37kg approx
3 years extended warranty upon registration within 30 days of
Warranty purchase
Product order number Pro8432WT: 46550721
Accessories
Memory 256MB; 512MB
SDHC Memory Card4 16GB
Cabinet
Wireless LAN Module
IC Reader Holder
Consumables
Toner cartridge*
White
Toner cartridges*
Cyan, Magenta, Yellow
Image Drum**
White
Image Drums**
Cyan, Magenta, Yellow
4,500 pages
10,000 pages
9,000 pages
30,000 pages
Transfer Belt
30,000 pages
Fuser Unit
50,000 pages
Typefaces
*Toner: A4 page yield at 5% White, and ISO/IEC 19798 Cyan, Magenta, Yellow **Drum: Average
number of
A4 pages printed.
Printer shipped with toner for 5,000 pages for Cyan, Yellow, Magenta and 4,000 pages for White.
1 Check local OKI website for latest driver releases and OS compatibility; 2 Windows only; 3 Two additional White toners included (total 13,000 @5%).
Including all consumables; 4 Secure Digital High Capacity (SDHC) Memory Card supports up
to 32GB. OKI is not responsible for any compatibility risk using non OKI genuine SDHC
Memory Card.
Printer fonts 80 PostScript fonts
Consumables Information: For the protection of your printer, and in order to ensure that you benefit from its full functionality, this model has been designed
to operate only with genuine OKI toner cartridges. These can be identified by the OKI trademark. Any other toner cartridge may not operate at all, even if it
is described as "compatible", and if it does work, your printer's performance and print quality may be degraded.