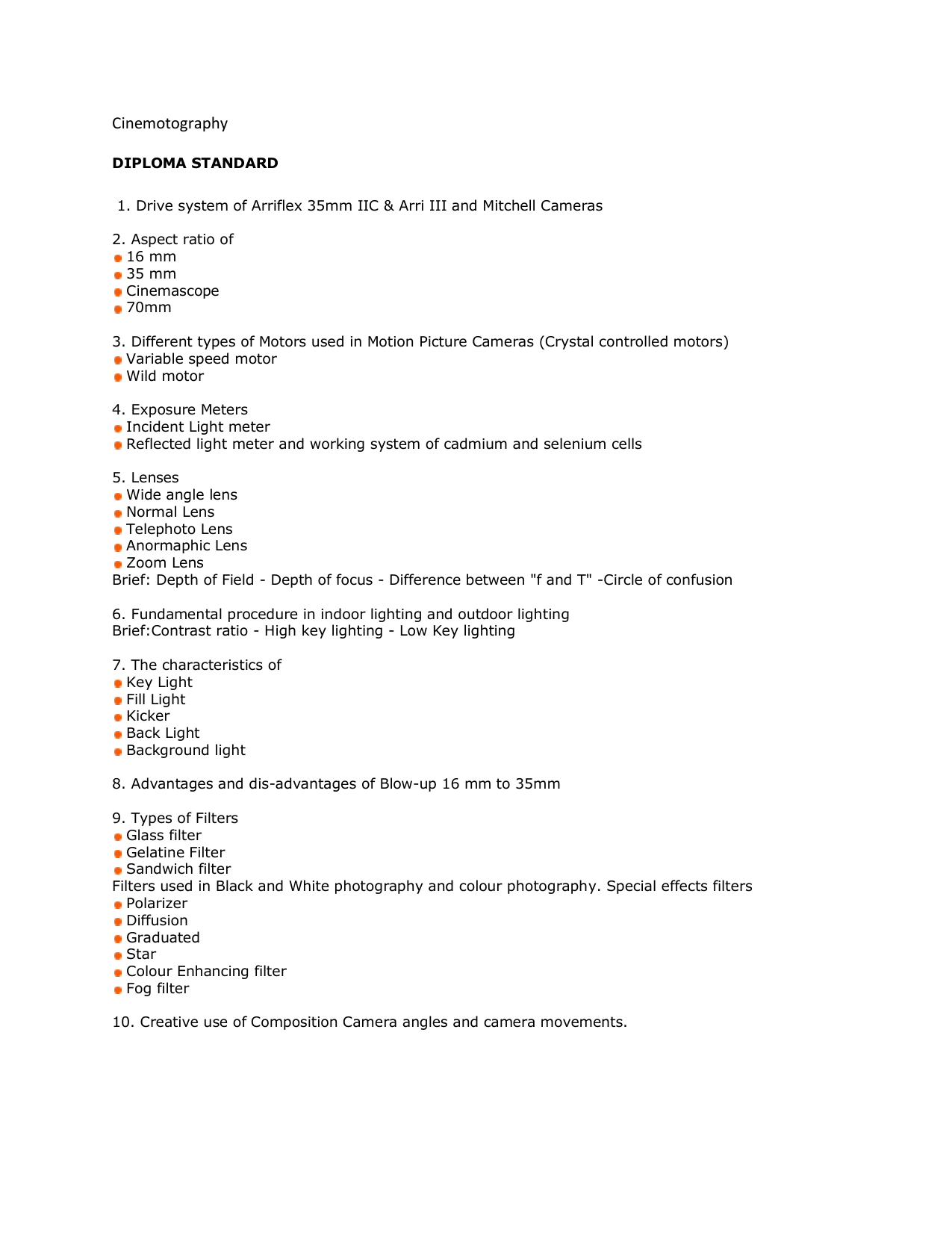 Cinemotography
DIPLOMA STANDARD
1. Drive system of Arriflex 35mm IIC & Arri III and Mitchell Cameras
2. Aspect ratio of
16 mm
35 mm
Cinemascope
70mm
3. Different types of Motors used in Motion Picture Cameras (Crystal controlled motors)
Variable speed motor
Wild motor
4. Exposure Meters
Incident Light meter
Reflected light meter and working system of cadmium and selenium cells
5. Lenses
Wide angle lens
Normal Lens
Telephoto Lens
Anormaphic Lens
Zoom Lens
Brief: Depth of Field - Depth of focus - Difference between "f and T" -Circle of confusion
6. Fundamental procedure in indoor lighting and outdoor lighting
Brief:Contrast ratio - High key lighting - Low Key lighting
7. The characteristics of
Key Light
Fill Light
Kicker
Back Light
Background light
8. Advantages and dis-advantages of Blow-up 16 mm to 35mm
9. Types of Filters
Glass filter
Gelatine Filter
Sandwich filter
Filters used in Black and White photography and colour photography. Special effects filters
Polarizer
Diffusion
Graduated
Star
Colour Enhancing filter
Fog filter
10. Creative use of Composition Camera angles and camera movements.

* Your assessment is very important for improving the work of artificial intelligence, which forms the content of this project