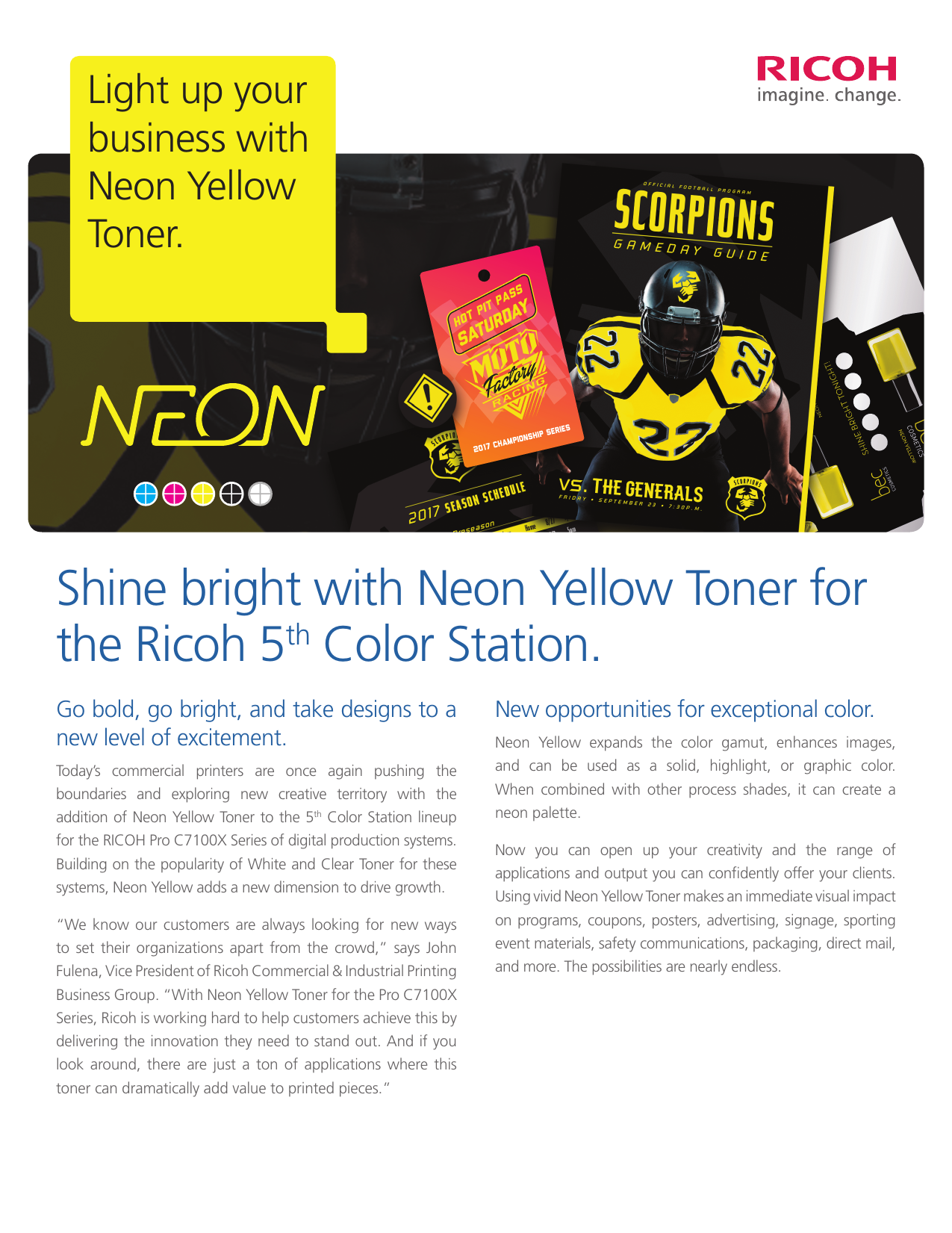 Light up your
business with
Neon Yellow
Toner.
Shine bright with Neon Yellow Toner for
the Ricoh 5th Color Station.
Go bold, go bright, and take designs to a
new level of excitement.
Today's commercial printers are once again pushing the
boundaries and exploring new creative territory with the
addition of Neon Yellow Toner to the 5th Color Station lineup
for the RICOH Pro C7100X Series of digital production systems.
Building on the popularity of White and Clear Toner for these
systems, Neon Yellow adds a new dimension to drive growth.
"We know our customers are always looking for new ways
to set their organizations apart from the crowd," says John
Fulena, Vice President of Ricoh Commercial & Industrial Printing
Business Group. "With Neon Yellow Toner for the Pro C7100X
Series, Ricoh is working hard to help customers achieve this by
delivering the innovation they need to stand out. And if you
look around, there are just a ton of applications where this
toner can dramatically add value to printed pieces."
New opportunities for exceptional color.
Neon Yellow expands the color gamut, enhances images,
and can be used as a solid, highlight, or graphic color.
When combined with other process shades, it can create a
neon palette.
Now you can open up your creativity and the range of
applications and output you can confidently offer your clients.
Using vivid Neon Yellow Toner makes an immediate visual impact
on programs, coupons, posters, advertising, signage, sporting
event materials, safety communications, packaging, direct mail,
and more. The possibilities are nearly endless.
One more way to help your business
stand out from the crowd.
Invigorate applications with the power
of Neon Yellow Toner.
Ricoh's Neon Yellow Toner can be applied in a single pass, and
requires no additional drying time prior to finishing. The toner
is also reflective under UV light which extends the range of
applications that can be produced on the Pro C7100X Series.
And with the ability to print Neon Yellow on the wide range
of substrates these systems accept, such as oversized and
synthetic media, the possibilities are nearly endless.
Just look around your print shop, and it immediately becomes
evident that many of your existing jobs—not to mention new
projects—will gain even greater impact with Neon Yellow
Toner. Including:
"Combining oversized sheets, thick substrates, and now Neon
Yellow, we've seen customers create extremely impactful
materials for sporting events, including wristbands that really
stand out, and media day event folders. Plus, we've also seen
short-run labels for hazard and safety applications, and some
extremely innovative packaging that pops off the shelf on
metallics," says Fulena. "We've also found that Neon, when
used in direct mail promoting retail sales, has really helped
our customers achieve better response rates for their clients."
•
•
•
•
•
•
•
•
Safety Materials
Posters and Retail Signage
Packaging
Synthetics and Event Materials
Stickers and Window Clings
Direct Mail
Business Cards and Stationery
Promotion Codes and Urgent Payment Notices
Partner with Ricoh and go further.
Neon Yellow Toner on the RICOH Pro C7100X Series is
creating new opportunities for digital Print Service Providers
and their customers. Let's explore how to capture those
opportunities for your business, together.
For more information and to see samples contact
your local sales representative or visit
RicohBusinessBooster.com
Ricoh is a global information and technology company and a leader in
information mobility for today's changing workforce. With a strong legacy
of introducing new technologies into the workplace and a deep expertise
in managing and accessing information, Ricoh is changing the way people
work today with innovative products and dynamic solutions that harness the
power of today's worker in a new world of work.
www.ricoh-usa.com
www.ricohbusinessbooster.com
Ricoh USA, Inc., 70 Valley Stream Parkway, Malvern, PA 19355, 1-800-63-RICOH
Ricoh® and the Ricoh logo are registered trademarks of Ricoh Company, Ltd.
All other trademarks are the property of their respective owners. ©2017 Ricoh USA, Inc. All rights reserved.