MK 1 Studio, LLC - MK1 Manufacturing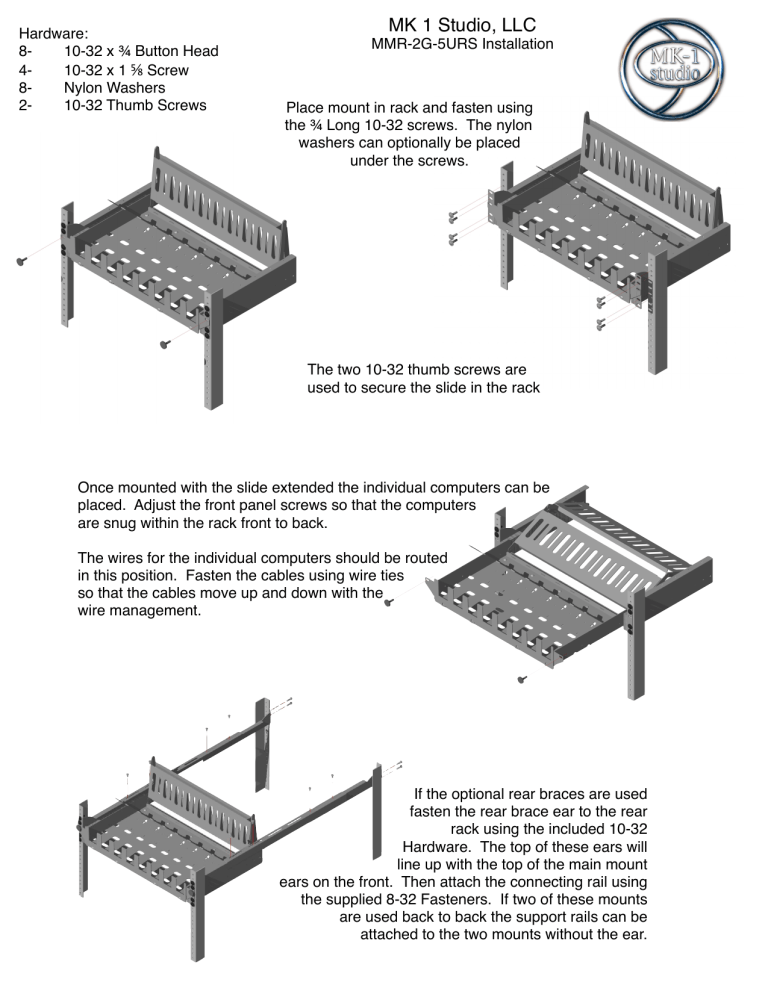 Hardware:
810-32 x ¾ Button Head
410-32 x 1 ⅝ Screw
8Nylon Washers
210-32 Thumb Screws
MK 1 Studio, LLC
MMR-2G-5URS Installation
Place mount in rack and fasten using
the ¾ Long 10-32 screws. The nylon
washers can optionally be placed
under the screws.
The two 10-32 thumb screws are
used to secure the slide in the rack
Once mounted with the slide extended the individual computers can be
placed. Adjust the front panel screws so that the computers
are snug within the rack front to back.
The wires for the individual computers should be routed
in this position. Fasten the cables using wire ties
so that the cables move up and down with the
wire management.
If the optional rear braces are used
fasten the rear brace ear to the rear
rack using the included 10-32
Hardware. The top of these ears will
line up with the top of the main mount
ears on the front. Then attach the connecting rail using
the supplied 8-32 Fasteners. If two of these mounts
are used back to back the support rails can be
attached to the two mounts without the ear.

* Your assessment is very important for improving the work of artificial intelligence, which forms the content of this project