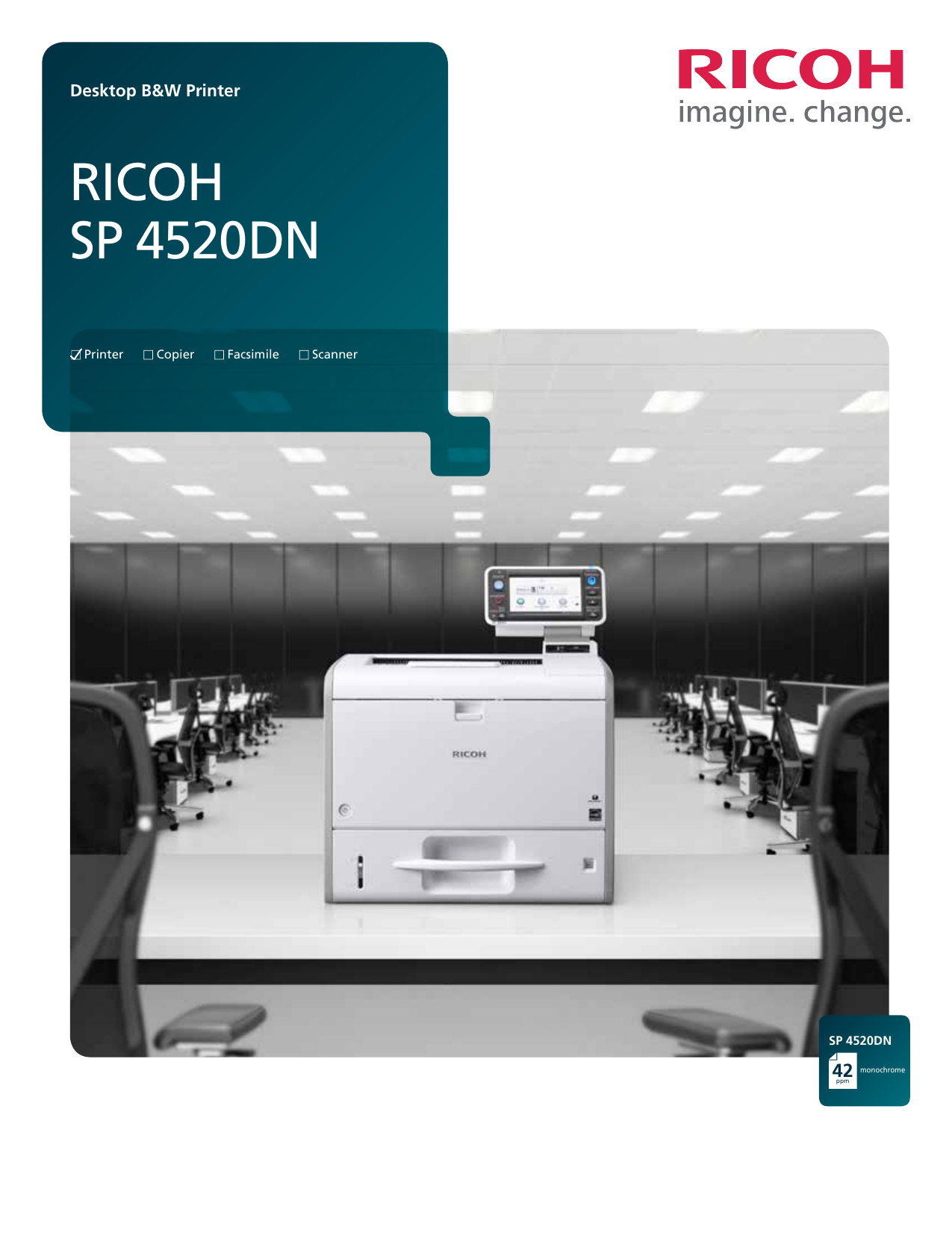 Desktop B&W Printer
RICOH
SP 4520DN
Printer Copier Facsimile Scanner
SP 4520DN
42
ppm
monochrome
Fast, high-quality printing that fits your style and budget
You're ready to work at a moment's notice. You work quickly. And, your efforts make the workday easier for
your coworkers. Shouldn't you expect the same from your printer? Choose the RICOH SP 4520DN — the latest
®
in our long line of innovative devices proven to simplify the way you work by moving information quickly and
economically. Integrate it into your small workgroup or office and print high-quality black-and-white documents at
high speeds without compromising security. Or, add the compact, feature-rich printer as part of a Ricoh Managed
Document Services (MDS) strategy and see just how much time and money it can save for your organization.
Complete more jobs quickly
You worked hard on your latest big idea. There's no reason you should
have to wait to see it. Recovery from sleep mode is only 10 seconds, and
first-print times are less than seven seconds, so you can print up to 42
pages per minute at 1,200 dpi resolution in moments. Add additional paper
feed units without expanding your footprint and increase paper capacity
to 1,600 sheets for longer, uninterrupted runs. Take advantage of a robust
controller and powerful processor to manage more jobs from multiple users
simultaneously. In the back office, the Ricoh SP 4520DN ably handles host
printing applications like UNIX, SAP R/3 and IPDS.
Add a personal touch to your workflow
Printing shouldn't be complicated. Customize your home screen and add
shortcuts to frequently used tasks with the intuitive, tiltable 4.3" colour
touch panel on the Ricoh SP 4520DN. You can also use it to check system
status at a glance or to navigate between key functions and projects. Add
the optional Web browser to the printer to access Web pages directly from
the operation panel. Then, print them directly from the device for faster
turnarounds.
Print from your mobile device
Smartphones and tablets have quickly become a big part of our everyday
lives — at home and at work. More workers are performing office tasks
directly from their phones and tablets for incredible convenience in the
workplace. Wouldn't it be nice to print from them, too? Use the Ricoh Smart
Device Print&Scan app and print directly from your Apple iPhone , iPad or
Android device when connected to an office network — without installing
print drivers. You can also transport files on a USB/SD card and print it from
the Ricoh SP 4520DN.
®
®
Discover the value of reliable, affordable
black-and-white printing
Minimize risks
Control what gets printed — and who prints it. Incorporate user
authentication directly at the Ricoh SP 4520DN, so sent documents
are released from the optional Hard Disk Drive only after the user
enters a password at the touch panel. Or, add the optional card reader
and use ID cards to release print jobs. Thwart other nefarious threats
with IP Address filtering, 128-bit encryption, HDD Data Encryption and
DataOverwriteSecurity System (DOSS) to encrypt or overwrite data on
the Hard Disk Drive. Assign up to 1,000 user codes to track users and
types of print jobs. You can even set quotas for specific users, groups
or types of jobs to encourage more economical printing.
Monitor operations
Efficiency means something different for different work groups.
Determine what it means to yours. See how the Ricoh SP 4520DN
measures up to other printers in your fleet while also checking paper,
toner levels and more with Ricoh Device Manager NX. Use Ricoh Web
Image Monitor to manage print queues and change settings. Or, monitor
detailed device usage data with easy-to-use Ricoh @Remote and find
potential problems before they compromise print performance.
Embrace environmental responsibility
You may feel like you have enough responsibilities at work. If so,
why not let us help you conserve energy resources and protect the
environment? The Ricoh SP 4520DN comes standard with double-sided
printing to reduce paper use. Activate the ECO-Night Sensor and the
printer shuts down for the night when you do. Or, you can program
the printer to shut down at designated times to reduce energy
consumption when the office is slower or closed. Plus, the device
meets EPEAT Silver* criteria — a global environmental rating system
for electronic products — and is certified with the latest ENERGY STAR
specifications. In addition, with Ricoh's toner cartridge/container
recycling program, you can return all empty Ricoh branded toner
containers and cartridges to our recycling vendor.
®
™
Simplify maintenance
You're seeking a reliable printer that can produce up to 10,000
images per month. With high-yield consumables and a host of
remote administration controls, you can rest assured that your
printer will always work when you need it most. Just as importantly,
cost-per-page has been minimized too, so you can produce
high-quality black-and-white documents with minimal interruption
to maximize your investment.
*EPEAT Silver rating is applicable only in the USA.
Ricoh SP 4520DN
S Y S T EM S P ECI F I C AT I O N S
Engine Specifications
SP 4520DN
Part # 407309
ConfigurationDesktop
TechnologyLED
Colour/B&W
Black & White
Printing Process
Electro-photographic printing
Toner Type
Dry, single component
B&W Print Speed (Letter) 42 ppm
Maximum Monthly
10,000 prints
Volume
Maximum Monthly
150,000 prints
Duty Cycle
First Page Out Time
5 seconds
Warm-Up Time
17 seconds
Print Resolution
Up to 1200 x 1200 dpi
Standard Paper Capacity 1 x 500-Sheet Tray + 100-Sheet Bypass
Tray
Maximum Paper
1,600 sheets
Capacity
Standard Output
250 sheets
Capacity
Supported Paper Sizes Paper Tray: 3.94" x 5.82" – 8.5" x 14"
(100 x 148 – 216 x 356 mm)
Bypass Tray: 2.37" x 5.0" – 8.5" x 35.43"
(60 x 127 – 216 x 900 mm)
Supported Paper
All Trays: 14 – 43 lb. Bond/90 lb. Index
Weights (52 – 162 g/m )
Duplex: 14-43 lb. Bond/90 lb. Index
(52 – 162 g/m )
Supported Paper Types Plain, Recycled, Thick, OHP (Transparency),
Letterhead, Preprinted and Envelopes
Duplexing
Automatic (standard)
Power Consumption
573.2 W
(Operating)
Power Consumption
Less than 1 W
(Sleep Mode)
Typical Electricity
1.752 kWh/week
Consumption (TEC)
Recovery from Sleep
9.9 seconds
Mode
Power Requirements
120 V, 60Hz, 10A
Dimensions (WxDxH)
14.6" x 15.4" x 16.9" (370 x 392 x 427 mm)
Weight
34.2 lbs. (15.5 kg)
ENERGY STARCertified
EPEATSilver
2
2
Controller Specifications
Processor Speed
Memory
(Standard/Maximum)
Hard Disk Drive
533 MHz
512 MB/1 GB RAM
Maximum Stored
950 files (HDD required)
Documents
Maximum Stored Pages 9,000 pages (HDD required)
Connection Type
Standard: Gigabit Ethernet (1000/100/
10BASE-T), USB 2.0, USB 2.0 Host,
SD Card Slot
Optional: IEEE1284, IEEE802.11a/b/g/n
Printer Languages
Standard: PCL6/5e, Adobe PostScript 3 ,
PDF Direct
Optional: IPDS*, XPS
Font Support
PCL6: 45 fonts, PCL5: 45 fonts +
International fonts 13 fonts, PostScript3:
136 fonts, IPDS: 108 fonts (optional)
Network Protocols
TCP/IP (IPv4, IPv6)
Supported Operating Windows XP/Vista /7/8/8.1/Server2003/
Systems
2008/2008R2/2012/2012R2, MacOS
(X10.5 or later) PS only; UNIX filters
for Sun Solaris, HP-UX, Red Hat Linux,
SCO OpenServer, IBM AIX; SAP R/3;
Citrix Presentation Server 4.5/Citrix
XenApp 5.0, 6.0, 6.5; IBM iSeries/
AS/400 *
Device Management
@Remote, SmartDeviceMonitor, Device
Utilities Manager NX, Web SmartDeviceMonitor,
Web Image Monitor
®
®
*Hard disk drive and optional memory required.
**IPDS option required.
Print Features
*Hard disk drive required.
Controller Options
Part # MX407348RA
Part # 007150MIU
Part # 407497
Part # 407349
Part # 407351
Part # 407218
Part # 407113
Part # 411699
320 GB (optional)
www.ricoh.ca
Ricoh Canada Inc., 100-5560 Explorer Drive, Mississauga, ON L4W 5L1, 1-888-742-6417
Ricoh and the Ricoh Logo are registered trademarks of Ricoh Company, Ltd. All other trademarks are the property of their respective owners. ©2015 Ricoh Canada Inc. All rights reserved.
The content of this document, and the appearance, features and specifications of Ricoh products and services are subject to change from time to time without notice. Products are shown with
optional features. While care has been taken to ensure the accuracy of this information, Ricoh makes no representation or warranties about the accuracy, completeness or adequacy of the information contained herein, and shall not be liable for any errors or omissions in these materials. Actual results will vary depending upon use of the products and services, and the conditions and
factors affecting performance. The only warranties for Ricoh products and services are as set forth in the express warranty statements accompanying them.
®
™
Administrator and User Authentication*, User Lockout, Auto Logout,
Menu Protect, Data Encryption (Address Book/User Authentication
Information/Job Logs/Temporary Stored Document/Network Interface
Settings/System Settings), Network Security via TCP/IP Access Control,
Encrypted communications using SSL/TLS, IPsec, or IEEE 802.1X;
SMNPv3, IPP Authentication, Kerberos Authentication Encryption,
Wireless LAN Security (WEP, WPA2/ WPA2-PSK), Protect document
data with Locked* and Stored Print*, Unauthorized Copy Prevention,
Compulsory Security Stamp, HDD Data Overwrite* and Encryption*
*Hard disk drive required.
Hardware Options
Paper Feed Unit PB1060 Part # 407230
Paper Capacity
250 sheets
Supported Paper Sizes 3.94" x 5.82" – 8.5" x 14"
(100 x 148 – 216 x 356 mm)
Supported Paper
14 – 43 lb. Bond/90 lb. Index
Weights
(52 – 162 g/m )
Dimensions (WxDxH) 14.6" x 15.4" x 3.7"
(370 x 392 x 95 mm)
Weight
9.04 lb. (4.1 kg)
2
Paper Feed Unit PB1070 Part # 407229
Paper Capacity
500 sheets
Supported Paper Sizes 3.94" x 5.82" – 8.5" x 14"
(100 x 148 – 216 x 356 mm)
Supported Paper
14 – 43 lb. Bond/90 lb. Index
Weights
(52 – 162 g/m )
Dimensions (WxDxH) 14.6" x 15.4" x 4.9"
(370 x 392 x 125 mm)
Weight
9.92 lb. (4.5 kg)
2
Scheduled Print*, Auto Continue, Store and Skip Errored Job,
Classification Code, PDF Direct Print, Sample/Hold/Stored and
Locked Print*, Unauthorized Copy Prevention, Poster Print,
Collate, Toner Saving Mode
Hard Disk Drive Option
Type P1
Memory Unit Type N1
1.0GB
Browser Unit Type P1
IPDS Unit Type P1
XPS Direct Print Option
Type P1
VM Card Type W
IEEE802.11a/b/g/n
Interface Unit Type O
IEEE 1284 Interface
Board Type A
®
Security Features
Adjustable Height
Cabinet Type G
Part # 161200
Supports all SP 4520DN configurations
Dimensions (WxDxH)
Weight
17.8" x 19.4" x 21.7"
(453 x 491.5 x 552 mm)
42 lbs.
Consumables & Yields
Print Cartridge MP401
Yield
10,400 pages*
Part #
841886
*6% coverage, 3 pages/job. Actual yields may vary based on types of images
printed and other factors.
The Ricoh SP 4520DN ships with starter toner that yields 10,400 pages
(6% coverage, 3 pages/job).
For maximum performance and yield, we recommend using genuine
Ricoh parts and supplies.
Specifications subject to change without notice.