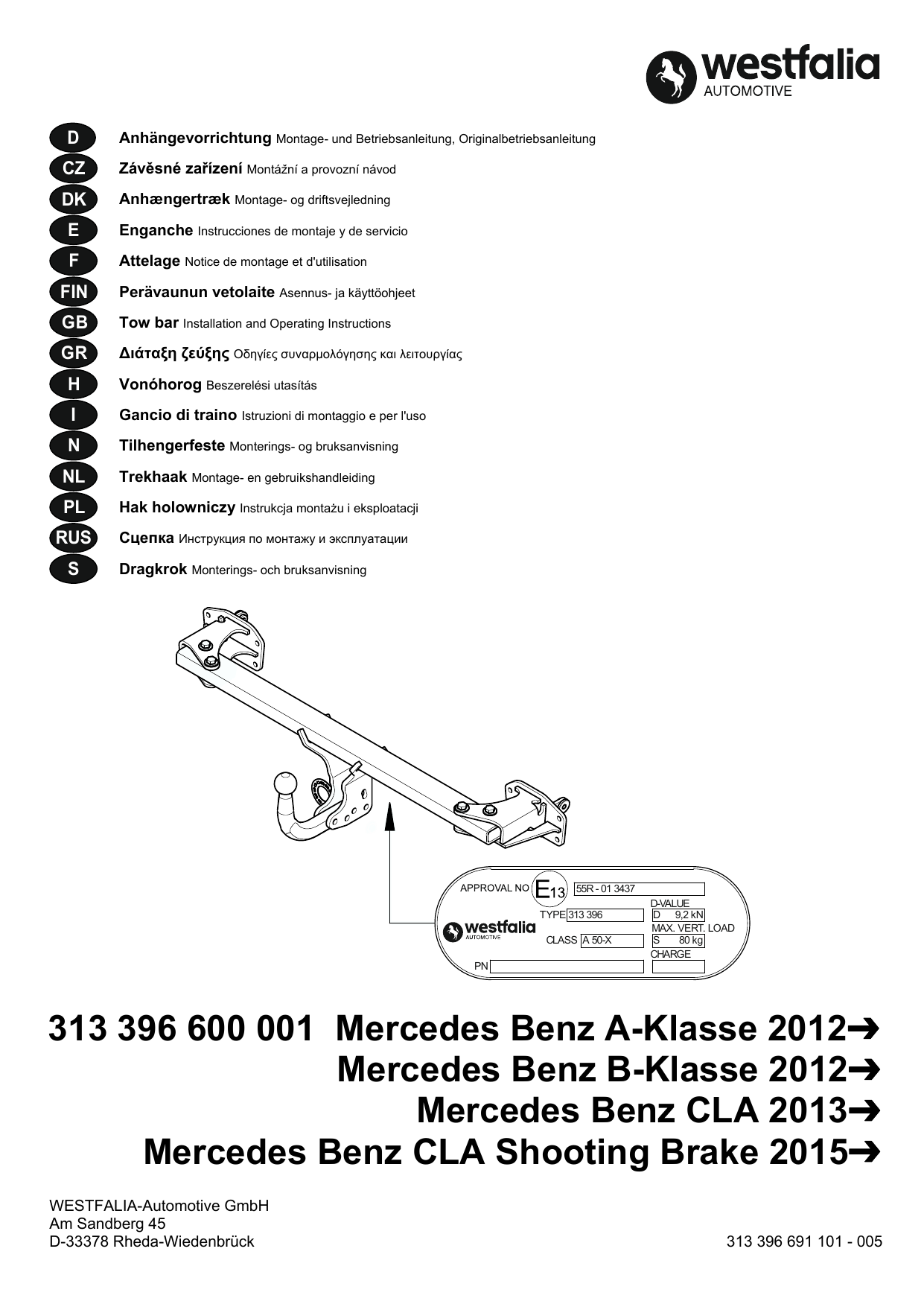 D
Anhängevorrichtung Montage- und Betriebsanleitung, Originalbetriebsanleitung
CZ
Závěsné zařízení Montážní a provozní návod
DK
Anhængertræk Montage- og driftsvejledning
E
Enganche Instrucciones de montaje y de servicio
F
Attelage Notice de montage et d'utilisation
FIN
Perävaunun vetolaite Asennus- ja käyttöohjeet
GB
Tow bar Installation and Operating Instructions
GR
∆ιάταξη ζεύξης Οδηγίες συναρμολόγησης και λειτουργίας
H
Vonóhorog Beszerelési utasítás
I
Gancio di traino Istruzioni di montaggio e per l'uso
N
Tilhengerfeste Monterings- og bruksanvisning
NL
Trekhaak Montage- en gebruikshandleiding
PL
Hak holowniczy Instrukcja montażu i eksploatacji
RUS
S
Сцепка Инструкция по монтажу и эксплуатации
Dragkrok Monterings- och bruksanvisning
55R - 01 3437
TYPE 313 396
CLASS A 50-X
D-VALUE
D 9,2 kN
MAX. VERT. LOAD
S
80 kg
CHARGE
PN
313 396 600 001 Mercedes Benz A-Klasse 2012
Mercedes Benz B-Klasse 2012
Mercedes Benz CLA 2013
Mercedes Benz CLA Shooting Brake 2015
WESTFALIA-Automotive GmbH
Am Sandberg 45
D-33378 Rheda-Wiedenbrück
313 396 691 101 - 005
MB CLA
313 396 691 101 - 005
2
2
D
Unsere Produkte werden mit größter Sorgfalt gefertigt. Sollten Sie dennoch einmal Grund zur Beanstandung haben, wenden Sie
sich bitte direkt an Ihren Vertragspartner. In diesem Fall geben Sie bitte unbedingt die Chargennummer an. Sie finden die
Chargennummer auf dem Typenschild. Ohne diese Angabe kann Ihre Reklamation nicht bearbeitet werden.
CZ
Naše produkty jsou vyráběny s největší pečlivostí. Měli-li byste přeci jenom důvod ke stížnosti, obraťte se prosím přímo na
Vašeho obchodního partnera. V takovýchto případech uvádějte prosím bezpodmínečně číslo šarže. Číslo šarže naleznete na
typovém štítku. Bez tohoto údaje nemůže být Vaše reklamace zpracována.
DK
Vores produkter fremstilles med stor omhu. Hvis du engang alligevel skulle have grund til at klage, bedes du henvende dig direkte
til din kontrahent. I dette tilfælde bør du under alle omstændigheder angive batchnummeret. Batchnummeret står på typeskiltet.
Uden dette nummer kan din reklamation ikke behandles.
E
Nuestros productos se fabrican con el mayor cuidado. Si, a pesar de ello, usted tuviera algún motivo de queja, diríjase
directamente a su concesionario. En este caso, es indispensable que indique el número de lote. Encontrará el número de lote
en la placa de características. Sin esta información no es posible tramitar su reclamación.
F
Nos produits sont fabriqués avec le plus grand soin. Si vous avez cependant un motif de réclamation, veuillez vous adresser
directement à votre concessionnaire. Dans ce cas, veiller impérativement à indiquer le numéro de charge. Vous trouverez ce
numéro sur la plaque signalétique. Votre réclamation ne pourra être acceptée si cette indication fait défaut.
FIN
Tuotteidemme valmistuksessa on noudatettu suurinta mahdollista huolellisuutta. Mikäli tuotteessa ilmenee tästäkin huolimatta
puutteita, pyydämme sinua ottamaan yhteyttä suoraan sopimuskumppaniisi. Tässä tapauksessa on ilmoitettava ehdottomasti
eränumero. Eränumero on merkitty tyyppikilpeen. Jos eränumeroa ei ole merkitty valituksen yhteyteen, valituksen käsittely ei ole
mahdollista.
GB
Our products are manufactured with utmost care. If however you find a cause for complaint, please contact your contract partner
directly. In this case, it is necessary that you quote the charge number. The charge number can be found on the type plate. Your
complaint cannot be processed without this information.
GR
Τα προϊόντα μας κατασκευάζονται με ιδιαίτερη προσοχή. Αν παρόλα αυτά έχετε λόγο για παράπονα μπορείτε να απευθυνθείτε
κατευθείαν στην αντιπροσωπεία. Σε μια τέτοια περίπτωση δώστε οπωσδήποτε τον αριθμό της παρτίδας. Τον αριθμό παρτίδας
θα τον βρείτε πάνω στην πινακίδα τύπου. Χωρίς αυτά τα στοιχεία το αίτημά σας δεν μπορεί να διεκπεραιωθεί.
H
Termékeink a lehető legnagyobb körültekintéssel készülnek. Ha ennek ellenére valaha oka lenne a reklamációra, kérjük forduljon
közvetlenül szerződési partneréhez. Ebben az esetben feltétlenül adja meg a gyártási számot. A gyártási számot a típustáblán
találja. Enélkül az adat nélkül reklamációját nem tudjuk figyelembe venni.
I
I nostri prodotti vengono realizzati con la massima cura. Tuttavia, qualora vi fosse motivo di presentare reclamo, preghiamo di
rivolgersi direttamente al proprio concessionario. In questo caso indicare necessariamente il numero di lotto. Il numero di lotto si
trova sulla targhetta. Senza questo dato non è possibile evadere il reclamo.
N
Våre produkter tilvirkes med størst mulig nøyaktighet og omhu. Skulle det likevel være grunnlag for reklamasjon, vennligst ta
kontakt med din avtalepartner. I så tilfelle må du oppgi charge-nummeret. Dette charge-nummeret finner du på typeskiltet. Uten
denne opplysningen kan ikke reklamasjonen behandles.
NL
Onze producten worden met de grootste zorg geproduceerd. Mocht u onverhoopt toch niet tevreden zijn, neem dan rechtstreeks
contact op met uw contractant. Vermeld in dit geval altijd het partijnummer. U vindt dit nummer op het typeplaatje. Zonder deze
informatie kan uw klacht niet in behandeling worden genomen.
PL
Nasze produkty wytwarzane są z zachowaniem najwyższej staranności. Jeżeli mimo to z jakichś powodów chcielibyście Państwo
złożyć reklamację, prosimy zwrócić się bezpośrednio do kontrahenta. Prosimy przy tym zawsze podawać numer serii. Numer
serii znajduje się na tabliczce znamionowej. Jest on konieczny do rozpatrzenia reklamacji.
RUS
S
Выпуск нашей продукции производится с большим старанием. Если все же появится причина для рекламации, просьба
обращаться непосредственно к вашему партнеру по договору. В этом случае обязательно указывайте номер партии.
Этот номер (Charge) стоит на фирменной табличке. Без указания этого номера вашу рекламацию невозможно будет
обработать.
Våra produkter tillverkas med största noggrannhet. Om du trots detta någon gång skulle ha anledning till klagomål, vänd dig
vänligen direkt till din avtalsslutande part. I detta fall är det viktigt att ange Chargenumret. Chargenumret finns på typskylten.
Utan detta nummer kan er reklamation inte bearbetas.
APPROVAL NO
55R - 01 XXXX
TYPE XXX XXX
CLASS A 50-X
D-VALUE
XX kN
D
MAX. VERT. LOAD
XX kg
S
CHARGE
PN
313 396 691 101 - 005
3
D
Nationale Richtlinien über die Anbauabnahmen sind zu beachten.
Jegliche Änderungen bzw. Umbauten an der Anhängevorrichtung sind verboten. Sie führen zum Erlöschen der Betriebserlaubnis.
Isoliermasse bzw. Unterbodenschutz am Kfz. - falls vorhanden - im Bereich der Anlageflächen der Anhängevorrichtung
entfernen.
Die Anhängevorrichtung dient zum Ziehen von Anhängern und zum Betrieb von Lastenträgern. Artfremde Benutzung ist verboten.
Bei Fahrzeugen mit Einparkhilfe können nach Montage der Anhängevorrichtung Fehlfunktionen auftreten, da Teile
(Kugelstange, Kupplungskugel) im Erfassungsbereich der Sensoren liegen könnten. In diesem Fall sollte der Erfassungsbereich
angepasst oder die Einparkhilfe deaktiviert werden. Bei Verwendung von Anhängevorrichtungen mit abnehmbaren bzw.
schwenkbaren Kugelstangen ist eine Fehlfunktion der Einparkhilfe nicht zu erwarten, wenn die Kugelstange aus der
Betriebsposition genommen wird.
Die Anhängevorrichtung ist ein Sicherheitsteil und darf nur von Fachunternehmen montiert werden. Bei falscher Montage besteht
schwere Unfallgefahr! Der deutsche Text dieser Anleitung ist bindend.
Änderungen vorbehalten.
CZ
Je nutné dodržovat místní směrnice o demontáži nástaveb.
Veškeré změny příp. přestavby tažného zařízení jsou zakázány. Mají za následek zánik platnosti povolení k provozu.
Izolační hmotu popř. ochranu spodku podlahy vozidla - pokud existují - je nutné v oblasti dosedacích ploch tažného zařízení
odstranit.
Tažné zařízení je určeno k tažení přívěsů a k provozu nosičů nákladu. Použití k jinému účelu je zakázáno.
U vozidel s pomocným parkovacím zařízením se mohou po montáži závěsného zařízení vyskytnout chybné funkce, protože
součásti (tyč s koulí, kulová hlavice spojky) mohou ležet v oblasti detekování snímačů. V tom případě by měl být upraven rozsah
snímání nebo by mělo být deaktivováno pomocné parkovací zařízení. Při použití tažných zařízení s odnímatelnou příp. výkyvnou
tyčí s koulí nebude docházet k chybné funkci pomocného parkovacího zařízení, pokud bude tyč s koulí demontována z provozní
polohy.
Tažné zařízení je bezpečnostní součást, kterou smí montovat pouze odborné podniky. Při chybné montáži hrozí vážné nebezpečí
nehody! Německý text tohoto návodu je závazný.
Změny vyhrazeny.
DK
De nationale direktiver for afmontering af påmonterede dele skal overholdes.
Enhver ændring eller ombygning på anhængertrækket er forbudt. Dette medfører, at typegodkendelsen udløber.
Fjern isoleringsmassen hhv. undergulvsbeskyttelsen på personbilen. - hvis monteret - i området for anhængertrækkets
anlægsflade.
Anhængertrækket anvendes til trækning af anhængere og brug af ladvogne. Ikke-bestemmelsesmæssig anvendelse er forbudt.
Ved køretøjer med parkeringshjælp kan der opstå fejlfunktioner efter montering af anhængertrækket, da der kan ligge dele
(kuglestang, koblingskugle) i følernes dækningsområde. I dette tilfælde skal dækningsområdet tilpasses eller parkeringshjælpen
deaktiveres. Ved anvendelse af anhængertræk med aftagelige eller svingbare kuglestænger bør der ikke opstå fejlfunktioner i
parkeringshjælpen, når kuglestangen stilles ud af driftsposition.
Anhængertrækket er en sikkerhedsdel og må kun monteres af autoriserede firmaer. Ved forkert montering er der fare for alvorlige
uheld! Den tyske tekst i denne vejledning er bindende.
Ret til ændringer forbeholdes.
E
Deben respetarse las directivas nacionales referentes a controles de enganches.
Está prohibido modificar o remodelar el dispositivo de remolque. La consecuencia sería la invalidación del permiso de circulación.
Quitar la masa aislante o la protección de los bajos del vehículo - si existen - en el área donde se haya de acoplar del
enganche.
El dispositivo de remolque está previsto para el arrastre de remolques y para la operación de portadores de carga. Está prohibido
su uso para fines de otra índole.
En vehículos con ayuda al estacionamiento puede surgir fallos de funcionamiento tras el montaje del dispositivo de
remolque, ya que las piezas (barra de bola, acople de bola) pueden estar en la zona de alcance de los sensores. En este caso se
debe regular el área de registro o desactivar el auxiliar de estacionamiento. Si se emplean dispositivos de remolque a bola
extraíble u orientable, es improbable que ocurra un error en el auxiliar de estacionamiento cuando se ha quitado la barra de bola.
La bola de enganche es un elemento de seguridad y sólo se debe permitir su montaje a personal cualificado. ¡En caso de
montaje erróneo existe peligro de accidentes graves! Es vinculante el texto alemán de estas instrucciones.
Nos reservamos el derecho a efectuar modificaciones.
F
Les dispositions nationales concernant la réception à titre isolé doivent être respectées.
Toute modification ou transformation du dispositif d'attelage est interdite. Elle entraînerait l'annulation de la réception.
Le cas échéant, enlever l'insonorisant ou la protection sous caisse du véhicule dans la zone des surfaces d'appui.
Le dispositif d'attelage est destiné à tirer des remorques ou à utiliser des porte-charges. Toute utilisation à des fins autres que
celles prévues est interdite.
Lorsque les véhicules sont équipés de radars de recul, des dysfonctionnements peuvent survenir une fois le dispositif d'attelage
monté, car des pièces (attelage, rotule) peuvent se trouver dans la zone de détection des capteurs. Il est alors nécessaire
d'adapter la zone de détection en conséquence ou de désactiver le radar de recul. Avec des dispositifs d'attelage équipés de
rotules démontables ou escamotables, un dysfonctionnement du détecteur d'obstacles est improbable si vous ne mettez pas la
boule d'attelage en position de service.
Le dispositif d'attelage est un équipement de sécurité et doit être mis en place exclusivement par un atelier spécialisé. Un
montage incorrect représente un risque élevé d'accident ! Le texte allemand de cette notice fait foi.
Sous réserve de modifications.
313 396 691 101 - 005
4
4
FIN
Kansallisia asennusten teknistä hyväksymistä koskevia määräyksiä on noudatettava.
Kaikki vetolaitteeseen tehtävät muutokset tai jälkiasennukset ovat kiellettyjä. Nämä johtavat käyttöluvan raukeamiseen.
Mahdollinen eristysmassa tai pohjan suojaus tulee poistaa ajoneuvosta vetolaitteen kiinnityspintojen alueelta.
Vetolaite on tarkoitettu perävaunujen vetämistä ja kuormatelineiden käyttöä varten. Muut käyttötavat on kielletty.
Pysäköintitutkalla varustetuissa ajoneuvoissa voi esiintyä vetolaitteen asennuksen jälkeen toimintahäiriöitä, sillä osat
(kuulatanko, vetokuula) saattavat olla tunnistinten mittausalueella. Tällaisessa tapauksessa mittausaluetta tulee muuttaa tai
pysäköintitutka kytkeä pois päältä. Irrotettavilla tai käännettävillä kuulatangoilla varustettua vetolaitetta käytettäessä
pysäköintitutkan toimintahäiriöt eivät ole todennäköisiä, mikäli kuulatanko siirretään pois käyttöasennosta.
Vetolaite on turvallisuuteen vaikuttava osa, jonka saa asentaa vain alan erikoisliike. Virheellinen asennus voi aiheuttaa vakavan
onnettomuuden! Tämän ohjeen saksankielinen teksti on sitova.
Oikeudet muutoksiin pidätetään.
GB
National guidelines concerning official approval of auxiliaries must be observed.
Any alteration or modification of the towing hitch is prohibited and voids the operating licence.
Remove the insulating compound and underbody coating - if there is any - from the area around the contact surface of the
trailer hitch.
The trailer hitch is intended for towing trailers and for attaching devices for carrying loads. Any other use is prohibited.
In the case of vehicles equipped with an acoustic parking system, malfunctions may occur after mounting the trailer hitch due
to parts (e.g. the bar or the ball) may be in the sensor range. In this case, adjust the sensing range or disable the acoustic parking
system. If using trailer hitches with removable or pivoting ball tow bars, the acoustic parking system should function normally
when the ball tow bar is not in the operating position.
A trailer hitch is a safety-critical part and may be fitted only by qualified companies. Improper assembly may result in a serious
accident hazard! The German text of this instruction is binding.
Subject to change.
GR
Πρέπει να τηρούνται οι κρατικοί κανονισμοί σχετικά με τον έλεγχο προσθηκών στα αμαξώματα.
Απαγορεύονται οι αλλαγές και οι μετατροπές στην διάταξη ρυμούλκησης. Συναπάγονται την ακύρωση της άδειας λειτουργίας.
Αφαιρέστε το μονωτικό στρώμα ή αντίστοιχα το προστατευτικό στρώμα από το όχημα - αν υπάρχει - στην περιοχή επαφής
της διάταξης ρυμούλκησης .
Η διάταξη ρυμούλκησης χρησιμεύει για τη ρυμούλκηση τρέιλερ και για τη στερέωση σχάρας για φορτία. Άλλου είδους χρήση
απαγορεύεται.
Σε οχήματα με υποβοήθηση παρκαρίσματος μπορεί μετά από την τοποθέτηση της διάταξης ρυμούλκησης να παρουσιαστούν
δυσλειτουργίες, επειδή τα εξαρτήματα (ράβδος, κοτσαδόρος) μπορεί να βρίσκονται μέσα στην περιοχή ανίχνευσης των
αισθητήρων. Στην περίπτωση αυτή θα πρέπει να ρυθμίσετε την περιοχή ανίχνευσης ή να απενεργοποιήσετε την υποβοήθηση
παρκαρίσματος. Αν χρησιμοποιείτε διατάξεις ρυμούλκησης με αποσπούμενες ή αντίστοιχα στρεπτές ράβδους, δεν αναμένετε
κάποια δυσλειτουργίας της υποβοήθησης παρκαρίσματος, όταν αφαιρείτε τη ράβδο κοτσαδόρου από τη θέση λειτουργίας.
Ο κοτσαδόρος είναι ένα εξάρτημα ασφαλείας και η τοποθέτηση του επιτρέπεται να γίνεται μόνο από εξειδικευμένο συνεργείο. Σε
περίπτωση λάθους τοποθέτησης υπάρχει κίνδυνος σοβαρών ατυχημάτων! Το γερμανικό κείμενο αυτών των οδηγιών είναι
δεσμευτικό.
∆ιατηρούμε το δικαίωμα αλλαγών.
H
Figyelembe kell venni a műszaki átvételre vonatkozó nemzeti irányelveket.
A vonószerkezeten tilos bármiféle átalakítást végezni. A szerkezet megváltoztatása vagy átalakítása a forgalmi engedély
megszűnését vonja maga után.
Távolítsa el a szigetelő anyagot ill. az alvázvédőt - amennyiben van - a gépjárműről a vonószerkezet illesztési felületeinek
tartományában.
A vonószerkezet utánfutók vontatására szolgál és teherhordó járművek alkalmazására. Ettől eltérően tilos használni a
vontatószerkezetet.
Tolatóradarrall ellátott gépjárműveknél a vonószerkezet felszerelése hibás működést okozhat, mivel egyes részek (vonóhorogrúd, vonóhorog-gömb) az érzékelő látószögébe érhetnek. Ebben az esetben be kell állítani újból a látószöget vagy kiiktatni a
tolatóradart. Levehető gömbfejű vonóhoroggal ellátott vonószerkezet alkalmazásánál, ha a vonóhorgot eltávolítja az üzemeltetési
pozícióból, akkor a szerkezet nem zavarhatja a tolatóradart.
A vonószerkezet egy biztonsági felszerelés, amelyet csak szaküzem szerelhet fel. Helytelen szerelés súlyos balesethez vezethet!
A német szerelési utasítás betartása kötelező.
Változtatások jogát fenntartjuk.
I
Devono essere osservate le normative nazionali sui collaudi.
È vietato modificare o montare diversamente il gancio di traino. Ciò comporta l'annullamento del permesso di circolazione.
Rimuovere la massa isolante e la protezione della sottoscocca del veicolo (se presente) nella zona della superficie di
contatto con il gancio di traino.
Il gancio di traino è destinato alla trazione di rimorchi e all'esercizio di portacarichi. Un'utilizzazione per scopi diversi da quelli
previsti non è consentita.
Sui veicoli con dispositivo ausiliario di parcheggio, in seguito al montaggio del gancio di traino possono verificarsi anomalie di
funzionamento, poiché i componenti (barra di traino, sfera di aggancio) possono interferire con i sensori. In questo caso è
necessario regolare l'area di rilevamento o disattivare il dispositivo ausiliario di parcheggio. Se si utilizzano dispositivi di traino con
gancio di traino a sfera removibile o orientabile, è improbabile che si verifichino anomalie di funzionamento dell'ausilio di
parcheggio quando il gancio di traino a sfera è smontato.
Il gancio di traino è un componente di sicurezza e deve essere montato esclusivamente da personale specializzato. In caso di
montaggio errato sussiste il pericolo di incidenti gravi! È vincolante il testo tedesco di queste istruzioni.
Con riserva di modifiche.
313 396 691 101 - 005
5
N
Nasjonale retningslinjer om godkjennelse av monteringer skal overholdes.
Enhver endring hhv. ombygging av tilhengerfestet er forbudt. Dette vil ødelegge brukeropplevelsen.
Fjern isolasjonsmasse hhv. understellsbeskyttelse fra kjøretøyet, fra området ved tilhengerfestet - hvis dette finnes.
Tilhengerfestet brukes til trekke tilhengere og som lastfeste. Det er forbudt å bruke anordninger av annen art.
På kjøretøyer med parkeringshjelp kan man etter at tilhengerfestet er montert oppleve feilfunksjon fordi deler (kulestang,
koblingskule) kommer inn i registreringsområdet til sensorene. Hvis dette skjer må registreringsområdet tilpasses eller så må
parkeringshjelpen deaktiveres. Ved bruk av tilhengerfester med avtakbar hhv. svingbar kulestang, vil man ikke få feil på
parkeringshjelpen når kulestangen tas ut av bruksstilling.
Tilhengerfestet er en sikkerhetskomponent og skal monteres av fagbedrift. Det er stor fare for at det kan oppstå ulykker ved feil
montering! Den tyske teksten i denne veiledningen er bindende.
Med forbehold om endringer.
NL
Nationale richtlijnen betreffende de montagegoedkeuring moeten in acht worden genomen.
Elke wijziging van de aanhanger is verboden. Wijziging leidt tot verval van de gebruikstoestemming.
Isolatiemassa of de beschermende laag van het voertuig - indien aanwezig - van de contactvlakken van de trekinrichting
verwijderen.
De aanhanger is bedoeld voor het trekken van aanhangers en het gebruiken van lastdragers. Ander gebruik is verboden.
Bij voertuigen met parkeerhulp kunnen zich na montage van de aanhanger defecte functies voordoen omdat onderdelen
(kogelstangen, koppelingskogels) zich in het waarnemingsbereik van de sensors kunnen bevinden. In dit geval moet het
waarnemingsbereik worden aangepast of de parkeerhulp worden gedeactiveerd. Bij gebruik van aanhangers met verwijderbare
resp. zwenkbare kogelstangen is een defecte werking van de parkeerhulp onwaarschijnlijk als de kogelstang uit gebruikspositie
wordt gezet.
De aanhanger is veiligheidsonderdeel en mag alleen door vakkundig personeel worden gemonteerd. Bij verkeerde montage
bestaat ernstig gevaar voor ongevallen! De Duitse tekst van deze handleiding is bindend.
Wijzigingen voorbehouden.
PL
Proszę przestrzegać krajowych wytycznych dotyczących odbioru technicznego.
Wszelkie zmiany lub przebudowy haka holowniczego są zabronione. Spowodują one utratę ważności świadectwa homologacji.
Proszę usunąć masę izolacyjną lub zabezpieczenie podwozia pojazdu (jeśli są) w obszarze styku haka holowniczego.
Hak holowniczy montowany jest w transporterach i służy do ciągnięcia przyczep. Niezgodne z przeznaczeniem zastosowanie jest
zabronione.
Po zamontowaniu haka holowniczego w pojazdach z systemem wspomagania parkowania mogą wystąpić usterki, jeśli drążek
lub kula haka holowniczego znajdują się w zakresie wykrywalności czujników. W tym przypadku należy dostosować zakres
wykrywalności lub dezaktywować system wspomagania parkowania. W przypadku zastosowania haka holowniczego ze
zdejmowanym lub odchylanym drążkiem kulkowym można uniknąć wadliwego działania systemu wspomagania parkowania
poprzez wyjęcie drążka lub jego wysunięcie z pozycji roboczej.
Hak holowniczy stanowi element bezpieczeństwa i może zostać zamontowany wyłącznie przez firmę specjalistyczną. W
przypadku nieprawidłowego montażu istnieje poważne ryzyko wypadku! Tekst niniejszej instrukcji w języku niemieckim jest
wiążący.
Zmiany zastrzeżone.
RUS
Подлежат соблюдение национальные директивы о порядке приемки навесного/встраиваемого оборудования.
Какие-либо изменения и переделки на сцепке недопустимы. Они делают недействительным разрешение на
эксплуатацию.
Изоляцию или покрытие на днище автомобиля - при наличии - в зоне прилегания сцепкиудалить.
Сцепка служит для буксировкания прицепа и обслуживания грузовых балок. Запрещено использование для посторонних
целей.
На автомобилях с вспомогательным устройством парковки после монтажа сцепного устройства возможнысбои, так
как разные узлы (шаровая штанга, соединительный шар) могут оказаться в зоне действия датчиков. В этом случае
подрегулировать зону действия датчиков либо деактивировать вспомогательное устройство для парковки. При
пользовании сцепными устройствами со съемными/поворотными шаровыми штангами можно не опасаться отказа
устройства парковки, если отвести шаровую штангу из рабочей позиции.
Сцепное устройство - это узел, несущий предохранительные функции, и к его монтажу допускаются только специалисты.
При неправильном монтаже грозит опасность тяжелых травм! Обязательным является немецкий текст данной
инструкции.
Право на внесение изменений сохраняется.
S
Nationella riktlinjer beträffande monteringen skall beaktas.
All form av ändring respektive ombyggnad på dragkroken är förbjuden. Förändringar resulterar i att typgodkännandet upphör att
gälla.
Eventuell isolermassa resp. undergolvets skydd, i området för dragkroksfästets anliggningsytor, ska avlägsnas.
Dragkroken används för dragning av släpvagnar och för användning av lastbärare. Annan typ av användning är förbjuden.
På fordon med parkeringshjälp kan felfunktioner uppträda efter att dragkroken monterats, då komponenter (dragkula,
kopplingskula) kan ligga inom sensorernas räckvidd. I detta fall ska räckvidden anpassas eller parkeringshjälpen inaktiveras. Vid
användning av dragkrokar med avtagbara resp. infällbara dragkulor, är det osannolikt att felfunktioner inträffar när dragkulan tas
ur driftposition.
Dragkroken är en säkerhetskomponent och bör endast monteras av kvalificerade tekniker. Vid felaktig montering föreligger risk
för allvarliga olyckor! Den tyska texten i denna anvisning är bindande.
Ändringar förbehålls.
313 396 691 101 - 005
6
6
x
23kg
x+23kg
313 396 691 101 - 005
7
1 Mercedes Benz CLA
1 Mercedes Benz CLA Shooting Brake
313 396 691 101 - 005
8
8
313 396 691 101 - 005
9
313 396 691 101 - 005
10
10
"a"
"a"
Mercedes Benz B-Klasse
313 396 691 101 - 005
11
Mercedes Benz CLA Shooting Brake
313 396 691 101 - 005
12
12
S
Der Freiraum nach Anhang 7, Abbildung 25a und 25b der
Richtlinie ECE-R 55 ist zu gewährleisten.
Volný prostor ve smyslu Přílohy 7, obr. 25a a 25b směrnice
ECE-R 55 musí být zaručen.
Det skal sikres, at der er spillerum i overensstemmelse med bilag
7, fig. 25a og 25b i henhold til direktiv ECE-R 55.
Hay que garantizar el espacio libre conforme al anexo 7, fig. 25a
y 25b de la directiva ECE-R 55.
La zone de dégagement, selon l'annexe 7, figure 25a et 25b de la
directive ECE-R 55, doit être assurée.
Välyksen tulee täyttää ohjeen ECE-R 55 liitteen 7 kuvissa 25a ja
25b ilmoitetut vaatimukset.
Make sure to provide clearance according to appendix 7, figures
25a and 25b of the ECE-R 55 regulations.
Πρέπει να εξασφαλίζεται ο ελεύθερος χώρος σύμφωνα με το
παράρτημα 7, σχήμα 25a και 25b της κοινοτικής οδηγίας
ECE-R 55.
Biztosítani kell az ECE-R 55 irányelv szerinti, 7. számú függelék,
25a. és 25b ábrákban jelölt szabad teret.
Deve essere garantito lo spazio libero secondo l'allegato 7, figure
25a e 25b della normativa europea ECE-R 55.
Det må sørges for fritt rom i samsvar med tillegg 7, figur 25a og
25b i direktiv ECE-R 55.
De vrije ruimte volgens supplement 7, afbeelding 25a en 25b van
richtlijn ECE-R 55 moet gewaarborgd zijn.
Należy zapewnić wolną przestrzeń zgodnie z załącznikiem 7, rys.
25a i 25b, dyrektywy ECE-R 55.
Оставлять свободное пространство согласно Приложению 7,
рис. 25a и 25b Директивы ECE-R 55.
Spelrummet enligt bilaga 7, bild 25a och 25b i riktlinje ECE-R 55,
måste garanteras.
D
* bei zulässigem Gesamtgewicht des Fahrzeuges
D
CZ
DK
E
F
FIN
GB
GR
H
I
N
NL
PL
RUS
CZ
* při celkové přípustné hmotnosti vozidla
DK
* ved tilladt totalvægt for køretøjet
E
* con peso total autorizado del vehículo
F
* pour poids total en charge autorisé du véhicule
FIN
* Ajoneuvon suurimmalla sallitulla kokonaispainolla
GB
* at gross vehicle weight rating
GR
* για το επιτρεπτό μικτό βάρος του οχήματος
H
* A jármű megengedett összsúlya esetén
I
* per il peso complessivo ammesso del veicolo
N
* ved kjøretøyets tillatte totalvekt
NL
* bij toegestaan totaal gewicht van het voertuig
PL
* przy dopuszczalnym cięzarze całkowitym pojazdu
RUS
S
* при допустимом общем весе автомобиля
* vid fordonets tillåtna totalvikt
313 396 691 101 - 005
13
14
14
313 396 691 101 - 005
A50-X
E13 55 R–01 3437
9,2 kN
80 kg
vedi carta di circolazione dell'autoveicolo
T = Massa complessiva max. della motrice (in kg)
e
C = Massa rimorchiabile max. della motrice (in kg)
così definito:
………………………………………………………..
timbro e firma
Si dichiara inoltre di aver informato l'utente del veicolo sull'USO e MANUTENZIONE del dispositivo stesso.
………………………..……………..lì…………..………………
targato ……………………………
sul veicolo…………………………………………………………………..
DICHIARAZIONE DI CORRETTO MONTAGGIO:
la sottoscritta Ditta dichiara che il dispositivo di traino tipo………………………….è stato installato a regola d'arte, nel rispetto dei punti d'attacco e delle prescrizioni
fornite dalla Casa costruttrice
dove:
D = (T x C) / (T + C) x 0,00981 = …kN
In base alla Direttiva europea ECE-R 55, la massa massima rimorchiabile del dispositivo di traino è determinata dal valore di prova "D"
Classe e tipo di attacco:
Omologazione:
Valore D:
Carico verticale max. S:
Massa rimorchiabile:
Dispositivo di traino tipo: 313 396
Per autoveicolo:
Mercedes Benz A-Klasse, Mercede Benz B-Klasse, Mercedes Benz CLA,
Mercedes Benz CLA Shooting Brake 2015
Tipo funzionale:
117, 117????, 117?????, 117??????, 117???????
156, 156????, 156?????, 156??????, 156???????