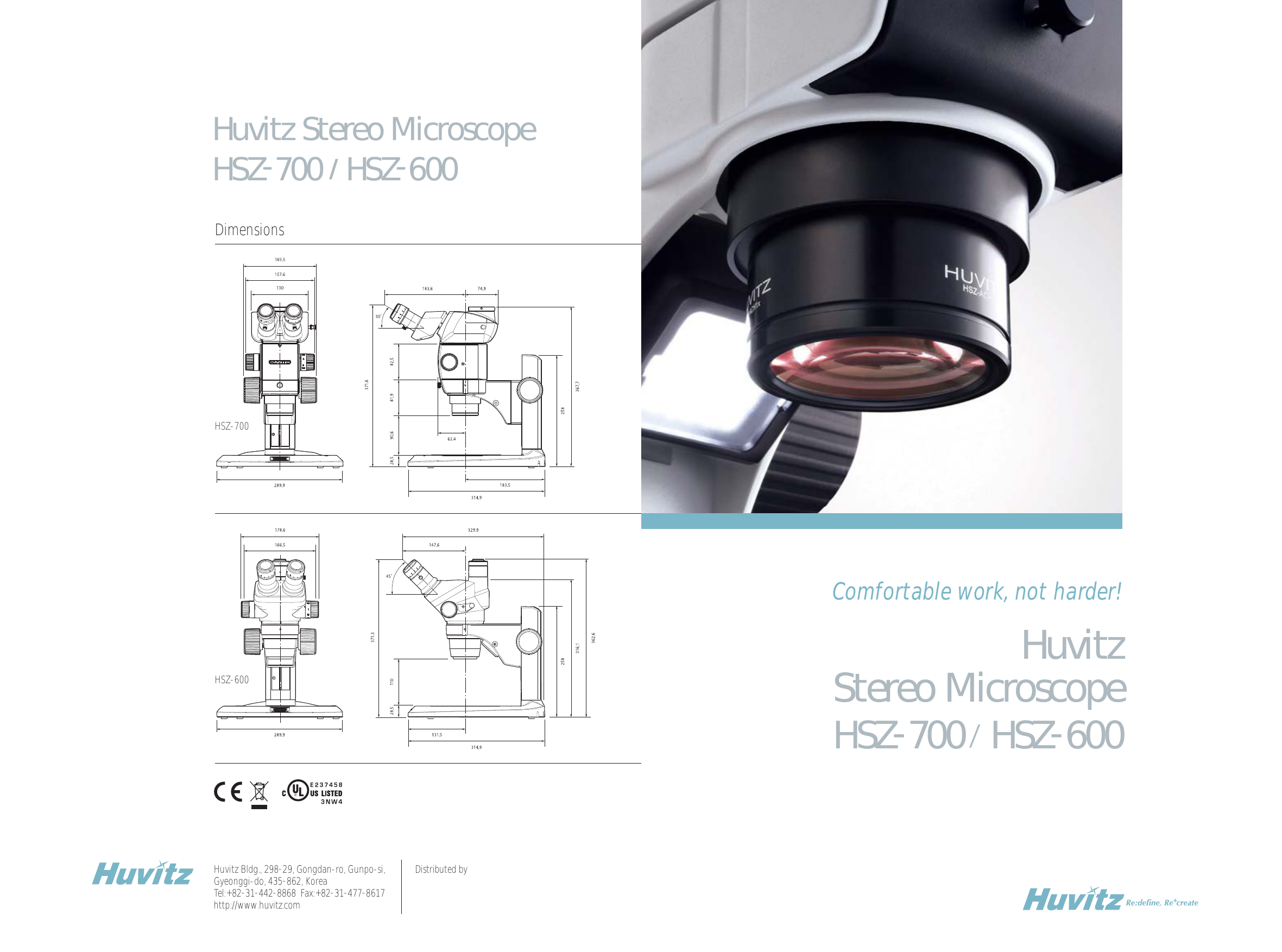 Huvitz Stereo Microscope
HSZ-700 / HSZ-600
Dimensions
HSZ-700
Comfortable work, not harder!
Huvitz
Stereo Microscope
HSZ-700 / HSZ-600
HSZ-600
Huvitz Bldg., 298-29, Gongdan-ro, Gunpo-si,
Gyeonggi-do, 435-862, Korea
Tel:+82-31-442-8868 Fax:+82-31-477-8617
http://www.huvitz.com
Distributed by
H U V I T Z
Powerful Performance
O P T I L U T I O N
Optical system with high resolution, true color reproduction and
low distortion is one of the key characteristic of Huvitz
microscopes which provide with clear images for better analysis.
Optimized task analysis can be achieved with the Huvitz
optimized optical solution!
Most Optimized Optical Solution!
As one of the world leading ophthalmology equipment manufacturer, the
professionalism of Huvitz engineering guarantees upscaled satisfaction
for any R&D and production environment providing a more precise and
optimized optical solution.
Advanced Design
Ergonomic design has been carefully implemented to improve
efficient usage and minimize operators' fatigue.
Ideal position and angle of each module, compact size and high
quality provide users friendly environment for any task given.
Helps to reduce fatigue in long-duration inspection.
Improved Flexibility
Variety of objective lenses and eyepieces allow user to combine the
optical system for any propose and work or R&D environment.
Customized stand and digital application guarantee the best
resolution in any environment.
HSZ-660
HSZ-645
Contents
HSZ-645TR
HSZ-730TR
HSZ-700 ........................................... 2
HSZ-600 ........................................... 4
High Performance ........................ 6
Ergonomic Design ........................ 8
Lighting Accessories ....................10
Application Accessories .............12
Digital Application .......................14
System Overview ..........................16
Specifications .................................17
HSZ-700 Series
Wisely optimized zooming and color reproduction
offer you stable and high quality images.
Interchangeable objective lenses and accessories can be
implemented to provide a guaranteed satisfaction for any
given inspection environment and task.
HSZ-ST7
HSZ-700, the best solution where high precision
Galilean optic system is required!
Galilean Optical System
This not only change easily objective lens but also produce real image.
It is possible to use wide range of research required high precision and
wide range of accessories for Quality Control.
Wide 7:1 Zoom
It offers the highest zooming specification among the competitor's model.
The 8x to 56x zooming range provide the easiness for any task execution.
Longer working distance is another factor of consideration of the HSZ-700.
Superior optic system
Live color reproducibility and high resolution power are just a result of
superior optic design minimizing distortion and aberration offering a
clear image on wide range and variety of samples.
Effective task execution
HSZ-700's speed, accuracy and effectiveness offer the best solution
for any challenging task.
High resolution and power lenses can be interchanged easily to obtain
better results for any routine tasks given.
HSZ-730TR / HSZ-ILST7
2
3
HSZ-600 Series
The improved performance is much easier to
work by simple and intuitive structure.
To provide the convenience of user-centered design and
compact design creates and ideal combination
HSZ-645TR / 645 / 660
HSZ-645 / Focus Mount Combination
Auxiliary objective lens
HSZ-600, A Greenough system to provide a wide
range of inspection field demanding safety and
comfortability
Greenough Optical System
Efficient Greenough Optical System offers you more superior flatness
and outstanding depth of focus.
Lens coating and material are carefully selected to provide the best
result to minimize the distortion and color aberration.
Compact Design
Compact microscope with large base for variety of specimens offer
you optimized inspection environment.
Ergonomic design optimizes the comfort during the operation.
Effective 6.7:1 Zoom
Most widely used and broadly accepted 6.7:1 zooming design provide
more effective working environment.
Higher working distance offers you better quality control of specimens
and samples.
Effective task execution
Carefully selected lens and coating materials can improve the
operation efficiency and minimize eye fatigue drastically.
Most optimized observation angle of HSZ-660 is best for multiply
customized environments.
HSZ-645TR / HSZ-ILST6
4
5
High Performance based
stable system.
Powerful Performance with upscaled
color reproducibility.
Observation Tube for HSZ-730TR
Highly stringent criteria design to minimize
aberration and distortion with ideal coating
technology and lens materials.
High resolving power objective lens
Low distortion, longer working distance, ideal lens combination and
design offer you a better observation environment for any specimen.
Ideal selection of lens and coating materials guarantee the fidelity of
color reproducibility and their longevity.
Interchangeable objective lens can adapt the microscope for any
working environment.
Eyepiece with Comfort View
High eye point design and aberration correction are another
advantages of Huvitz microscope eyepieces.
They provide with the optimal visual field for low acuity power users.
Flexibility of Observation Tube
Observation tube is designed to be adaptable for any kind of
observation needs.
Huvitz Trinocular Tube, HSZ-645 and HSZ-730 are suitable for video
port output for digital application.
60 degree inclination tube is also available to meet special and
customized need. (HSZ-660)
6
7
User friendly Ergonomic Design
Extreme eye comfort and easy operability.
Click-stop mechanism(HSZ-645TR)
HSZ-ILSTP / HSZ-ILFM
Soft focus dial
LED Transmitted / Reflected dial
Compact design providing multiple functions
reducing eye fatigue.
Slim and Compact Design
Achievement of the most ergonomic design multiple computer
simulation minimizes the operators' fatigue and maximizes the work
efficiency.
Comfortable Zoom Knob / Focus Knob / Click Stop
Careful polyurethane material selection in zoom knobs and focus dials
to assure the comfort in any operation.
To achieve repetitive zooming change Click Stop function has been
implemented to improve work efficiency.
High Eye Point and Diopter function
High Eye Point eyepiece design provides comfort view with operation
with a pair of glasses or with low visual acuity.
The diopter control is easily achieved from the eyepieces.
8
9
Lighting Accessories
Fidelity in Real Color Reproduction
and Active illumination Control.
LED Four-Part Ring Illumination HSZ-LRLS
Flexible angle of LED light
High Intensity LED implemented.
High Intensity LED
Low energy consumable and durable LED provide suitable transmission
or reflection.
LED lighting has been proved to reproduce real color without
affecting specimen by its excess of color temperature providing longer
lifetime and low energy cost.
4 Split LED ring light
Compact 4 split right LED illumination can simulate different lighting
environment for a better observation.
Light intensity can be easily optimized for any glossy samples or
specimens.
LED Transmitted / Reflected light
Other external light is not needed as light angle can be regulated from
stand arm.
Transmitted light is designed to be used with stand base without any
discomfort.
10
11
Easy Application
Accessories
Wide range of accessories can
be attached without alternating
the optical system.
HSZ-645 / HSZ-FM / HSZ-STUT
HSZ-FM, HSZ-ILFM, HSZ-FM7
Application with easy operability, wider working
space and ESD
Wider Base Stand
Variety of stand can be chosen depending on the work environments' needs.
Hybrid transmitted and reflected light base is also available with very
compact design and universal stand is also available for large
specimens or samples.
Variety of Video Ports
Huvitz exclusive video port lenses assure better quality video images
for any digital camera systems.
ESD and surge protection
Huvitz Unique ESD and surge protection system comply with the UL
and CL standards and regulations: another advantage of Huvitz
system for electronic and electric quality control usage.
12
13
System Overview / HSZ-600
Easy Digital Application
Clarity image, color analysis easy image
and word processing are integral part of
Huvitz image system.
C-mount Adapter
Huvitz Panasis : High compatibility in hardware
and software. Easy for every usage.
Digital Camera
Panasis integrates all Huvitz HSZ microscopes and displays the image
observed in any computer or digital imaging system.
Enhanced Measurement
It is not enough with just saying that Panasis has 3 dimension
acknowledgement and measuring capability.
Highly complex metal and bio specimen analysis can be easily
achieved with Panasis user friendly analysis tools.
Characteristic of Panasis Application
•Easy and Intuitive User Interface
•Live measurement : length, area, angle, auto trace, etc
•Microsoft Excel export/import compatibility.
•Focus indicator, color histogram, Multi-focus, Auto tilting
•Wider filter and image processing
•R&D resource dedicated for time to market customization
•SW Upgrade and customer support though Huvitz website.
14
15
16
19
Specifications
System Overview / HSZ-700
HSZ-700 Specifications
Eyepieces
Item
Specifications
Model
F.N. : 22
Diopter adjustment
Reticle
Focal magnification
Zoom microscope body
HSZ-ZB700
Zoom drive : Horizontal knob system
Click stop for each zoom magnification: On-Off switching possible
HSZ-EPA10x
22
-8 ~+5
Yes
-
HSZ-EPA15x
16
-8 ~+5
Yes
-
Zoom ratio values : 7:1 (0.8~5.6x)
HSZ-EPA20x
12.5
-8 ~+5
Yes
1.3x
Zoom magnification indication : 0.8, 1, 1.25, 1.6, 2, 2.5, 3.2, 4, 5, 5.6.
Objective lens mounting : Screw mounting into thread
Observation tube
HSZ-TR30
Trinocular tube(HSZ-TR30), Binocular tube(HSZ-BI30)
View inclination angle : 30˚
HSZ-BI30
Light path selection(only HSZ-TR30) : 2 steps (Binocular 100%, Video 80%-Binocular 20%)
Interpupillary distance adjustable range : 55 to 75mm
Eyepiece clamping knob provided
Stand
HSZ-ST7
HSZ-ILST7
HSZ-ST7
Standard large stand
LED reflected / transmitted illumination
large stand
HSZ-ILST7
HSZ-CP1x
C mount without lens
HSZ-AOL0.75x
130
HSZ-CP0.5x
C mount 0.5x lens
HSZ-AOL1.5x
64
HSZ-AOL2x
39.5
Stage Plate
Details
LED Ring Light
Model
Details
Model
HSZ-SPG
Glass plate Ø160
HSZ-LRLS
LED ring light source
Stage plate
HSZ-SPG / HSZ-SPBW
HSZ-SPBW
Black / White plate Ø160
HSZ-LRLA6
Ring light adapter for HSZ-600
Transmitted illumination: LED
Reflected illumination: LED
Average LED life span: 10,000 hrs.
Input rating: AC 100-240V, 50/60Hz, 10W
HSZ-ACH1x
Working distance(W/D) : 90.5mm
HSZ-PLAPO1x
Working distance(W/D) : 81mm
HSZ-ACH2x
Working distance(W/D) : 33.5mm
Eyepiece
Objective lens
HSZ-EPA10x
HSZ-EPA15x
HSZ-EPA20x
22
16
12.5
Total magnification
Field view(mm)
Total magnification
Field view(mm)
Total magnification
Field view(mm)
1x
8x-56x
27.5-3.9
12x-84x
20.0-2.9
16x-112x
15.6-2.2
1.5x
12x-84x
18.3-2.6
18x-126x
13.3-1.9
24x-168x
10.4-1.5
HSZ-600 Optical Performance
Item
Specifications
Microscopy body
HSZ-645
HSZ-645
Magnification
0.67x ~ 4.5x
HSZ-660
Zoom ritio
6.7 : 1
Zoom
HSZ-660
Working distance
110mm
Tube inclination angle
45˚
Interpupillary
distance adjustment
Left / right interlocked
Adjustment range : 55 to 75mm
60˚
HSZ-645TR
45˚
Viedo camera adaptability
C-mount(0.5x built in)
Click stop
Click stop for each zoom magnification:
On-Off switching possible
Auxilliary objective lens
Mounting by screwing into the thread at the bottom of frame(M48 thread x0.8)
Stand
HSZ-ST6
HSZ-ILST6
HSZ-ST6
Standard large stand
LED reflected / transmitted illumination
large stand
Frame installation
Mounting diameter : 76mm
Focusing adjustment
Knob rotation tension adjustment / Focusing stroke : 120mm
Stage plate
HSZ-SPG / HSZ-SPBW
HSZ-SPG
Transmitted illumination: LED
Reflected illumination: LED
Average LED life span: 10,000 hrs.
Input rating: AC 100-240V, 50/60Hz, 10W
HSZ-EPA10x
10x / FN 22 / Diopter adjustment : -8D ~+5D / Eyepiece micrometer dist mountable
HSZ-EPA15x
15x / FN 16 / Diopter adjustment : -8D ~+5D / Eyepiece micrometer dist mountable
HSZ-EPA20x
20x / FN 12.5 / Diopter adjustment : -8D ~+5D / Eyepiece micrometer dist mountable
Dimensions / Weight
Details
HSZ-700 Optical Performance
F.N.
Eyepiece series
Light source
17
Model
200
Mounting diameter : 76mm
HSZ-ILST6
20
Working distance(mm)
HSZ-AOL0.5x
Knob rotation tension adjustment / Focusing stroke : 120mm
HSZ-600 Specifications
Eyepieces
Model
Focusing adjustment
Eyepieces
HSZ-645TR
Camera Port for HSZ-700
Frame installation
Light source
Objective lens
Auxiliary Objective Lens for HSZ-600
Dimension (W*D*H) : 289.9 x 329.9 x 371.3 / Weight: 5.2Kg
HSZ-EPA10x
magnification
HSZ-EPA15x
22
HSZ-EPA20x
16
12.5
Total magnification
Field view(mm)
Total magnification
Field view(mm)
Total magnification
Field view(mm)
0.67x
6.7
32.8
10.1
23.9
13.4
18.7
1x
10
22
15
16
20
12.5
2x
20
11
30
8
40
6.3
3x
30
7.3
45
5.3
60
4.2
4.5x
45
4.9
67.5
3.6
90
2.8
Designs and details can be changed without prior notice for the purposes of improvement.