C012 CONSTRUCTION SAFETY SERIES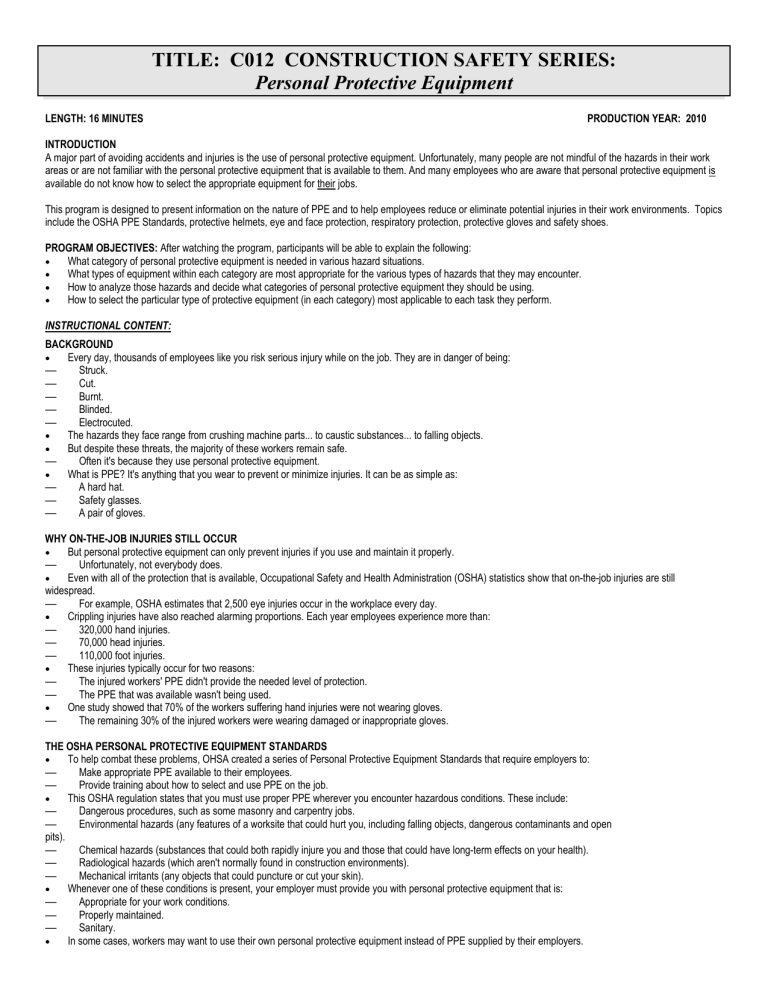 TITLE: C012 CONSTRUCTION SAFETY SERIES:
Personal Protective Equipment
LENGTH: 16 MINUTES
PRODUCTION YEAR: 2010
INTRODUCTION
A major part of avoiding accidents and injuries is the use of personal protective equipment. Unfortunately, many people are not mindful of the hazards in their work
areas or are not familiar with the personal protective equipment that is available to them. And many employees who are aware that personal protective equipment is
available do not know how to select the appropriate equipment for their jobs.
This program is designed to present information on the nature of PPE and to help employees reduce or eliminate potential injuries in their work environments. Topics
include the OSHA PPE Standards, protective helmets, eye and face protection, respiratory protection, protective gloves and safety shoes.
PROGRAM OBJECTIVES: After watching the program, participants will be able to explain the following:
•
What category of personal protective equipment is needed in various hazard situations.
•
What types of equipment within each category are most appropriate for the various types of hazards that they may encounter.
•
How to analyze those hazards and decide what categories of personal protective equipment they should be using.
•
How to select the particular type of protective equipment (in each category) most applicable to each task they perform.
INSTRUCTIONAL CONTENT:
BACKGROUND
•
Every day, thousands of employees like you risk serious injury while on the job. They are in danger of being:
—
Struck.
—
Cut.
—
Burnt.
—
Blinded.
—
Electrocuted.
•
The hazards they face range from crushing machine parts... to caustic substances... to falling objects.
•
But despite these threats, the majority of these workers remain safe.
—
Often it's because they use personal protective equipment.
•
What is PPE? It's anything that you wear to prevent or minimize injuries. It can be as simple as:
—
A hard hat.
—
Safety glasses.
—
A pair of gloves.
WHY ON-THE-JOB INJURIES STILL OCCUR
•
But personal protective equipment can only prevent injuries if you use and maintain it properly.
—
Unfortunately, not everybody does.
•
Even with all of the protection that is available, Occupational Safety and Health Administration (OSHA) statistics show that on-the-job injuries are still
widespread.
—
For example, OSHA estimates that 2,500 eye injuries occur in the workplace every day.
•
Crippling injuries have also reached alarming proportions. Each year employees experience more than:
—
320,000 hand injuries.
—
70,000 head injuries.
—
110,000 foot injuries.
•
These injuries typically occur for two reasons:
—
The injured workers' PPE didn't provide the needed level of protection.
—
The PPE that was available wasn't being used.
•
One study showed that 70% of the workers suffering hand injuries were not wearing gloves.
—
The remaining 30% of the injured workers were wearing damaged or inappropriate gloves.
THE OSHA PERSONAL PROTECTIVE EQUIPMENT STANDARDS
•
To help combat these problems, OHSA created a series of Personal Protective Equipment Standards that require employers to:
—
Make appropriate PPE available to their employees.
—
Provide training about how to select and use PPE on the job.
•
This OSHA regulation states that you must use proper PPE wherever you encounter hazardous conditions. These include:
—
Dangerous procedures, such as some masonry and carpentry jobs.
—
Environmental hazards (any features of a worksite that could hurt you, including falling objects, dangerous contaminants and open
pits).
—
Chemical hazards (substances that could both rapidly injure you and those that could have long-term effects on your health).
—
Radiological hazards (which aren't normally found in construction environments).
—
Mechanical irritants (any objects that could puncture or cut your skin).
•
Whenever one of these conditions is present, your employer must provide you with personal protective equipment that is:
—
Appropriate for your work conditions.
—
Properly maintained.
—
Sanitary.
•
In some cases, workers may want to use their own personal protective equipment instead of PPE supplied by their employers.
—
•
—
—
—
—
—
—
•
However, no matter who owns the equipment, employers are ultimately responsible for its suitability and upkeep.
The OSHA standard also mandates that you receive PPE training, including information about:
When PPE is necessary.
What PPE is required for your job.
How to properly put on, take off, adjust, and wear PPE.
Limitations of your PPE.
Proper maintenance.
The useful life and disposal of PPE.
You will also be retrained in these areas whenever your employer thinks it's necessary.
PROTECTIVE HELMETS
•
OSHA says that you must wear a "protective helmet" whenever there is danger from falling objects or low clearances. Specifically, this means
wearing a bump cap or a hard hat. They can protect you from:
—
Falling or flying objects.
—
Chemical splashes and molten metal.
—
When you are in places where you are liable to bump your head.
•
Hard hats come in a variety of styles and colors.
—
And like any hat, it's important that you have one that fits… not too tight and not too loose.
•
Bump caps are lighter weight than hard hats, and can be used to protect you in areas with low head clearances.
—
But never use a bump cap as a substitute for a hard hat.
—
Bump caps don't provide the same level of protection.
•
Anyone who works near exposed electrical wires that could touch their heads must wear a hard hat that is designed to reduce electrical shock
hazards.
•
But no matter their design, all protective helmets must comply with American National Standards Institute (ANSI) regulations.
EYE & FACE PROTECTION
•
The face and eyes are two of the most vulnerable parts of the body, and are subject to all types of hazards.
—
Which is why there are a number of different types of PPE that can be used to protect them.
•
The most common eye protection is safety glasses.
—
Equipped with shatter-resistant lenses, these are necessary wherever flying particles can be found.
•
Although the lenses in safety glasses can protect you from frontal impacts, the sides of your eyes also need protection.
—
This is done by using side shields.
—
Now-a-days many safety glasses have built-in shields.
—
Detachable, clip-on or slide-on side guards are also permissible, provided that they meet with OSHA's approval.
•
If you work near intense light sources, such as lasers or welding torches, your safety glasses must have special optical filter lenses.
—
These lenses all have "shade numbers" that indicate the types of light they protect you from.
—
Shade numbers must always match the intensity of the light source (otherwise, the glasses will not provide adequate protection, and in
worst case situations, blindness could occur).
•
Liquid chemical splashes and very dusty environments require more protection than safety glasses can provide.
—
In these cases, goggles are often the answer.
—
They need to fit snugly, so they can protect the eye area from all angles.
•
Be careful if you need to wear goggles over prescription glasses. In this case, you must use goggles that either:
—
Incorporate the prescription into their design.
—
Can be worn over the prescription glasses without disturbing the proper positions of the glasses or the goggles.
•
In some situations, even goggles aren't enough.
—
When there's the potential for significant chemical splashing or lots of flying particles, a full face shield is needed.
—
Anyone doing specialized work like welding will need a welder's helmet or similar protection.
•
If you wear contact lenses, ask about your company's policies regarding them.
—
Contacts may not be safe to wear in some areas.
—
They can also cause significant irritation if dust, liquids or particles are trapped under them.
•
No matter what type of eye and face PPE you need, it must be distinctly marked so its manufacturer is easy to identify.
—
These markings allow your employer to identify workers' eye protection at a glance.
—
If someone is not wearing the proper eyewear, they can be issued the necessary PPE before an accident occurs.
—
If a product recall occurs, the marks help to identify defective PPE so that it can be returned to the manufacturer.
RESPIRATORY PROTECTION
•
Some work environments contain airborne hazards, such as:
—
Dust.
—
Mist.
—
Fumes.
—
Vapors.
•
To work safely in these areas, you'll need a respirator. They come in three types:
—
Disposable masks.
—
Air-purifying respirators (APRs).
—
Air-supplying respirators (ASRs).
•
Disposable masks are the simplest of the three.
—
Made of fibers that trap airborne contaminants, these masks keep hazardous particles out of your nose and lungs.
—
Disposable masks are often used by painters and exterminators, because these workers are frequently in danger of inhaling droplets of
industrial solvents or insecticides.
Masks are also frequently used where a lot of dust can be generated, like some construction jobs, or when cleaning certain types of work areas.
In some cases chemicals are so strong or concentrated, or there is so much dust in the air, that disposable masks can not protect against them.
—
In these situations, you need to use air-purifying respirators (APRs).
—
APRs come in half-face and full-face models, and use disposable filter cartridges.
—
These filter contaminants through chemical means, before they can be inhaled.
•
Whenever you wear an APR, you must make absolutely sure that these cartridges are correct for the substance you're working with.
—
Otherwise, the respirator will not provide the needed protection.
•
To make selection easy, filter cartridges are color-coded and identified with labels approved by the National Institute for Occupational Safety and
Health (NIOSH).
—
Ask your supervisor about which filters are required in your work area.
•
Keep in mind that wearing the wrong filter can be the same as wearing no filter at all.
—
So always be sure that you have the proper protection against the hazards you will face.
•
There are some specialized construction environments that even APRs can't handle.
—
For example, some atmospheres don't contain enough oxygen or are full of toxic gases.
•
Most construction workers never encounter these situations.
—
If any job that you do takes you into this type of environment, an air-supplying respirator (ASR) must be used.
—
These provide clean air from pressurized tanks.
—
Your supervisor will work with you to determine which type you should use.
•
•
PROTECTIVE GLOVES
•
Your hands and fingers are valuable tools... the most valuable you'll ever own.
—
So you need to protect them as much as possible.
—
Often, this means using gloves.
•
Cloth gloves protect against minor physical hazards, like dirt, splinters and abrasions.
—
They're good for light jobs, such as groundskeeping or cleaning up your work area.
•
Leather and aluminized gloves protect against sparks and metal flakes, as well as moderate heat.
•
Metal mesh gloves shield your hands from materials with sharp edges.
•
Other gloves offer protection from health hazards.
—
Disposable latex gloves can protect you against blood and other body substances.
—
Rubber gloves help protect your hands against acid splashes and electric shock.
—
Plastic gloves shield your hands from corrosive materials.
•
No matter what type of gloves you wear, make sure that they fit correctly.
—
If they're too loose, they can snag in equipment or machinery, or make handling small objects difficult.
—
If they're too tight, they can cut off your circulation.
—
Ask your supervisor if you need help in finding the right hand protection for the job you do.
SAFETY SHOES
•
While our hands can help us do almost anything, it's our feet that get us were we need to go.
•
The average person takes 18,000 steps every day... each one a potential slip, trip or fall.
—
On the job, you can prevent these accidents by wearing safety shoes with non-slip soles.
—
For best results, these must be designed for the specific type of surface you're working on.
•
Soft rubber soles work well on dry surfaces, but may not provide adequate traction on wet or greasy surfaces.
—
Hard rubber soles are ideal for greasy concrete or wood, but may be less effective when these same surfaces are wet.
—
Soles constructed of synthetic rubber or natural rubber compounds are safe on almost all surfaces and in almost all conditions.
•
An important feature of safety shoes is their protective metal toe caps.
—
These are a must around falling objects.
—
Metal plates within the soles of your shoes can help prevent punctures.
•
Safety shoes may also be insulated against:
—
Heat.
—
Cold.
—
Electrical hazards.
•
As you can see, there are shoes for virtually every situation.
—
But you need to make sure that your work shoes will fully protect you from the hazards that you face in your particular job.
—
Ask your supervisor if you have any questions about foot safety in your workplace.
SUMMARY
•
Your employer will evaluate your workplace, to determine if it's hazardous... and if you need to wear PPE to work safely.
•
If your worksite does have hazards that require PPE, your employer will provide you with PPE that is suitable for your job.
•
All personal protective equipment must be maintained in a sanitary and undamaged condition.
•
Your employer must train you how to use your personal protective equipment... and you must demonstrate that you know how to handle your PPE
before you're allowed to use it on the job.
•
Some people have jobs that are hazard-free.
—
They usually don't have to worry about getting injured at work.
—
But doing your job requires protection. Not having it can mean injury disability... even death.
—
So play it safe. Find out what personal protective equipment you need for the job, learn everything that you can about it, and use it... every day!

* Your assessment is very important for improving the work of artificial intelligence, which forms the content of this project