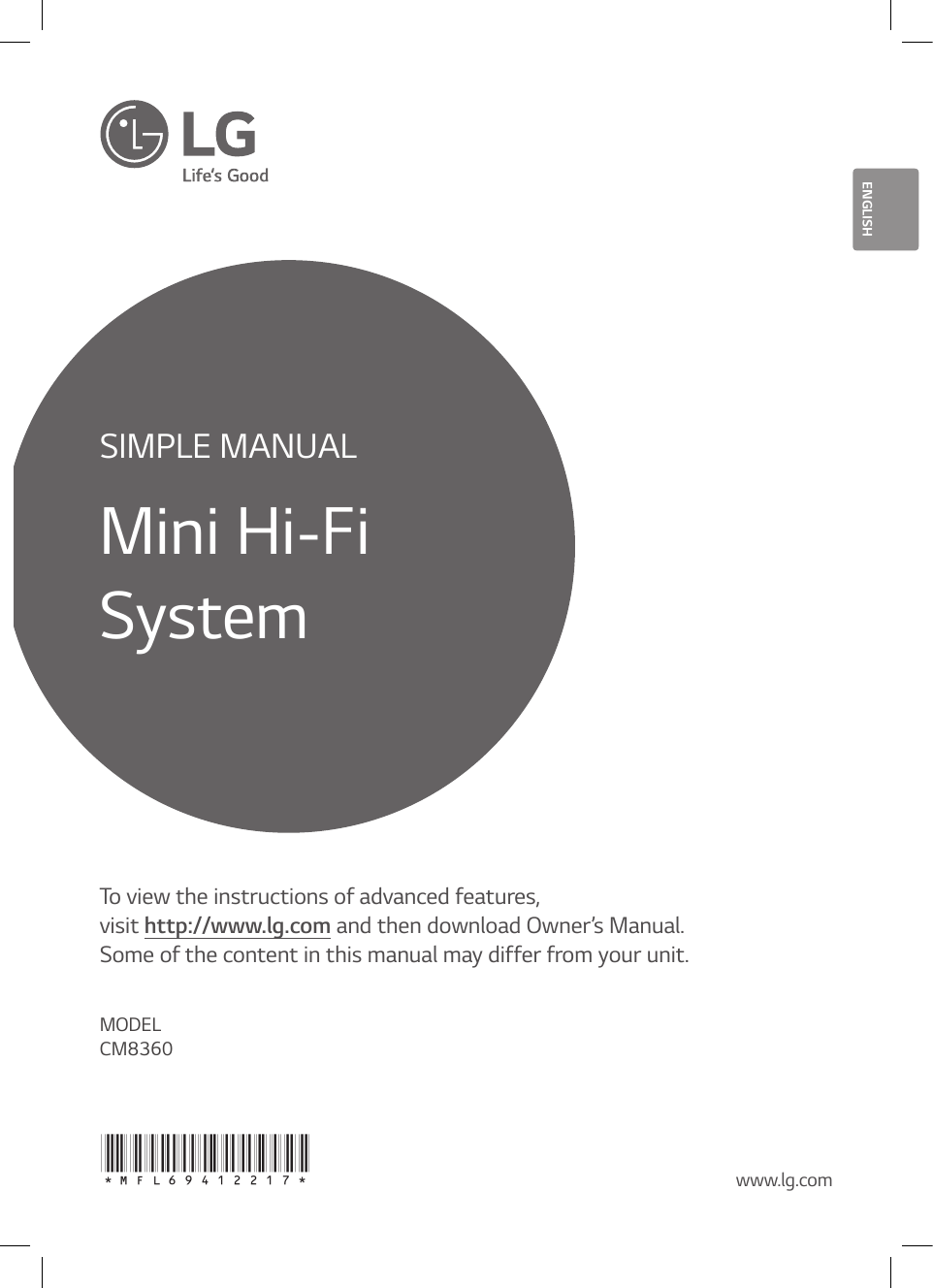 ENGLISH
SIMPLE MANUAL
Mini Hi-Fi
System
To view the instructions of advanced features,
visit http://www.lg.com and then download Owner's Manual.
Some of the content in this manual may differ from your unit.
MODEL
CM8360
*MFL69412217*
www.lg.com
Front Panel
i j
kl
mTREBLE
Adjusts TREBLE sound level when setting USER EQ.
m n
a
e
b
f
c
g
d
h
o
p
q r
st u
b DJ EFFECT
Selects a desired DJ effect (FLANGER, PHASER, WAH, DELAY)
and rotate EFFECT LEVEL to adjust the DJ EFFECT level.
c USER EQ
Selects the sound effect created by your own.
f SEARCH
Moves tob
folder or filec
in selection
mode.
de
gOK
Selects a folder when searching a file.
h VOICE CANCELLER
You can enjoy the function while playing the music, by
reducing singer vocal of music in the various source.
i USB 1 Port
You can play or record sound files by connecting the USB
device.
jBASS
Adjusts BASS sound level when setting USER EQ.
k Display window
lMASTER VOLUME
Adjusts speaker volume.
Turn clockwise or counterclockwise to make Scratch sound. /
Adjust DJ EFFECT level.
qI
Stops playback or cancels DELETE function.
a 1/!(Power)
Turn the power on or off.
e USB REC / DEMO
Records to USB. / Shows Demo mode.
o SCRATCH / DJ EFFECT CONTROL
p MIC 1 / 2 jack
Connect a microphone.
v
d REGION EQ / BASS BLAST
- Chooses region equalizer.
- Press and hold to select BASS effect directly.
n USB 2 Port
You can play or record sound files by connecting the USB
device.
a
T
- Starts or pauses playback.
- Selects Stereo/Mono.
R
Opens and closes the disc tray.
KEY CHANGER
Changes the key to suit your vocal range.
CLUB, DRUM, USER (DJ PRO)
Selects CLUB, DRUM or USER sound effect to mix
(If you want to use USER, you have to register a source with
"Music Flow Bluetooth" app.)
1, 2, 3, 4 (DJ PRO PAD)
Press a desired sound pad
rDisc tray
s MIC VOL / KEY CONTROL
- Controls microphone's volume.
- Changes the key to suit your vocal range.
tPORT. IN jack
Connect a portable device.
u F (Function) / WIRELESS LINK
- Selects the function and input source.
-P
ress and hold for 3 seconds to select WIRELESS PARTY
LINK mode.
vY SEARCH U
- Searches a folder or a file.
- Selects the radio stations.
Rear Panel
a Power cord
b SPEAKERS connector
a
b
c ANTENNA (FM)
d AUX IN (L/R)
Connect an auxiliary device.
c d
Speaker Connection
Additional Information
Specifications
Power Requirements
Power Consumption
Dimensions (W x H x D)
Refer to the main label on
the unit.
Refer to the main label on
the unit.
Networked standby : 0.5 W
(If all network ports are
activated.)
Approx. 450 mm x 160 mm
x 355 mm
Net Weight
Approx. 6 kg
Bus Power Supply (USB)
5 V 0 500 mA
Amplifier
(Total RMS output power)
2,200 W
Design and specifications are subject to change without
notice.
Controller App
Download the Music Flow Bluetooth App to your
device.
LG Sound Sync (Wireless)
For more information, download the online owner's
manual. http://www.lg.com
Additional Information
Caution
yy When you use the multiple socket, it is advisable to use
15 A socket. 10 A socket may cause power off due to
lack of power supply.
yy Do not place objects on the speakers. It may cause the
objects to fall and make property damage.
How to disconnect the wireless network
connection or the wireless device
Turn off the unit by pressing the power button for more
than 5 seconds.
Replacement of battery
yy Install the speakers on a firm surface not to slide. The
vibration caused by the strong output can shake and
move the speakers.
yy Allow more than 20 cm of free space between the main
set and the speakers when you install the main set on
the ground. High sound pressure from the speakers can
make the set tremble to disturb the CD playback.
yy Connect the power cord to wall outlet directly if
possible. Or when you use an extension cable, it is highly
recommended to use an extension cable of 110 V / 15
A or 230 V / 15 A, otherwise the unit may not operate
properly because of the lack of power supply.
yy Do not overload the extension cord with excessive
electrical load.
3)
yy To protect from hearing damage, keep the sufficient
distance from the speaker. The overwhelming sound
from the speaker may cause a person's hearing damage.
(R0
yy Avoid turning up max volume in a small enclosed space.
The powerful and intense output of the speakers can
shake the ceiling and get the objects in the room falling.
(R03)
CAUTION
RISK OF ELECTRIC SHOCK
DO NOT OPEN
CAUTION: TO REDUCE THE RISK OF ELECTRIC SHOCK DO NOT
REMOVE COVER (OR BACK) NO USER-SERVICEABLE PARTS INSIDE
REFER SERVICING TO QUALIFIED SERVICE PERSONNEL.
This lightning flash with arrowhead symbol within
an equilateral triangle is intended to alert the user
to the presence of uninsulated dangerous voltage
within the product's enclosure that may be of
sufficient magnitude to constitute a risk of electric
shock to persons.
The exclamation point within an equilateral triangle
is intended to alert the user to the presence of
important operating and maintenance (servicing)
instructions in the literature accompanying the
product.
WARNING: TO PREVENT FIRE OR ELECTRIC SHOCK HAZARD, DO
NOT EXPOSE THIS PRODUCT TO RAIN OR MOISTURE.
WARNING: Do not install this equipment in a confined space such as
a book case or similar unit.
CAUTION: Do not use high voltage products around this product.
(ex. Electrical swatter) This product may malfunction due to electrical
shock.
CAUTION: Do not block any ventilation openings. Install in accordance
with the manufacturer's instructions.
Slots and openings in the cabinet are provided for ventilation and to
ensure reliable operation of the product and to protect it from over
heating. The openings shall be never be blocked by placing the product
on a bed, sofa, rug or other similar surface. This product shall not
be placed in a built-in installation such as a bookcase or rack unless
proper ventilation is provided or the manufacturer's instruction has
been adhered to.
CAUTION: This product employs a Laser System. To ensure proper
use of this product, please read this owner's manual carefully and
retain it for future reference. Shall the unit require maintenance,
contact an authorized service center.
Use of controls, adjustments or the performance of procedures
other than those specified herein may result in hazardous radiation
exposure.
To prevent direct exposure to laser beam, do not try to open the
enclosure.
CAUTION concerning the Power Cord
The Power Plug is the disconnecting device. In case of an emergency,
the Power Plug must remain readily accessible.
CAUTION: The apparatus shall not be exposed to water (dripping or
splashing) and no objects filled with liquids, such as vases, shall be
placed on the apparatus.
This device is equipped with a portable battery or accumulator.
Safety way to remove the battery or the battery from the
equipment: Remove the old battery or battery pack, follow the steps
in reverse order than the assembly. To prevent contamination of the
environment and bring on possible threat to human and animal health,
the old battery or the battery put it in the appropriate container at
designated collection points. Do not dispose of batteries or battery
together with other waste. It is recommended that you use local, free
reimbursement systems batteries and accumulators. The battery shall
not be exposed to excessive heat such as sunshine, fire or the like.
NOTICE: For safety marking information including product
identification and supply ratings, please refer to the main
label on the bottom or the other surface of the product.
Caution: No naked flame sources, such as lighted candles,
should be placed on the apparatus.
yy The appliance is not intended for use by young children or
infirm persons without supervision.
yy Young Children should be supervised to ensure that they do
not play with appliance.
yy If the appliance is supplied from a cord extension set or an
electrical portable outlet device, the cord extension set on
electrical portable outlet device must be positioned so that it
is not subject to splashing (of water or any form of liquid) or
ingress of moisture.
RF Radiation Exposure Statement
This equipment should be installed and operated with minimum
distance 20 cm between the radiator and your body.

* Your assessment is very important for improving the work of artificial intelligence, which forms the content of this project