LG AFD-1200 Owner's manual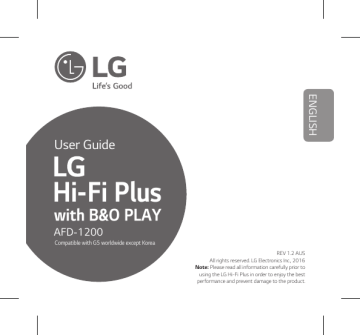 ENGLISH
User Guide
Hi-Fi Plus
with B&O PLAY
AFD-1200
Compatible with G5 worldwide except Korea
REV 1.2 AUS
All rights reserved. LG Electronics Inc., 2016
Note: Please read all information carefully prior to
using the LG Hi-Fi Plus in order to enjoy the best
performance and prevent damage to the product.
Product Overview
The LG Hi-Fi Plus is a 32-bit hi-fi digital-to-analogue converter (DAC) module that can be
attached to the bottom of your LG G5.
• You can enjoy a rich hi-fi sound by connecting your audio devices, such as headsets or
sound systems, to this 32-bit DAC.
• 32-bit high-quality audio content can be played in its original sound quality.
• The LG Hi-Fi Plus can upbit and upsample your existing audio content with less than
32-bit quality so that it plays closer to the originally intended sound.
2
Important Safety Information
• Always use genuine products. Do not use this product for any unintended purpose.
• Using or connecting products that are not genuine may shorten the product's longevity or
cause an explosion. Doing so may also damage the product and thereby void the service
warranty.
• If you insert a module that is not compatible with your service provider (for example, a
module bought from another service provider or in an area that is not covered by your
service provider), your device may not operate normally.
• Do not disassemble the product or allow anything to impact it. Doing so may cause an
electric shock, short circuit, or fire.
• Applying heavy pressure to the product may damage it.
• Some functions of this product may be damaged, or its appearance may become altered
or impaired if it is bent or crushed and not repaired.
• In order to prevent any damage, be careful to not drop the product on a hard surface or
subject it to a severe shock.
• Keep the product away from water, alcohol, benzene, etc.
• Do not use or store the product in environments with extreme temperatures. Do not
leave the product in direct sunlight for long periods of time. Doing so may cause damage
or an explosion.
• Do not use alcohol, benzene, thinners, or detergents to clean the product. Doing so may
cause a fire.
• Use a soft cloth to wipe the product.
3
• Keep the product out of the reach of small children and pets. Do not put the product in
your mouth or subject it to a severe shock. There is a risk of electric shock, explosion, or
suffocation.
• Do not connect or insert conductive materials (metal pieces, pencil leads, etc.) into the
connectors. (other than those described herein)
• Do not cover or wrap the product with a blanket while in use.
• The product may become hot after long periods of use. Avoid touching the product when
it becomes hot as it may cause a low-temperature burn.
• Do not dispose of the product as household waste. Doing so may cause a fire or damage
the environment.
4
Product Components
Cap
Pouch
LG Hi-Fi Plus
User Guide
OTG Cable
(USB Type-C to Type-B)
• Earphones not included. Sold seperatly.
• The cap of the LG Hi-Fi Plus is attached to the main unit of the LG Hi-Fi Plus when
packaged.
• If there are any missing components, contact the retailer where you purchased the
product.
• Some items are subject to change without prior notice depending on the circumstances.
• The appearance and specifications of the product are subject to change without prior
notice to improve performance.
5
Product Description
Hi-Fi Headset Port
Speaker
USB
Port
MIC
DAC Input USB Port
Some functions may not be available depending on the product specifications.
6
Connections
Inserting the Battery
1 Align the arrows on both the battery and the module and firmly connect the battery
terminals to the module.
2 Align the battery with the lower edge and carefully slide the module back into the device.
• Never press the Module Eject Key when inserting the module into the device.
• When inserting the battery into the device, make sure the battery is securely attached
to the module.
7
Removing the Battery
1 Press the Module Eject Key to partly eject the module from the device.
Module
Module Eject Key

2 Grip the middle of the ejected module and pull it out.
8
3 Hold the battery and the module with both hands and separate them from one another in
an outward arc (as indicated below) to disconnect the battery terminals.

• Do not detach the module while it is in use.
• Immediately attach the module to the main unit if it becomes loose or detached during
use.
• Be careful to not hurt your hands or fingers when attaching or detaching the module.
• Be careful to not be injured by the edges of the product or the module.
• Make sure the battery and the module are properly inserted. Otherwise, the product
may be damaged or fail to turn on.
• Failing to follow the instructions in this user guide may result in damage to the product.
9
Instructions
• This product will not operate normally if your G5 and LG Hi-Fi Plus are produced for
different countries or operators.
• While your earphones are connected to the LG Hi-Fi Plus, USB data communication and
high-speed charging are not available. (Hi-Fi features and charging are available.)
• While your earphones are connected to the LG Hi-Fi Plus, the audio cannot be adjusted in
Settings > General > Accessibility > Hearing.
• While the LG Hi-Fi Plus is attached to your LG G5, unplugging your earphones from the
LG Hi-Fi Plus while it is not in use will help reduce power consumption.
• 384 kbps hi-fi audio is supported. Power consumption will increase slightly when this
feature is in use.
• All sounds except for the ringtone and alarm will be blocked while playing DSD files
(.dff, .dsf). Your device will vibrate if you receive any notifications.
• If a Bluetooth® headset is connected during a call, the Bluetooth® device will be used
for the audio output. If there is not a Bluetooth® device connected, then any earphones
connected to your phone will be used for the audio output. If your earphones are
connected to only the Hi-Fi Plus, then those earphones will be used for the audio output.
• To play FM radio, connect your earphones to the earphone jack on the upper part of the
LG G5 to serve as an antenna.
• When your LG Hi-Fi Plus is attached to your G5 while your earphones are connected, any
voice or external audio will be recorded via the microphone on your LG Hi-Fi Plus when
recording voice or videos.
• The earphone lead call controls are not supported when you are connected through the
LG Hi-Fi Plus.
10
• You can use the hi-fi feature on phones other than the LG G5 using OTG cables.
If you connect OTG devices to an LG Hi-Fi Plus that is attached to an LG G5, the
OTG devices will not be recognised (OTG is not supported).
• If the LG Hi-Fi Plus is attached to a an LG G5 that was produced for North America, the
phone will not turn on.
PC Driver Downloads
• The LG Hi-Fi Plus can be connected to a PC once you download and install "Hi-Fi Plus PC
Driver.exe" from the LG Electronics website (Global: www.lg.com).
About Firmware Upgrades
• Firmware upgrades are available by downloading and installing "Hi-Fi Plus Manager.exe"
from the LG Electronics website (Global: www.lg.com).
• Firmware upgrades are also available using the LG Friends Manager app.
11
Specifications and Features
USB Type
USB 2.0 (Type-C)
Voltage
5 V ± 10%
Current Consumption
220 mA (with earphone jack), 3 mA (without earphone jack)
Headphone Jack
4 Pole / 3 Pole 3.5 mm
Audio
Speaker and digital MIC
Sound Pressure
1 m sound pressure 60 dB ↑ (100%)
*based on a full charge
Antenna
GSM/CDMA, WCDMA, LTE™
Operating Temperature
-20 °C – 40 °C
Dimensions/Weight
73.9 mm x 43.9 mm x 7.4 mm / 23.6 g
12
**** THIS DOCUMENT CONTAINS WARRANTY TERMS FOR AUSTRALIAN CONSUMERS. ****
Please disregard any other warranty terms provided with this product
LG MOBILE PHONE ACCESSORY
MANUFACTURER'S WARRANTY
Subject to the terms below, LG Electronics Australia Pty Ltd (LG) will for one (1) year from
the date of purchase, authorise a free of charge repair or replacement (at LG's discretion) of
your LG mobile phone accessory, if in LG's opinion, it needs repair because of a manufacturing
or materials defect appearing and notified to LG in accordance with this warranty, within such
period.
This LG manufacturer's warranty only applies to units purchased within Australia and New
Zealand and applies to the original purchaser only. Goods presented for repair may be replaced
by refurbished goods of the same type rather than being repaired. Refurbished parts may be
used to repair the goods.
Before you deliver your product for warranty service it is your responsibility to keep a separate
backup copy of the contents, because the data may be lost during repair of the product. You
are responsible for reinstalling all content including software programs, data and passwords.
Recovery and re-installation of software programs and user data are not covered under the
terms of this manufacturer's warranty.
This LG Manufacturer's warranty does not cover (a) cosmetic damage, accident, neglect,
improper storage, misuse, exposure to moisture and dampness or Act of God (b) improper
installation, unauthorised or external interference which is not the fault of LG.
13
PLACE OF SERVICE
Repairs under the terms of this warranty will be conducted at an LG Authorised Service
Centre. Transportation costs to and from the Service Centre are not covered by this Warranty.
OTHER RIGHTS
The benefits given by this LG manufacturer's warranty are additional to other rights and
remedies that you may have under law.
Australian consumers: Our goods come with guarantees that cannot be excluded under the
Australian Consumer Law. You are entitled to a replacement or refund for a major failure and
for compensation for any other reasonably foreseeable loss or damage. You are also entitled
to have the goods repaired or replaced if the goods fail to be of acceptable quality and the
failure does not amount to a major failure.
HOW TO CLAIM
To make a claim against this manufacturer's warranty, you must contact LG within one (1) year
of purchase on:
By telephone
Australia
1300 LG CARE (1300 542 273) 7 Days, 7am-7pm
New Zealand
0800 LG CARE (0800 542 273) 7 Days, 9am-9pm
14
By post (Australia Only):
Warranty Claims
LG Electronics Australia
PO Box 212
Horsley Park NSW 2175
When contacting LG for assistance please provide your name and address, model number,
serial number, date of purchase, and a complete description of the problem. This information
will help LG provide fast assistance.
LG Electronics Australia Pty Ltd (ABN 98 064 531 264)
2 Wonderland Drive, Eastern Creek NSW 2766
Australia
15
www.lg.com
Any modifications or changes to this manual due to typographical errors or inaccuracies
of stated information shall only be made by LG Electronics Inc.

* Your assessment is very important for improving the work of artificial intelligence, which forms the content of this project