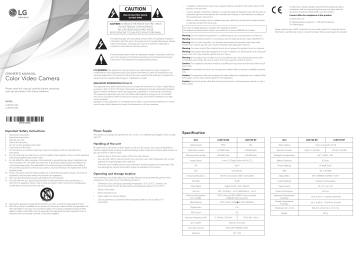 CAUTION
•
A suitable conduit entries, knock-outs or glands shall be provided in the cable entries of this
product in the end user.
•
Caution: Danger of explosion if battery is incorrectly replaced. Replaced only with the same or
equivalent type recommended by the manufacturer. Dispose of used batteries according to
the manufacturer's instructions.
RISK OF ELECTRIC SHOCK
DO NOT OPEN
•
CAUTION: TO REDUCE THE RISK OF ELECTRIC SHOCK
DO NOT REMOVE COVER (OR BACK)
NO USER-SERVICEABLE PARTS INSIDE
REFER SERVICING TO QUALIFIED SERVICE PERSONNEL.
LG Electronics hereby declares that this/these product(s) is/are in
compliance with the essential requirements and other relevant
provisions of Directive 2004/108/EC and 2011/65/EU.
Contact office for compliance of this product:
LG Electronics Inc.
Holes in metal, through which insulated wires pass, shall have smooth well rounded surfaces
or shall be provided with brushings.
This Class A digital apparatus complies with Canadian ICES-003.
Cet appareil numérique de la classe A est conforme à la norme NMB-003 du Canada.
EU Representative, Krijgsman 1,1186 DM Amstelveen,
The Netherlands
•
Please note that this is NOT a Customer Service contact point. For Customer Service
Information, see Warranty Card or contact the dealer that you purchased this product.
Warning: Do not install this equipment in a confined space such as a bookcase or similar unit.
This lightning flash with arrowhead symbol within an equilateral triangle is
intended to alert the user to the presence of uninsulated dangerous voltage
within the product's enclosure that may be of sufficient magnitude to
constitute a risk of electric shock to persons.
The exclamation point within an equilateral triangle is intended to alert the
user to the presence of important operating and maintenance (servicing)
instructions in the literature accompanying the product.
Warning: Wiring methods shall be in accordance with the National Electric Code, ANSI/NFPA 70.
Warning: This is a class A product. In a domestic environment this product may cause radio
interference in which case the user may be required to take adequate measures.
Warning: To reduce a risk of fire or electric shock, do not expose this product to rain or moisture.
Warning: The product has been dropped or the case is broken, turn off the power and unplug the
power cord. (This may cause fire, electric shock, or injury.)
Warning: If the product has no video out or sound, please stop using. Unplug the power cable
immediately and contact the service center. (This may cause fire or electric shock.)
Caution: This installation should be made by a qualified service person and should conform to all
local codes.
OWNER'S MANUAL
Color Video Camera
Please read this manual carefully before operating
your set and retain it for future reference.
MODEL
LCB5100-BN
LCB5100-BP
FCC WARNING: This equipment may generate or use radio frequency energy. Changes or
modifications to this equipment may cause harmful interference unless the modifications are
expressly approved in the instruction manual. The user could lose the authority to operate this
equipment if an unauthorized change or modification is made.
REGULATORY INFORMATION: FCC Part 15
Power Supply
1.
2.
3.
4.
5.
6.
7.
This camera must always be operated AC 24 V or DC 12 V. Certified/Listed Adaptor which comply
with LPS.
13. Unplug this apparatus during lightning storms or when unused for long periods of time.
14. Refer all servicing to qualified service personnel. Servicing is required when the apparatus has
been damaged in any way, such as power-supply cord or plug is damaged, liquid has been
spilled or objects have fallen into the apparatus, the apparatus has been exposed to rain or
moisture, does not operate normally, or has been dropped.
Caution: The apparatus shall not be exposed to water (dripping or splashing) and no objects filled
with liquids, such as vases, shall be placed on the apparatus.
Caution: Prevent the power cable from being severely bent or having pressure exerted on it by a
heavy object.
This equipment has been tested and found to comply with the limits for a Class A digital device,
pursuant to Part 15 of the FCC Rules. These limits are designed to provide reasonable protection
against harmful interference when the equipment is operated in a commercial environment.
This equipment generates, uses, and can radiate radio frequency energy and, if not installed
and used in accordance with the instruction manual, may cause harmful interference to radio
communications.
Operation of this equipment in a residential area is likely to cause harmful interference in which
case the user will be required to correct the interference at his own expense.
Important Safety Instructions
Read these instructions.
Keep these instructions.
Heed all warnings.
Follow all instructions.
Do not use this apparatus near water.
Clean only with dry cloth.
Do not block any ventilation openings. Install in accordance with the manufacturer's
instructions.
8. Do not install near any heat sources such as radiators, heat registers, stoves, or other apparatus
(including amplifiers) that produce heat.
9. Do not defeat the safety purpose of the polarized or grounding-type plug. A polarized plug
has two blades with one wider than the other. A grounding type plug has two blades and
a third grounding prong. The wide blade or the third prong are provided for your safety. If
the provided plug does not fit into your outlet, consult an electrician for replacement of the
obsolete outlet.
10. Protect the power cord from being walked on or pinched particularly at plugs, convenience
receptacles, and the point where they exit from the apparatus.
11. Only use attachments/accessories specified by the manufacturer.
12. Use only with the cart, stand, tripod, bracket, or table specified by the manufacturer, or
sold with the apparatus. When a cart is used, use caution when moving the cart/apparatus
combination to avoid injury from tip-over.
Caution: To avoid electrical shock, do not open the cabinet. Refer servicing to qualified personnel
only.
Handling of the unit
Be careful not to spill water or other liquids on the unit. Be cautions not to get combustible or
metallic material inside the body. If used with foreign matter inside, the camera is liable to fail or to
get cause of fire or electric shock.
•
•
•
Remove dust or dirt on the surface of the lens with a blower.
Use a dry soft cloth to clean the body. If it is very dirty, use a cloth dampened with a small
quantity of neutral detergent then wipe dry.
Avoid the use of volatile solvents such as thinners, alcohol, benzene and insecticides. They
may damage the surface finish and/or impair the operation of the camera.
Operating and storage location
Avoid viewing a very bright object (such as light fittings) during an extended period. Avoid
operating or storing the unit in the following locations.
•
Extremely hot or cold places (operating temperature -10 °C to 50 °C, however, we
recommend that the unit be used within a temperature range of 0 °C to 45 °C)
•
Damp or dust place
•
Places exposed to rain
•
Places subject to strong vibration
•
Close to generators of powerful electromagnetic radiation such as radio or TV
transmitters.
Specification
Item
LCB5100-BN
LCB5100-BP
Item
LCB5100-BN
LCB5100-BP
Signal System
NTSC
PAL
Video Output
Total Pixels number
520 000 Pixels
610 000 Pixels
Electronic Shutter
Effective Pixels number
480 000 Pixels
570 000 Pixels
Backlight Compensation
BLC / HSBLC / OFF
1 Vp-p Composite (75 Ω)
1/60 to 1/120 000
1/50 to 1/120 000
Image Sensor
6 mm (1/3 Type) Exview HAD II CCD
Motion Detection
8 Zones
ISP
XDI-V
Privacy Masking
14 Mask Zones
Lens
C/CS Mount
DNR
2D + 3D-DNR
Horizontal Resolution
650 TV Lines (Color), 700 TV Lines (B/W)
Digital Effect
OFF / MIRROR / ROTATE / V-FILP
S/N Ratio
50 dB
Control Method
Coaxial Communication
Day & Night
Digital (AUTO / DAY / NIGHT)
Power Source
DC 12 V / AC 24 V
Sens-up
OFF / AUTO(x2, ... x512) /MANUAL(x2, ... x512)
Power Consumption
240 mA
Minimum Illumination
(F1.2, 30 IRE)
0.03 lx (Sens-up Off ), 0.0003 lx (Sens-up Auto),
0.000 001 (Sens-up x512)
Operating Temperature/
Humidity
-10 ºC to 50 ºC / 0 % RH to 80 % RH
White Balance
ATW / AUTO / AWC/SET KEY /MANUAL
Storage Temperature/
Humidity
-20 ºC to 60 ºC / 0 % RH to 85 % RH
Digital Zoom
X16
Dimension (W x H x D)
68.6 mm x 54.0 mm x 121.5 mm
IRIS Control
DC
Weight
362 g
Scanning Frequency (H/V)
15.734 kHz / 59.94 Hz
15.625 kHz / 50 Hz
Sync. System
Internal / Line Lock
Auto Gain Control
OFF/ LOW/ MIDDLE/ HIGH
Exposure
ALC / ELC
TRX -
TRX +
TRX -
TRX +
Installation
4. Loosen the flange-back fixing lever. Up and down the flange-back adjusting
lever to obtain a focused point.
3. Install the camera and mounting arm.
TRX -
TRX +
TRX -
<To adjust the focus.>
TRX -
<To loosen the lever.>
C mount type
TRX +
2. Install the C or CS mount type lens.
TRX +
1. Install the camera and mounting bracket securely.
CS mount type
Note:
Turn off the camera essentially before the lens connection or replacement.
<ITALIANO>
Montare la videocamera alla staffa in maniera sicura.
<ITALIANO>
Installare un obiettivo di tipo C o CS.
<ESPAÑOL>
Monte la cámara y el soporte.
<ESPAÑOL>
Instale un objetivo C o CS.
<PORTUGUÊS>
Instale a câmera e o suporte de montagem firmemente.
<PORTUGUÊS>
Instale as lentes de montagem do tipo C ou CS.
<PYCCKNЙ>
Надежно установить камеру и монтажный кронштейн.
<PYCCKNЙ>
Установить оправы объектива типа C или CS.
<TÜRKÇE>
Kamera ve kamera bağlantı parçasını sağlam bir şekilde monte edin.
<TÜRKÇE>
C ve CS tipi lens takın.
Montare la videocamera al braccio.
<ESPAÑOL>
Monte la cámara y el brazo de soporte.
<PORTUGUÊS>
<PYCCKNЙ>
<TÜRKÇE>
Instale a câmera e o braço de montagem.
Установить камеру и монтажный кронштейн.
Kamera ve kamera bağlantı parçası kolunu monte edin.
Additional Information
Connections
1. Connect the display device.
<ITALIANO>
Lens iris output connector
2. Connect the power source.
<ITALIANO>
Allentare la leva per il fissaggio della flangia posteriore. Sollevare e
abbassare la leva di regolazione della flangia posteriore per ottenere
un punto di messa a fuoco.
<ESPAÑOL>
Afloje la palanca de fijación. Suba o baje la palanca de ajuste para
obtener un punto de enfoque
<PORTUGUÊS>
<PYCCKNЙ>
<TÜRKÇE>
Afrouxe o nivelador de fixação da flange traseira. Suspenda e abaixe o
nivelador de fixação da flange traseira para obter o ponto do foco.
Ослабить крепежные винты заднего фланца. Использовать
регулирующее кольцо заднего фланца для достижения точки
фокуса.
Flanş arka kolu tutan vidaları gevşetin. Flanş arka ayar halkasını
kullanarak odak noktasını belirleyin.
OSD Menu Control Buttons
Pin layout for the lens iris output connector.
2mm
No.
DC type lenses
1
Damping -
2
Damping +
3
Drive +
4
Drive -
BUTTON
Rewire the lens iris plug
<ITALIANO>
Collegare il dispositivo del display.
<ITALIANO>
Collegare l'alimentazione elettrica.
<ESPAÑOL>
Conecte el dispositivo de visualización.
<ESPAÑOL>
Conecte la fuente de energía.
8mm
<PORTUGUÊS>
<PYCCKNЙ>
<TÜRKÇE>
Ligue o visor.
Подключите устройство отображения.
Görüntüleme aygıtını bağlayın.
<PORTUGUÊS>
Conecte a fonte de alimentação.
<PYCCKNЙ>
Подключите источник питания.
<TÜRKÇE>
Güç kaynağını bağlayın.
UP
1. Cut off the plug of the lens cable, cut off
approximately 8 mm of the insulation, and then strip approximately 2 mm of
the ends of the cable sheaths.
DOWN
Description
Used to move upper direction on the menu screen. Use this
button to select an item or adjust the parameters.
Used to move lower direction on the menu screen. Use this
button to select an item or adjust the parameters.
2mm
RIGHT
Moves the cursor to the right. Used to increment the value
selected in the menu. The parameter changes each time this
button is pressed.
LEFT
Moves the cursor to the left. Used to decrement the value
selected in the menu. The parameter changes each time this
button is pressed.
2. Solder the ends of the cable wires to the ends of the pins, and then attach
the cover of the lens iris plug.
SET
Executes selections and displays a submenu for an item with the
mark.

* Your assessment is very important for improving the work of artificial intelligence, which forms the content of this project