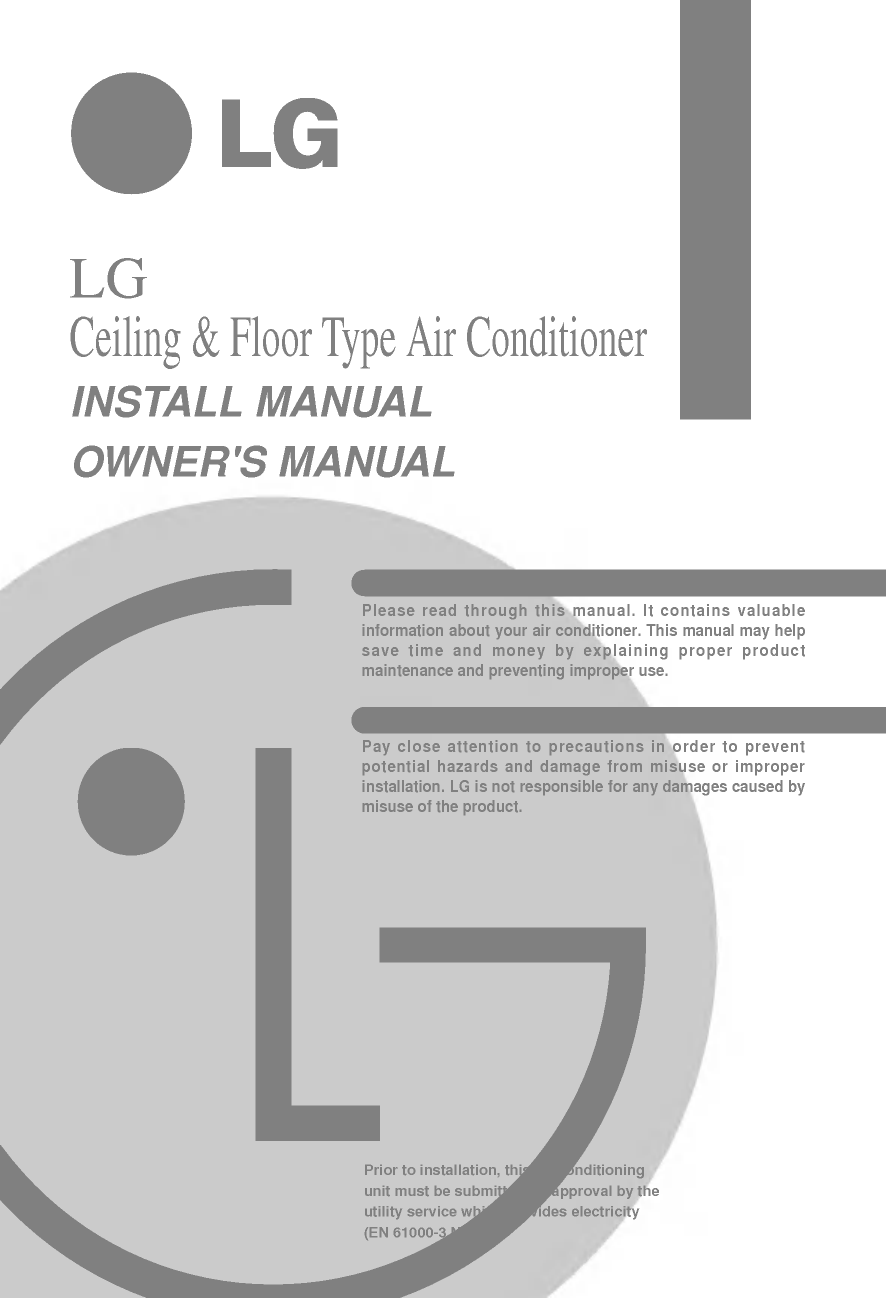 LG
Ceiling & Floor Type Air Conditioner
LG
INSTALL MANUAL
OWNER'S MANUAL
IMPORTANT
Please read
through this
manual. It contains valuable
information about your air conditioner. This manual may help
save time and money by explaining proper product
maintenance and
preventing improper
use.
PRECAUTIONS
Pay close attention to precautions in order to prevent
potential hazards and damage from misuse or improper
installation. LG is not responsible for any damages caused by
misuse of the product.
Prior to
installation, this air-conditioning
unit must be submitted for
utility
(EN
service which
61000-3
Norm.)
approval by the
provides electricity
F
1.
Safety Precautions
Your Records
or
Write the model and serial numbers here:
Model #
2.
a.
Operating
Instructions
Serial #
INSTALLATION START-UP AND
SERVICE INSTRUCTIONS FAN
COIL UNIT
You
can
find them
on a
label
on
the side of each unit.
Dealer's Name
b. REMOTE CONTROLLER
OPERATION
c.
d. MOUNTING BRACKET
e.
Date Purchased
REMOTE CONTROL FUNCTION
INSTALLATION, START-UP
AND SERVICE INSTRUCTIONS
CONDENSING UNITS
R ead This Manual
Inside you will find many
preventive
3. Care and Maintenance
helpful
hints
on
how to
and maintain your air conditioner properly. Just
care on
your
part
deal of time and money
can save
over
you
a
a
use
little
great
the life of your air
conditioner.
4.
Troubleshooting
You'll find many
chart of
answers
to
common
problems
If you review
troubleshooting tips.
our
in the
chart of
you may not need to call
Troubleshooting Tips first,
for service at all.
CAUTION
?
Contact the authorized service technician for
or
?
?
repair
maintenance of this unit.
Contact the installer for installation of this unit.
The air conditioner is not intended for
children
or
use
by young
invalids without supervision.
?
Young children should be supervised to
they do not play with the air conditioner.
?
When the power cord is to be replaced, replacement
work shall be performed by authorized personnel
ensure
that
only.
?
Installation work must be
performed
in accordance
with the national
standards
by
personnel only.
wiring
authorized
Safety
Precautions
Precautions
To
prevent injury and property damage, follow these instructions.
Incorrect
indicated
operation due to ignoring instructions
by the following symbols.
will
cause
WARNING
This
symbol
shows the
CAUTION
This
symbol
indicates the
Installation
harm
or
possibility
the seriousness of which is
damage,
of death
possibility
of
or
injury
serious
or
injury.
to
damage
property.
precautions
WARNING
WARNING
Do not
?
?
install, remove and reinstall the unit by yourself.
Improper installation will cause water leakage, electrical shock, or fire. Please consult
authorized dealer or specialist for the installation work. Please note fault caused by improper
installation is not covered by warranty.
Unit must be installed in an easily accessible area. Any additional cost required to hire a
special equipment to service the unit will be the responsibility of the customer.
WARNING
WARNING
Do not insert hands
Discharge
conditioner is
It will
?
Do not
through
Grille when the air
not
step on the unit and do
put anything on it.
Do not
operate with
wet hand.
operating.
cause an
injury by the
?
It may
cause an
injury.
?
It will
cause
electrical shock.
fan.
When the air filter is to be
When the unit is not
not touch the
removed, do
moving parts or electric
long time,
going
to be used for
a
turn off the circuit breaker.
parts of the unit.
?
?
It may cause an injury.
Besure to disconnect all electric power
before filter cleaning.
When
an
abnormality (smell
of
?
abnormal
operate in an
condition, it may cause fire,
damage,
etc. In this case, consult your
cause a
fire.
Repair or relocation should not be done
the customer.
burning,
occurs, stop the air conditioner and
turn off the circuit breaker.
etc)
?
If not, dirt may collect and
If the unit continues to
?
If these
are
done
incorrectly,
it may
cause a
fire, electric shock, injury. Consult your
dealer.
dealer.
3
by
CAUTION
CAUTION
?
Contact the authorized Service technician for
?
Contact the installer for installation of this unit.
?
The air conditioner is not intended for
repair
by young
use
or
maintenance of this unit.
children
or
infirm persons without
supervision.
Young
?
children should be
supervised
to
ensure
that
do not
they
play
with the air conditioner.
CAUTION
CAUTION
Do not clean the air
Ventilate well when used
conditioner with water.
together with
a
When the unit is to be
switch
stove, etc.
off,
cleaned,
and turn off the
breaker.
?
Water may enter the unit and
degrade the insulation. It may
cause an electric shock.
Do not
put
pet
a
where will be
or
house
exposed
?
An oxygen
Do not
plant
to direct
or
shortage
apply
may
occur.
?
high
it may
Do not leave
insecticide
an
Since the fan rotates at
speed during operation,
cause an injury.
flammable spray.
on
stand which is
installation
damaged.
air flow.
?
This could
injure
the
pet
?Itmaycauseafireor
or
Do not
is
?
deformation of the cabinet.
plant.
put
stove, etc. where
a
exposed
When the unit is not
to direct air flow.
be used for
a
The unit may drop or fall down
and cause an injury.
Do not
going to
long time, turn
not
step on the unit and do
put anything on it.
off the breaker.
?
It may cause
combustion.
imperfect
It may
?
operate for a long time
high humidity, e.g. leaving a
door
?
or
In the
?
It may
cause an
dropping
Do not
in
injury.
cause an
Do not
window open.
or
Do not
onto an unstable
bench when
step
falling
use
injury through
down.
for
special
purposes.
attaching/detaching the panel.
if it is
cooling mode,
operated in a room with high
humidity (80%r.h. or more) for a
long time, water condensed in
the air conditioner may drop
and may wet and spoil furniture,
?
It may case
down.
an
injury,
etc.
by
?
Do not
use
this air conditioner
precision devices,
food, animal, plants and art
to preserve
falling
objects.
It may
cause
quality,
deterioration of
etc.
etc.
If the supply cord is damaged, it must
be replaced
When the air filter is to be
by a special cord or
removed, do not touch the
metal parts of the unit.
assembly availible from the
manufacturer of its service agent.
?
If will
cause
electrical shock
or
?
It may
cause an
fire.
injury.
Do not insert hands
vanes
operating.
?
It will
cause an
rotating
4
through
when the air conditioner is
blower.
injury by the
INSTALLATION START-UP AND SERVICE
Operating
INSTRUCTIONS FAN COIL UNIT
Instructions
Safety
considerations
Installation and
servicing of air conditioning equipment can be hazardous due to system pressure and electrical
components. Only trained and qualified personnel should service equipment. When working on air conditioning
equipment observe precautions in the literature and labels attached to the
may apply. Follow all safety codes. Wear safety glasses and work gloves.
operations. Have a fire extinguisher available for all brazing operations.
Warning
Before
unit and other
Use
safety precautions
quenching cloth for brazing
that
!
service
performing
or
maintenance
operations
indoor and outdoor unit. Electrical shock could
cause
on
the
system,
turn off the main power switches to the
personal injury.
Initial check
(1) The carton should not be removed from unit until reaching final location to avoid damage.
(2) Inspect unit for shipping damage and file a claim the transport agency if necessary.
(3) Check field electrical works:
(A) Proper size of fuses and wire, correct wiring connections and grounding as specified by
the local electrical
codes.
(B)
(4)
(5)
(6)
Also check
Check for
Be
sure
a
piping
Confirm there
for
servicing
Location &
(1)
(2)
supply voltage.
Which must be within the limits shown
on
the
nameplate.
proper condensate flow.
insulation is
are no
adequate.
obstructions to air flow for indoor and outdoor units. Also check for sufficient clearances
of the units.
Mounting
Unit should be installed for horizontal and vertical
discharge application only.
equipped with two (2) bracket hangers for mounting the unit under ceiling,
on a wall as well as a packet containing a bracket for mounting the remote control unit.
(3) Prepare the mounting bolt (1) at the distance specified in fig.1
(4) Fasten the bracket-hanger (2&3) to the mounting bolt with washers and nuts.
The unit
comes
or
Fig.
Dim
Model
(mm)
ABC
36K Btu
1605
235
1440
48K, 60K Btu
1905
270
1740
1
(5)
Remove unit from carton and
all the four
tightening
(4)
bolts
the four
in the
are
(4)
carefully place the unit mounting bolts into the bracket-hanger's slot and after
slots, push the unit backward slowly. Secure the unit on the bracket-hanger by
bolts.
Condensate drain
(1) Be sure the unit is reasonably level and pitched toward the drain to ensure proper drainage.
(2) Piping material
(A) Soft vinyl chloride pipe 22mm nominal pipe size.
(B) Hard vinyl chloride (PVC) coupling 22mm nominal pipe size.
(3) Connect the soft hard vinyl chloride pipe to the coupling, see fig.4
(4) The indoor unit uses gravity to drain; therefore the piping outside the unit should slope downward.
(5) "Important" avoids draining as shown in fig.5
Fig.
2
Fig.
3
Refrigerant piping
(1)
Connections to the indoor unit
are
flared connection.
liquid line
joints
fitting are in line with one another before tightening nut to provide concentric seating of
tube on fitting to prevent leakage.
(2) The liquid line and suction line should be run according to piping design as shown in fig.4
(3) Brazing should be performed with a constant purge of nitrogen through the piping. This is to keep inside of
tubing clean.
(4) Insulate suction and liquid line separately to prevent sweating
(1.1)
(1.2)
Make flared
for both suction and
.
Ensure tube and
.
Fig.
NOTE: The
(5)
piping
may also be
run
around the
rear
of the unit
so as
to exit
on
4
the left Hand side.
Use two spanners to connect the flare nut connection to the indoor unit. See
fig.5
Fig.
5
(6)
Permissible piping for recommended combinations.
(A) Total maximum of up to 20m.
(B) Limit the number of bends in piping to less than 8.
(C) Piping fall, up to 15m see fig.6
(D) Piping head up to 8m see fig.6
(7)
Gas leak test.
Check all the brazed and flare connections for gas leaks.
Fig.
Electrical
6
wiring
(1) Be sure to supply power from a dedicated power outlet.
(2) Wiring should be made in accordance with the applicable local codes.
(3) Ground both indoor and outdoor units.
(4) Check for correct correspondence in terminal numbers between the indoor
(5) Indoor wiring connections.
and the outdoor units.
Fig.
Refer to
wiring diagram
7
for the wire connections.
Important
(1)
(2)
(3)
Secure the cables with
a
Authorized electricians
can
cable
clamp
after
execute power
connecting them
cabling only.
to the terminal block.
The remote controller is located inside the unit behind the return air filter.
Installation
When
(1)
mounting
Select
a
the indoor unit
location that
on
permits
the
ceiling,
floor
or
wall follows the instructions below:
the air current to circulate
evenly throughout the
GOOD LOCATION
BAD LOCATION OBLIQUE-LENE
EVENLY COOLED
AREA ARE NOT WELL-COOLED
room.
Fig.
8
(2)
(3)
Service space when the unit is mounted under the
300
300
mm
mm
Service space when the unit is mounted
Air flow direction
(1)
To
(2)
To
on
ceiling.
Start-up
(1) Following
9
Fig.
10
the floor/wall.
adjustment
adjust the upward/downward direction of the air current, move the horizontal
louver is not positioned so as to completely cut off the air flow from the unit.
adjust the
Fig.
louver. Careful to
ensure
the
lateral direction of air currents activate the air sweep motor.
instruction
are
the
(2)
Please refer to
(3)
Caution R22
only approved
condensing
charging:
combinations.
unit I.O.M. for full start
Please refer to the
-
up instructions
appropriate condensing
.
unit installation and instruction manual.
Fig.
Filter removal for
cleaning
(1) Push down on clip at the top of the grill.
(2) Swing down the grill on the hinge and remove
the filter for
cleaning.
11
Operating
REMOTE CONTROL OPERATION
Instructions
ON/OFF
TRANSMISSION SOURCE
Press button to set timer mode.
Used for
the air
sending control signal
conditioning unit.
to
HOUR BUTTON
Press button to increase the time
1 hour
a
TIMER
FAN
step (24 hours).
COOL
HEAT
HR.
SWING
Press button to increase the time
10 minutes
a
OFF
LCD DISPLAY
CLOCK
MINUTE BUTTON
and 1 minute
ON
FAN COOL
SWING
step in timer mode
a step in real time
AUTO
SLEEP
FAN BUTTON
SLEEP
Press button to select low, Medium,
High or Auto speed.
TIMER
clock.
LOW
MED
FAN
ON
HIGH
OFF
AU TO
WARM BUTTON
Press button to increase
temperature 1°C
a
HOUR
MODE
E
M
WARM
HEAT
Press button to select Cool, Fan
Heat mode.
COOL
P
SWING
ON/OFF
step
ON/OFF BUTTON
(Min. 15°C).
Pressing this button will turn
conditioning unit on or off.
the air-
SWING BUTTON
Air distributor in all modes.
SLEEP BUTTON
Sleep mode will automatically
adjust temperature and save
energy when you are sleeping.
LCD DISPLAYS
TIMER
MODE
FAN, COOL,
FAN
COOL
HEAT
ON
OFF
TIMER ON/OFF
HEAT
CLOCK
SIGNAL SENDING
CLOCK
HR.
SET TEMP
AUTO
HOUR & MINUTE
SWING
SLEEP
FAN SPEED
SWING
or
SLEEP
Press button to decrease
a
FAN
T
(Max. 30°C).
COOL BUTTON
temperature 1°C
MODE BUTTON
COOL
MIN
step
SLEEP
AUTO
LOW-MED-HI
9
Operating
REMOTE CONTROL FUNCTION
Instructions
1. ABBREVIATION
Ts
:
Tr
Ti
:
:
Setting Temperature
Temperature
Room
Indoor defrost
temperature
sensor
2. OPERATION OF MAIN BOARD
2.1 COOL MODE
?
If Tr
operation is activated. Compressor and outdoor fan are turned on. Indoor fan is started at the
speed.
If Tr ≤ Ts-1°C, cool operation is terminated. Compressor and outdoor fan are turned off. Indoor fan keeps
running at the set speed.
>
Ts cool
previously
?
?
?
set
The range of Ts is 15~30°C.
Indoor fan
2.1.1
speed
can
be
Delay protection
adjusted
for
low, medium, high and
of compressor in normal
3 minutes before it is turned
on or
auto.
operation.
off
2.1.2 Indoor de-ice
This process is checked
(Ti). After the compressor has
continuously, compressor and outdoor fan
are turned off. Indoor fan keeps running at the set speed. When Ti ≥ 8°C or indoor de-ice
operation is on for more than 8 minutes, system will return to normal operation.
worked for 45
by the
minutes, if Ti
indoor defrost
sensor
≤ 0°C for 3 minutes
2.2 FAN MODE
?
Indoor fan
runs
?
Indoor fan
speed
at the set
can
2.3 HEAT MODE
?
If Tr
<
be
speed
while compressor and outdoor fan
adjusted
for
(Heat Pump
model
If Tr. ≥ Ts + 1°C, heat operation is terminated. Compressor
keeps running approximately 100 seconds.
?
The range of Ts is 15~30°C.
?
Indoor fan
turned
and outdoor fan
speed can be adjusted for low, medium, high and auto.
Compressor will delay for 3 minutes before it is turned on or off.
2.3.1
are
on.
The indoor fan is started
10 seconds later.
?
?
turned off.
only)
Ts, heat operation is activated. Compressor and outdoor fan
approximately
are
low, medium and high. The initial speed is medium.
Delay protection
of compressor in normal
3 minutes before it is turned
on or
off.
operation
are
turned off. The indoor fan
2.3.2 Outdoor de-ice
After 45 minutes of continuous
Compressor,
After 90 seconds
de-ice
heating operation,
outdoor fan and indoor fan
operation.
if To ≤
-8°C, the outdoor de- ice operation is activated.
turned off.
are
4 way valve will be turned off, 5 seconds later, the compressor is turned on for the
If To ≥ 8°C or 8 minutes has elapsed, the de-ice operation will be terminated. Then, the
delay,
compressor is turned off. After 90 seconds delay, 4 way valve is turned on. 5 seconds later, compressor and
outdoor fan are turned on for return to normal operation. Indoor fan starts after 15 seconds has elapsed.
ON
DE-ICE
OFF
ON
4WV
OFF
COMPRESSOR
OUTDOOR FAN
INDOOR FAN
90 SEC
90 SEC
90 SEC
5 SEC
>=
45 MINUTE
5 SEC
ON DE-ICE
OUTDOOR TEMP
<=
<=
PRE HEAT
15 SEC
8 MINUTE
-8 DEGREE
ON DE-ICE MODE
OUTDOOR SENSOR
ON DE-ICE
2.3.3
High
If Ti
>
56°C, the outdoor fan is turned off, After that, if Ti
If Ti
>
62°C, the compressor is turned off.
pressure
=
=
8 DEGREE OR
8 MINUTE OFF DE-ICE MODE
protection
<
53°C, the system will
Compressor
Outdoor Fan
(High
pressure
start
again.
OFF
OFF
protection)
62°C
Temp decreasing
Compressor
ON
Outdoor Fan
OFF
Compressor
Outdoor Fan
(High
pressure
ON
ON
protection)
56°C
53°C
Compressor
ON
Outdoor Fan
ON
Normal
Operation
Zone
Compressor
ON
Outdoor Fan
ON
Normal
Operation
Zone
2.3.4 Pre heat and Post heat
These processes will
operate
10 seconds for pre heat and 100 seconds for
post heat.
Temp increasing
2.3 TIMER
?
Timer off
?
Timer
?
The maximum set time is 24 hours.
?
Changing
can
on can
only
only
be set when the
system is operating.
be set when the
system is off.
of On/off State will cancel timer mode.
2.4 SLEEP MODE
mode
Sleep
?
In cool
mode, after sleep mode is set, Ts will increase 1°C each hour for
?
In heat
mode, after sleep mode is set, Ts will decrease 1°C each hour for
?
Changing
of
can
only
be set in cool and heat mode.
?
operation
mode will cancel
sleep
2 hours.
2 hours.
mode.
°C
Ts
Tr=Ts-1
Tr=Ts-2
HEAT MODE
COOL MODE
Time
START
SLEEPMODE
1 Hr
2 Hrs
Tr=Ts+2
Tr=Ts+1
Ts
2.6 AUTO SPEED
?
In cool
mode, if Tr-Ts
if 2°C
<
if Tr-Ts
<
2°C, indoor fan is run at low speed.
< 3°C, indoor fan is run at medium speed.
3°C, indoor fan is run at high speed.
Tr-Ts
>
ROOM SENSOR
(Tr)
HIGH SPEED
Tr=Ts+3
MEDIUM SPEED
Tr=Ts+2
LOW SPEED
Tr=Ts
?
In heat
mode, if Ts-Tr
if 2°C
<
if Ts-Tr
<
2°C, indoor fan is run at low speed.
< 3°C, indoor fan is run at medium speed.
3°C, indoor fan is run at high speed.
Ts-Tr
>
ROOM SENSOR
(Tr)
Tr=Ts
LOW SPEED
Tr=Ts-2
MEDIUM SPEED
Tr=Ts-3
HIGH SPEED
?There is
no
auto fan
2.7 SWING
?
speed
in fan mode.
(SYNCHRONOUS MOTOR)
If the indoor fan is
operating,
the louver will
swing
or can
be
stopped
at
a
preferred
location in any mode.
2.8 BUZZER
?
If
a
command is
received, the system will respond with
a
beep.
2.9 AUTO RESTART
The
system uses non-volatile memory to save the present operation parameters when
system is turned off or in case of system failure or cessation of power supply. Operating
parameters are mode, set temperature, and fan speed. When power supply resumes or the
system is switched
on
again,
the
same
operation parameters,
as
previously
set will function.
3. OPERATION OF CONTROL PANEL ON FLOOR CEILING UNIT
3.1 SLIDE
?
This is
In cool
double-position
turneing the system
before
position
?
mode, the
timer and
?
SWITCH(Heat Pump
In heat
model
only)
slide switch. One
a
sleep
sleep
is for cool mode and the other for heat mode. Select
on/off button.
temperature of the system is 25°C with medium fan speed and swing. There
set
temperature of the system is 20°C with medium fan speed and swing. There
modes.
3.2 ON/OFF BUTTON
?
This is
?
Every
a
light touch
button.
press of this button will turn the
3.3 RED LED LIGHT
?
When
?
If timer
?
When IR
system
on or
is
-
operating,
off is set, the
signal
are no
modes.
mode, the
timer and
set
position
by pressing
on
is
system
on or
off.
SYSTEM
the
light
light
will blink
is
on.
When
on
received, the light blinks
system is off, the light is off.
1 second and off 3 seconds.
once.
are no
3.4 GREEN LED LIGHT
-
COMPRESSOR
?
When the compressor is on, the
?
When the compressor is
?
light
is
on.
off, the light is off.
When de-ice function is activated, the light blinks
on
1 second and off 1 second.
4. OPERATION OF REMOTE CONTROL HAND SET AND DISPLAY
4.1 ON/OFF BUTTON
?
Every
press of this button will turn the air
?
When
?
When
pressed on,
pressed off,
the
conditioning
unit
on or
off.
system will operate and display all characters
the characters
disappear.
Clock
on
the LCD.
displays normally.
4.2 MODE BUTTON
?
Every
button press will
follows
change
the
operation
mode and
COOL
?
corresponding sign
LCD
on
display
in sequence
as
:
Each mode has
a
FAN
memory which records the
HEAT
previous operating
fan
speed
and set
temperature.
4.3 FAN BUTTON
?
Every
button press will
follows
change
the fan
AUTO
?
speed
and
corresponding sign
on
LCD
display
in sequence
as
:
There is
no
auto fan
speed
LOW
MED
HIGH
in fan mode.
4.4 SWING BUTTON
?
Press this button to turn
louver in the
preferred
on
swing
mode. LCD
displays
the
corresponding sign.
Press it
again
to
stop the
air distribution location.
4.5 SLEEP BUTTON
?
Press this button to turn
and clear the
on
sleep
function. LCD
displays
the
corresponding sign.
Press it
again
to turn off
sign.
4.6 WARM BUTTON
(TEMP UP)
?
Only available in cool
display the value.
mode. Each press of this button will increase set
?
The maximum
?
This button is disabled in fan mode.
setting temperature
is 30°C.
temperature 1°C and LCD will
4.7 COOL BUTTON
(TEMP DOWN)
?
Only available in cool
display the value.
mode. Each press of this button will decrease set
?
The minimum
?
This button is disabled in fan mode.
setting temperature
temperature 1°C and LCD will
is 15°C.
4.8 TIMER BUTTON
?
TIMER ON: Can
system is off. After pressing timer button, LCD display is changed from
display the last setting. Please set time on by pressing hour and min buttons. When
the set number elapses, the system will start and the LCD will display the set memory for fan speed, mode,
and set temperature. The clock displays normally.
TIMER OFF: Can only be set when system is on. After pressing timer button, LCD display is changed from
clock to timer and will display the last setting. Please set time off by pressing hour and min buttons. When
the set number elapses, the system will stop except for the clock which displays normally.
When timer mode is activated. The colon mark between hour and minute display will not blink.
only
be set when
clock to timer and will
?
?
?
Setting
timer for less than 1 hour
or
changing
of on/off state will cancel timer mode.
4.9 HOUR BUTTON
?
This button is for timer mode and clock
?
Each press of this button increases the clock
setting.
or
timer
by
1 hour.
4.10 MIN BUTTON
?
This button is for timer mode and clock
?
Each press of this button increases the timer
setting.
by
10 minutes and the clock
by
1 minute.
4.11 BATTERY COMPARTMENT
?
When batteries
(AAA or LR03) are getting weak, please insert the new ones carefully. Remote controller will
display all the characters on the LCD. After one second, all characters will disappear, remote
controller is idle and clocks digits blink 00:00.
Please set the clock after changing the batteries by pressing hour & min buttons.
Confirm by pressing timer button to check if the clock is correct.
self-test and
?
**IMPORTANT NOTE**
The IR
signal
can
be received at
an
effective distance of 8 meters, at
an
angle
of 30°
or
by
reflection.
Operating
MOUNTING BRACKET
Instructions
REMOTE
120
38
mm.
50
mm.
32
mm.
MOUNTING BRACKET
mm.
SCREW
55
22
mm.
Mount the remote control
remote control
on
the
mm.
mounting bracket on a wall convenient for
mounting bracket as shown above.
user
and fix the
INSTALLATION START-UP AND SERVICE
Operating
INSTRUCTIONS CONDENSING UNIT
Instructions
Installation
1-
Step
Complete pre-installation
checks.
Unpack unit Move unit to its final location, remove the carton from unit being careful not to damage the service
valves and grilles.
Inspect shipment File a claim with the shipping company if the shipment is damaged or incomplete.
Consider system requirements Consult the local building and national electrical codes for any special
installation requirements. Allow sufficient space for air flow clearance, Wiring refrigerant piping and servicing the
unit. See fig.12. Locate the unit so that the condenser's air flow is unrestricted on both sides. Refer to fig.13. The
unit may be mounted on a level pad directly on its base legs or mounted on raised pads at the support points.
-
-
-
2
Step
Rig
-
and mount unit
Mounting on ground Mount on a solid, level, concrete pad. Position unit so water or ice from the roof cannot
drop directly onto the unit. If local codes require the unit be fastened to the pad, tie down bolts should be used
and fastened through the slots provided in the unit's mounting feet. Mounting on roof Mount on a level platform
or frame. See fig.13.
-
-
Rigging
Be
sure
unit
panels
are
securely
in
place
to
rigging.
Keep unit upright lift unit using slings. Use cardboard or padding under sling, and spreader bars to prevent any
sling damage to the unit. Install the unit so that the coil dose not face into prevailing winds. If this cannot be done
and constant winds above 22 Km/hr are expected use a win baffle.
20
cm.
(or over)
20
20
cm.(or over)
20
cm.
12
Fig.
13
cm.(or over)
20
20
Fig.
20
cm.
cm.
cm.
Normal Ground
Wall
3
Step
condensing units may
refrigerant grade, size and
If
meter of line set
one
more
be connected to the
condition. Do not
underground.
length is
than the recommended
extended
connections.
evaporator section using. Field
Installation
Complete refrigerant piping
-
The
than
Hanging Type
periods
of unit shutdown. This
use
less than 3m of
supplied tubing of the current
interconnecting tubing and do not bury more
-
buried the
causes
refrigerant may migrate to the cooler buried section during
refrigerant slugging and possible compressor damage at
start-up.
When
of
is
more
liquid lift
exposed
than 20m of
inter-connecting tubing
and
or more
eliminate contamination and moisture in the
so
used, consider the
system. Run the refrigerant tubes
amount
as directly as possible, avoiding
they do not damage insulation on the vapour
passing refrigerant tubes though the wall, seal the
Leave some slack in refrigerant tubes between the
unnecessary turns and bends. Suspend the refrigerant tubes
tube and do not transmit vibration to the structure. Also when
opening
than 8m vertical lift all is
and compressor oil return or contact your local distributor. If either the refrigerant tubing or indoor coil
to atmospheric conditions for longer than 5 minutes, it must be evacuated to 1,000 microns to
vibration is not transmitted to the structure.
structure and unit to absorb vibration refer to
so
evaporator installation instruction for additional information.
A filter drier
Should be installed
-
installed at the indoor unit for
necessary to
Make
Do not
use.
piping
size
receiver
(a
liquid
line shut-off valve. This condition for the
unit, capillary tube has installed
receiver is not
provided
at the outdoor
with the unit and
one
unit,
capillary tube
so
has
it's not
should not be
used.)
are equipped with flare connections which are closed off in
refrigerant grade tubing. Assemble flared joint by aligning the tubing
the machined surface of the fitting. Start nut onto threads by backwards first and then forwards. Use correct
tubing see table 1. And wrenches. Tighten nut securely. Leaks test the joint to ensure it is leak free.
factory
with
use a
after the
just
standard
flare connections
Both the suction and
the
our
and
Step
4
Power
wiring
-
ready
liquid
connections of the units
for connection. Use
Complete
electrical connections
factory wired for the voltage shown on the nameplate. Provide an adequate fused
sight of unit, readily accessible, but out of reach of children. Provision for locking switch
open (off) is advisable to prevent power from being turned on while unit is being serviced. Disconnect switch,
fuses, and field wiring must comply with local code requirements. Use copper wire only between disconnect
switch and unit. Use minimum 60 deg.C wire for field power connection.
Route power wires through the opening in unit's side panel and connect to the unit control box as shown on the
unit's label diagram unit must be grounded. Control circuit wiring The control voltage is 220 volts. See wiring
diagram and unit label. Route the control wires through the opening in the unit's side panel to connect into the
-
The unit is
disconnect switch within
-
unit control box.
Start-up
Preliminary
[1]
[2]
[3]
[4]
checks
Check that all internal connections
The field electrical power
source
are
tight
and that all
barriers,
must agree with the unit
covers
and
panels
are
in
place.
nameplate rating.
All service valves must be open.
Crankcase heater
(where supplied) must be tight on the compressor crankcase.
piping and fan coil by pressure method. Use R-22 at approximately 170 Kpa backed up with an
inert gas to a total pressure not to exceed 1690 Kpa.
Evacuation and dehydration of the field piping and fan coil is necessary service valves must be fully
back-seated to close the service port. There is no valve at the service portend failure to back-seat the valve
could result in s loss of the system charge or personal injury.
To start unit Ensure that the crankcase heater ( where supplied) has been on for 24 hours, the field disconnect
Leak test field
-
is closed and the
room
minute
delay. Operate
charging.
thermostat is set below ambient
the unit for 15
temperature, the unit compressor will start after a
minutes, then check the system refrigerant charge. See refrigerant
3
Service
Before
performing
may result in
an
recommended
electric shock
or
maintenance, be
injury
from the
sure
rotating
the unit main power switch is turned off failure to do
fan blade.
so
A
high pressure relief valve is located in the compressor. The relief valve opens at a pre-set pressure
differential between suction (low side) and discharge (high side) to allow pressure equalization.
The internal current and
temperature sensitive overload resets automatically when the internal compressor
(overload may require up to 45 minutes to reset).
of being open, check by using an ohm-meter for continuity test. If
necessary, refer to your local distributor for complete information.
Pump-down procedure The system may be pumped down in order to make repairs on the low side without
losing the complete refrigerant charge.
[1] Attach a pressure gauge to suction service valve gauge port.
[2] Frontseat (close) the liquid lines valve.
[3] Start unit and run until suction pressure reaches 35 Kpa.
[4] Shut unit off and frontseat (close) suction valve.
[5] Vent remaining pressure.
motor
temperature drops
When
an
to
a
internal overload is
-
safe level
suspected
TABLE 1
:
CHARGING TABLE
RECOMMENDED PIPE SIZE
MODEL
Suction
Liquid
36K Btu
3/4"
3/8"
48K Btu
3/4"
1/2"
60K Btu
3/4"
1/2"
High-pressure switch, located on the discharge line, protects against high discharge pressure caused by such
as overcharge, condenser fan motor failure, system restriction, ect. it opens at a preset pressure rise. If
the system pressures go above the setting during abnormal conditions, the switch opens.
Service valve The service valves in the condensing unit come from the factory closed. This means the
refrigerant charge is isolated from the line side of the connection ports.
The service valves must be open (turned counter clockwise until seated) before the service port caps can be
removed and the hoses of the gauge manifold connected. in this position, the refrigerant has access from and
through the outdoor and indoor unit. The service valve can not be field repaired, there fore only a completed
valve or valve system and service caps are available for replacement Defrost control The control consists of a
defrost thermostat (and optional control board, depending on the type of remote control supplied). It Interrupts
the normal system heating operation to defrost the outdoor coil if the coil saturated suction temperature indicates
freezing temperatures
Defrost control simultaneously stops the outdoor and indoor fans and energizes the reversing valve solenoid to
return the system to the cooling cycle (outdoor unit as a condenser, indoor unit as evaporator). The defrost timer
(optional) limits defrosting. Normally the frost is removed and the defrost thermostat contacts open to terminate
defrosting before the maximum allowable time has elapsed. When defrosting is terminated, the outdoor and
indoor fan motors are energized, and the reversing valve solenoid is de-energized returning the unit to the
heating cycle.
Reversing valve in heat pumps, the change-over between heating and cooling modes is accomplished with a
valve that reverses the flow of refrigerant in the system. The reversing valve solenoid can be checked when the
power is off with an ohm-meter. Check for continuity and shorting to ground. With the control circuit (220-240V)
power on, check for the correct voltage at the solenoid coil. Check for a burned or overheated solenoid. With the
unit operating, other items can be checked, such as frost or condensate water on the refrigerant lines. Using a
remote measuring device. check the inlet and outlet line temperatures. Do not touch the line. If the reversing
valve is operating normally, the inlet and outlet temperatures on the appropriate lines should be close Any
difference would be due to heat loss or gain across the valve body. Temperatures are best checked with a
remote reading electronic-type thermometer with multiple probes. Figures 14 and 15 show test points (tp) on the
reversing valve for recording temperatures. insulate points for a more accurate reading. It the valve is defective;
shut-off all power to the unit and remove all charge from system. Remove the valve using a tubing cutter.
Wrap the new valve with a wet rag to prevent overheating while brazing.
events
-
To accumulator
To accumulator
To outdoor coil
TP-4
TP-3
TP-2
From indoor coil via
service valve on
outdoor coil
From outdoor coil
TP-4
TP-3
To indoor coil via
service valve on
outdoor coil
Insulate
TP-2
for accurate
reading
Insulate
for accurate
TP-1
reading
From compressor
line
discharge
Fig.
14
-
solenoid
in, check for leaks,
cool modes several times to be
sure
From compressor
line
discharge
Reversing valve
(cooling mode or defrost mode,
After the valve is brazed
TP-1
Fig.
energized)
evacuate and
the valve functions
15
-
Reversing valve
(heating mode, solenoid de-energized)
charge system, Operate
properly.
the
system in bath heat and
Refrigerant Charging
To
prevent personal injury, wear safety glasses and gloves when handling refrigerant. Do
system. This can cause compressor flooding.
not
overcharge
When re-charging is necessary during the heating season, weigh in the total charge as indicated in the charging
table. Remove any refrigerant remaining in the system before re-charging. If the system has lost the complete
charge, evacuate and re-charge by weight. Service port connection.Are provided on the liquid and suction line
service valves.
Maintenance
Before
do
so
performing
the recommended
may result in electric shock
maintenance, be
from the
injury
or
the unit's main power switch is turned off. Failure to
sure
rotating
fan blade.
Cleaning coils The coil should be washed-out with water, or blown-out with compressed air. Clean the coil
annually, or as required by the location or outdoor air conditions. Inspect the coil monthly and clean as required.
Dirt and debris may pass through the first coil section, then become trapped between the rows of fine and restrict
the condenser air flow. Use a flashlight to determine if any dirt or debris has collected between the coil sections.
-
Clean coil
as
follows.
[1] Turn off unit power.
[2] Using a water-hose,
or any other suitable equipment, flush the coil from the outside to
flush all dirt and debris from the drain holes in the base of the unit.
FAN MOTOR
remove
dirt. Be
sure
to
CONDENSER COIL
COMPRESSOR
FAN
TOP VIEW
LIQUID VALVE
SUCTION VALVE
FRONT VIEW
RIGHT SIDE VIEW
ELECTRIC WIRE SIZE
OUTDOOR
MODEL
FUSE
CONTROL
INDOOR FUSE
CONTROL
CIRCUIT
BREAKER
36K Btu
10A / 250V
0.5A / 250V
30A / 3P.
48K/60K Btu
10A / 250V
0.5A / 250V
50A / 3P.
ELECTRIC WIRE SIZE
ON THE
GROUND 60°C
-
-
(SQMM)
IN PIPE
75°C
6
6
**REMARK**
ROOM
TEMPERATURE
*
TIMER
MODE
AIR FLOW
SPEED
OPERATION
MODE
MORE THAN 23°C2 6 °C
CONTINUOUS
AUTO
COOL
LESS THAN 23°C2 3 °C
CONTINUOUS
AUTO
HEAT
If
an
air conditioner is
Cooling when the
Heating when the
DESIGNATED
TEMPERATURE
a
room
room
model for both
temperature
temperature
cooling
at the
at the
and
heating.
start of operation
start of operation
is above 23°C.
is less 23°C.
Care and
Care and Maintenance
Maintenance
CAUTION: Before performing any
You
can
do
turn off the main power to the
system.
periodic maintenance for your unit yourself; this includes cleaning air filters,
the condenser coil, and conducting a general unit inspection on a regular basis.
some
cabinet, clearing
maintenance,
of the
cleaning
unit
WARNING
WARNING
Before
before
removing access panels
attempting any servicing
to service
can
unit, disconnect power supply. Failure
result in
severe
injury
or
to disconnect power
death.
Condenser coil
Unfiltered air circulates
with
dust, dirt,
through
etc.. To clean the
the unit's condenser coil and
can cause
the coil's surface to become
coil, vertically (i.e., along the fins) stroke the coil surface with
a
clogged
soft bristled
brush.
Keep
all
vegetation
away from the condenser coil
Maintenance Performed
To
area.
by Serviceman
your unit operating safely and efficiently, the manufacturer recommends that a qualified serviceman
check the entire system at least once each year, or more frequently if conditions warrant. Your serviceman may
keep
examine these
1. Filters
areas
of your unit:
(for cleaning)
2. Motors and drive
system components
3. Condenser coils
4.
5.
6.
7.
8.
9.
(for cleaning)
Safety Controls (for mechanical cleaning)
Electrical components and wiring (for possible replacement or connection tightness)
Condensate drain (for cleaning)
Inspect the unit duct connections to ensure they are physically sound and sealed to the
Inspect the unit mounting support to see that it is sound.
Inspect the unit to ensure there is no obvious deterioration.
unit
casing.
When the air conditioner is not
When air conditioner is not
to be used for a
1.
long
the air conditioner
Operate
on
going
to be used for a
going
This will
dry
time.
When the air conditioner is to
time.
be used
again.
1. Clean the air filter and re-install it in the indoor
Air circulation
side.
mode for 2 to 3 hours.
?
long
out the internal
2. Check that the air inlet and outlet of the
parts.
indoor/outdoor unit
are
not blocked.
2. Turn off the circuit breaker.
CAUTION
CAUTION
Helpful
Turn off the circuit breaker when the air conditioner
is not
going to
be used for
a
Dirt may collect and may
If the air filters become clogged with dust, the
cooling capacity will drop, and 6% of the electricity
long time.
cause a
information
The air filters and your electric bill.
fire.
used to
operate the air conditioner will be wasted.
Operation Tips
Do not overcool the
Keep
room.
blinds
or
curtains
Clean the air filter
regularly.
closed.
This is not
good for your
electricity.
health
and wastes
Do not let direct sunshine enter
Blockages
the
the airflow and lower
room
when the air
conditioner is in
operation.
and
in the air filter reduce
dehumidifying
cooling
effects.
CAUTION
CAUTION
Before removing access panels to draw
out air filters, disconnect power supply.
Since the fan rotates at
cause a serious injury
Make
sure
that the doors
and windows
Avoid
opening
windows
keep
as
are
shut
Ventilate the
tight.
as
possible
the cool air in the
room.
Since windows
to
it is
Clean at least
are
kept closed,
idea to open them
and ventilate the room now and
a
it may
room
occasionally.
doors and
much
high speed,
good
once
every month
using a vacuum cleaner or
washing with a neutral
detergent in lukewarm water.
After washing with water,
it well in the shade.
then.
?
Do not expose the air filter to
sunlight or heat from a
direct
fire when
22
dry
drying
it.
TROUBLESHOOTING
TROUBLESHOOTING
Problem
Checklist
1.
Nothing
works
Power
Remedy List
supply to
unit
Re-set circuit breaker
Change
Interconnecting wiring
Look for break in cable
PCB varistor
Replace
Replace
Transformer
2. Power
on
but
system
will not function
3. Power
on
but indoor
will not function
Re-set
batteries
Change
function
hand set
on
fan terminal
(pcb)
Evaporator sensor
Connector
on but compressor
will not function
5. Power
on
but outdoor
fan will not function
on
manual
but indoor
key will
not
(
or
hand set
relay,
if
on
but indoor
display will
8. Indoor
not function
up-down
will not function
louver
faulty replace
Repair or replace
plug
Wait to reset and check amps
Faulty motor
Evaporator frozen
Motor capacitor
Replace
Room
temp set point
Relay on PCB
Comp contactor
Comp overload
Indoor sensor(de-ice )
Comp internal overload
Compressor terminals
Adjust on hand set
Replace relay or PCB
De-ice
Wait for defrost to terminate
sensor
(heating)
Defrost and check filter / gas
If power
on
contactor
Check for
good
down, check gas
connection
temp low
Check gas pressure
See control functions
Indoor coil too hot
Clean filter
Fan
Replace relay or
Replace motor
Replace
Replace
plug
switch
Connector
plug
Faulty display
Reset switch position
Handset control
Faulty stepping
Connector plug
motor
& de-ice
contactor
point
See control functions
Allow comp to cool
sensor
Faulty
coil, replace
Re set, check amps and set
Outdoor
PCB
charge
Replace
Ambient
Connector
)
circuit, replace
or
PCB
repair
switch
or
PCB
function
7. Power
loose connection
Motor overload
relay on
Faulty motor
6. Power
No power check
If short
or
PCB
Change
on
fuse
PCB
Handset control
Mode
change
fuse
Re-set control switch
Power
4. Power
or
PCB fuse
Replace or repair
Replace display or
Correct
or
operate
Change function
Replace
Replace or repair
PCB
once
sensor
9. Indoor
left-right swing
will not function
10. Power
lost Hi
Med
or
Low
Handset control
Faulty
3
11. Condenser fan short
12.
16.
17.
on
System
not
pressure
cooling
High suction / low
discharge pressure
18. Outdoor coil
icing
relays
Outdoor
plug
on
up
Indoor
sensor
faulty
Gas
overcharge
Replace
Clean
Reduce
charge
Air recirculation
Move unit
Faulty motor
Cap tube blocked
Replace
Replace
PCB
relay
charge
Reversing valve sticking
Replace or change
Low gas
Add gas and leak test
Ambient
Wait for de
PCB
temp low
-
ice
sensor
faulty
charge (heating)
point too low
Dirty filter
Faulty indoor
PCB faulty
ice initiation
Replace
Replace
Add gas and leak test
Adjust temperature
Clean filter
sensor
Indoor fan not
Low gas
-
Clean
faulty
Indoor set
PCB
Replace
condenser coil
Low gas
up
Check for air recirculation
condenser coil
Outdoor de
icing
See control functions
sensor
Dirty
Dirty
19. Indoor coil
PCB
Unit location
cooling
High discharge
cooling cycle
Change function
Replace
Replace or repair
Replace relay
motor
Connector
speed
cycles
Change function
Replace
Replace or repair
Replace relay or PCB
Faulty swing motor
Connector plug
Relay on PCB
but indoor fan
on
or
Handset control
working
charge
Replace
Replace
Replace
Replace
Add gas and leak test
Memo
Memo
P/No.: 3828A20219A
After
reading
this manual,
Printed in Korea
keep
it in
a
place easily
accessible to the
user
for future reference.