Philips AZ1022/05 Quick start guide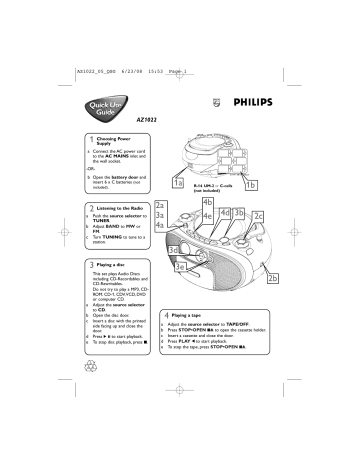 AZ1022_05_QSG
6/23/08
15:53
Page 1
Quick Use
Guide
AZ1022
1
Choosing Power
Supply
a Connect the AC power cord
to the AC MAINS inlet and
the wall socket.
-OR6 x R14 • UM-2 • C-CELLS
b Open the battery door and
insert 6 x C batteries (not
included).
2
Listening to the Radio
a
Push the source selector to
TUNER.
b Adjust BAND to MW or
FM.
c Turn TUNING to tune to a
station.
1a
R-14, UM-2 or C-cells
(not included)
1b
4b
2a
3a
4a
4e
4d 3b
2c
3d
3
Playing a disc
This set plays Audio Discs
including CD-Recordables and
CD-Rewritables.
Do not try to play a MP3, CDROM, CD-1, CDV,VCD, DVD
or computer CD.
a Adjust the source selector
to CD.
b Open the disc door.
c Insert a disc with the printed
side facing up and close the
door.
d Press 2 ; to start playback.
e To stop disc playback, press 9.
3e
2b
4
a
b
c
d
e
Playing a tape
Adjust the source selector to TAPE/OFF.
Press STOP•OPEN 9/ to open the cassette holder.
Insert a cassette and close the door.
Press PLAY 1 to start playback.
To stop the tape, press STOP•OPEN 9/.
AZ1022_05_QSG
6/23/08
15:53
Page 2
VOLUME
LIFT TO OPEN
Turn to adjust volume
level.
Lift to open the disc door.
Source selector
Telescopic antenna
Slide to select
function: CD, radio or
tape.
Improve FM reception.
CASSETTE
RECORDER
keys
Turn to tune to a
station.
Press to
operate a tape.
BAND
Display
SHUFFLE
Show disc functions
Press to select
SHUFFLE mode
TUNING
Slide to select
waveband (FM or MW)
38
Press to start or
pause disc
playback..
5, 6
Briefly press to skip to the
beginning of the
current/previous/
later disc track;
During disc playback, press
and hold to find a
particular passage
backward/forward.
PROG
Use to program disc
tracks and review a disc
program.
REPEAT
Press to select
REPEAT mode
9
Press to stop disc playback or erase a disc
program.
DBB
Press to turn the bass
enhancement on/off.
Battery door
AC MAINS
inlet for the AC power
cord.

* Your assessment is very important for improving the work of artificial intelligence, which forms the content of this project