Avent SCF292/13, SCF292/01 Quick start guide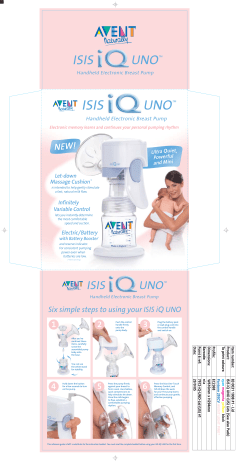 Handheld Electronic Breast Pump
Handheld Electronic Breast Pump
Electronic memory learns and continues your personal pumping rhythm
Let-down
Massage Cushion ™
is intended to help gently stimulate
a fast, natural milk flow.
Infinitely
Variable Control
lets you instantly determine
the most comfortable
speed and suction.
Electric/Battery
with Battery Booster *
and reserve indicator.
For consistent pumping
power even when
batteries are low.
(*Patent pending.)
Handheld Electronic Breast Pump
Six simple steps to using your ISIS iQ UNO
1
2
Push the control
handle firmly
onto the
pump body.
3
Plug the battery pack
or wall plug cord into
the control handle
and switch on.
You can use
the white stand
for stability.
5
Press the pump firmly
against your breast to
form a seal. Use shallow,
quick compressions to
help stimulate let-down.
Once the milk begins
to flow, establish a
comfortable pumping
rhythm.
6
Press the blue One-Touch
Memory Control, and
ISIS iQ does the work
for you! The pump learns
and continues your gentle,
effective pumping.
This reference guide is NOT a substitute for the instruction booklet. You must read the complete booklet before using your ISIS iQ UNO for the first time.
83 0031 1008 #1 - Lid
ISIS iQ UNO (US) Lids (See also Pack)
cyan magenta yellow black
Pantone 293CV AVENT LIGHT PINK*
EC2368
W610mm x H294mm
n/a
7972-iQ-UNO-Lid (US) #1
29/9/05
4
Hold down the button
for a few seconds to turn
on the pump.
Item number:
Product:
To print colours:
Profile:
Dimensions:
Barcode:
Point 6 ref:
Date:
After you've
sanitized these
items, carefully
screw the
assembled pump
body onto
the base.

* Your assessment is very important for improving the work of artificial intelligence, which forms the content of this project