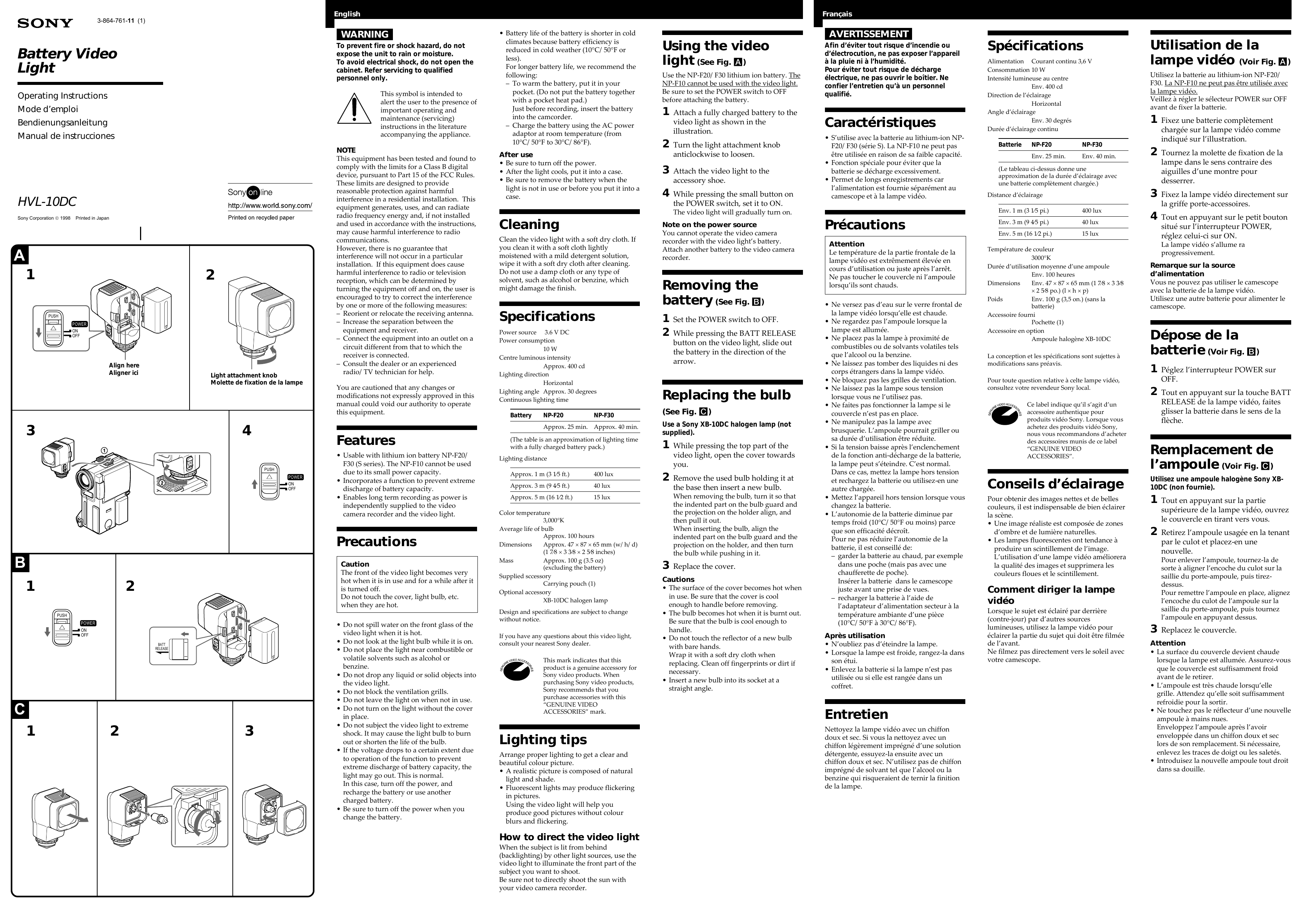 English
Français
3-864-761-11 (1)
WARNING
To prevent fire or shock hazard, do not
expose the unit to rain or moisture.
To avoid electrical shock, do not open the
cabinet. Refer servicing to qualified
personnel only.
Battery Video
Light
This symbol is intended to
alert the user to the presence of
important operating and
maintenance (servicing)
instructions in the literature
accompanying the appliance.
Operating Instructions
Mode d'emploi
Bendienungsanleitung
Manual de instrucciones
HVL-10DC
Sony Corporation  1998
Printed in Japan
A
1
2
PUSH
PUSH
POWER
ON
OFF
Align here
Aligner ici
Light attachment knob
Molette de fixation de la lampe
3
NOTE
This equipment has been tested and found to
comply with the limits for a Class B digital
device, pursuant to Part 15 of the FCC Rules.
These limits are designed to provide
reasonable protection against harmful
interference in a residential installation. This
equipment generates, uses, and can radiate
radio frequency energy and, if not installed
and used in accordance with the instructions,
may cause harmful interference to radio
communications.
However, there is no guarantee that
interference will not occur in a particular
installation. If this equipment does cause
harmful interference to radio or television
reception, which can be determined by
turning the equipment off and on, the user is
encouraged to try to correct the interference
by one or more of the following measures:
– Reorient or relocate the receiving antenna.
– Increase the separation between the
equipment and receiver.
– Connect the equipment into an outlet on a
circuit different from that to which the
receiver is connected.
– Consult the dealer or an experienced
radio/TV technician for help.
You are cautioned that any changes or
modifications not expressly approved in this
manual could void our authority to operate
this equipment.
Features
PUSH
POWER
ON
OFF
• Usable with lithium ion battery NP-F20/
F30 (S series). The NP-F10 cannot be used
due to its small power capacity.
• Incorporates a function to prevent extreme
discharge of battery capacity.
• Enables long term recording as power is
independently supplied to the video
camera recorder and the video light.
Precautions
1
Caution
The front of the video light becomes very
hot when it is in use and for a while after it
is turned off.
Do not touch the cover, light bulb, etc.
when they are hot.
2
PUSH
PUSH
POWER
ON
OFF
BATT
RELEASE
C
1
2
3
After use
• Be sure to turn off the power.
• After the light cools, put it into a case.
• Be sure to remove the battery when the
light is not in use or before you put it into a
case.
• Do not spill water on the front glass of the
video light when it is hot.
• Do not look at the light bulb while it is on.
• Do not place the light near combustible or
volatile solvents such as alcohol or
benzine.
• Do not drop any liquid or solid objects into
the video light.
• Do not block the ventilation grills.
• Do not leave the light on when not in use.
• Do not turn on the light without the cover
in place.
• Do not subject the video light to extreme
shock. It may cause the light bulb to burn
out or shorten the life of the bulb.
• If the voltage drops to a certain extent due
to operation of the function to prevent
extreme discharge of battery capacity, the
light may go out. This is normal.
In this case, turn off the power, and
recharge the battery or use another
charged battery.
• Be sure to turn off the power when you
change the battery.
AVERTISSEMENT
Using the video
light (See Fig. A)
Use the NP-F20/F30 lithium ion battery. The
NP-F10 cannot be used with the video light.
Be sure to set the POWER switch to OFF
before attaching the battery.
1
Attach a fully charged battery to the
video light as shown in the
illustration.
2
Turn the light attachment knob
anticlockwise to loosen.
3
Attach the video light to the
accessory shoe.
4
While pressing the small button on
the POWER switch, set it to ΟΝ.
Afin d'éviter tout risque d'incendie ou
d'électrocution, ne pas exposer l'appareil
à la pluie ni à l'humidité.
Pour éviter tout risque de décharge
électrique, ne pas ouvrir le boîtier. Ne
confier l'entretien qu'à un personnel
qualifié.
Caractéristiques
• S'utilise avec la batterie au lithium-ion NPF20/F30 (série S). La NP-F10 ne peut pas
être utilisée en raison de sa faible capacité.
• Fonction spéciale pour éviter que la
batterie se décharge excessivement.
• Permet de longs enregistrements car
l'alimentation est fournie séparément au
camescope et à la lampe vidéo.
The video light will gradually turn on.
Cleaning
Clean the video light with a soft dry cloth. If
you clean it with a soft cloth lightly
moistened with a mild detergent solution,
wipe it with a soft dry cloth after cleaning.
Do not use a damp cloth or any type of
solvent, such as alcohol or benzine, which
might damage the finish.
Specifications
Power source 3.6 V DC
Power consumption
10 W
Centre luminous intensity
Approx. 400 cd
Lighting direction
Horizontal
Lighting angle Approx. 30 degrees
Continuous lighting time
Battery
NP-F20
NP-F30
Approx. 25 min. Approx. 40 min.
4
B
• Battery life of the battery is shorter in cold
climates because battery efficiency is
reduced in cold weather (10°C/50°F or
less).
For longer battery life, we recommend the
following:
– To warm the battery, put it in your
pocket. (Do not put the battery together
with a pocket heat pad.)
Just before recording, insert the battery
into the camcorder.
– Charge the battery using the AC power
adaptor at room temperature (from
10°C/50°F to 30°C/86°F).
(The table is an approximation of lighting time
with a fully charged battery pack.)
Note on the power source
You cannot operate the video camera
recorder with the video light's battery.
Attach another battery to the video camera
recorder.
Removing the
battery (See Fig. B)
1
2
400 lux
Approx. 3 m (9 4⁄5 ft.)
40 lux
Approx. 5 m (16 1⁄2 ft.)
15 lux
Color temperature
3,000°K
Average life of bulb
Approx. 100 hours
Dimensions
Approx. 47 × 87 × 65 mm (w/h/d)
(1 7⁄8 × 3 3⁄8 × 2 5⁄8 inches)
Mass
Approx. 100 g (3.5 oz)
(excluding the battery)
Supplied sccessory
Carrying pouch (1)
Optional accessory
XB-10DC halogen lamp
Design and specifications are subject to change
without notice.
If you have any questions about this video light,
consult your nearest Sony dealer.
This mark indicates that this
product is a genuine accessory for
Sony video products. When
purchasing Sony video products,
Sony recommends that you
purchase accessories with this
"GENUINE VIDEO
ACCESSORIES" mark.
Lighting tips
Arrange proper lighting to get a clear and
beautiful colour picture.
• A realistic picture is composed of natural
light and shade.
• Fluorescent lights may produce flickering
in pictures.
Using the video light will help you
produce good pictures without colour
blurs and flickering.
How to direct the video light
When the subject is lit from behind
(backlighting) by other light sources, use the
video light to illuminate the front part of the
subject you want to shoot.
Be sure not to directly shoot the sun with
your video camera recorder.
While pressing the BATT RELEASE
button on the video light, slide out
the battery in the direction of the
arrow.
Replacing the bulb
(See Fig. C)
Use a Sony XB-10DC halogen lamp (not
supplied).
1
While pressing the top part of the
video light, open the cover towards
you.
2
Remove the used bulb holding it at
the base then insert a new bulb.
Lighting distance
Approx. 1 m (3 1⁄5 ft.)
Set the POWER switch to OFF.
When removing the bulb, turn it so that
the indented part on the bulb guard and
the projection on the holder align, and
then pull it out.
When inserting the bulb, align the
indented part on the bulb guard and the
projection on the holder, and then turn
the bulb while pushing in it.
3
Replace the cover.
Cautions
• The surface of the cover becomes hot when
in use. Be sure that the cover is cool
enough to handle before removing.
• The bulb becomes hot when it is burnt out.
Be sure that the bulb is cool enough to
handle.
• Do not touch the reflector of a new bulb
with bare hands.
Wrap it with a soft dry cloth when
replacing. Clean off fingerprints or dirt if
necessary.
• Insert a new bulb into its socket at a
straight angle.
Précautions
Attention
Le température de la partie frontale de la
lampe vidéo est extrêmement élevée en
cours d'utilisation ou juste après l'arrêt.
Ne pas toucher le couvercle ni l'ampoule
lorsqu'ils sont chauds.
• Ne versez pas d'eau sur le verre frontal de
la lampe vidéo lorsqu'elle est chaude.
• Ne regardez pas l'ampoule lorsque la
lampe est allumée.
• Ne placez pas la lampe à proximité de
combustibles ou de solvants volatiles tels
que l'alcool ou la benzine.
• Ne laissez pas tomber des liquides ni des
corps étrangers dans la lampe vidéo.
• Ne bloquez pas les grilles de ventilation.
• Ne laissez pas la lampe sous tension
lorsque vous ne l'utilisez pas.
• Ne faites pas fonctionner la lampe si le
couvercle n'est pas en place.
• Ne manipulez pas la lampe avec
brusquerie. L'ampoule pourrait griller ou
sa durée d'utilisation être réduite.
• Si la tension baisse après l'enclenchement
de la fonction anti-décharge de la batterie,
la lampe peut s'éteindre. C'est normal.
Dans ce cas, mettez la lampe hors tension
et rechargez la batterie ou utilisez-en une
autre chargée.
• Mettez l'appareil hors tension lorsque vous
changez la batterie.
• L'autonomie de la batterie diminue par
temps froid (10°C/50°F ou moins) parce
que son efficacité décroît.
Pour ne pas réduire l'autonomie de la
batterie, il est conseillé de:
– garder la batterie au chaud, par exemple
dans une poche (mais pas avec une
chaufferette de poche).
Insérer la batterie dans le camescope
juste avant une prise de vues.
– recharger la batterie à l'aide de
l'adaptateur d'alimentation secteur à la
température ambiante d'une pièce
(10°C/50°F à 30°C/86°F).
Après utilisation
• N'oubliez pas d'éteindre la lampe.
• Lorsque la lampe est froide, rangez-la dans
son étui.
• Enlevez la batterie si la lampe n'est pas
utilisée ou si elle est rangée dans un
coffret.
Entretien
Nettoyez la lampe vidéo avec un chiffon
doux et sec. Si vous la nettoyez avec un
chiffon légèrement imprégné d'une solution
détergente, essuyez-la ensuite avec un
chiffon doux et sec. N'utilisez pas de chiffon
imprégné de solvant tel que l'alcool ou la
benzine qui risqueraient de ternir la finition
de la lampe.
Spécifications
Alimentation Courant continu 3,6 V
Consommation 10 W
Intensité lumineuse au centre
Env. 400 cd
Direction de l'éclairage
Horizontal
Angle d'éclairage
Env. 30 degrés
Durée d'éclairage continu
Batterie
NP-F20
NP-F30
Env. 25 min.
Env. 40 min.
Utilisation de la
lampe vidéo (Voir Fig. A)
Utilisez la batterie au lithium-ion NP-F20/
F30. La NP-F10 ne peut pas être utilisée avec
la lampe vidéo.
Veillez à régler le sélecteur POWER sur OFF
avant de fixer la batterie.
1
Fixez une batterie complètement
chargée sur la lampe vidéo comme
indiqué sur l'illustration.
2
Tournez la molette de fixation de la
lampe dans le sens contraire des
aiguilles d'une montre pour
desserrer.
3
Fixez la lampe vidéo directement sur
la griffe porte-accessoires.
4
Tout en appuyant sur le petit bouton
situé sur l'interrupteur POWER,
réglez celui-ci sur ΟΝ.
(Le tableau ci-dessus donne une
approximation de la durée d'éclairage avec
une batterie complètement chargée.)
Distance d'éclairage
Env. 1 m (3 1⁄5 pi.)
400 lux
Env. 3 m (9 4⁄5 pi.)
40 lux
Env. 5 m (16 1⁄2 pi.)
15 lux
Température de couleur
3000°K
Durée d'utilisation moyenne d'une ampoule
Env. 100 heures
Dimensions
Env. 47 × 87 × 65 mm (1 7⁄8 × 3 3⁄8
× 2 5⁄8 po.) (l × h × p)
Poids
Env. 100 g (3,5 on.) (sans la
batterie)
Accessoire fourni
Pochette (1)
Accessoire en option
Ampoule halogène XB-10DC
La conception et les spécifications sont sujettes à
modifications sans préavis.
Pour toute question relative à celte lampe vidéo,
consultez votre revendeur Sony local.
Ce label indique qu'il s'agit d'un
accessoire authentique pour
produits vidéo Sony. Lorsque vous
achetez des produits vidéo Sony,
nous vous recommandons d'acheter
des accessoires munis de ce label
"GENUINE VIDEO
ACCESSORIES".
La lampe vidéo s'allume ra
progressivement.
Remarque sur la source
d'alimentation
Vous ne pouvez pas utiliser le camescope
avec la batterie de la lampe vidéo.
Utilisez une autre batterie pour alimenter le
camescope.
Dépose de la
batterie (Voir Fig. B)
1
Péglez l'interrupteur POWER sur
OFF.
2
Tout en appuyant sur la touche BATT
RELEASE de la lampe vidéo, faites
glisser la batterie dans le sens de la
flèche.
Remplacement de
l'ampoule (Voir Fig. C)
Conseils d'éclairage
Utilisez une ampoule halogène Sony XB10DC (non fournie).
Pour obtenir des images nettes et de belles
couleurs, il est indispensable de bien éclairer
la scène.
• Une image réaliste est composée de zones
d'ombre et de lumière naturelles.
• Les lampes fluorescentes ont tendance à
produire un scintillement de l'image.
L'utilisation d'une lampe vidéo améliorera
la qualité des images et supprimera les
couleurs floues et le scintillement.
1
Tout en appuyant sur la partie
supérieure de la lampe vidéo, ouvrez
le couvercle en tirant vers vous.
2
Retirez l'ampoule usagée en la tenant
par le culot et placez-en une
nouvelle.
Pour enlever l'ampoule, tournez-la de
sorte à aligner l'encoche du culot sur la
saillie du porte-ampoule, puis tirezdessus.
Pour remettre l'ampoule en place, alignez
l'encoche du culot de l'ampoule sur la
saillie du porte-ampoule, puis tournez
l'ampoule en appuyant dessus.
Comment diriger la lampe
vidéo
Lorsque le sujet est éclairé par derrière
(contre-jour) par d'autres sources
lumineuses, utilisez la lampe vidéo pour
éclairer la partie du sujet qui doit être filmée
de l'avant.
Ne filmez pas directement vers le soleil avec
votre camescope.
3
Replacez le couvercle.
Attention
• La surface du couvercle devient chaude
lorsque la lampe est allumée. Assurez-vous
que le couvercle est suffisamment froid
avant de le retirer.
• L'ampoule est très chaude lorsqu'elle
grille. Attendez qu'elle soit suffisamment
refroidie pour la sortir.
• Ne touchez pas le réflecteur d'une nouvelle
ampoule à mains nues.
Enveloppez l'ampoule après l'avoir
enveloppée dans un chiffon doux et sec
lors de son remplacement. Si nécessaire,
enlevez les traces de doigt ou les saletés.
• Introduisez la nouvelle ampoule tout droit
dans sa douille.
Deutsch
ACHTUNG
A
Um Feuergefahr und die Gefahr eines
elektrischen Schlages zu vermeiden, darf
das Gerät weder Regen noch sonstiger
Feuchtigkeit ausgesetzt werden.
Um die Gefahr eines elektrischen Schlages
zu vermeiden, öffnen Sie das Gehäuse
nicht, und überlassen Sie
Wartungsarbeiten immer einem
Fachmann.
2
1
PUSH
PUSH
POWER
ON
OFF
An der Linie ausrichten
Alinee aquí.
Befestigungsschraube der
Videoleuchte
Rueda de fijación de la lámpara
3
4
PUSH
PUSH
POWER
ON
OFF
BATT
RELEASE
C
1
2
3
Verwenden Sie zur Reinigung der
Videoleuchte ein weiches, trockenes oder
leicht mit mildem Haushaltsreiniger
angefeuchtetes Tuch. Nach dem Reinigen
wischen Sie die Leuchte mit einem trockenen
Tuch ab. Verwenden Sie kein nasses Tuch
und keine Lösungsmittel wie Alkohol oder
Benzin, da diese das Gehäuse angreifen
können.
Technische Daten
• Stromversorgung durch Lithiumionenakku
NP-F20/F30 (Serie S). Der Akku NP-F10
eignet sich nicht, da er eine zu geringe
Kapazität besitzt.
• Spezielle Schaltung verhindert eine
Tiefentladung des Akkus.
• Lange Aufnahmezeit dank getrennter
Stromversorgung von Videoleuchte und
Camcorder.
Stromversorgung
3,6 V Gleichstrom
Leistungsaufnahme
10 W
Beleuchtungsstärke (in der Mitte)
ca. 400 cd
Leuchtrichtung horizontal
Leuchtwinkel ca. 30 Grad
Durchgehende Betriebszeit
Sicherheitsmaßnahmen
Vorsicht
Bei eingeschalteter Videoleuchie und auch
noch Zeitlang nach dem Ausschalten ist
die Vorderseite der Videoleuchte sehr
heiß.
Berühren Sie auf keinen Fall die vordere
Abdeckung, die Birne usw.
2
Reinigung
Akku
POWER
ON
OFF
1
Advertencia
Besondere
Merkmale
PUSH
B
Español
• Das Frontglas darf nicht mit Wasser in
Berührung kommen, wenn die
Videoleuchte noch heiß ist.
• Schauen Sie bei eingeschalteter
Videoleuchte nicht direkt in die Birne.
• Halten Sie die Videoleuchte von leicht
entflammbaren oder flüchtigen
Lösungsmitteln wie Alkohol oder Benzin
fern.
• Achten Sie darauf, daß keine Flüssigkeit
oder Fremdkörper in die Videoleuchte
gelangen.
• Achten Sie darauf, daß die
Ventilationsöffnungen frei sind.
• Schalten Sie die Videoleuchte aus, wenn sie
nicht benutzt wird.
• Schalten Sie die Videoleuchte nur bei
angebrachter Abdeckung ein.
• Setzen Sie die Videoleuchte keinen harten
Stößen aus, da sonst die Birne
durchbrennen oder sich ihre Lebensdauer
verringern kann.
• Wenn die Spannung unter einen
bestimmten Wert sinkt, schaltet sich die
Videoleuchte zur Vermeidung von
Tiefentladung des Akkus eventuell aus.
Dabei handelt es sich nicht um eine
Störung.
Schalten Sie in einem solchen Fall die
Stromversorgung aus, laden Sie den Akku
auf, oder wechseln Sie ihn gegen einen
bereits geladenen aus.
• Achten Sie darauf, das Gerät
auszuschalten, wenn Sie den Akku
austauschen.
• Bei Kälte (unter 10°C) verringert sich die
Betriedsduer des Akkus.
Um eine längere Lebensdauer zu
gewährleisten, wird folgendes empfohlen:
– Stecken Sie den Akku zum Aufwärmen
in die Tasche (nicht jedoch zusammen
mit einem Taschenheizkissen).
Setzen Sie den Akku erst unmittelbar vor
der Aufnahme in den Camcorder ein.
– Laden Sie den Akku über das Netzteil
bei Zimmertemperatur (10°C bis 30°C).
Nach dem Betrieb
• Schalten Sie stets die Stromversorgung aus.
• Nachdem sich die Videoleuchte abgekühlt
hat, legen Sie sie in einen Behälter.
• Nehmen Sie den Akku ab, wenn die
Videoleuchte längere Zeit nicht verwendet
wird oder in einen Behälter gelegt wird.
NP-F20
ca. 25 Min.
ca. 40 Min.
Reichweite
400 Lux
ca. 3 m
40 Lux
ca. 5 m
15 Lux
(Siehe Abb. A)
Bringen Sie bei auf OFF stehenden POWERSchalter den Lithiumionenakku NP-F10 an
der Videoleuchte an. Der Akku NP-F10
eignet sich nicht zur Stromversorgung dieser
Videoleuchte.
1
Farbtemperatur
3000 K
Durchschnittliche Lebensdauer der Birne
ca. 100 Stunden
Abmessungen ca. 47 x 87 x 65 mm (B/H/T)
Gewicht
ca. 100 g (ausschl. Akku)
Mitgeliefertes Zubehör
Tragetasche (1)
Sonderzubehör Halogenbirne XB-10DC
Änderungen, die dem technischen Fortschritt
dienen, bleiben vorbehalten.
Bei weiterführenden Fragen wenden Sie sich bitte
an den nächsten Sony-Händler.
Diese Markierung gibt an, daß es
sich bei diesem Produkt um ein
spezielles Zubehör für Sony
Videogeräte handelt. Wenn Sie ein
Sony Videogerät besitzen, sollten Sie
darauf achten, daß das Zubehör mit
"GENUINE VIDEO ACCESSORIES"
gekennzeichnet ist.
Drehen Sie die Befestigungsschraube
der Videoleuchte gegen den
Uhrzeigersinn, um sie zu lösen.
3
Bringen Sie die Videoleuchte am
Zubehörschuh an.
4
Halten Sie die kleine Taste auf dem
POWER-Schalter gedrückt, und
stellen Sie den Schalter auf ΟΝ.
Die Helligkeit der Leuchtete erhöht sich
langsam.
Hinweis zur Stromquelle
Der an der Videoleuchte angzdo Akku
versorgt den Camcorder nicht mit Strom.
Für die Stromversorgung des Camcorders
benötigen Sie einen weiteren Akku.
Abnehmen des
Akkus (Siehe Abb. B)
1
2
Ausrichten der Videoleuchte
Wird das Motiv durch andere Lichtquellen
von hinten beleuchtet (Gegenlichtaufnahme),
hellen Sie den aufzunehmenden Teil des
Motivs mit der Videoleuchte von vorne auf.
Richten Sie den Camcorder nicht direkt auf
die Sonne.
Stellen Sie den POWER-Schalter auf
OFF.
Drücken Sie die Taste BATT
RELEASE an der Videoleuchte, und
schieben Sie dabei den Akku in
Pfeilrichtung ab.
Auswechseln der
Birne (Siehe Abb. C)
Verwenden Sie die Halogenbirne XB-10DC
von Sony (nicht mitgeliefert).
1
2
Tips zur
Beleuchtung
Nur bei richtiger Beleuchtung erhalten Sie
klare Aufnahmen mit natürlichen Farben.
• Erst das Zusammenspiel von Licht und
Schatten ergibt einen realistischen
Eindruck.
• Leuchtstoffröhren eignen sich nicht zur
Beleuchtung, da sie Flimmern verursachen
können. Bei zusätzlicher Beleuchtung
durch die Videoleuchte erhält man jedoch
im allgemeinen flimmerfreie und
farbgetreue Aufnahmen.
Bringen Sie den geladenen Akku an
der Videoleuchte an, wie auf der
Abbildung gezeigt.
2
NP-F30
(Die Angaben gelten für den Fall, daß ein ganz
vollgeladener Akku verwendet wird.)
ca. 1 m
Betrieb der
Videoleuchte
Drücken Sie auf die Oberseite und
ziehen Sie die Abdeckung ab.
Drehen Sie die Birne so, daß die
Vertiefung auf den Vorsprung am
Halter ausgerichtet ist, und ziehen
Sie die Birne heraus. Fassen Sie dabei
am unteren Teil der Birne an.
Zum Einsetzen der Birne drehen Sie die
Birne so, daß die Vertiefung auf den
Vorsprung am Halter ausgerichtet ist.
Drehen Sie die Birne unter leichtem
Druck fest.
3
Bringen Sie die Abdeckung wieder
an.
Vorsicht
• Die Abdeckung wird während des Betriebs
heiß. Lassen Sie sie abkühlen, bevor Sie sie
abnehmen.
• Die Birne wird heiß, wenn sie durchbrennt.
Lassen Sie sie abkühlen, bevor Sie sie
anfassen.
• Berühren Sie weder den Reflektor noch die
neue Birne mit bloßen Fingern. Fassen Sie
die neue Birne mit einem weichen,
trockenen Tuch an. Falls erforderlich,
entfernen Sie Fingerabdrücke oder
Schmutz.
• Achten Sie beim Einsetzen der neuen Birne
darauf, daß sie senkrecht steht.
Para evitar incendios o el riesgo de
electrocución, no exponga la unidad a la
lluvia ni a la humedad.
Para evitar descargas eléctricas, no abra la
unidad. En caso de avería, solicite
únicamente los servicios de personal
cualificado.
Características
• Utilización con una batería de iones de litio
NP-F20/F30 (serie S). La NP-F10 no podrá
utilizarse debido a su poca capacidad de
energía.
• Incorporación de una función para evitar la
descarga extrema de la batería.
• Largo tiempo de videofilmación ya que la
alimentación se suministra
independientemente a la videocámara y a
la lámpara para vídeo.
Precauciones
Precaución
La parte frontal de la lámpara para vídeo
alcanzará una temperatura muy alta
durante su uso o poco después de haberla
apagado.
No toque la cubierta, la bombilla, etc.,
cuando estén calientes.
• No salpique con agua el cristal frontal de la
lámpara para vídeo cuando esté caliente.
• No mire directamente hacia la bombilla
cuando esté encendida.
• No coloque la lámpara cerca de
combustibles ni disolventes volátiles tales
como el alcohol o bencina.
• No deje caer objetos sólidos ni vierta
líquidos sobre la lámpara para vídeo.
• No bloquee las rejillas de ventilación.
• No deje la lámpara encendida cuando no
vaya a utilizarla.
• No encienda la lámpara sin la cubierta en
su lugar.
• No someta la lámpara a golpes extremados,
ya que la bombilla podría quemarse, o se
acortaría su duración.
• Si la tensión cae por debajo de cierto valor,
es posible que la lámpara no se encienda
debido a la activación de la función de
protección contra la descarga excesiva de la
batería. Esto es normal.
En este caso, desconecte la alimentación y
recargue la batería, o utilice otra batería
cargada.
• Compruebe que la alimentación está
desactivada antes de cambiar la batería.
• La duración de la batería se acortará en
climas fríos debido a que la eficacia de la
misma se reduce en tales climas (10°C o
menos).
Para que la batería dure más tiempo, se
recomienda hacer lo siguiente:
– Caliente la batería metiéndola en su
bolsillo. (No la coloque junto a un
dispositivo calefactor de bolsillo). Poco
antes de iniciar la videofilmación, fíjela a
la videocámara.
– Cargue la batería utilizando el adaptador
de alimentación de CA a temperatura
ambiental (de 10°C a 30°C).
Después de la utilización
• Cerciórese de desconectar la alimentación.
• Cuando la lámpara se haya enfriado,
introdúzcala en una caja.
• Cuando no vaya a emplear la lámpara, o
antes de meterla en una caja, extráigale la
batería.
Limpieza
Limpie la lámpara para vídeo con un paño
suave y seco. Si la limpia con un paño suave
ligeramente humedecido en una solución
detergente poco concentrada, frótela con un
paño suave y seco después de la limpieza.
No utilice un paño humedecido en ningún
tipo de disolvente, como alcohol o bencina,
ya que podría dañar el acabado.
Especificaciones
Alimentación 3,6 V CC
Consumo
10 W
Intensidad luminosa en el centro
Aprox. 400 cd
Dirección de iluminación
Horizontal
Ángulo de iluminación
30 grados aprox.
Tiempo de iluminación continua
Batería
NP-F20
NP-F30
Aprox. 25 min.
Aprox. 40 min.
(La tabla anterior indica el tiempo de
iluminación aproximado con la batería
completamente cargada).
Distancia de iluminación
Aprox. 1 m
400 lux
Aprox. 3 m
40 lux
Aprox. 5 m
15 lux
Temperatura de color
3.000°K
Duración media de la bombilla
Aprox. 100 horas
Dimensiones Aprox. 47 × 87 × 65 mm (an/al/
prf)
Masa
Aprox. 100 g (excluyendo la
batería)
Accesorio suministrado
Bolsa de transporte (1)
Accesorio opcional
Bombilla halógena XB-10DC
Diseño y especificaciones sujetos a cambios sin
previo aviso.
Si tiene alguna pregunta sobre esta lámpara para
vídeo, consulte al proveedor Sony más cercano.
Esta marca indica que este producto
es un accesorio genuino para
productos de vídeo Sony. Cuando
adquiera productos de vídeo Sony,
Sony recomienda que adquiera los
que lleven la marca "GENUINE
VIDEO ACCESSORIES".
Uso de la lámpara
para vídeo
(Consulte la Fig. A)
Utilice una batería de iones de litio NP-F
20/NP-F30. La NP-F10 no podrá utilizarse
con esta lámpara para vídeo.
Antes de colocar la batería, cerciórese de
poner el interruptor POWER en OFF.
1
Fije una batería completamente
cargada a la lámpara para vídeo,
como se muestra en la ilustración.
2
Gire la rueda de fijación de la
lámpara hacia la izquierda para
aflojarla.
3
Fije la lámpara para vídeo a la zapata
para accesorios.
4
Manteniendo presionado el pequeño
del interruptor POWER, póngalo en
ΟΝ.
La lámpara para vídeo se encenderá
gradualmente.
Nota sobre la fuente de alimentación
No es posible utilizar la videocámara con la
batería de la lámpara para vídeo.
Conecte otra batería a la videocámara.
Para extraer la
batería (Consulte la Fig. B)
1
2
Forma de orientar la
lámpara para vídeo
Cuando el motivo esté iluminado por detrás
(contraluz) por otras fuentes de iluminación,
emplee la lámpara para vídeo a fin de
iluminar desde el frente la parte del motivo
que desee videofilmar.
Cerciórese de no videofilmar directamente el
sol con la videocámara.
Mientras pulse el botón BATT
RELEASE de la lámpara para vídeo,
deslice la batería hacia afuera como
indica la flecha.
Reemplazo de la
bombilla
(Consulte la Fig. C)
Utilice una bombilla halógena XB-10DC
Sony (no suministrada).
1
Manteniendo presionada la parte
superior e inferior de la lámpara para
vídeo, abra la cubierta hacia usted.
2
Extraiga la bombilla sujetando la
base, e inserte otra nueva.
Para extraer la bombilla, gírela de forma
que la parte hendida del protector de la
misma y el saliente del soporte queden
alineados, y después tire de ella hacia
afuera.
Para insertar la bombilla, alinee la parte
hendida del protector de la bombilla y el
saliente del soporte, y después gire la
bombilla manteniéndola presionada.
Consejos sobre la
iluminación
Disponga la iluminación apropiada para
obtener imágenes claras con colores
hermosos.
• Una imagen realista se compone de luz y
sombra naturales.
• Las lámparas fluorescentes pueden
producir parpadeo en las imágenes.
La utilización de la lámpara para vídeo
ayudará a producir buenas imágenes sin
corrimiento de colores ni parpadeo.
Ponga el interruptor POWER en OFF.
3
Vuelva a colocar la cubierta.
Precauciones
• La superficie de la cubierta se calentará con
el uso. Cerciórese de que la cubierta está
suficientemente fría antes de retirarla.
• La bombilla se calentará cuando se queme.
Cerciórese de que esté suficientemente fría
antes de tocarla las manos desnudas.
• No toque el reflector de la bombilla nueva
con las manos desnudas.
Para colocar la nueva bombilla, envuélvala
con un paño suave. Si es necesario, limpie
las huellas dactilares y la suciedad.
• Inserte la nueva bombilla en su zócalo en
ángulo recto.