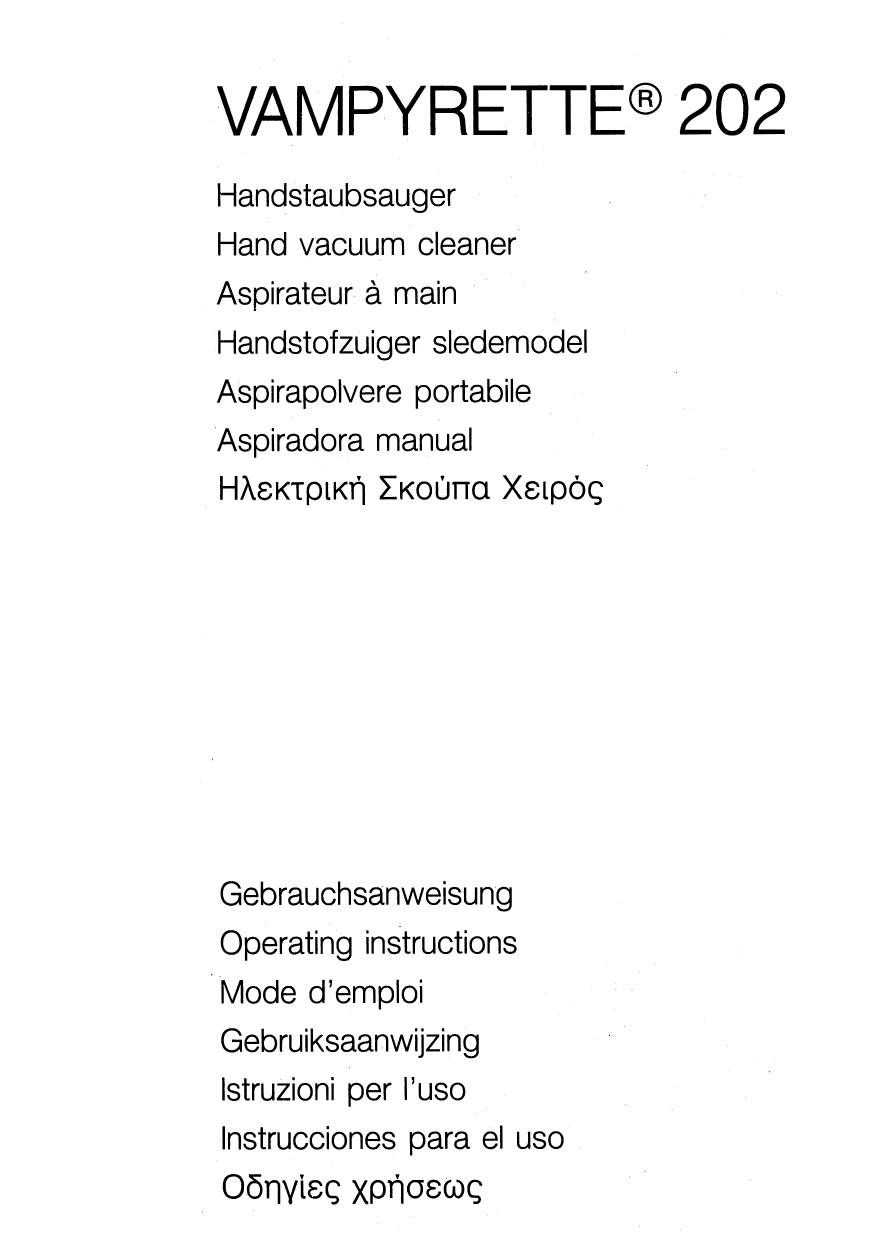 VAMPYRETTE® 202
Handstaubsauger
Hand vacuum cleaner
Aspirateur à main
Handstofzuiger sledemodel
Aspirapolvere portabile
Aspiradora manual
HAeKtpikr ZKOÜÛTIA XELPOCG
Gebrauchsanweisung
Operating instructions
Mode d'emploi
Gebruiksaanwijzing
Istruzioni per l'uso
Instrucciones para el uso
Oonviec Xpnoewc
Stiel mit Griff
Ein- und Ausschalter
Klappverschluß zum Öffnen des
Staubbeutelraumes
ou»
o.
Zubehör:
1) Fugendüse
2) Polsterdüse
DOW > COW»
VOU»
Kombinationsdüse VARIO 1000 |
Handletube
On and off switch
Flap shutter
Combination tool VARIO 1000
Accessories:
1) Crevice nozzle
2) Upholstery nozzle
OOw>»
Manche avec poignée
Interrupteur marche-arrét
Fermeture abattante
Suceur combiné VARIO 1000
— Accessoires:
1) Suceur plat
— 2) Suceur á capitonnages
Steel met handgreep
In- en uitschakelaar
Klapsluiting:
Gecombineerde zuigmond VARIO 1000
Toebehoren:
1) Kierenzuigmond
2) Zuigmond voor stoffering
Manico con impugnatura
interruttore
Chiusura a ribalta
Ugello combinato VARIO 1000
Accessori:
1) Ugello per giunti
2) Ugello per imbottiture o cuscini
Mango con empuñadura -
Conmutador В
Cierre de tapa abatible
Boquilla combinada VARIO 1000
Accesorios:
1) Boquilla para juntas
VOW»
2) Boquilla para tapizados .
Papdog pe yeyporafn
'ALAKONTIC AVALLATOC/OBLOÍLATOS
Калакотд к\е1стро у tO áVOLYUA TOL
- TU HU ATOG TNG CAKOÜAAG SKÔVNG
AxouvCntic VARIO 1000
UV OU»
Féapriparta:
1. Mxex ywa TO, dúkeva
2. MneK yw TA ENTIAOVEÁS HATO
Tips voor uw eigen veiligheid
C € Dit toestel voldoet aan de vol-
gende EG-richtlijnen: —- 73/23/EEG van
19. 2. 1973 - laagspanningsrichtlijn —
89/336/EEG van 3. 5. 1989 (inkl. wijzi-
gingsrichtlijn 92/31/EEG) - EMC-richtlijn.
e De werkspanning en netspahning moe-
ten aan elkaar gelijk zijn! (Zie plaatje
aan de onderkant van de stofzuiger.)
® De stroomkring voor de gebruikte con-.
tactdoos moet minstens door een 10 A
zekering beveiligd zijn.
e Vóór onderhoud en reiniging, en voor
het aansluiten van accessoires erop
letten dat de stofzuiger uitgeschakeld
en de stekker uit de kontaktdoos
getrokken is.
e De stekker nooit aan het snoer uit de
kontaktdoos trekken.
e De stofzuiger niet gebruiken als:
— het snoer beschadigd is.
— het huis zichtbaar beschadigd is.
e Rijdt niet met de stofzuiger over het
snoer, de isolatie zou beschadigd
kunnen worden.
e Laat het vochtig gereinigde vaste tapijt
volledig drogen. Nooit vioeistoffen met
de stofzuiger opzuigen want daardoor
wordt hij beschadigd. Bovendien kan
- de bescherming tegen elektrische
slagen niet meer goed werken.
@ Zuig geen lucifers, gloeiende as of
sigarettenpeuken met de stofzuiger
op. Vermijdt het opzuigen van harde,
puntige voorwerpen omdat die de stof-
zuiger of de papieren filter kunnen
beschadigen.
® Er moet op gelet worden, dat er
steeds een papieren filter in de stofzui-
ger zit.
o Als de stofzuiger voor werk wordt
gebruikt, waarvoor hij eigenlijk niet
geschikt is of als hij verkeerd bediend
. wordt, kan er geen garantie voor even-
tuele beschadigingen worden gegeven.
6 Om de veiligheid van elektrische toe-
stellen te waarborgen, mogen repara-
ties, vooral aan stroomvoerende delen
uitsluitend door vaklieden uitgevoerd
worden. Als er een storing is opgetre-
den richt u zich dus tot uw handelaar
of direkt tot de AEG-klantenservice.
Steel erop schuiven
De handgreep van de steel door naar
beneden drukken van de knop in de steel
schuiven en erop letten, dat de knop in de
boring klikt.
Steel boven in de zuiger zetten en de dop-
moer vastschroeven. Handgreep en kabel-
haak moeten naar achteren wijzen. Snoer
in de uitsparing van de bovenste kabel-
haak van de steel drukken.
Door verwijdering van de steel wordt de
stofzuiger in een handzuiger veran-
derd.
De zuigmonden worden door drukken en
draaien op de de steel gestoken en door
trekken en draaien er weer afgehaald.
In en uitschakelen
Vóóor и de stofzuiger aansluit moet u even
controleren, of de op het kenplaatje opge-
geven spanning met de spanning van het
net overeenkomt.
Vervangen van de filters |
VAMPYRETTE op zijn steel zetten, klap-
sluiting openen, papieren filter eruit trek-
ken en vervangen.
De gevulde stofzak met het normale stof,
zoals dit in de huishouding voorkomt, kan
zonder meer in de vuilnisbak gedaan wor- .
den.
Erop letten, dat na iedere tiende ver-
vanging van de papieren filter ook de
motorbeschermingsfilter vervangen
wordt.
Indien de papieren filter beschadigd
wordt, moet in ieder geval, na het schoon-
- maken van het huis, ook de motorbe-
schermingsfilter vervangen worden.
12
7 Motorbeschermingsfilter vervangen
Schroef met behulp van een geldstuk 90 ©
draaien, deksel verwijderen.
8 Motorbeschermingsfilter eruit trekken en
vervangen. Originele AEG papieren filters
verkrijgt u bij uw winkelier of bij de AEG
klantenservice.
Gebruik originele AEG papieren filters of
van het keurmerk ©
= voorziene papieren
filters, omdat die de beste zuigcapaciteit
en veiligheid garanderen. Bij gebruik van
papieren filters, die niet aan de AEG kwali-
— teitsnorm voldoen, kan er in geval van
schade géén garantie worden verleend.
Extra filters, grootte 9 zijn bij de AEG
klantenservice ET no.: 668 901 250 of bij
uw winkelier E no.: 618 899 659 verkrijg-
baar.
9 Gecombineerde zuigmond VARIO 1000
Zô stelt u met uw voet de stofzuiger op
de soort vloer in:
Symbool A gladde vloer
Symbool B tapijt
10 De pluizenzuigmond is aan slijtage onder-
hevig en kan zonder enige moeite vervan-
gen worden.
1 stel pluizenzuigmonden ET no.:
668 900 730 is bij de AEG klantenservice
verkrijgbaar.
Voor het milieu
Verpakkingmateriaal niet eenvoudig weg- -
gooien.
e Het verpakkingkarton hoort bij het oude
papier.
e De kunststofzak van polyethyleen bij een
PE-verzamelpunkt voor recycling afgeven.
@ De opvuldelen zijn van geschuimd polysty-
reen (PS). Er zit geen FCKW in.
Vraag bij de gemeente naar de dichtstbij-
zijnde recyclingplaats. |
13
AEG Kundendienst in Europa
52070 Aachen, Grüner Weg 22-24
63741 Aschaffenburg, Dammer Straße 5
86167 Augsburg-Lechh., Raiffeisenstraße 13
14199 Berlin, Hohenzollerndamm 150
33609 Bielefeld, Schillerstraße 44
53113 Bonn, Friedrich-Ebert-Allee 26
71034 Böblingen-Hulb, Dornierstraße 7
38102 Braunschweig, Campestraße 7
28207 Bremen, Hastedter Osterdeich 222
41541. Dormagen-St. Peter, SachtlebenstraBe 1
44139 Dortmund, Rheinlanddamm, AEG Haus
01099 Dresden, Industriegelánde, StraBe E
Düsseldorf (Kundendienst in 41541 Dormagen)
99096 Erfurt, Arnstädter Straße 28
45329 Essen-Altenessen, Teilungsweg 28
60326 Frankfurt/Main, Mainzer Landstraße 349
79108 Freiburg, Tullastraße 84
36000 Fulda, Michael-Henkel-StraBe 4- 6
35390 GieBen, SchanzenstraBe 1- 5
65462 Ginsh sbu g, Darmstädter LandstraBe 47
22625 Hamb Bahr d, Holstenkamp 40
30179 Hannover, Max- Miiller-StraBe 50- 56
74072 Heilbronn, Weinsberger StraBe 18
95032 Hof, Wunsiedler Straße 56
67655 Kaiserslautern, Jägerstraße 10-12
76185 Karlsruhe, Neureuter StraBe 5-7
34123 Kassel-Waldau, Otto-Hahn-StraBe 5
87437 Kempten, Brodkorbweg 22
24113 Kiel, Rendsburger LandstraBe 206
56068 Koblenz, RheinstraBe 17
Köln (Kundendienst in 41541 Dormagen)
Mainz-Kóstheim,
(Kundendienst in 65462 Ginsheim- -Gustavsburg)
68309 Mannheim-Káfertal, Heppenheimer Str. 31-33
80634 Miinchen- -Neuhausen, ArnulfstraBe 205
48153 Miinster, Friedrich-Ebert-StraBe 7
90429 Niirnberg, Muggenhofer StraBe 135
77656 Offenburg, IndustriestraBe 4
. 49084 Osnabriick, PferdestraBe 23
94032 Passau, Weinholzer Weg 9
88213 Ravensburg, Henri-Dunant-StraBe 6
93055 Regensburg, Bukarester StraBe 12
83024 Rosenheim, FarberstraBe 9
18055 Rostock, Lange StraBe 1a
66121 Saarbriicken-St. Johann, Mainzer StraBe 176
57072 Siegen, SandstraBe 173
Stuttgart (Kundendienst in 71034 Bóblingen)
. 54292 Trier, PaulinstraBe 152
89073 Ulm, Neue Straße 113-115 — I
97078 Würzburg, Versbacher Straße 22a.
Österreich, 1210 Wien, (02 22) 38 01-63 33
Belgique/België, 1800 Vilvoorde, 02/370.08.98
Danmark, 2620 Albertslund, 42-64 85 22
España, Madrid, (91) 675.66.50/54/58/62
France, 92140 Clamart Cedex, 16 (1) 45 37 95 50
Great Britain, Slough, 07 53- 8725 06
Hellas, Moschaton-Athen, 01/48 22 646
Island, Reykjavik (Brædurnir Ormsson Ltd.) 91-388 20
Italia, Cusano Milanino Mi 02/613 4760/61976 90
Luxembourg, 1246 Luxembourg-Kirchberg, 43 888-4
Nederland, 1066 BP Amsterdam, 0 20-510 5911
. Norge, 2000 Lillestrom, 06-81 0101
- Portugal, 1799 Lisboa Codex, 89 1171-89 71 21
Schweiz - Svizzera, 8603 Schwerzenbach 01/94511 44
Suomi, 01301 Vantaa 30 (Sáhkóliikkeiden Oy), 90-83 81
04299 Leipzig, Holzháuser StraBe 120
Garantiebedingungen
Für dieses Gerät leisten wir - zusätzlich zu
der gesetzlichen Gewährleistung des
Händlers aus Kaufvertrag - dem Endab-
nehmer gegenüber zu den nachstehen-
; den Bedingungen Garantie:
1. Die Garantiezeit beträgt 12 Monate und
beginnt mit dem Zeitpunkt der Über-
gabe des Geräts, der durch Rechnung
oder andere Unterlagen zu belegen ist.
Die Garantiezeit ist auf 6 Monate
beschränkt, wenn das Gerät gewerb-
lich genutzt wird.
2. Die Garantie umfaßt die Behebung aller
innerhalb der Garantiezeit auftreten-
den Schäden oder Mängel des Geräts,
die nachweislich auf Material- oder
Fertigungsfehlern beruhen. Nicht unter
die Garantie fallen Schäden oder Män-
gel aus nicht vorschriftsmäßigem An-
schluß, unsachgemäßer Handhabung
sowie Nichtbeachtung der Gebrauchs-
anweisungen.
3. Im Garantiefall kann das Gerät einer
unserer Kundendienst-Stellen oder
dem autorisierten Fachhandel über-
geben werden.
Bei Einsendung des Geräts an die für
Sie zuständige Kundendienststelle ist
daraufzu achten, daß das Gerät gut ver-
packt, mit vollständigem Absender und.
— soweit möglich — mit einer kurzen
Fehlerbeschreibung versehen wird.
4. Die Garantieleistungen werden ohne
jede Berechnung durchgeführt; sie
bewirken weder eine Verlängerung
noch einen Neubeginn der Garantie-
zeit. Ausgewechselte Teile gehen in:
unser Eigentum über.
AEG Hausgeräte GmbH, Muggenhofer Straße 135, D-90429 Nürnberg
Sverige, 17141 Solna, 08-290080 .
Guarantee
This appliance is covered by the following
guarantee and is in addition to your statu-
tory and other legal rights. All components
which fail due to defective manufacture will
be repaired orreplaced free of charge fora
period of12 months from the date of pur-
chase. We will not accept claims if unau-
thorised modification is made or if non-
standard components are used. The
appliance must be used in accordance
with the operating instructions and the
guarantee does not cover any damage
caused during transit or through misuse.
In order to establish the date of purchase,
advice note or similar document must be
produced whenever the guarantee is
claimed.
Garantie
Pour toute mise en œuvre de garantie ou
de service après vente, vous devez vous
adresser à votre vendeur.
AEG assure au vendeur le remplacement
gratuit des pièces détachées nécessaires
à la réparation pendant 1 an, à partir de la
date de votre facture, sauf en cas de non
respect des prescriptions d'utilisation ou
lorsqu'une cause étrangère. à l'appareil
est responsable de la défaillance.
Les dispositions stipulées ci-dessus ne
sont pas exclusives du bénéfice au profit
de l'acheteur de la garantie légale pour
défaut et vice cachés qui s'applique, en
tout état de cause, dans les conditions des
articles 1641 et suivants, du code civil.
Garantie
AEG Nederland N.V.neemt voor reparaties
binnen de garantietermijn - voor zover de
defekten zijn terug te voeren op materiaal -
en/of konstruktiefouten - de kosten ор
zich voor materiaal en arbeitsloon.
De garantie bedraagt 12 maanden en gaat
in op de dag van aankoop.Wanneer garan-
tie wordt verlangd, dient de faktuur van
aankoop te worden overlegd. De garantie-
- termijn wordt door reparaties niet ver-
lengd. Buiten elke garantieverpflichting
vallen losse onderdelen van glas en/of
kunststof. Alle overige kosten, zoals voor- -
rijdkosten, kosten van opzending en-
administratie, zijn voor rekening van de ei-
genaar.
Garanzia
Duranti i primi 12 mesi d'esercizio, ven-
gono fornite gratuitamente dall'AEG le
parti di ricambio riconosciute difettose.La
garanzia ha inizio con il giorno dell'ac-
quisto che deve venir comprovato a mezzo
della fattura o boletta di consegna. Per il
resto valgono le condizioni generali di for-
nitura - della rispettiva rappresentanza
nazionale.
Garantia
Durante los primeros 12 meses, la AEG se
hace cargo de cuantos costes de material
y horas de trabajos invertidas se produz-
can en la subsanación de defectos. La
garantia empieza a regira partir de la fecha
de la entrega, la que deberá justificarse
mediante presentación de la factura o de
la-nota de depacho. Por lo demás serán de
aplicación las condiciones generales de
venta se gun rigen en el respectivo pais de
nuestra representación.
Garantie
In Belgien ist nur die durch S.A. belge AEG
ausgegebene Garantiekarte gúltig.
En Belgique, seule la 'carte de garantie
emise par la S.A. belge AEG est valable.
In België is slechts de door de S. À. belge
AEG uitgegeven waarborgkaart geldig.