Panasonic CWXC100AU, CWXC120AU Operating instructions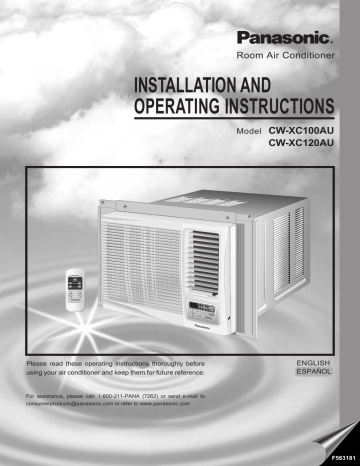 Room Air Conditioner
INSTALLATION AND
OPERATING INSTRUCTIONS
Model
CW-XC100AU
CW-XC120AU
OPERATION
TEMP/TIMER
TIMER
SET/
CANCEL
MODE
ECONOMY
AIR SWING
FAN SPEED
CLOSE
VENT OPEN
Panasonic
°F
hr
TIMER
TEMP/TIME
R
LOW
OFF/ON
MODE
AIR SWIN
HIGH
MED
ATION
SET
SET/
CANCEL
COOL
FAN
OPER
FAN SPE
ED
G
ECONOM
Y
Wireles
s
ote C
o
Rem
ntrol
Please read these operating instructions thoroughly before
using your air conditioner and keep them for future reference.
ENGLISH
ESPAÑOL
For assistance, please call: 1-800-211-PANA (7262) or send e-mail to
[email protected] or refer to www.panasonic.com
F563181
Thank you for purchasing a Panasonic product.
Gracias por comprar un producto Panasonic.
This Panasonic Room Air Conditioner has been designed for maximum energy efficiency and minimal noise while
keeping your room comfortably cool.
Este Acondicionador De Aire Panasonic ha sido diseñado para mantener la habitación a una temperatura
comfortable con máxima eficiencia de energia y mínimo ruido.
FEATURES
CARACTERÍSTICAS
W!
NE VO!
E
NU
☛
CLOSE
TABLERO DE INSTRUMENTOS
Ofrece la ventaja de una selección
facíl para su comodidad.
VENT OPEN
°F
hr
TEMP/TIMER
FAN
TIMER
OPERATION
SET
SET/
CANCEL
COOL
OFF/ON
MODE
AIR SWING
HIGH
MED
LOW
ECONOMY
FAN SPEED
Wireless
Rem
ote C
ont
rol
☛
CLOSE
VENT OPEN
°F
hr
TEMP/TIMER
FAN
LOW
OPERATION
SET
CLOSE
QUITE LA REJILLA FRONTAL
DE LA TOMA DE AIRE
Para rápida y fácil limpieza.
VENT OPEN
°F
hr
TEMP/TIMER
FAN
LOW
OPERATION
SET
OFF/ON
MODE
AIR SWING
HIGH
MED
TIMER
SET/
CANCEL
COOL
ECONOMY
FAN SPEED
Wireless
Remo
te Co
nt
rol
☛
W!
NE VO!
E
NU
AIR SWING
The air circulation vanes swing from
side to side to direct air evenly in the
room when switched on. When the
desired fixed air direction is obtained,
you can turn the air swing off.
REMOVABLE FRONT INTAKE
GRILLE
For quick and easy cleaning.
ATION
OPER
R
/TIME
TEMP
SET/EL
CANC
WIRELESS REMOTE CONTROL
The remote control is designed to be
user-friendly.
R
TIME
TELECONTROL SIN CABLE
El telecontrol es diseñado para que
sea amistosa.
OMY
ECON
E
MOD
D
FAN SPEE
G
AIR SWIN
onic
Panas
OFF/ON
MODE
AIR SWING
HIGH
MED
TIMER
SET/
CANCEL
COOL
☛
TOUCH CONTROL PANEL
It comes with the added advantage
of easy touch pad selection for your
convenience.
ECONOMY
FAN SPEED
Wireless
Rem
ote C
ont
ROTADO DEL AIRE
El balanceo de las veletas de la
circulación del aire de lado para dirigir
regularmente el aire en la habitación
cuando se enciende. Cuando desea
fijar la dirección del aire, tu puedes
hacer girar el rotado del aire.
rol
☛
ECONOMY MODE
One-touch power saving operation for
economical cooling.
MODO ECONOMY
Operación de ahorro de electricidad
de un toque para refrigeración
económica.
☛
RANDOM AUTO RESTART
Automatically restarts the unit after
power failure.
ECONOMY
☛
The e+filter keeps room air cleaner
by attracting, and trapping tiny particles
that would pass through ordinary
filters.
AL AZAR DE AUTOARRANQUE
Arranca automáticamente el aparato
después de un apagón.
El filtro mantiene el aire ambiente más
limpio al atraer y atrapar pequeñas
partículas que pasan a través de filtros
normales.
☛
12-HOUR OFF TIMER
TEMPORIZADOR DE 12 HORAS
REFERENCE
REFERENCIA
Model Number : ___________________________________________
Número del modelo:
Dealer's Address : __________________________________________
Nombre del comerciante:
Serial Number : ___________________________________________
(Located on the side of unit)
Número de serie:
(Localizado en el costado de la unidad)
Dealer's Tel : ______________________________________________
Teléfono del comerciante:
Dealer's Name : ___________________________________________
Nombre del distribuidor:
Date of Purchase : _________________________________________
Fecha de adquisicion:
Please staple your purchase receipt here for future reference.
Por favor Pegue acá su recibo de compra para un referencia futuro.
© 2000 Matsushita Electrical Co., Ltd. All Right Reserved.
© 2000 Matsushita Electrical Co., Ltd. Derechos Reservados.

* Your assessment is very important for improving the work of artificial intelligence, which forms the content of this project