Panasonic EY6803X8 Operating instructions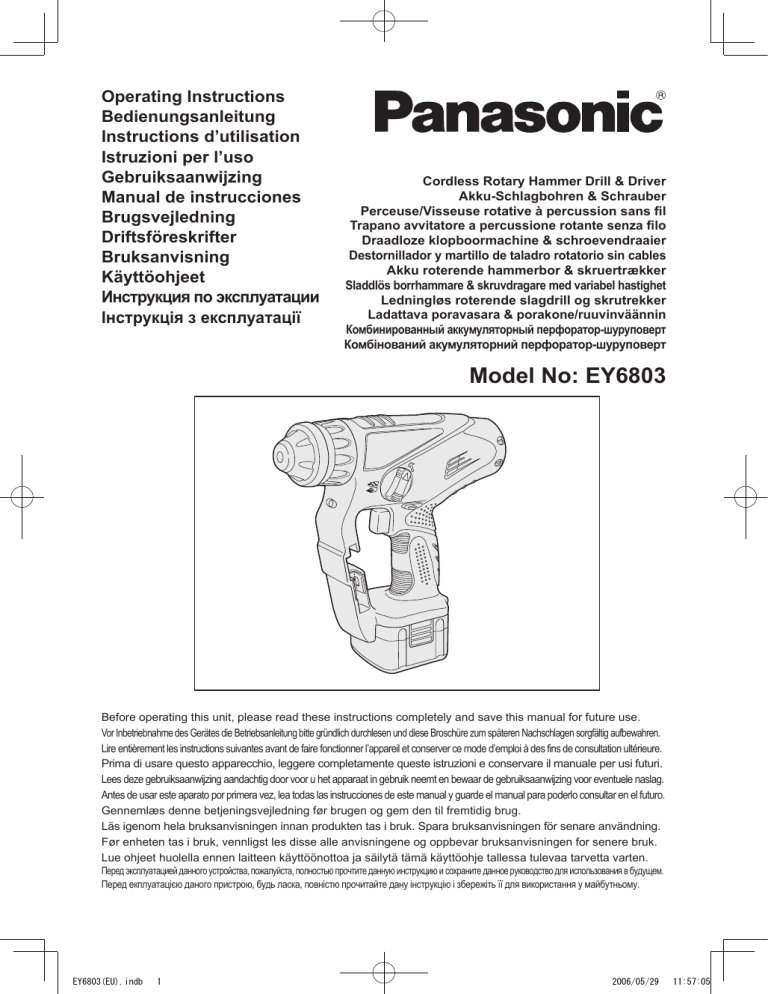 Operating Instructions
Bedienungsanleitung
Instructions d'utilisation
Istruzioni per l'uso
Gebruiksaanwijzing
Manual de instrucciones
Brugsvejledning
Driftsföreskrifter
Bruksanvisning
Käyttöohjeet
Инструкция по эксплуатации
Iнструкцiя з експлуатації
Cordless Rotary Hammer Drill & Driver
Akku-Schlagbohren & Schrauber
Perceuse/Visseuse rotative à percussion sans fil
Trapano avvitatore a percussione rotante senza filo
Draadloze klopboormachine & schroevendraaier
Destornillador y martillo de taladro rotatorio sin cables
Akku roterende hammerbor & skruertrækker
Sladdlös borrhammare & skruvdragare med variabel hastighet
Ledningløs roterende slagdrill og skrutrekker
Ladattava poravasara & porakone/ruuvinväännin
Комбинированный аккумуляторный перфоратор-шуруповерт
Комбінований акумуляторний перфоратор-шуруповерт
Model No: EY6803
Before operating this unit, please read these instructions completely and save this manual for future use.
Vor Inbetriebnahme des Gerätes die Betriebsanleitung bitte gründlich durchlesen und diese Broschüre zum späteren Nachschlagen sorgfältig aufbewahren.
Lire entièrement les instructions suivantes avant de faire fonctionner l'appareil et conserver ce mode d'emploi à des fins de consultation ultérieure.
Prima di usare questo apparecchio, leggere completamente queste istruzioni e conservare il manuale per usi futuri.
Lees deze gebruiksaanwijzing aandachtig door voor u het apparaat in gebruik neemt en bewaar de gebruiksaanwijzing voor eventuele naslag.
Antes de usar este aparato por primera vez, lea todas las instrucciones de este manual y guarde el manual para poderlo consultar en el futuro.
Gennemlæs denne betjeningsvejledning før brugen og gem den til fremtidig brug.
Läs igenom hela bruksanvisningen innan produkten tas i bruk. Spara bruksanvisningen för senare användning.
Før enheten tas i bruk, vennligst les disse alle anvisningene og oppbevar bruksanvisningen for senere bruk.
Lue ohjeet huolella ennen laitteen käyttöönottoa ja säilytä tämä käyttöohje tallessa tulevaa tarvetta varten.
Перед эксплуатацией данного устройства, пожалуйста, полностью прочтите данную инструкцию и сохраните данное руководство для использования в будущем.
Перед екплуатацiєю даного пристрою, будь ласка, повнiстю прочитайте дану iнструкцiю i збережiть її для використання у майбутньому.
EY6803(EU).indb 1 2006/05/29 11:57:05
Index/Index/Index/Indice/Index/Indice/Indeks/Index/Indeks/Hakemisto/Индекс/Індекс
English: Page
Deutsch: Seite
Français: Page
Italiano: Pagina
4
1
0
8
Nederlands: Bladzijde 36
Español: Página 44
5 Dansk:
Svenska: Sid
Norsk:
Suomi:
Side
Side
Sivu
60
68
76
Русский Страница 84
Українська Сторiнка 92
FUNCTIONAL DESCRIPTION
FUNKTIONSBESCHREIBUNG
DESCRIPTION DES FONCTIONS
DESCRIZIONE DELLE FUNZIONI
FUNCTIEBESCHRIJVING
DESCRIPCIÓN FUNCIONAL
BESKRIVELSE AF FUNKTIONERNE
FUNKTIONSBESKRIVNING
FUNKSJONSBESKRIVELSE
TOIMINTAKUVAUS
ФУНКЦИОНАЛЬНОЕ ОПИСАНИЕ
ФУНКЦIОНАЛЬНИЙ ОПИС
(A) (B) (C)
(I)
(D)
(J)
(K)
(L)
(H)
(G)
(F)
(E)
(M)
- -
EY6803(EU).indb 2 2006/05/29 11:57:07
(A)
(C)
(E)
(G)
(I)
(L)
Chuck
Futter
Mandrin
Mandrino
Boorkop
Portabroca
Borepatron
Chuck
Chuck
Istukanvoitelu
Зажимной патрон
Затискний патрон
Forward/reverse lever
Vorwärts/Rückwärtshebel
Levier d'inversion marche avant/marche arrière
Leva di avanzamento/inversione
Links/rechtsschakelaar
Palanca de avance/marcha atrás
Greb til forlæns/baglæns retning
Riktningsomkopplare
Forover-/bakoverbryter
Eteenpäin/taaksepäin vipu
Рычаг переключения вперед/назад
Важіль перемикання вперед/назад
Battery pack release button
Akku-Entriegelungsknopf
Bouton de libération de batterie autonome
Tasto di rilascio pacco batteria
Accu-ontgrendeltoets
Botón de liberación de batería
Udløserknap til batteripakning
Frigöringsknapp för batteri
Utløserknapp for batteripakke
Akkupaketin irrotuspainike
Кнопка освобождения батарейного блока
Кнопка вивільнення батарейного блоку
Bit holder (inside of the body)
Einsatzhalter (im Maschinenkörper)
Porte-mèche (intérieur du corps)
Portabit (all'interno della struttura)
Bithouder (geïntegreerd in de behuizing)
Soporte de broca (en el interior del cuerpo)
Bitholder (indvendig i værktøjet)
Bitshållare (inuti höljet)
Bitholder (inne i maskinhuset)
Terän pidin (rungon sisällä)
Отсек для хранения насадок (внутри корпуса)
Відсік для зберігання насадок (всередині корпусу)
LED light
LED-Leuchte
Lumière DEL
Luce LED
LED-lampje
Luz indicadora
LED-lys
LED-ljus
LED lys
LED-valo
Светодиодная подсветка
Світлодіодне підсвічування
Bit adapter (EY9HX403)
Einsatzadapter (EY9HX403)
Adaptateur de mèche (EY9HX403)
Portabit (EY9HX403)
Bitadapter (EY9HX403)
Adaptador de broca (EY9HX403)
Boradapter (EY9HX403)
Verktygsspetsadapter (EY9HX403)
Bitholderen (EY9HX403)
Bitsi adapteri (EY9HX403)
Адаптер для насадок (EY9HX403)
Адаптер для насадок (EY9HX403)
(J)
(B)
(D)
(F)
(H)
Hammering/drilling switching lever
Umschalter Schlagbohren/Schraube r
Commutateur martelage/perforation
Leva di commutazione martellatura/perforazione
Keuzeschakelaar normaal boren/klopboren
Palanca de conmutación de martillo/taladro
Hamrings/borings omskiftningsgreb
Omkopplare mellan slagborr/vanlig borr
Slag/bor omskifter
Vasaran/poran kytkentävipu
Рычаг переключения долбления/сверления
Важіль перемикання довбання/свердління
Variable speed control trigger
Elektronikschalter
Gâchette de commande de vitesse
Grilletto di controllo velocità variabile
Startschakelaar met variabele toerentalregeling
Disparador del control de velocidad variable
Kontroludløser for variabel hastighed
Avtryckare med variabel varvtalsreglering
Hovedbryter, trinnløs
Nopeudensäätökytkin
Переключатель регулировки переменной скорости
Перемикач регулювання змінної швидкості
Battery pack (EY9201)
Akku (EY9201)
Batterie autonome (EY9201)
Pacco batteria (EY9201)
Accu (EY9201)
Batería (EY9201)
Batteripakning (EY9201)
Batteri (EY9201)
Batteripakke (EY9201)
Akku (EY9201)
Батарейный блок (EY9201)
Батарейний блок (EY9201)
Bit adapter holder
Einsatzadapterhalter
Porte-adaptateur de mèche
Adattatore di portabit
Bitadapterhouder
Soporte de adaptador de broca
Boradapterholder
Hållare för verktygsspetsadapter
Holderstykke for bit-tilpasningsstykke
Terän sovittimen pidin
Отсек хранения адаптера для насадок
Відсік зберігання адаптера для насадок
Battery charger (EY0110)
Ladegerät (EY0110)
Chargeur de batterie (EY0110)
Caricabatteria (EY0110)
Acculader (EY0110)
Cargador de baterías (EY0110)
Batterioplader (EY0110)
Batteriladdare (EY0110)
Batterilader (EY0110)
Akkulaturi (EY0110)
Зарядное устройство (EY0110)
Зарядний пристрій (EY0110)
(M)
Shoulder strap
Schulterriemen
Dragonne
Cinghia da spalla
Schouderriem
Correa al hombro
Skulderrem
Axelrem
Skulderbelte
Olkahihna
Плечевой ремень
Плечовий ремінь
(K)
Grease
Schmierung
Graisse
Lubrificante
Vet
Grasa
Smørefedt
Fett
Smørefett
Rasva
Смазка
Мастило
- 3 -
EY6803(EU).indb 3 2006/05/29 11:57:09
Read "Safety Instructions" booklet and the following before using.
.
ADDITIONAL SAFETY
RULES
1)
Wear ear protection.
Exposure to noise can cause hearing loss.
) Be aware that this tool is always in an operating condition, since it does not have to be plugged into an electrical outlet.
3) When drilling into walls, floors, etc., "live" electrical wires may be encountered. DO NOT TOUCH THE
CHUCK OR ANY FRONT METAL
PARTS OF THE TOOL! Hold the tool only by the plastic handle to prevent electric shock in case you drill into a "live" wire.
4) If the bit becomes jammed, immediately turn the trigger switch off to prevent an overload which can damage the battery pack or motor. Use reverse motion to loosen jammed bits.
5) Do NOT operate the Forward/Reverse lever when the trigger switch is on.
The battery will discharge rapidly and damage to the unit may occur.
6) When storing or carrying the tool, set the Forward/Reverse lever to the center position (switch lock).
7) Do not strain the tool by holding the speed control trigger halfway
(speed control mode) so that the motor stops. The protection circuit will activate and may prevent speed control operation. If this happens, release the speed control trigger and squeeze again for normal operation.
8) Be careful not to get dust inside the chuck.
9) Do not touch the rotating parts to avoid injury.
10) Do not use the tool continuously for a long period of time. Stop using the tool from time to time to avoid temperature rise and heat overload of the motor.
11) Do not drop the tool.
- 4 -
Symbol
V
Meaning
Volts
Direct current n
0
No load speed
…/min
Revolutions or reciprocations per minutes
Rotation with hammering
Rotation only
.
OPERATION
CAUTION:
Use of a concrete drill bit larger than the recommended size may cause damage to the driver.
Chuck
NOTE:
Grease for bit
Grease the oval indentation on the bit with the supplied grease at least once a month.
1. To insert the bit
1-1. Insert a bit into the mounting hole, and turn it slightly to locate an engaged position.
1-. At the engaged position, push the bit as far as it goes. Make sure that the bit is fixed by pulling it.
EY6803(EU).indb 4 2006/05/29 11:57:11
2. To remove the bit
-1. Depress the chuck cover and pull the bit.
Bit adapter
Use a bit adapter (standard) and bit.
1. Remove the bit adapter from the bit adapter holder on the main unit.
. Pull the bit holder. (
2
)
3. Insert the bit. (
3
)
4. Make sure the bit is inserted firmly by pulling it lightly.
5. Insert the bit adapter into the mounting hole and turn to locate an engaged position.
6. At the engaged position, push in as far as it goes.
Bit holder
• Make sure it does not move by pulling it lightly.
Forward/Reverse Lever
Hammering/Drilling Switching
Lever
NOTE:
Operate the mode change after the motor rotation is completely stopped.
Position of switching lever Action mode
Operation
Rotation with hammering
Rotation only
Concrete
Drilling,
Block Drilling
Screw
Fastening,
Metal Drilling
Clutch Torque Setting
Adjust the torque to one of the 5 clutch settings or " " position.
CAUTION:
Test the setting before actual operation.
Set the scale at this mark ( ).
Forward Reverse
Lock
Be sure to set the switch in the center to lock it after use.
Operate the Forward/Reverse lever after the motor rotation is completely stopped.
Variable Speed Control Trigger
To set the center of a hole, pull the trigger slightly to start the drill rotation slowly.
The more the speed control trigger is pulled, the higher the speed becomes.
LED Light
CAUTION:
• The built-in LED light is designed to illuminate the small work area temporarily.
• Do not use it as a substitute for a regular flashlight, since it does not have enough brightness.
Depress the trigger switch, then LED light turns on. When the trigger switch is released, the light turns off automati-
- 5 -
EY6803(EU).indb 5 2006/05/29 11:57:13
cally. The light illuminates with very low current, and it does not adversely affect the performance of the tool during use or its battery capacity.
This product has the built-in LED light.
This product is classified into "Class 1
LED Product" to EN 6085-1
Class 1 LED Product
Caution
: DO NOT STARE INTO BEAM.
Installing the Shoulder Strap
CAUTION:
• Install the shoulder strap firmly to the main unit of the tool and check the length of the strap before use.
• Check the condition of the strap and do not use if it is cut or torn etc.
There is a risk of injury or damage if used while improperly installed.
• Please wear the shoulder strap securely on the shoulder.
There is a risk of injury or damage if it is accidentally dropped.
1. Pass the strap through the strap holders. (
1
)
. Pass the strap through the buckles and adjust the length. (
2
)
Shoulder pad
• The shoulder strap can be adjusted according to the individual.
• Adjust the shoulder pad to the shoulder.
• Pull the shoulder strap to make sure it is firmly attached to the main unit of the tool.
For Appropriate Use of Battery
Pack
Ni-MH Battery Pack (EY9201)
• Charge the Ni-MH battery fully before storage in order to ensure a longer service life.
• The ambient temperature range is between 0°C (3°F) and 40°C (104°F).
If the battery pack is used when the battery temperature is below 0°C
(3°F), the tool may fail to function properly. In that case, charge the battery until charging is completed for appropriate functioning of the battery.
• When battery pack is not in use, keep it away from other metal objects like: paper clips, coins, keys, nails, screws, or other small metal objects that can make a connection from one terminal to another.
Shorting the battery terminals together may cause sparks, burns or a fire.
• When operating the battery pack, make sure the work place is well ventilated.
Battery Pack Life
The rechargeable batteries have a limited life. If operation time becomes extremely short after recharging, replace the battery pack with a new one.
NOTE:
Use under extremely hot or cold conditions will reduce operating capacity per charge.
Battery Recycling
For environmental protection and recycling of materials, be sure that it is disposed of at an officially assigned location, if there is one in your country.
- 6 -
EY6803(EU).indb 6 2006/05/29 11:57:14
Battery Charger
NOTE:
Charge a new battery pack, or a battery pack that has not been used for a prolonged time, for about 4 hours to bring the battery up to full charge.
Battery charger (EY0110)
1. Plug the charger into the AC outlet.
NOTE:
Sparks may be produced when the plug is inserted into the AC power supply, but this is not a problem in terms of safety.
. Insert the battery pack firmly into the charger.
Battery pack
To AC outlet
Battery charger
3. During charging, the charging lamp will be lit.
When charging is completed, an internal electronic switch will automatically be triggered to prevent overcharging.
• Charging will not start if the battery pack is warm (for example, immediately after heavy-duty operation).
The orange standby lamp will be lit until the battery cools down. Charging will then begin automatically.
4. When charging is completed, the charging lamp will start flashing quickly in green color.
5. When in any of the conditions that battery pack is too cool, or the battery pack has not been used for a long time, the charging lamp is lit.
In this case charging takes longer to fully charge the battery pack, than the standard charging time.
• If a fully charged battery pack is inserted into the charger again, the charging lamp lights up. After several minutes, the charging lamp may flash quickly to indicate the charging is completed.
6. If the charging lamp does not light immediately after the charger is plugged in, or if after the standard charging time the lamp does not go off, consult an authorized dealer.
NOTE:
• When charging a cool battery pack (below 5°C (41°F)) in a warm place, leave the battery pack at the place and wait for more than one hour to warm up the battery to the level of the ambient temperature.
Otherwise battery pack may not be fully charged.
• Cool down the charger when charging more than two battery packs consecutively.
• Do not insert your fingers into contact hole, when holding charger or any other occasions.
CAUTION:
To prevent the risk of fire or damage to the battery charger.
• Do not use power source from an engine generator.
• Do not cover vent holes on the charger and the battery pack.
• Unplug the charger when not in use.
- 7 -
EY6803(EU).indb 7 2006/05/29 11:57:15
LAMP INDICATIONS
Red Flashing
Red Lit
Green Flashing Quickly
Orange Lit
Orange Flashing
Charger is plugged into the AC outlet.
Ready to charge.
Now charging.
Charging is completed.
Battery pack is warm. Charging will begin when temperature of battery pack drops.
Charging is not possible. Clogged with dust or malfunction of the battery pack.
Information on Disposal for Users of Waste Electrical & Electronic
Equipment (Private Households)
This symbol on the products and/or accompanying documents means that used electrical and electronic products should not be mixed with general household waste.
For proper treatment, recovery and recycling, please take these products to designated collection points, where they will be accepted on a free of charge basis. Alternatively, in some countries you may be able to return your products to your local retailer upon the purchase of an equivalent new product.
Disposing of this product correctly will help to save valuable resources and prevent any potential negative effects on human health and the environment which could otherwise arise from inappropriate waste handling.
Please contact your local authority for further details of your nearest designated collection point.
Penalties may be applicable for incorrect disposal of this waste, in accordance with national legislation.
For Business Users in the European Union
If you wish to discard electrical and electronic equipment, please contact your dealer or supplier for further information.
Information on Disposal in Other Countries Outside the
European Union
This symbol is only valid in the European Union.
If you wish to discard this product, please contact your local authorities or dealer and ask for the correct method of disposal.
.
MAINTENANCE
Use only a dry, soft cloth for wiping the unit. Do not use a damp cloth, thinner, benzine, or other volatile solvents for cleaning.
- 8 -
EY6803(EU).indb 8 2006/05/29 11:57:16
.
ACCESSORIES
CAUTION:
To prevent the risk of injury, only use accessory or attachment for its stated purpose.
Bit adapter
•EY9HX403
Drill chuck (Optional accessory)
•EY9HX400
Hammer chuck (Optional accessory)
•EY9HX401
Battery pack
•EY9201 (Ni-MH)
Battery charger
•EY0110
If you need any assistance for more details regarding these accessories, ask your local service center.
.
USAGE SUGGESTION
1. If there isn't enough force pushing down on the bit, the hammer may not be able to blow in hammering mode.
This is to prevent the hammering mode from operating with no load. Press down harder on the bit to engage the hammer and cause it to blow.
Always be sure to press down with enough force when working.
. In winter or in other situations where the temperature of the unit is low (5°C or below), the blow of the hammering mode may be weaker than normal at the beginning stage.
This is because the grease becomes stiffer in low temperatures, increasing friction.
If this should happen, operating hammering mode with no load for approximately
30 seconds and repeat this 3 times. This will restore its blowing power.
.
SPECIFICATIONS
MAIN UNIT (EY6803)
Maximum drilling diameter
Concrete
10 mm (5/64") *1.5 mm (15/3")
*For work that can be completed with one battery pack.
Motor voltage
Steel
13 mm (33/64")
1 V DC
Speed at no load (RPM)
Blows rate per minute (BPM)
Weight (with battery pack)
Dimensions (L×W×H)
0-1000 /min (rpm)
0-4000 /min (bpm)
.5 k g
(5.5 lbs)
249 ×57×64 mm (10"×10-1/8"×-1/")
-
9
-
EY6803(EU).indb 9 2006/05/29 11:57:17
GUIDELINE TABLE
• Select the torque for fastening screws with the clutch handle.
• Guide for the selection of torque
Depending on the job, adjustments are possible in five levels by approximately 1 Nm
(10 k g f-cm) increments.
Setting Torque
Guide Depending on Material
Concrete Block
(A) (B) (A) (B)
Fastening
Screws
1
3
4
5
Approximately 1.5 Nm (15 k g f-cm)
Approximately .5 Nm (5 k g f-cm)
Approximately 3.4 Nm (35 k g f-cm)
Approximately 4.4 Nm (45 k g f-cm)
Approximately 5.4 Nm (55 k g f-cm)
Drilling
Holes (Drill Mark) Approximately 8.3 Nm (85 k g f-cm) Drilling holes in metal
(A) For fastening screws into plastic anchor which requires dia. 6.0 mm (1/4") prehole in the concrete.
(B) For directly fastening screws into concrete (like topcon) with dia. 3.5 mm (1/8") prehole.
NOTE:
This is only a rough guide. Required torque is different depending on the shape, material, and application of the screws.
Set according to the work environment of the site.
BATTERY PACK
(EY9201 is included with shipment. )
Model
Battery voltage
Storage battery
Capacity
EY9201 EY9200 EY9106 EY9101 EY9001, EY9006
1 V DC (1. V × 10 cells)
Ni-MH Battery
3.5 Ah 3.0 Ah .0 Ah
Ni-Cd Battery
1.7 Ah 1. Ah
BATTERY CHARGER
Model
Rating
Weight
1. Ah
7. V
EY9065
EY9066
EY0110
See the rating plate on the bottom of the charger.
9.6 V
EY9080
EY9086
0 min.
0.78 k g
(1.7 lbs)
1 V 15.6 V
EY9001
EY9006
18 V
1.7 Ah
EY9180
EY9182
EY9101
5 min.
Charging time
.0 Ah
EY9168 EY9106 EY9136
30 min.
30 min.
4 V
EY911 6
EY9117
60 min.
3.0 Ah
3.5 Ah
EY9200 EY9230
45 min.
EY9201 EY9231 EY9251
55 min.
65 min.
EY9210
90 min
.
NOTE:
This chart may include models that are not available in your area.
Please refer to the catalogue.
- 10 -
EY6803(EU).indb 10 2006/05/29 11:57:19
ONLY FOR U. K.
.
ELECTRICAL PLUG
INFORMATION
FOR YOUR SAFETY PLEASE READ
THE FOLLOWING TEXT CAREFULLY
This appliance is supplied with a moulded three pin mains plug for your safety and convenience.
A 3 amp fuse is fitted in this plug.
Should the fuse need to be replaced please ensure that the replacement fuse has a rating of 3 amp and that it is approved by
ASTA or BSI to BS136.
Check for the ASTA mark or the BSI mark
on the body of the fuse.
If the plug contains a removable fuse cover you must ensure that it is refitted when the fuse is replaced.
If you lose the fuse cover the plug must not be used until a replacement cover is obtained.
A replacement fuse cover can be purchased from your local Panasonic Dealer.
IF THE FITTED MOULDED PLUG IS
UNSUITABLE FOR THE SOCKET OUTLET
IN YOUR HOME THEN THE FUSE SHOULD
BE REMOVED AND THE PLUG CUT OFF
AND DISPOSED OF SAFELY.
THERE IS A DANGER OF SEVERE
ELECTRICAL SHOCK IF THE CUT OFF
PLUG IS INSERTED INTO ANY 13 AMP
SOCKET.
If a new plug is to be fitted please observe the wiring code as shown below.
If in any doubt please consult a qualified electrician.
IMPORTANT:
The wires in this mains lead are coloured in accordance with the following code:
Blue: Neutral
Brown: Live
As the colours of the wire in the mains lead of this appliance may not correspond with the coloured markings identifying the terminals in your plug, proceed as follows.
The wire which is coloured BLUE must be connected to the terminal in the plug which is marked with the letter N or coloured
BLACK.
The wire which is coloured BROWN must be connected to the terminal in the plug which is marked with the letter L or coloured RED.
Under no circumstances should either of these wires be connected to the earth terminal of the three pin plug, marked with the letter E or the Earth Symbol .
How to replace the fuse:
Open the fuse compartment with a screwdriver and replace the fuse and fuse cover if it is removable.
Fuse Cover
This apparatus was produced to BS800.
- 11 -
EY6803(EU).indb 11 2006/05/29 11:57:21
Les heftet "Sikkerhetsinstruksjoner" samt følgende før du tar i bruk utstyret.
.
YTTERLIGERE FOR-
SIKTIGHEITSREGLER
1)
Bruk ørebeskyttelsesutstyr.
Det
å være utsatt for støy kan forårsake hørselskade.
) Dette verktøyet er alltid klart til bruk siden det ikke er avhengig av strømtilførsel fra et nettuttak.
3) Når du borer i vegger, gulv , etc. kan det forekomme at du støter på strømførende ledninger. IKKE
BERØR CHUCKEN ELLER NOEN
VERKTØYETS FREMRE METALL-
DELER! I et slikt tilfelle skal verktøyet holdes med håndtaket for å unngå elektriske sjokk.
4) Dersom bits/bor skulle bli sittende fast må hovedbryteren umiddelbart slås av for å forhindre overbelastning som igjen kan skade batteriet eller motoren. Benytt reversmekanismen for å løsne fastsittende bits/bor.
5) Ikke betjen forover-/reversbryteren når hovedbryteren er i bruk. Batteriet vil utlades raskt og maskinen kan ta skade.
6) Når verktøyet lagres eller bæres, skal forover-/reversbryteren settes i midtre (låst) posisjon.
7) Ikke belast verktøyet unødvendig ved å holde hovedbryteren halveis inntrykt (hastighetskontroll) slik at motoren stopper. Sikringskretsen vil tre i funksjon og kan forårsake at hastighetskontroll blir umuliggjort.
Dersom dette skulle forekomme løser du ut bryteren og trykker den inn igjen slik at verktøyet begynner
å virke på vanlig måte.
8) Pass på at støv eller fremmedlegemer ikke kommer inn i chucken.
9) Ikke berør noen av verktøyets rote rende deler slik at skader unngås.
10) Ikke bruk verktøyet i for lange tidsperioder av gangen. Ta pauser innimellom slik at verktøyet får sjansen til å avkjøle seg. Dermed unngår du at motoren overopphetes.
11) La ikke verktøyet falle ned på harde oveflater.
Symbol Betydning
V Volt n
0
…/min
Ingen belastningshastighet
Rotasjon eller pendelbevegelse per antall minutter.
Rotasjon med slag
.
BRUK
Likestrøm
Kun rotasjon
FORSIKTIG:
Hvis du bruker en større bit for mur- og betongboring enn den abefalte, kan det forårsake skade på skrutrekkeren.
Chuck
MERK:
Smørefett for bits
Smør den ovale fordypningen på boret med det medfølgende smørefetter minst en gang i måneden.
1. Innsette biten
1-1. Innsett en bit til monteringsåpningen, og vend den litt for å finne en koplet posisjon.
- 68 -
EY6803(EU).indb 68 2006/05/29 11:58:42
1-. Ved koplet posisjon, trykkes biten inn så langt som mulig. Pass på at biten sitter fast ved å trekke i den.
SDS PLUS akseltype
2. Demontere biten
-1. Trykk chuckdekslet og trekk i biten.
Betjen Forover/revers bryter etter at motorrotasjonen stopper helt opp.
Slag/bor omskifter
MERK:
Betjen modusskiften etter at motorrotasjonen stopper helt opp.
Posisjon for koplingsspak
Virkemåte Anvendelse
Rotasjon med slag
Mur- og betongboring
Bitholderen
Bruk bitholderen (standard) og bit.
1. Ta ut bitholderen fra hovedenheten.
. Trekk i bitholderen. (
2
)
3. Innsett biten. (
3
)
4. Se etter at biten sitter fast ved å trekke i den litt.
5. Innsett bitholderen i monteringsåpningen og vend den litt for å finne riktig posisjon.
Bitholder
6. Ved riktig posisjon, trykkes biten inn så langt som mulig.
• Pass på at biten sitter fast ved å trekke i den.
Forover/Revers bryter
Forover Revers
Låst
Pass på at bryteren settes i midtposisjonen etter bruk.
Stille inn stramningsmomentet
Innstill dreiemomenten til en av de fem koplingsposisjonene eller til " "posisjonen.
ADVARSEL:
Test innstillingen før det aktuelle arbeidet gjøres.
Still skalaen inn på dette merket ( ).
Trinnløs hovedbryter
Trykk forsiktig på bryteren slik at drillen roterer langsomt når boret settes mot det som skal bli hullets senter.
Øk farten ved å trykke bryteren inn.
LED lys
FORSIKTIG:
• Det innebygde LED lyset er laget for midlertidig belysning av et mindre arbeidsområde.
• Bruk ikke dette lyset i stedet for normalt arbeidslys, da det ikke er lyssterkt nok.
-
69
-
EY6803(EU).indb 69 2006/05/29 11:58:44
Trykk inn hovedbryteren og LED lyset slås på. Når du slipper hovedbryteren slås dette lyset av automatisk. Dette lyset bruker ikke påvirke motorytelsen under bruk eller batterikapasiteten nevneverdig.
Dette produktet har innebygd LED lys.
Dette produktet er klassifisert i
"Klasse 1 LED produkt" i henhold til
EN 6085-1.
Klasse 1 LED produkt
Forsiktig
: IKKE SE INN I LYSSTRÅLEN.
Montere skulderbelte
ADVARSEL:
• Monter skulderbeltet til verktøyets hoveddel og juster lengden av beltet før det tas i bruk.
• Kontroller beltets tilstand og ikke benytt det hvis det er skadet.
Det kan forårsake skade på personer og utstyr dersom maskinen faller ned som følge av dårlig montert skulderbelte.
• Ta på deg skulderbeltet på en forsvarlig måte.
Det kan forårsake skade på personer og utstyr dersom maskinen faller ned.
1. Pass på at beltet er tredd gjennom belteholderen. (
1
)
. Pass på at beltet er tredd gjennom spennene og lengden er justert.
(
2
) skulderstykke
• Lengden av beltet kan justeres etter personen som bruker det.
• Juster posisjonen av skulderstykket til skulderen.
• Trekk i beltet for å sikre deg om det er spent fast på verktøyets hoveddel.
Riktig bruk av batteripakke
Ni-MH batteripakke (EY9201)
• Lad Ni-MH batteriet helt opp før lagring for å sikre lengre levetid.
• Temperaturen må være mellom 0˚C
(32˚F). og 40˚C (104˚F). Hvis batteri pakken brukes når batteritemperaturen er under 0˚C (32˚F), kan det være at verktøyet ikke fungerer skikkelig. I så fall, lad batteriet helt opp, for at det skal fungere skikkelig.
• Når du ikke bruker batteripakken, skal den oppbevares borte fra metallgjenstandene som binders, mynter, nøkler, spiker, skruer osv., fordi de kan ha en elektrisk forbindelse med batteripakken.
Kortslutningen kan forårsake gnister, forbrenning eller brann.
• Når batteripakken er i bruk, se etter at arbeidsplassen er godt ventilert.
Oppbevaring av batteriet
Oppladbare batterier har en begrenset levetid. Hvis brukstiden er uvanlig kort selv etter en korrekt opplading, bør batteriet byttes ut med et nytt.
MERK:
• Under ekstremt varme eller kalde forhold vil kapasiteten pr. Iading reduseres.
Resirkulering av batteri
Vern om miljøet og resirkuler batteriet ved å levere det inn til en offentlig godkjent mottaker av brukte batterier, dersom dette finnes i landet der du bor.
Batterilader
MERK:
Første gang du lader opp batteripakken, eller etter langvarig lagring, må det lades opp i ca 4 timer, slik at det oppnår full kapasitet.
- 70 -
EY6803(EU).indb 70 2006/05/29 11:58:46
Batterilader (EY0110)
1. Laderen tilkobles nettstrøm.
MERK:
Det kan oppstå gnister når støpslet settes i vekselstrømskontakten, men dette er ikke noe sikkerhetsmessig problem.
. Sett batteriet i laderen. Trykk helt ned.
Batteripakke
Til nettstrøm
Batterilader
3. Under lading lyser ladelampen hele tiden. Når ladingen er fullført, sørger automatikk i lade-elektronikken for å forhindre overlading.
• Lading vil ikke skje hvis batteriet er for varmt (for eksempel rett etter ekstremt tunge belastninger). Den gule Standbylampen
(ventetid) vil lyse inntil batteriet er tilstrekkelig avkjølt. Lading vil da gjenopptas automatisk.
4. Når ladingen er ferdig, vil ladelampen begynne å blinke raskt i grønt.
5. Dersom batteriet skulle bli for varmt eller det ikke har vært i bruk på en lang stund, vil ladelampen tennes. I dette tilfellet vil det ta lenger tid enn vanlig å lade batteriet helt opp.
• Hvis en ferdigoppladet batteripakke er stukket inn i batteriladeren igjen, vil indikatorlampen lyse.
Etter flere minutter kan ladelampen begynne å blinke raskt for å vise at ladingen er ferdig.
6. Dersom ikke ladelampen tennes med det samme laderen tilkoples, eller dersom den ikke slukkes etter vanlig ladetid må du ta kontakt med en autorisert forhandler, som kan gi det råd.
MERK:
• Ved opplading av et kaldt batteri
(under 5˚C (41˚F)) på et varmt sted, la batteriet stå der og vent i over en time for å varme opp batteriet til riktig temperatur. Ellers kan det skje at batteriet ikke lades helt opp.
• Kjøl ned laderen når det lades mer enn to batteripakker etter hverandre.
• Ikke stikk fingrene inn i kontakthullet når du holder laderen eller under andre omstendigheter.
FORSIKTIG:
For å forhindre brann eller skade på laderen.
• Ikke bruk strøm fra en motorgenerator.
• Ikke dekk til ventilasjonshullene på laderen og batteripakken.
- 71 -
EY6803(EU).indb 71 2006/05/29 11:58:47
INDIKATORLAMPER
Blinker rødt
Lyser rødt
Blinker raskt i grønt
Lyser oransje
Blinker oransje
Laderen koples til vekselstrømskontakten.
Klar til lading.
Lading pågår.
Ladingen er ferdig.
Batteripakken er varm. Ladingen vil starte når batteripakkens temperatur synker.
Lading ikke mulig. Tett av støv eller feil med batteripakken.
Informasjon for brukerne om kassering av elektrisk og elektronisk utstyr (private husholdninger)
Når et produkt og/eller medfølgende dokumenter er merket med dette symbolet, betyr det at det elektriske eller elektroniske utstyret ikke bør kasseres sammen med vanlig husholdningsavfall.
For at det kasserte utstyret skal bli behandlet, gjenvunnet og resirkulert på riktig måte, må du bringe det til nærmeste innsamlingspunkt eller gjenvinningsstasjon. I enkelte land kan du alternativt returnere produktene dine til den lokale forhandleren, eventuelt mot kjøp av et tilsvarende nytt produkt.
Hvis du kasserer dette produktet på riktig måte, bidrar til du til å bevare verdifulle ressurser og til å motvirke de negative virkningene på miljøet og den menneskelige helse som kan forårsakes av feilaktig avfallsbehandling. Ta kontakt med de lokale myndigheter hvis du ønsker ytterligere informasjon om ditt nærmeste innsamlingspunkt.
Feilaktig kassering av dette utstyret kan kanskje bøtelegges, avhengig av nasjonale lover og regler.
For bedriftskunder i den Europeiske Union
Hvis du ønsker å kassere elektrisk og elektronisk utstyr, må du kontakte forhandleren eller leverandøren din for å få mer informasjon.
Informasjon om kassering i land utenfor den Europeiske Union
Dette symbolet er kun gyldig i den Europeiske Union.
Hvis du ønsker å kassere dette produktet, må du ta kontakt med forhandleren eller de lokale myndigheter og spørre dem om hvordan det skal kasseres på riktig måte.
.
VEDLIKEHOLD
Bruk bare en tørr, myk klut for å tørke enheten. Ikke bruk en fuktig klut, tynner, bensin eller andre flytende løsninger for rengjøring.
- 7 -
EY6803(EU).indb 72 2006/05/29 11:58:48
.
TILBEHØR
FORSIKTIG:
For å unngå fare for personskade, benytt tilbehøret for de hensiktene som det er laget for.
Bitholderen
•EY9HX403
Drillchuck (Valgfritt tilbehør)
•EY9HX400
Hammerchuck (Valgfritt tilbehør)
•EY9HX401
Batteri
•EY9201 (Ni-MH)
Batterilader
•EY0110
Hvis man trenger hjelp for nærmere detaljer angående disse tilbehørene, ta kontakt med Deres servicesenter.
.
BRUKSFORSLAG
1. Hvis kraften som trykker ned på biten ikke er sterk nok, vil ikke hammeren kunne slå i hamringsstilling.
Dette er for å hindre at hammeren slår uten belastning.
Ved å trykke hardere på biten vil hammerfunksjonen kobles inn.
Trykk alltid biten hardt nok inn under arbeid.
. Om vinteren og i situasjoner der temperaturen på verktøyet blir for lav (5°C eller lavere), ville slagkraften i hammerstiling i begynnelsen være svakere enn vanlig.
Dette er fordi smørefettet blir stivere i lavere temperaturer og friksjonen øker.
Hvis det skulle skje, la verktøyet operere uten belastning i hammerstilling i 30 sekunder, og gjenta dette 3 ganger. Dette vil gjenopprette slagkraften.
.
SPESIFIKASJONER
HOVEDENHET (EY6803)
Største bordiameter
Betong
Stål
Motorspenning
Omdreininger (RPM)
Slaghastinghet (BPM)
Vekt (med batteripakke)
Ytre mål (L×B×H)
10 mm (5/64") *1,5 mm (15/3")
*For arbeidet som kan ferdiggjøres med en batteripakke.
13 mm (33/64")
1 V likestrøm
0-1000 /min (OPM)
0-4000 /min (OPM)
,5 k g
(5,5 lbs)
249 ×57×64 mm (10"×10-1/8"×-1/")
- 73 -
EY6803(EU).indb 73 2006/05/29 11:58:49
VEILEDNINGSTABELL
• Velg riktig moment for skruing ved hjelp av momentringen.
• Veiledning for valg av dreiemoment
Avhengig av arbeidets innhold, kan innstillingen gjøres i fem nivåer med hver ca.
1 Nm (10 k g f-cm) økning.
Innstilling Dreiemoment
Veiledning etter materialer
Betong Murstein
(A) (B) (A) (B)
Skruing
1
3
4
5
Ca. 1,5 Nm (15 k g f-cm)
Ca. ,5 Nm (5 k g f-cm)
Ca. 3,4 Nm (35 k g f-cm)
Ca. 4,4 Nm (45 k g f-cm)
Ca. 5,4 Nm (55 k g f-cm)
Boring
(Boremerke) Ca. 8,3 Nm (85 k g f-cm) Bore hull i metall
(A) For festing av skruer i plastplugg kreves et forhåndshull med dia. 6,0 mm (1/4") i betongen.
(B) For direktefesting av skruer i betong (f.eks. "topcon") kreves et forhåndshull med dia. 3,5 mm
(1/8").
MERK:
Tabellen er en grov veiledning. Riktig dreiemoment avhenger av skruen og materialet.
Velg dreiemoment etter arbeidets art.
BATTERIPAKKE
(EY9201 er inkludert med apparatet.)
Modell
Batterispenning
EY9201 EY9200 EY9106 EY9101 EY9001, EY9006
1 V likestrøm (1, V x 10 celler)
Batterilagring Ni-MH batteri Ni-Cd batteri
Kapasitet 3,5 Ah 3,0 Ah ,0 Ah 1,7 Ah 1, Ah
EY6803(EU).indb 74
- 74 -
2006/05/29 11:58:51
BATTERILADER
Modell
Merkedata
Vekt
1, Ah
1,7 Ah
7, V
EY9065
EY9066
EY0110
Se merkeplaten på bunnen av laderen.
9,6 V
EY9080
EY9086
0 min.
0,78 k g (1,7 lbs)
1 V
EY9001
EY9006
EY9180
EY9182
EY9101
5 min.
15,6 V 18 V 4 V
Ladetid
,0 Ah
3,0 Ah
3,5 Ah
EY9168
30 min.
EY9106 EY9136
30 min.
EY9200 EY9230
45 min.
EY9201 EY9231 EY9251
55 min.
65 min.
EY9116
EY9117
60 min.
EY9210
90 min.
MERK:
Modell-utvalg og tilbehør kan variere fra land til land. Ikke alle varianter som er vist her selges i Norge. Se norsk brosjyre og prisliste for korrekt utvalg.
EY6803(EU).indb 75
- 75 -
2006/05/29 11:58:52
* Your assessment is very important for improving the work of artificial intelligence, which forms the content of this project