Electrolux EBCGL6, EBCGL60 Installation guide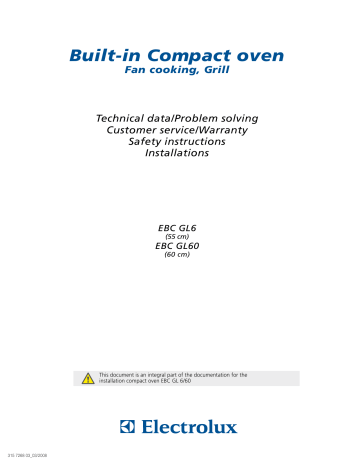 Built-in Compact oven
Fan cooking, Grill
Technical data/Problem solving
Customer service/Warranty
Safety instructions
Installations
EBC GL6
(55 cm)
EBC GL60
(60 cm)
This document is an integral part of the documentation for the
installation compact oven EBC GL 6/60
315 7268 03_03/2008
A
Installation Instructions
Page
Details see safety instructions page C
Electrical connection / supply
For servicing the appliance must be disconnected!
Connection by means of a power socket shall be provided by the customer, so that the power socket is available and outside the range of coordination
1. Clamp connection as per the connection diagram
2. Secure the strain relief
The electro connection has to be carried out by a licensed fitter.
For a network connecting line, use line version H05VV-F or higher.
Installation has to be carried out using a supply line with plug or it shall be provided with a separator laid in the home installation with at
least 3 mm contact gap, which separates the equipment at the same time and all-pin, according to NIN 2000.
During installation in combustible matter, NIN 2000, section 4.2.2 and fire protection guidelines and
regulations of the Association of Cantonal Fire Insurance shall be strictly adhered to.
Installation
the appliance in front of the
1 Place
recess and connect the mains plug.
- Cable length: 2.50 m from appliance
- Plug: version 12
2
the oven on the both sides with
3 2Fixscrews
(detail A)
Push the oven into the recess
WARNING: do not trap the cable!
When plugging in at the top, fasten
cable with the cable routing on the
left-hand side.
Variants
If the compact oven is built in directly over the installation oven in combinations, this must be done with the enclosed support
bracket set no. 315 68 3900. Look at installation sheet no. 315 6837 00 for the installation standard.
EBC GL6 (55 cm, 230 V)
EBC GL60 (60 cm, 230 V)
cable routing
cable routing
N 560-568
B
Technical Data
Read label
Page
...
5…
Customer service needs this data
for all enquiries/orders!
Exernal dimensions for:
37,8 cm
40 cm
cm
20,5 cm
- Bakery volumen
31 l
EBC GL6
Fan cooking (Rear wall
heating element):
1650 W
EBC GL60
Height
37,8
38,8
Width
54,8
59,2
Depth
Depth when
door open
56,7
56,7
81,9
81,9
Turbo grill:
1500 W
Grill size:
1500 W
Temperature in the oven compartment is measured according to an internationally applicable standard while appliance is empty.
Your own measurements can be inaccurate and are not suitable for verifying temperature accuracy.
Indications conditional of manufacture
According to model 2 glass recesses are visible on the left side of the front panel. These are conditional on production technique and
have no impact on quality and life span of the appliance.
Improper work can result in damage to persons or property. If you cannot
remove interferences with these tips, please contact your customer
service (see page B).
Problem Solving
Problem
Cause
Solution
The oven is not working
Fault in the power supply
- Check fuses
- Mains plug connected?
- The oven is not getting hot even though the
mode of operation and temperature are
switched on
- Heating element and fan are not working
- Automatic programm with delayed
cooking start was set
Cancel automatic settings or reset
-> Clock functions see 5, operating instructions
- Possible that the demo mode is activated!
Switch off
demo mode:
A +
1.
Switch off
2.
At the same time press until
the signal is audible
Oven light is not working
Bulb is defective!
Exchange bulb -> see page B
Service-Symbol
light (Errorr-Code)
According to error
Notify customer service
Symbol time of day is flashing
Power cut
Set time of day -> see page 4, Instructions for use
Changing Lamps
Before changing lamp, disconnect or unscrew fuses!
Halogen lamp 25 W, 230 V -G9
*constant
up to 300 °C
-> Electro specialist dealer or central
replacement part service
Squared lamp cover
Assembly in
reverse order
1 Remove griddle guide,
Unclip glass carefully!!
2 Change halogen lamp
* , always handle
with cloth, to avoid fatty residues burning
Warranty
For each product we issue a warranty of 2 years (display by letter of guarantee, invoice or sales document) to the end consumer from sale or
delivery date. The warranty covers the costs for materials, work and travel time, it is not applicable in the event of non observance of instructions
for use and operating regulations, improper installation and damage caused by external influences, force majeure, third party interferences
and use of non-original parts.
Subject to technical modifications.
Safety instructions
IMPORTANT! Please read carefully.
Important information concerning your personal safety and information on how to avoid damaging the appliance.
SOS
- In the case of emergency immediately pull out the mains plug or
switch circuit breaker to OFF
-
ONLY use appliance once you have read and understood these instructions
Only use for standard home cooking and roasting, in accordance with these instructions
Only use when installed and in-house. Electric shocks, risk of injury!
Keep these instructions safe for other persons using the oven
Disregarding these instructions/safety instructions can result in this appliance
posing a danger
- After use check whether the appliance is switched off
- NEVER use for heating purposes or purposes other than those described
- NEVER use when defective or you suspect there are defects/damage
- Installation only by specialist while observing the installation instructions and
the local regulations
- Installation in combustible materia: Adhere to NIN2000 guidelines
and fire prevention act
- Install appliance at a suitable working height (eye level)
Dangerous voltage
- The power supply must comply with details on appliance. The appliance has to be
connected to power supply and protective earthing by a specialist as standard,
via mains plug or permantely connected via network circuit breaker
(all-pin 3 mm contact gap)
- The mains plug or circuit breaker must be within reach at ally times
- Do not allow the cord to come into contact with the back of the appliance/hot parts.
- Always supervise when heating oil/fat, do not overheat it can become inflamed: Fire risk!
Extinguish fire with fire blanket or foam extinguisher
-
Always keep the oven clean (build up of odours)
Clean inside carefully. Do not use sharp objects (Damage)
Prior to cleaning, disconnect appliance from mains and leave to cool down!
Before exchanging oven lamp disconnect appliance from mains, pull out mains
plug or disconnect the mains fuse
- Do not clean appliance with steam or high pressure device.
Do not use combustible cleaning agent
- If oven shelf runners are removed for cleaning, always ensure you reinstall them
correctly. Otherwise there is a risk of grills or shelves falling. Burn hazard
- Only install or remove grease trap when the appliance is switched off.
- Do not use appliance in the case of defect or suspicion of defect,
immediatley disconnect from mains. Repair work to be carried out by
authorised customer service.
- Do not damage mains cable, e.g. jamming, sharp edges, heat etc.
Do not use appliance with defective mains cable, disconnect immediately.
ONLY have mains cable/plug and oven door replaced by customer service,
in order to avoid hazards
- Do not open oven housing. Oven doors must only be removed by service technician.
Risk of injury
- For safety reasons only use original replacement parts and accessories
- Only use accessories recommended by the manufacturer and
oven-suited dishware
C
Page
- CAUTION! f the appliance is used, the basic safety precautions
have to be complied with, in order to elimiate the risk of fire,
electric shock and injuries to persons
- Appliance parts become hot during use. Burn hazard!
- An oven that is switched off must not be used for storing hot, cold or
cooled meals. Moisture from the food can cause corrosion in the appliance.
- Only use supplied accessories and suitable, heat-resistant dishware,
observe manufacturer's instructions.
- In using alcoholic ingredients in the oven, highly inflammable gas can
emerge, Caution when opening the door, no flames, sparks, blaze nearby.
- Always grill with the oven door closed. Do not leave the appliance unattended
during operation. Keep children away. Window is especially hot; Burn hazard!
- Only handle hot cookware with oven gloves or thermo gloves
- People (including children) who, because of their physical, sensory or
mental capabilities or their inexperience or ignorance are not able to use
the device safely, should not use this device without supervision or
instruction by a responsible person.
- Caution when closing the oven door. Risk of catching parts of your
own body or someone else's.
- Caution when taking out grills/shelves with cooked food. The grills/shelves
can slide down when in a sloping position. Caution: Burn hazard
- Containers with hot liquid can tip if they hang over the edge of the grill.
Caution: Burn hazard
- Avoid overheating: Detrimental steam can develop, alcohol can ignite,
food can dry out and inflame
- Clean appliance and remove food residues regularly (hygiene,
Fire hazard, service life of appliance)
- Clean appliance and remove food residues regularly (hygiene,
Fire hazard, service life of appliance
- Switch off the oven after use. Disconnect the appliance from the mains
for long periods of non-use.
- Do not load, climb or sit on over door.
- Do not pull mains plug from power socket by the cable.
Do not touch mains plug/-socket with wet hands
- Adhere to national and regional regulations when disposing of range
- Packaging: Recyclable, the foil and the hard foam parts hav e been
labelled accordingly. Dispose of at a public waste-disposal site
- Range:
Pull the out of power socket. Cut off mains cable.
Take appliance and mains cable to public waste-disposal site/
dealer or the official SENS collection points / recyclers. A list of
official collection points is available at www.sens.ch
The symbol on the product or its packaging indicates that this product
should not be treated as normal household waste, but must be left at a
collection point for the recycling of electrical and electronic appliances.
In correctly disposing of this product you are making a contribution to the
protection of the environment and the health of the rest of the population.
The environment and health are at danger through incorrect waste disposal.
This applicance meets the EC directives:
- 73/23/EWG Low voltage directive including amendment 90/683/EWG
- 89/336/EWG EMV directive including amendment 92/31/EWG
- 93/68/EWG CE identification directive
Customer service
One number for all locations
- 0848 848 111
or
http://www.electrolux.ch
4127 Birsfelden
Hauptstrasse 52
9000 St. Gallen
Zürcherstrasse 204 e
3018 Bern
Morgenstrasse 131
6020 Emmenbrücke
Seetalstrasse 11
1028 Préverenges
Le Trési 6
7000 Chur
Comercialstrasse 19
Zürich/Mägenwil
5506 Mägenwil
Industriestrasse 10
6916 Grancia
Zona Industriale E
Cooking advice/Sales - 044 405 81 11
8048 Zürich
Badenerstrasse 587
Replacement parts
- 0848 848 023
sales
5506 Mägenwil
Industriestrasse 10
The Electrolux Group. The world's No. 1 choice.
The Electrolux Group is the world's largest producer of household appliances, cleaning equipment and products for the forest and garden sector.
Every year the Electrolux Group sells over 55 million products (refrigerators, stoves, washing machines, vacuum cleaners and lawn mowers) to the value
of around 14 billion US Dollar in over 150 countries worldwide.

* Your assessment is very important for improving the work of artificial intelligence, which forms the content of this project