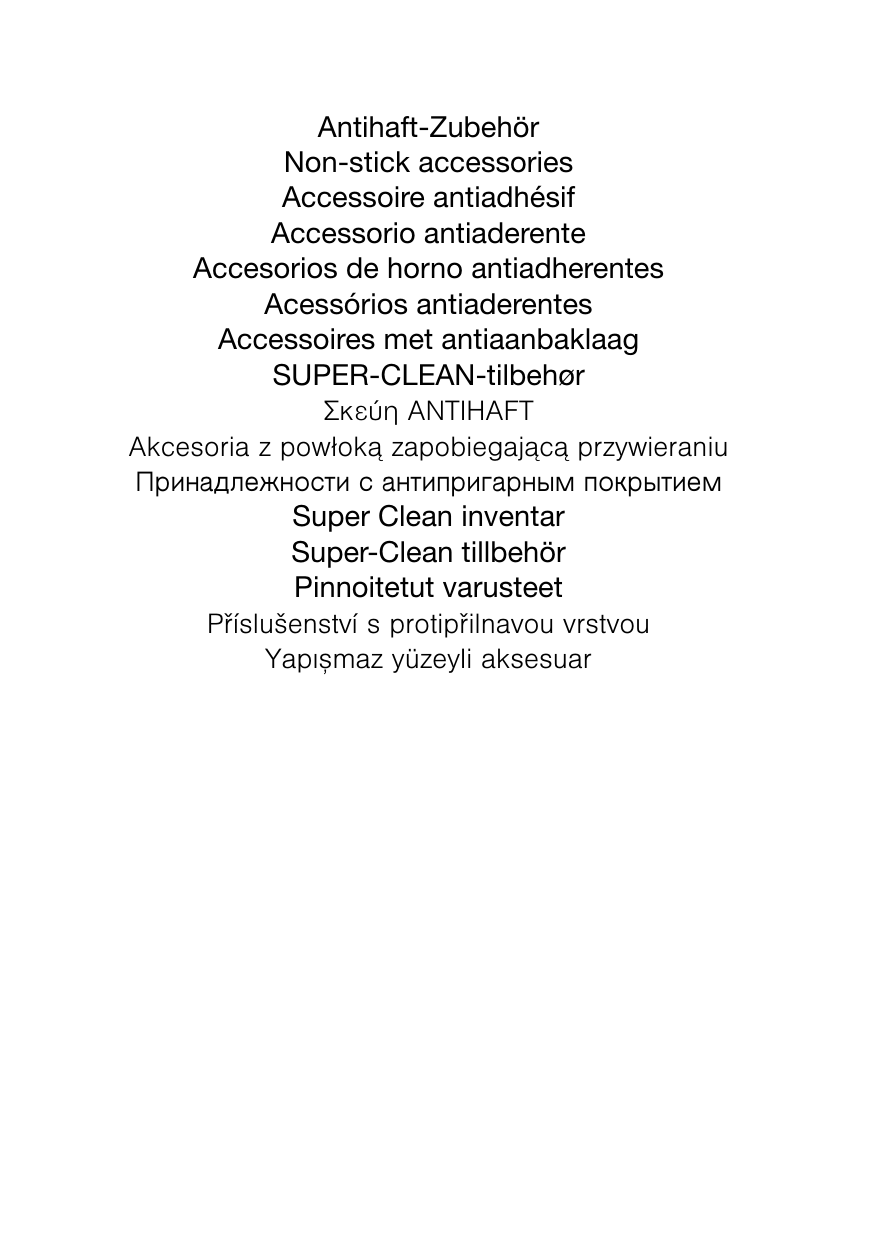 Antihaft-Zubehör
Non-stick accessories
Accessoire antiadhésif
Accessorio antiaderente
Accesorios de horno antiadherentes
Acessórios antiaderentes
Accessoires met antiaanbaklaag
SUPER-CLEAN-tilbehør
Óêåýç ANTIHAFT
Akcesoria z pow³ok¹ zapobiegaj¹c¹ przywieraniu
Ïðèíàäëåæíîñòè ñ àíòèïðèãàðíûì ïîêðûòèåì
Super Clean inventar
Super-Clean tillbehör
Pinnoitetut varusteet
Pøíslušenství s protipøilnavou vrstvou
Yapýþmaz yüzeyli aksesuar
d
Vor dem ersten Gebrauch
Vor dem ersten Gebrauch sind die Antihaft-Zubehörteile mit heißem Wasser
und Spülmittel sorgfältig zu reinigen
Während des Gebrauchs
Damit dieses Zubehör wertbeständig und immer dauerhaft leicht zu reinigen
bleibt, sollten Sie folgende Hinweise beachten:
• Zubehörteile nicht ohne Lebensmittel in den Ofen einsetzen.
• Zubehörteile nicht auf heiße Kochfelder stellen, da die Antihafteigenschaften durch punktuelle Überhitzung beeinträchtigt werden können.
• Antihaft-Zubehör bei Dampfgargeräten nicht im Dampfbetrieb verwenden.
1
Achtung! Schneiden oder kratzen Sie nie mit einem Messer oder metallischem Gegenstand auf dem Antihaft-Zubehör, damit die Oberfläche nicht
beschädigt wird. Verwenden Sie nur Kunststoff- oder Holzwerkzeuge.
Reinigung und Pflege
3
1
1
1
2
Zubehörteile mit weichem Schwamm oder Tuch in heißem Wasser mit Spülmittel reinigen.
Helle Flecken in der Beschichtung bedeuten nicht, dass die Oberfläche beschädigt ist.
Achtung: Verwenden Sie keine aggressiven und scheuernden Reinigungsmittel, Backofensprays, Stahlwatte oder harten Gegenstände
wie Messer oder Klingenschaber. Diese zerstören die Beschichtung.
Achtung: Diese Zubehörteile nicht in der Spülmaschine reinigen. Dadurch
würden die Antihafteigenschaften verloren gehen.
Achtung: Antihaft-Zubehör muss vor dem Durchführen einer pyrolytischen
Reinigung entnommen werden.
g
Before Using for the first time
Before using the non-stick accessories for the first time, clean them carefully with hot water and washing-up liquid.
During use
To ensure that this accessory remains stable and permanently easy to clean,
you should follow these instructions:
• Do not put accessories into the oven without any food.
• Do not place accessories on hot cooking surfaces, as the non-stick properties can be damaged by overheating.
• With appliances that have steam cooking facilities, do not use non-stick
oven accessories when steam mode is in use.
1
Important Never use knives or metal objects to cut or scratch on the nonstick accessories to prevent the surface from being damaged. Only use
plastic or wooden tools.
Cleaning and Care
3
1
1
1
Clean accessories with a soft sponge or cloth in hot water and washing-up
liquid.
Bright spots in the coating do not mean that the surface is damaged.
Important: Do not use any aggressive or scouring cleaning agents,
spray oven cleaners, steel soap pads or hard objects such as knives or
sharp-edged scrapers. These destroy the coating.
Important: Do not clean these accessories in the dishwasher. The nonstick properties would be lost as a result.
Important: Non-stick accessories must be removed from the oven before
pyrolytic cleaning.
3
f
Avant la première utilisation
Avant d'utiliser pour la première fois un accessoire antiadhésif, il convient
de le laver soigneusement avec de l'eau chaude et du produit vaisselle.
En cours d'utilisation
Pour conserver aussi longtemps que possible cet accessoire en bon état et
pour qu'il reste facile à laver, observez les recommandations ci-après :
• Ne pas mettre les accessoires dans le four sans aliments.
• Ne pas placer les accessoires sur des zones de cuisson brûlantes : une
surchauffe ponctuelle pourrait en affecter les propriétés antiadhésives.
• Avec des appareils à cuisson vapeur, n'utilisez pas l'accessoire ANTIADHÉSIF du four en mode vapeur.
1
Attention ! N'utilisez jamais l'accessoire ANTIADHÉSIF du four pour couper
et ne jamais le gratter avec un couteau ou un objet métallique au risque
d'endommager le revêtement. N'utilisez que des objets en plastique ou en
bois.
Nettoyage et entretien
3
1
1
1
4
Nettoyez les accessoires antiadhésifs avec de l'eau chaude et du produit
vaisselle à l'aide d'une éponge douce ou d'un chiffon.
L'apparition de taches claires sur le revêtement ne signifient pas qu'il est
endommagé.
Avertissement : N'utilisez aucun produit détergent corrosif ou abrasif,
aucun spray de nettoyage, aucun tampon en acier ou autres objets
métalliques durs, comme un couteau ou une lame de rasoir. Ces objets
détruisent le revêtement.
Avertissement ! Ces accessoires ne doivent pas être lavés dans le lavevaisselle. Cela éliminerait les propriétés antiadhésives.
Avertissement : Retirez l'accessoire antiadhésif avant de procéder à un
nettoyage par pyrolyse !
i
Prima del primo impiego
Come operazione preliminare al primo impiego lavate con cura l'accessorio
antiaderente con acqua calda e detersivo.
Durante l'impiego
Per continuare a pulire sempre in modo semplice e pratico questo accessorio, è opportuno che osserviate le seguenti indicazioni:
• Non inserite nel forno l'accessorio senza alimenti.
• Non collocate l'accessorio su piani caldi di cottura, perché altrimenti il
surriscaldamento concentrato in un solo punto può pregiudicarne le caratteristiche di antiaderenza.
• In caso di apparecchi per cottura a vapore non utilizzate l'accessorio ANTIADERENTE con il funzionamento a vapore.
1
Attenzione! Per non danneggiare la superficie, evitate di usare coltelli o oggetti metallici per tagliare o raschiare sull'accessorio ANTIADERENTE. Utilizzate esclusivamente utensili di plastica o di legno.
Pulizia e manutenzione
3
1
1
1
Pulite l'accessorio con una spugna o un panno morbido in acqua calda con
detersivo.
Macchie chiare nel rivestimento non indicano che la superficie è danneggiata.
Attenzione: non utilizzate detersivi aggressivi e abrasivi, spray per forno, pagliette di acciaio o oggetti duri come coltelli o raschietti. Distruggono il rivestimento.
Attenzione: non pulite in lavastoviglie questo accessorio. Il lavaggio in lavastoviglie farebbe perdere le sue caratteristiche di antiaderenza.
Attenzione: Togliete l'accessorio antiaderente prima di effettuare una pulizia mediante pirolisi.
5
e
Antes de la primera puesta en servicio
Antes del primero uso, los accesorios antiadherentes se tienen que limpiar a
fondo con agua caliente y detergente.
Durante el uso
Para asegurar que estos accesorios se conserven en buen estado y sean
siempre fáciles de limpiar, debería observar las siguientes indicaciones:
• No inserte los accesorios sin alimentos en el horno.
• Los accesorios no se deben colocar encima de las zonas de cocción calientes, dado que las propiedades antiadherentes se pueden ver perjudicadas por un sobrecalentamiento puntual.
• En aparatos de cocción al vapor, los accesorios de horno antiadherentes
no se deben utilizar en el modo de vapor.
1
¡Atención! No corte o rasque nunca con un cuchillo u otro objeto metálico
en los accesorios de horno antiadherentes para evitar que se dañe la superficie. Utilice únicamente útiles de material sintético o de madera.
Limpieza y mantenimiento
3
1
1
1
6
Limpie los accesorios con una esponja suave o un trapo en agua caliente
con detergente.
La presencia de manchas claras en el recubrimiento no significa que la superficie está dañada.
Atención: No utilice productos de limpieza agresivos y abrasivos, aerosoles de limpieza para hornos, lana de acero u objetos duros como cuchillos o rascadores. Éstos destruyen el recubrimiento.
Atención: Estos accesorios no son aptos para el lavavajillas. Se perderían sus propiedades antiadherentes.
Atención: Los accesorios antiadherentes se tienen que retirar antes de realizar una limpieza por pirólisis.
p
Antes da primeira utilização
Antes da primeira utilização, devem-se lavar cuidadosamente os acessórios
antiaderentes com água quente e detergente
Durante a utilização
Para que estes acessórios se mantenham sempre em boas condições e de
fácil limpeza, deve ter em atenção as seguintes recomendações:
• Não colocar estes acessórios sem alimentos no forno.
• Não colocar os acessórios em cima de placas quentes, pois as características antiaderentes podem ser danificadas através de sobreaquecimentos pontuais.
• Não utilizar acessórios antiaderentes em aparelhos de cozedura a vapor.
1
Atenção! Nunca utilize uma faca ou objecto metálico para cortar ou golpear, de modo a não danificar a superfície antiaderente. Utilize apenas
utensílios de plástico ou madeira.
Limpeza e manutenção
3
1
1
1
Lavar os acessórios com uma esponja ou pano macios em água quente e
detergente.
Manchas claras no revestimento não significam que a superfície esteja danificada.
Atenção: Não utilize detergentes agressivos e corrosivos, sprays para
forno, palha de aço ou objectos afiados como facas e espátulas de
metal. Estes danificam a camada antiaderente.
Atenção: Não lavar estes acessórios na máquina de lavar louça. Com isto, as características antiaderentes irão diminuindo.
Atenção: Antes de se proceder a uma limpeza pirolítica, devem-se retirar
os acessórios antiaderentes.
7
l
Voor het in gebruik nemen
Vóór de eerste ingebruikname moeten de accessoires met antiaanbaklaag
in heet water met afwasmiddel zorgvuldig worden gereinigd.
Tijdens het gebruik
Opdat deze accessoire de waarde blijft behouden en voortdurend gemakkelijk te reinigen blijft, dienen de volgende richtlijnen opgevolgd te worden:
• Accessoires niet zonder voedingsmiddelen in de oven plaatsen.
• Accessoires niet op hete kookzones plaatsen omdat de eigenschappen
van de antiaanbaklaag door plaatselijke oververhitting kan worden
beïnvloedt.
• Gebruik de accessoires met antiaanbaklaag bij stoomkooktoestellen niet
in de stoomstand.
1
Attentie! Nooit met een mes of ander metalen voorwerp op de accessoires
met antiaanbaklaag schrapen of snijden, opdat de oppervlakte niet beschadigd wordt. Maak uitsluitend gebruik van kunststof of houten keukengerei.
Reiniging en onderhoud
3
1
1
1
8
Accessoires met een zachte spons of doek in heet water met afwasmiddel
reinigen.
Lichte vlekken op de antiaanbaklaag betekenen niet dat deze beschadigd
is.
Let op: Gebruik geen agressieve en schurende reinigingsmiddelen,
ovensprays, schuursponsjes of harde voorwerpen zoals messen of
schraapspatels. Deze beschadigen de antiaanbaklaag.
Let op: Deze accessoires niet in de afwasmachine reinigen. Daardoor
worden de eigenschappen van de antiaanbaklaag aangetast.
Let op: Accessoires met antiaanbaklaag moeten vóór het uitvoeren van een
pyrolytische reiniging worden verwijderd.
k
Inden første brug
Inden SUPER-CLEAN-tilbehør tages i brug, skal det vaskes grundigt i meget varmt vand tilsat opvaskemiddel
Under brugen
Hvis De sørger for at overholde følgende råd, holder tilbehøret længe og vil
altid være let at gøre rent:
• Sæt ikke tilbehøret i ovnen uden mad i.
• Sæt ikke tilbehør på varme kogezoner. Pletvis overophedning kan nedsætte den rengøringsvenlige belægning.
• I dampovne må der ikke bruges SUPER-CLEAN-tilbehør sammen med
damp.
1
Bemærk! Skær eller rids aldrig SUPER-CLEAN-tilbehør med en kniv eller
andre ting af metal; ellers kan belægningen tage skade. Brug kun redskaber
af kunststof eller træ.
Rengøring og vedligeholdelse
3
1
1
1
Tilbehørsdelene skal vaskes i meget varmt vand tilsat opvaskemiddel; brug
en blød svamp eller klud.
Lyse pletter i belægningen betyder ikke, at belægningen fejler noget.
Bemærk: Brug aldrig skrappe og skurende rengøringsmidler, ovnspray,
ståluld eller hårde genstande som knive og skrabere. De ødelægger
belægningen.
Bemærk: Disse tilbehørsdele må ikke komme i opvaskemaskinen. Ellers
mister de deres rengøringsvenlige egenskaber.
Bemærk: SUPER-CLEAN-tilbehør skal tages ud, inden der gennemføres en
pyrolytisk rengøring.
9
r
Ðñéí ôçí ðñþôç ÷ñÞóç
Ðñéí áðü ôçí ðñþôç ÷ñÞóç ôá óêåýç ANTIHAFT ðñÝðåé íá êáèáñéóôïýí
ðñïóåêôéêÜ ìå æåóôü íåñü êáé áðïññõðáíôéêü.
ÊáôÜ ôç äéÜñêåéá ôçò ÷ñÞóçò
1
Ãéá íá äéáôçñÞóåôå ôçí áîßá áõôïý ôïõ óêåýïõò, áëëÜ êáé ãéá íá ìðïñåßôå
ðÜíôïôå íá ôï êáèáñßæåôå ìå åõêïëßá èá ðñÝðåé íá ôçñÞóåôå ôéò ðáñáêÜôù
õðïäåßîåéò:
• Ìçí ôïðïèåôåßôå ôá óêåýç óôï öïýñíï ÷ùñßò ôñüöéìá.
• Ìçí ôïðïèåôåßôå ôá ðñüóèåôá óêåýç óôéò èåñìÝò åóôßåò ìáãåéñÝìáôïò, áöïý
ìðïñåß íá ìåéùèåß ç áíôéêïëëçôéêÞ éêáíüôçôá ëüãù óçìåéáêÞò õðåñèÝñìáíóçò.
• Ôá óêåýç ANTIHAFT äåí åðéôñÝðåôáé íá ÷ñçóéìïðïéïýíôáé ìå áôìü óôéò
óõóêåõÝò ðïõ äéáèÝôïõí áõôÞ ôç ëåéôïõñãßá.
Ðñïóï÷Þ! Ìç ÷áñÜóóåôå êáé ìçí êüâåôå ìå ìá÷áßñé Þ Üëëï ìåôáëëéêü
áíôéêåßìåíï åðÜíù óôçí åðéöÜíåéá ôùí óêåõþí ANTIHAFT, ãéá íá ìçí
ðñïêáëÝóåôå öèïñÝò óôçí åðéöÜíåéÜ ôïõò. ×ñçóéìïðïéåßôå ìüíïí ðëáóôéêÜ Þ
îýëéíá åñãáëåßá ìáãåéñéêÞò.
Êáèáñéóìüò êáé öñïíôßäá
3
1
1
1
10
Êáèáñßóôå ôá óêåýç ìå Ýíá ìáëáêü óöïõããÜñé Þ ìå Ýíá ðáíß êáé æåóôü íåñü êáé
áðïññõðáíôéêü.
Ïé áíïéêôü÷ñùìïé ëåêÝäåò åðÜíù óôçí åðßóôñùóç äåí åßíáé Ýíäåéîç öèïñÜò ôçò
åðéöÜíåéáò.
Ðñïóï÷Þ: Ìç ÷ñçóéìïðïéåßôå éó÷õñÜ Þ êáõóôéêÜ êáèáñéóôéêÜ ìÝóá, óðñÝé
öïýñíïõ, ìåôáëëéêü óýñìá Þ áé÷ìçñÜ áíôéêåßìåíá üðùò ìá÷áßñéá Þ îýóôñåò.
Ìðïñåß íá êáôáóôñÝøïõí ôçí åðßóôñùóç.
Ðñïóï÷Þ: ÁõôÜ ôá óêåýç äåí ðëÝíïíôáé óôï ðëõíôÞñéï ðéÜôùí. Ìðïñåß íá
öèáñåß ç áíôéêïëëçôéêÞ åðßóôñùóç ôùí óêåõþí.
Ðñïóï÷Þ: Ôá óêåýç Antihaft èá ðñÝðåé íá áðïìáêñõíèïýí ðñéí áðü ôç
ëåéôïõñãßá êáèáñéóìïý ìå ðõñüëõóç!
o
Przed pierwszym u¿yciem
Przed pierwszym zastosowaniem akcesoriów z pow³ok¹ zapobiegaj¹c¹
przywieraniu nale¿y je dok³adnie wyczyœciæ za pomoc¹ gor¹cej wody z
dodatkiem œrodków myj¹cych.
W trakcie stosowania
Aby akcesoria zachowa³y swoje w³aœciwoœci i dawa³y siê ³atwo czyœciæ, nale¿y
przestrzegaæ nastêpuj¹cych wskazówek:
• Nie umieszczaæ akcesoriów bez produktów w komorze piekarnika.
• Nie stawiaæ ich na gor¹cych palnikach, gdy¿ miejscowe przegrzanie mo¿e
prowadziæ do os³abienia w³aœciwoœci pow³oki zapobiegaj¹cej przywieraniu.
• Przy urz¹dzeniach wyposa¿onych w programy gotowania w parze nie
stosowaæ akcesoriów z pow³ok¹ zapobiegaj¹c¹ przywieraniu podczas pracy z
par¹.
1
Uwaga! Nie kroiæ produktów na akcesoriach z pow³ok¹ zapobiegaj¹c¹
przywieraniu, ani nie drapaæ powierzchni takich akcesoriów no¿em lub innym
przedmiotem metalowym, gdy¿ mo¿e to prowadziæ do uszkodzenia pow³oki.
Stosowaæ wy³¹cznie narzêdzia z tworzyw sztucznych lub drewniane.
Czyszczenie i pielêgnacja
3
1
1
1
Akcesoria czyœciæ za pomoc¹ miêkkiej g¹bki lub œciereczki w gor¹cej wodzie z
dodatkiem œrodków myj¹cych.
Jasne plamy na pow³oce nie oznaczaj¹ uszkodzenia powierzchni.
Uwaga: Nie nale¿y stosowaæ ¿adnych agresywnych œrodków
czyszcz¹cych, œrodków do szorowania, aerozoli do czyszczenia
piekarników, szczotek drucianych lub twardych przedmiotów, takich jak no¿e lub stalowe skrobaki. Mog¹ one uszkodziæ
pow³okê.
Uwaga: Nie czyœciæ akcesoriów w zmywarce do naczyñ. Pow³oka
zapobiegaj¹ca przywieraniu straci³aby swoje w³aœciwoœci.
Uwaga: Przed przeprowadzeniem czyszczenia metod¹ pyrolizy nale¿y wyj¹æ
akcesoria z pow³ok¹ zapobiegaj¹c¹ przywieraniu.
11
u
Ïåðåä ïåðâûì èñïîëüçîâàíèåì
Ïåðåä ïåðâûì èñïîëüçîâàíèåì ïðèíàäëåæíîñòè ñ àíòèïðèãàðíûì
ïîêðûòèåì ñëåäóåò òùàòåëüíî âûìûòü ãîðÿ÷åé âîäîé ñ ìîþùèì ñðåäñòâîì
Âî âðåìÿ èñïîëüçîâàíèÿ
1
Äëÿ òîãî, ÷òîáû ýòè ïðèíàäëåæíîñòè äîëãîå âðåìÿ îñòàâàëèñü èñïðàâíûìè
è ëåãêî ÷èñòèëèñü, âûïîëíÿéòå ñëåäóþùèå óêàçàíèÿ:
• Íå âñòàâëÿéòå ïðèíàäëåæíîñòè â äóõîâîé øêàô áåç ïðîäóêòîâ ïèòàíèÿ.
• Íå ñòàâüòå ïðèíàäëåæíîñòè íà ãîðÿ÷èå êîíôîðêè, ïîñêîëüêó
àíòèïðèãàðíûå ñâîéñòâà ìîãóò ïîñòðàäàòü èç-çà òî÷å÷íîãî ïåðåãðåâà.
• Íå èñïîëüçóéòå àíòèïðèãàðíûå ïðèíàäëåæíîñòè â ðåæèìå ïðèãîòîâëåíèÿ
ïèùè íà ïàðó.
Âíèìàíèå! Âî èçáåæàíèå ïîâðåæäåíèÿ ïîâåðõíîñòè àíòèïðèãàðíûõ
ïðèíàäëåæíîñòåé, íèêîãäà íå ðåæüòå íà íèõ ïðîäóêòû è íå ñêðåáèòå èõ
íîæîì èëè äðóãèìè ìåòàëëè÷åñêèìè ïðåäìåòàìè. Ïîëüçóéòåñü òîëüêî
ïëàñòìàññîâûìè èëè äåðåâÿííûìè èíñòðóìåíòàìè.
Ìûòüå è óõîä
3
1
1
1
12
Ïðîìûâàéòå ïðèíàäëåæíîñòè ìÿãêîé ãóáêîé â ãîðÿ÷åé âîäå ñ ìîþùèì
ñðåäñòâîì.
Ñâåòëûå ïÿòíà íà ïîêðûòèè íå îçíà÷àþò, ÷òî ïîâåðõíîñòü ïîâðåæäåíà.
Âíèìàíèå: Íå ïîëüçóéòåñü àãðåññèâíûìè è àáðàçèâíûìè ìîþùèìè
ñðåäñòâàìè, àýðîçîëÿìè äëÿ äóõîâûõ øêàôîâ, ìåòàëëè÷åñêèìè
ìî÷àëêàìè èëè òâåðäûìè ïðåäìåòàìè, òàêèìè êàê íîæè èëè ñêðåáêè.
Îíè ðàçðóøàþò ïîêðûòèå.
Âíèìàíèå: Ýò ïðèíàäëåæíîñòè íåëüçÿ ìûòü â ïîñóäîìîå÷íîé ìàøèíå. Â
ðåçóëüòàòå ýòî óòðà÷èâàþòñÿ àíòèïðèãàðíûå ñâîéñòâà.
Âíèìàíèå: Ïåðåä ïðîâåäåíèåì ïèðîëèòè÷åñêîé î÷èñòêè íåîáõîäèìî âûíóòü
ïðèíàäëåæíîñòè ñ àíòèïðèãàðíûì ïîêéðûòèåì.
n
Før første gangs bruk
Før den første bruken må Super Clean inventaret rengjøres grundig med
vramt vann og oppvaskmiddel
Under bruken
For at dette tilbehøret alltid skal beholde sin kvalitet over lang tid og hele tiden være lett holde rent, skal du legge merke til følgende råd:
• Ikke sett inn tilbehørsdeler inn i ovnen uten at det er matvarer på de:
• Ikke sett tilbehørsdeler på varme kokesoner, fordi Super Clean belegget
kan bli forringet på grunn av overoppheting.
• Super Clean inventaret skal ikke brukes til damping i stekeovn.
1
Advarsel! Ikke skjær eller skrap med kniv eller metallgjenstand på Super
Clean inventaret, slik at overflaten ikke blir skadd. Bruk kun redskaper i plast
eller tre.
Rengjøring og pleie
3
1
1
1
Rengjør inventaret med svamp eller klut i varmt vann med oppvaskmiddel.
Lyse flekker betyr ikke at overflaten er skadet.
Forsiktig: Ikke bruk aggressive eller skurende rengjøringsmidler, stekeovnsspray, stålull eller harde gjenstander, som kniv eller rengjøringsskrape. Dette ødelegger belegget.
OBS: Ikke rengjør dette inventaret i oppvaskmaskinen. Da kan Super
Clean belegget bli ødelagt.
OBS: Super Clean inventaret må tas ut før du foretar en pyrolytisk rensing!
13
s
Innan produkten används första gången
Före första användningen skall Super-Clean tillbehören noggrant rengöras
med varmt vatten och diskmedel.
Under användning
För att dessa ugnstillbehör skall hålla länge och alltid vara lätta att rengöra,
bör Du beakta följande anvisningar:
• Sätt inte in dem i ugnen utan livsmedel.
• Ställ inte ugnstillbehör på varma kokzoner, eftersom Super-Clean egenskaperna kan påverkas genom fläckvis överhettning.
• Använd inte Super-Clean ugnstillbehör vid ångtillagning.
1
Observera! Skär eller skrapa inte med en kniv eller ett metallföremål på Super-Clean ugnstillbehör, ytan kan skadas. Använd endast plast- eller träverktyg.
Rengöring och skötsel
3
1
1
1
14
Rengör ugnstillbehören med en mjuk svamp eller duk i varmt vatten och
diskmedel.
Ljusa fläckar i ytskiktet betyder inte att ytan är skadad.
Observera: Använd inga aggresiva och skrubbande rengöringsmedel,
ugnssprayer, stålull eller hårda föremål såsom knivar eller skrapverktyg. Dessa förstör beläggningen.
Observera: Diska inte dessa ugnstillbehör i diskmaskin. Om detta görs förloras Super-Clean egenskaperna.
Observera: Super-Clean tillbehör skall tas ur ugnen innan en pyrolytisk rengöring genomföres.
q
Ennen ensimmäistä käyttöä
Ennen ensimmäistä käyttökertaa pinnoitetut varusteet täytyy puhdistaa
huolellisesti kuumalla vedellä ja astianpesuaineella.
Käytön aikana
Jotta varusteiden ominaisuudet säilyvät muuttumattomina ja niiden puhdistaminen on helppoa, noudata seuraavia ohjeita:
• Älä laita varusteita uuniin tyhjinä.
• Älä laita varusteita kuumalle keittotasolle, sillä tarttumattomuuden varmistavat ominaisuudet voivat vahingoittua paikallisen kuumentumisen vuoksi.
• Älä käytä höyrykypsennyslaitteiden tarttumattomalla pinnoitteella päällystettyjä uunivarusteita höyrytoiminnolla.
1
Huomaa! Älä leikkaa tai naarmuta veitsellä tai muulla metalliesineellä tarttumattomalla pinnoitteella päällystettyä varustetta, jotta sen pinta ei vahingoitu. Käytä ainoastaan muovisia tai puisia välineitä.
Puhdistus ja hoito
3
1
1
1
Puhdista varusteet pehmeällä sienellä tai liinalla ja käsitiskiaineella kuumassa vedessä.
Vaaleat värjäytymät pinnoitteessa eivät tarkoita sitä, että pinta on vahingoittunut.
Huomaa: Älä käytä puhdistamiseen voimakkaita ja hankaavia puhdistusaineita, uuninpuhdistussuihketta, teräsvillaa tai teräviä esineitä, esim.
veistä tai teräkaavinta, sillä ne vahingoittavat pintaa.
Huomaa: Näitä varusteita ei saa pestä astianpesukoneessa. Tarttumattomuuden varmistavat ominaisuudet katoavat.
Huomio: Tarttumattomalla pinnoitteella päällystetyt varusteet on otettava
pois uunista ennen pyrolyysipuhdistusta!
15
c
Pøed prvním použitím
Pøed prvním použitím nádoby s protipøilnavou vrstvou peèlivì umyjte teplou
vodou s mycím prostøedkem.
Pøi použití
Chcete-li, aby se toto pøíslušenství dlouho udrželo v dobrém stavu a snadno se
èistilo, mìli byste dodržovat následující pokyny:
• Tyto nádoby nikdy nedávejte do trouby bez potravin.
• Nestavte je na varné plotýnky, protože vlastnosti protipøilnavé vrstvy by mohly
být bodovým pøehøátím ovlivnìny.
• Pøi pøípravì jídel v páøe ve spotøebièích pro pøípravu jídel v páøe nepoužívejte
pøíslušenství s protipøilnavou úpravou.
1
Pozor! V nádobách s protipøilnavou úpravou nikdy nekrájejte ani neškrábejte
nožem nebo jinými kovovovými pøedmìty, abyste nepoškodili jejich povrch.
Používejte pouze umìlohmotné nebo døevìné pomùcky.
Èištìní a údržba
3
1
1
1
16
Nádoby myjte mìkkou houbou nebo hadøíkem v teplé vodì s mycím
prostøedkem.
Svìtlé skvrny na povrchu neznamenají jeho poškození.
Pozor: Nepoužívejte agresivní èisticí prostøedky, prostøedky s drsnými
èásticemi, spreje do trouby, drátìnky ani jiné tvrdé pøedmìty, jako nože
nebo èepelky na odstraòování neèistot. Poškozují povrch.
Pozor: Toto pøíslušenství není urèeno k mytí v myèce. Protipøilnavá vrstva by
ztratila svoji úèinnost.
Pozor: Nádoby s protipøilnavou vrstvou je nutné pøed pyrolytickým èištìním
vyjmout z trouby.
t
Ýlk Kez Kullanmadan Önce
Ýlk kullanýmdan önce yapýþmaz yüzeyli aksesuarlar sýcak su ve deterjanla iyice
temizlenmelidir.
Kullaným sýrasýnda
Bu aksesuarýn hasar görmemesi ve daima rahatlýkla temizlenebilmesi için þu
uyarýlara dikkat etmelisiniz:
• Aksesuar parçalarýný fýrýna yiyeceksiz yerleþtirmeyin.
• Parçalarý kýzgýn ocak bölmelerinin üzerine koymayýn, aksi takdirde yapýþmayan
yüzey özelliði, nokta kaynaklý aþýrý ýsýnmadan zarar görebilir.
• Yapýþmaz yüzeyli aksesuarlarý, buharlý piþirme aletlerinde kullanmayýn.
1
Dikkat! Bir býçak veya metal eþyayla yapýþmayan yüzeyli aksesuarý keserek veya
çizerek, yüzeye zarar vermeyin. Yalnýzca plastik veya tahta aletler kullanýn.
Temizlik ve Bakým
3
1
1
1
Aksesuarlarý yumuþak sünger veya bezle, deterjanlý sýcak suyun içinde yýkayýn.
Kaplama üzerindeki açýk renkli lekeler, yüzeyin hasarlandýðý anlamýna gelmez.
Dikkat: Tahriþ edici ve ovucu temizlik maddeleri, fýrýn spreyleri, tel ya da
býçak ya da zýmpara gibi sert aletleri kullanmayýn. Bunlar kaplamaya zarar
verir.
Dikkat: Bu parçalarý bulaþýk makinesinde yýkamayýn. Aksi takdirde yapýþmaz
yüzey özelliklerini kaybederler.
Dikkat: Yapýþmaz yüzeyli aksesuar, pirolize temizlik uygulamasýndan önce
çýkartýlmalýdýr.
17
18
19
822 926 368-A-240904-01
Subject to change without notice
The Electrolux Group. The world´s No.1 choice.
The Electrolux Group is the world´s largest producer of powered appliances for kitchen, cleaning and outdoor
use. More than 55 million Electrolux Group products (such as refrigerators, cookers, washing machines,
vacuum cleaners, chain saws and lawn mowers) are sold each year to a value of approx. USD 14 billion in more
than 150 countries around the world.