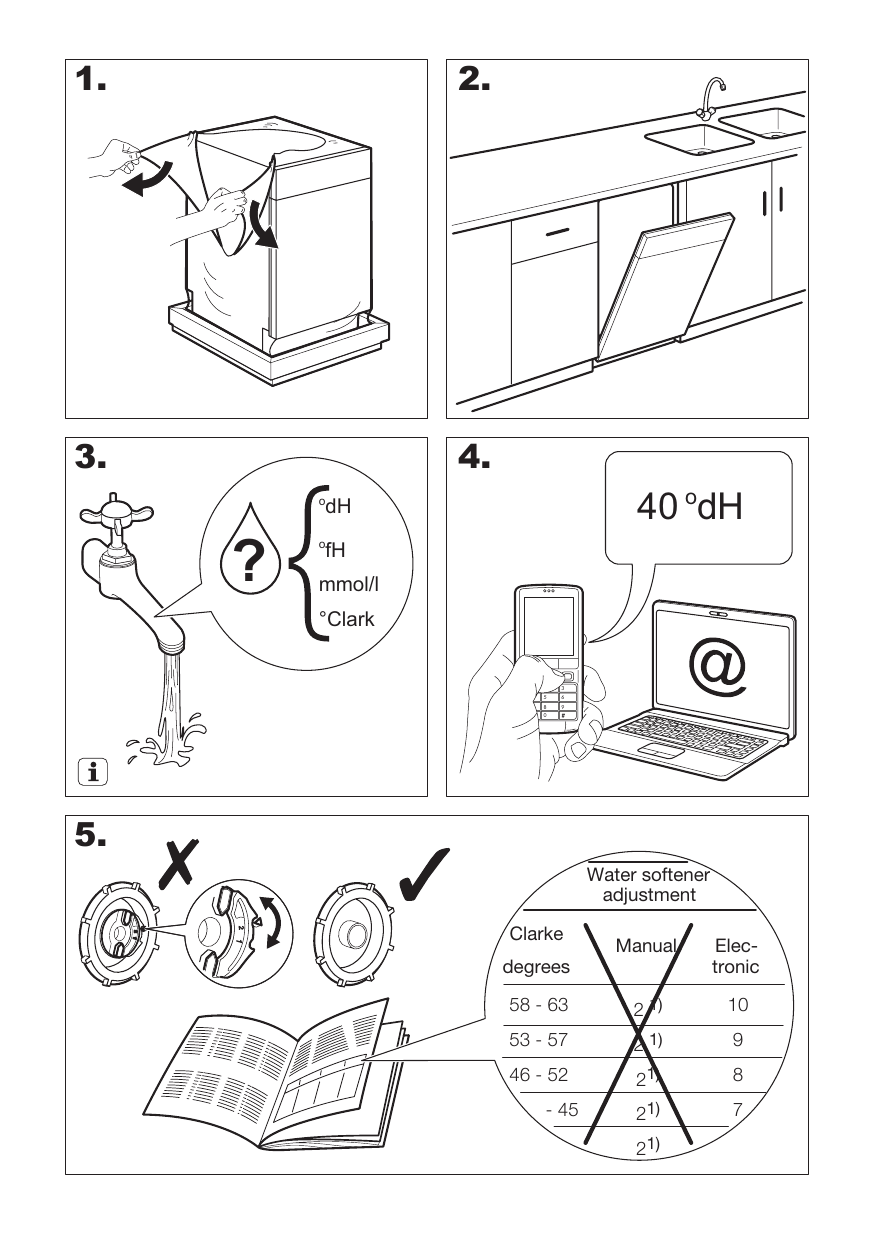 1.
2.
3.
4.
o
?
40 odH
dH
o
fH
mmol/l
°Clark
1
2
3
4
5
6
7
8
9
0
5.
Water softener
adjustment
Clarke
Manual
Electronic
58 - 63
2 1)
10
53 - 57
2 1)
9
46 - 52
21)
8
21)
7
degrees
- 45
21)
CS Před prvním použitím spotřebiče se obraťte
na místní vodárenský podnik ohledně stupně
tvrdosti vody ve vaší oblasti. Jakmile obdržíte
informace o tvrdosti vody, nastavte stupeň
změkčovače vody. Pečlivě se řiďte pokyny v
návodu k použití ohledně nastavení změkčovače
vody.
Poznámka: tento spotřebič vyžaduje pouze
elektronické nastavení.
Důležité: Při spuštění programu může
spotřebiči trvat až pět minut, než se zregeneruje
pryskyřice ve změkčovači vody. Během této
chvíle spotřebič vypadá, že nepracuje. Mycí
fáze se spustí až po dokončení této procedury.
Tato procedura se pravidelně opakuje.
DA Inden du bruger apparatet for første gang,
bedes du kontakte det lokale vandværk for at
finde ud af det lokale vands hårdhedsgrad.
Når du har fået disse oplysninger, bør
du justere blødgøringsanlægget efter
vandets hårdhedsgrad. Følg omhyggeligt
anvisningerne i brugervejledningen for at justere
blødgøringsanlægget.
Bemærk! dette apparat har kun brug for den
elektroniske justering
Vigtigt! Når du starter et program, kan det tage
op til 5 minutter før blødgøringsanlægget er klar
til drift. I denne periode virker det som om, at
apparatet ikke virker. Vaskefasen starter først,
når denne procedure er afsluttet. Proceduren
gentages regelmæssigt.
DE Bevor Sie das Gerät zum ersten Mal
benutzen, fragen Sie beim örtlichen
Wasserversorgungsunternehmen nach der
Wasserhärte in Ihrem Gebiet. Stellen Sie nach
Erhalt dieser Information den Wasserenthärter
gemäß der Wasserhärte ein. Folgen Sie den
Erklärungen in der Gebrauchsanleitung zur
Einstellung des Wasserenthärters.
Hinweis: Bei diesem Gerät muss nur die
elektronische Einstellung durchgeführt werden.
Wichtig: Wenn Sie ein Programm starten, kann
es bis zu 5 Minuten dauern das Filterharz des
Wasserenthärters zu regenerieren. Während
dieser Zeit scheint das Gerät nicht zu arbeiten.
Die Spülphase startet erst nach Abschluss
dieses Vorgangs. Dieser Vorgang wird
regelmäßig wiederholt.
2
EL Πριν χρησιμοποιήσετε τη συσκευή για πρώτη
φορά, επικοινωνήστε με την τοπική υπηρεσία
ύδρευσης για να μάθετε τη σκληρότητα
του νερού της περιοχής σας. Αφού λάβετε
αυτή την πληροφορία, ρυθμίστε το επίπεδο
του αποσκληρυντή νερού σύμφωνα με τη
σκληρότητα του νερού. Ακολουθήστε προσεκτικά
τις οδηγίες που υπάρχουν στο εγχειρίδιο χρήσης
για τη ρύθμιση του αποσκληρυντή νερού.
Σημείωση: αυτή η συσκευή χρειάζεται μόνο την
ηλεκτρονική ρύθμιση.
Σημαντικό: Όταν ξεκινάτε ένα πρόγραμμα, η
συσκευή μπορεί να πάρει έως 5 λεπτά μέχρι να
επαναφορτίσει τη ρητίνη στον αποσκληρυντή
νερού. Κατά τη διάρκεια αυτής της περιόδου,
η συσκευή φαίνεται να μην λειτουργεί. Η φάση
πλύσης ξεκινά μόνο μετά την ολοκλήρωση
αυτής της διαδικασίας. Η διαδικασία θα
επαναλαμβάνεται κατά περιόδους.
EN Before you use the appliance for the first time,
contact your local water authority to know the
water hardness in your area. Once you have
this information, adjust the level of the water
softener according to the water hardness. Follow
carefully the instructions in the user manual for
the adjustment of the water softener.
Note: this appliance needs only the electronic
adjustment.
Important: When you start a programme, the
appliance can take up to 5 minutes to recharge
the resin in the water softener. In this period,
it seems that the appliance is not working.
The washing phase starts only after that this
procedure is completed. The procedure will be
repeated periodically.
ES Antes de utilizar el aparato por primera vez,
póngase en contacto con las autoridades
correspondientes para conocer la dureza del
agua de su zona. Una vez disponga de esta
información, ajuste el nivel del descalcificador
de agua según la dureza del agua. Siga
atentamente las instrucciones del manual del
usuario para ajustar el descalcificador de agua.
Nota: este aparato sólo necesita el ajuste
electrónico.
Importante: Cuando se inicia un programa,
el aparato puede tardar hasta 5 minutos
en recargar la resina del descalcificador.
Durante este periodo, parece que el aparato
no funciona. La fase de lavado empieza sólo
después de que termine este proceso. El
proceso se repetirá periódicamente.
FR Avant d'utiliser l'appareil pour la première fois,
contactez votre compagnie des eaux pour
connaître la dureté de l'eau de votre région.
Lorsque vous avez cette information, ajustez le
niveau d'adoucisseur d'eau à l'aide du sélecteur
de dureté de l'eau. Suivez scrupuleusement les
instructions du manuel d'utilisation pour procéder
à l'ajustement de l'adoucisseur d'eau.
NL Neem voordat u het apparaat voor het eerst
gebruikt contact op met het waterschap in
uw regio voor de waterhardheid. Als u weet
wat de waterhardheid is, kunt u het niveau
van de waterverzachter afstellen op de
waterhardheid. Volg zorgvuldig de instructies in
de gebruikershandleiding voor het afstellen van
de waterverzachter.
Remarque : cet appareil nécessite uniquement
un réglage électronique.
Opm.: dit apparaat moet alleen elektronisch
worden afgesteld.
Important : Lorsque vous démarrez un
programme, l'appareil peut prendre 5 minutes
pour recharger la résine dans l'adoucisseur
d'eau. Pendant ce temps, l'appareil semble
ne pas fonctionner. La phase de lavage ne
démarre qu'une fois cette procédure achevée.
La procédure sera répétée régulièrement.
Belangrijk: Als u een programma start, doet
het apparaat er ongeveer 5 minuten over om
de hars in de waterontharder te herladen.
Tijdens deze periode lijkt het alsof het apparaat
niet werkt. De wasfase start pas nadat deze
procedure voltooid is. De procedure wordt
periodiek herhaald.
HU A készülék első használata előtt a használt
víz keménységére vonatkozó tájékoztatásért
lépjen kapcsolatba a helyi vízszolgáltatóval.
A tájékoztatás után a vízlágyító szintjét a
vízkeménységnek megfelelően állítsa be. A
vízlágyító beállításához figyelmesen kövesse a
használati útmutató utasításait.
NO Før du bruker produktet for første gang, bør du
kontakte det lokale vannverket for å få greie
på vannhardheten der du bor. Når du har fått
denne informasjonen, justerer du nivået på
skyllemiddelet i henhold til vannhardheten. Følg
instruksjonene i bruksanvisningen nøye for riktig
justering av skyllemiddelet.
Megjegyzés: ez a készülék kizárólag
elektronikus beállítást igényel.
Merk: dette produktet må bare justeres
elektronisk.
Fontos: Miután elindít egy programot, a
készüléknek kb. 5 percre van szüksége ahhoz,
hogy a vízlágyítóban lévő műgyantát feltöltse.
Ezidő alatt úgy tűnhet, mintha a készülék nem
működne. A mosási fázis csak akkor kezdődik
meg, amikor a fenti művelet véget ér. Ez a
műveletsor rendszeres időközönként ismétlődik.
Viktig: Når du starter et program, kan
produktet bruke opptil 5 minutter på å lade
opp igjen harpiksen i vannavherderen. I
denne perioden ser det ut til at produktet ikke
fungerer. Vaskefasen starter først etter at denne
prosedyren er fullført. Prosedyren vil gjentas
med jevne mellomrom.
IT Prima di utilizzare l'apparecchiatura per la
prima volta, contattare l'ente erogatore locale
per conoscere la durezza locale dell'acqua.
Una volta in possesso di questa informazione,
regolare il livello del decalcificatore dell'acqua in
base alla durezza della stessa. Per regolare il
decalcificatore dell'acqua, seguire attentamente
le istruzioni contenute nel manuale per l'utente.
Nota: questa apparecchiatura richiede soltanto
una regolazione elettronica.
Importante: Quando si avvia un programma,
l'apparecchiatura può impiegare fino a 5 minuti
per rigenerare la resina nel decalcificatore.
In questo lasso di tempo, l'apparecchiatura
sembra non funzionare. La fase di lavaggio si
avvia soltanto al termine di tale procedura. La
procedura viene ripetuta periodicamente.
PL Przed uruchomieniem urządzenia po raz
pierwszy należy skontaktować się z miejscowym
zakładem wodociągowym, aby ustalić
stopień twardości wody doprowadzanej do
urządzenia. Po uzyskaniu tej informacji należy
ustawić poziom zmiękczania wody stosownie
do twardości wody. Podczas ustawiania
poziomu zmiękczania wody należy dokładnie
przestrzegać wskazówek zawartych w instrukcji
obsługi.
Uwaga: to urządzenie wymaga tylko wykonania
regulacji elektronicznej.
Ważne: Po uruchomieniu programu urządzenie
rozpoczyna proces regeneracji zmiękczacza
wody — może to potrwać do 5 minut. W tym
czasie może wydawać się, że urządzenie nie
pracuje. Program rozpoczyna się dopiero po
zakończeniu tego procesu. Proces ten jest
powtarzany co pewien czas.
3
Nota: este aparelho requer apenas o ajuste
electrónico.
Importante: Quando iniciar um programa,
o aparelho pode demorar até 5 minutos a
recarregar a resina no descalsificador da
água. Durante este período, parece que
o aparelho não está a funcionar. A fase
de lavagem começa apenas quando este
processo terminar. O processo será repetido
periodicamente.
RU Перед первым использованием
прибора обратитесь в местную службу
водоснабжения, чтобы узнать жесткость воды
в Вашем регионе. Получив эту информацию,
отрегулируйте уровень смягчителя для воды
с учетом жесткости воды. Для регулировки
смягчителя для воды точно следуйте
инструкциям, приведенным в руководстве
пользователя.
Примечание. Данному прибору требуется
только электронная настройка.
IВажная информация: При включении
программы прибору может потребоваться
до 5 минут для «зарядки» ионообменной
смолы в устройстве для смягчения воды.
В течение этого времени может казаться,
что прибор не функционирует. Этап мойки
начнется, как только данная процедура будет
завершена. Процедура будет повторяться с
определенной периодичностью.
SK Skôr než spotrebič použijete po prvý raz, obráťte
sa na miestneho dodávateľa vody a zistite,
akú tvrdosť má voda vo vašej oblasti. Keď
sa túto informáciu dozviete, upravte hladinu
zmäkčovača vody podľa tvrdosti vody. Na
úpravu zmäkčovača vody postupujte pozorne
podľa pokynov v používateľskej príručke.
Poznámka: pri tomto spotrebiči je potrebné iba
elektronické nastavenie.
Dôležité upozornenie: Keď spustíte program,
môže spotrebiču trvať až do 5 minút, kým
pripraví zmäkčovač vody. Počas tejto doby
spotrebič nevykazuje činnosť. Fáza umývania
začne až po skončení tohto procesu. Proces sa
opakuje periodicky.
SL Pred prvo uporabo naprave se pri krajevnem
vodovodnem podjetju pozanimajte o trdoti vode
v vašem kraju. Ko boste izvedeli te podatke,
nastavite stopnjo sistema za mehčanje vode
glede na trdoto vode. Za nastavitev sistema za
mehčanje vode natančno upoštevajte navodila
za uporabo.
Opomba: pri tej napravi je potrebna samo
elektronska nastavitev.
Pomembno: Ko zaženete program, lahko traja
do pet minut, da naprava ponovno napolni
sistem za mehčanje vode. Takrat je videti, kot
da naprava ne deluje. Faza pomivanja se začne
šele, ko se ta postopek zaključi. Postopek se
redno ponavlja.
SV Kontakta Vattenverket i kommunen för
information om vattenhårdheten i området innan
du använder produkten första gången. När du
har denna information justerar du mängden
sköljmedel enligt vattenhårdheten. Följ noga
anvisningarna i bruksanvisningen för justering av
sköljmedel.
OBS! Den här produkten behöver endast
justeras elektroniskt.
Viktigt: När du startar ett program kan det ta
upp till 5 minuter för produkten att regenerera
hartset i vattenavhärdaren. Under den här tiden
kan det verka som att produkten inte fungerar.
Diskfasen startar efter att den här proceduren
är klar. Proceduren upprepas med jämna
mellanrum.
UK Перш ніж почати користуватися
приладом, зверніться до місцевої служби
водопостачання за інформацією про
жорсткість води у вашій місцевості. Після
отримання цієї інформації відрегулюйте
рівень пом'якшувача води відповідно
до жорсткості води. Чітко дотримуйтеся
інструкцій, наведених у посібнику
користувача, щодо регулювання
пом'якшувача води.
Примітка. Для цього пристрою потрібно
лише електронне налаштування.
Увага: При запуску програми приладу
може знадобитись до 5 хвилин для
перезаряджання смоли в пом'якшувачі води.
В цей час здається, що прилад не працює.
Програма миття запуститься лише після
завершення цієї процедури. Така процедура
періодично повторюється.
117917291-B-052014
PT Antes de utilizar o seu aparelho pela primeira
vez, contacte os serviços de abastecimento de
água locais para saber qual é a dureza da água
na sua área. Quando tiver essa informação,
ajuste o nível do amaciador da água de acordo
com a dureza da água. Siga cuidadosamente as
instruções do manual do utilizador para fazer o
ajuste do amaciador da água.