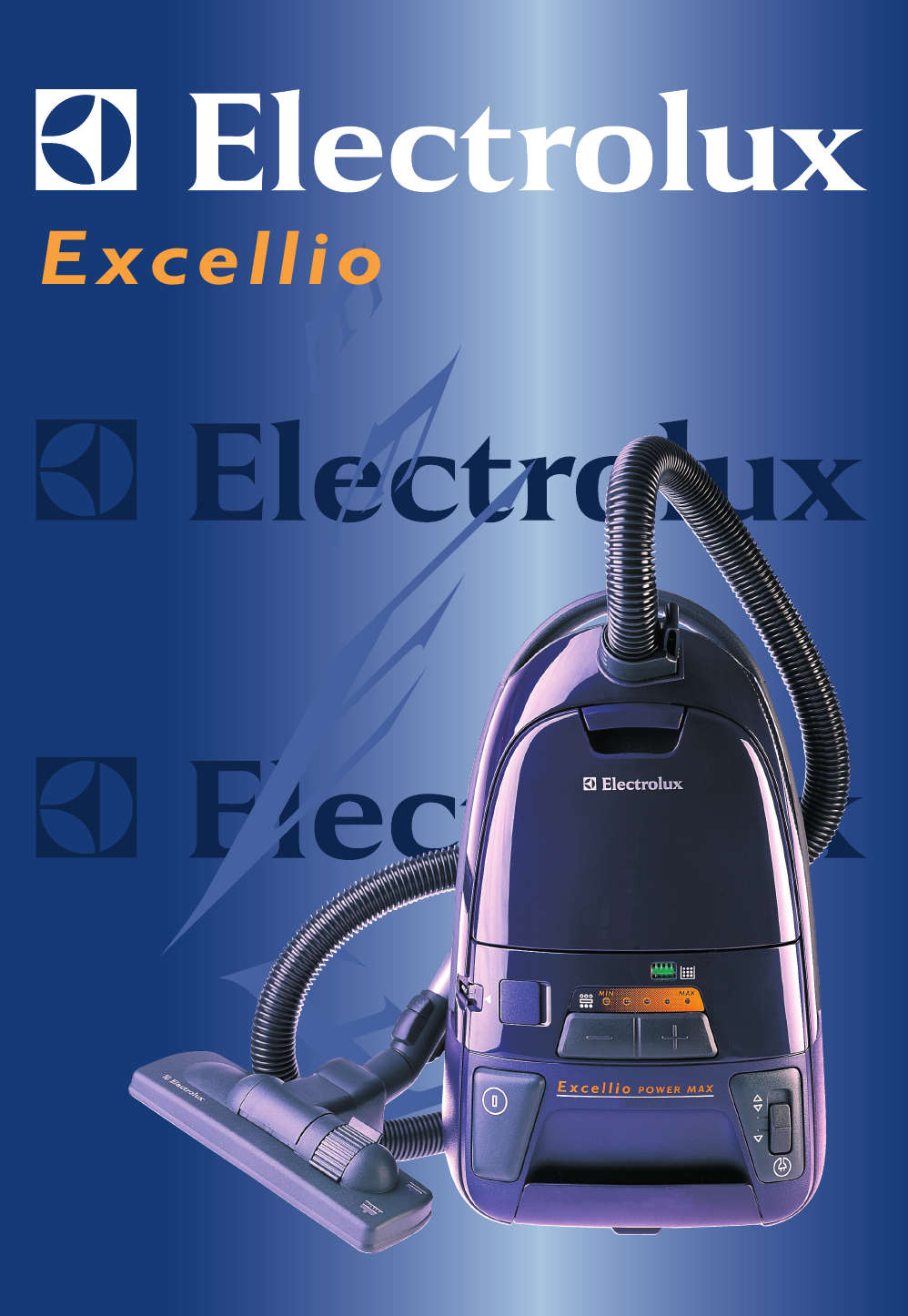 E xcellio
English: Thank you for choosing an Electrolux Excellio. To ensure
total satisfaction, read this Instruction book carefully. Retain for
reference.
Svenska: Tack för att du valde en Electrolux Excellio. För att uppnå
bästa städresultat, läs denna instruktionsbok noggrant. Behåll den
för framtida bruk.
Deutsch: Wir freuen uns, daß Sie sich für einen Electrolux Excellio
entschieden haben. Um maximale Zufriedenheit mit Ihrem Excellio
zu gewährleisten, sollten Sie diese Gebrauchsanleitung sorgfältig
durchlesen und als Nachschlagehilfe aufbewahren.
Norsk: Takk for at du har valgt en Electrolux Excellio. For å sikre full
tilfredshet, les denne Instruksjonsboken grundig. Spar på boken for
referanse og la den følge maskinen dersom den skifter eier.
Français: Nous vous remercions d'avoir choisi un aspirateur Excellio
d'Electrolux. Pour garantir une satisfaction totale, lire attentivement
ce mode d'emploi. A conserver pour s'y référer.
Suomi: Kiitos kun valitsit Electrolux Excellio–pölynimurin. Jotta
pölynimurisi vastaisi odotuksiasi, lue tämä ohjekirja huolellisesti.
Säilytä se tulevan varalle.
Español: Le agradecemos que haya elegido un Excellio de
Electrolux. Para su absoluta satisfacción, lea detenidamente este
folleto de instrucciones y consérvelo como referencia.
Ελληνικά: Σας ευχαριστούµε που επιλέξατε την Electrolux
Excellio. Για να εξασφαλίσετε πλήρη αποδοτικ)τητα, διαβάστε
αυτ) το βιβλιάριο Οδηγιών προσεκτικά. Φυλάξτε το για
µελλοντική αναφορά.
Italiano: Grazie per aver scelto l'aspirapolvere Excellio della
Electrolux. Per garantire la massima soddisfazione, leggere
attentamente questo libretto di istruzioni. Conservarlo per farvi
riferimento.
Türkçe: Electrolux Excellio'yu seçti¤iniz için teflekkür ederiz. Tam
olarak memnun kalman›z için, bu aç›klama kitap盤›n› dikkatlice
okuyunuz. ‹lerde yararlanmak için saklay›n›z.
Português: Agradecemos ter escolhido um Electrolux Excellio. Para
garantir satisfação total, leia este livro de instruções com cuidado.
Guarde para referência futura.
Русский: Благодарим Вас за выбор пылесоса Electrolux Excellio.
Для достижения наивысшей эффективности работы,
внимательно прочитайте данные инструкции. Сохраните эту
брошюру для дальнейших справок.
Nederlands: Dank u voor het kiezen van de Electrolux Excellio. Om
geheel aan uw behoeften te voldoen is het raadzaam het
instructieboekje grondig door te lezen. Bewaar dit ter referentie.
Magyar: Köszönjük, hogy Electrolux Excellio terméket választott.
Annak érdekében, hogy a készülék az Ön teljes megelégedettségét
szolgálja, szíveskedjen figyelmesen elolvasni ezt a használati
utasítást. Kérjük, tartsa az utasítást mindig biztos helyen,
hogy az a jövőben is kéznél legyen.
Dansk: Tak fordi De valgte en Electrolux Excellio. Følg venligst
brugsanvisningens råd og anvisninger, for at opnå fuld tilfredshed.
Gem brugsanvisningen, den skal følge med støvsugeren, hvis den
overdrages til en ny ejer, ligeledes er den rar at have i tvivlstilfælde.
G
H
E
I
F
5245
J
E
5240
D
5210/25/28/29
K
C
5225/28/29/40/45
5210
L
A
5225/28/29/40/45
M
Q
P
N
O
5240/45
5245
B
5210/25/28/29
5240/45
5210/25/28/29/40
5245
123
5210/25
28/29/40
5245
5245
5210/25/28/29
5225/28/29/40/45
5240
5245
5210
5210/25/28/29/40
A
B
C
A
B
C
D
E
?
F
G
English
8
Deutsch
10
Français
12
Español
14
Italiano
16
Português
18
Nederlands
20
Dansk
22
Svenska
24
Norsk
26
Suomi
28
Ελληνικά
30
Türkçe
32
Русский
34
Magyar
36
Limba român¤
38
Polski
40
Български
42
Česky
44
Hrvatski
46
Srpski
48
Eestikeelne väljaanne
50
Latviski
52
Lietuvių k
54
Slovensky
56
Slovenščina
58
60
5210 • 5228 • 5229
5240 • 5245
62
Bahasa Malaysia
64
66
68
English
5210 • 5225 • 5228 • 5229 • 5240 • 5245
Before you start, please refer to electrical safety supply instructions
on page 63 (UK and Ireland only).
Electrolux supply a range of cleaners with different
specifications and accessories. Please refer to your model
number whilst reading this booklet.
A
C
D
L
O
G
H
I
Tools for your Excellio
Dust bags
Telescopic tube
Swivel hose and handle with manual suction control
5210/25/28/29/40
Swivel hose and handle with remote control 5245
Combination carpet/hard floor nozzle 5210/25/28/29
Combination carpet/hard floor nozzle 5240/45
Narrow crevice nozzle
Upholstery nozzle
Dusting brush
Getting Started
• Check the dust bag is in place.
• Insert the hose until the catch clicks to engage.
(Press catch inwards to release).
• Attach telescopic tube to the hose handle and floor nozzle by
pushing together. To disconnect 5210/25/28/29 twist
and pull apart. To disconnect 5240/45 push locking catch and pull
apart.
• Extend the cable and connect to mains. 5210 fitted with cable
rewind, ensure cable is not twisted before use. (Press foot pedal to
rewind. Note: Please hold the plug to prevent it striking you or
the machine). 5225/28/29/40/45 fitted with combi reel. Move
the combi button to position QR to reel the cord in/out
automatically as required. Move combi button to position Q to
lock the extended cord in place.
• Press the On/Off foot pedal to activate the cleaner. To place the
cleaner on standby, press the On/Off foot pedal button 5245. Use
the On/Off button on the remote control module to reactivate the
cleaner 5245.
• To increase/decrease suction, adjust the suction controls on the
cleaner body 5210/25/28/29/40 or remote control module 5245.
Suction can also be regulated on the hose handle by
opening/closing the aperture 5210/25/28/29/40.
E
Ensuring your safety
The Electrolux Excellio is for domestic use only and has been
designed to ensure maximum safety and performance. Please follow
these simple precautions:
L
M
The Excellio is double-insulated so it must not be earthed
The Excellio is only to be used by adults. Young children or
infirm persons should be supervised to ensure that they do not
play with the appliance
A
B
C
D
E
F
N
O
P
Q
R
S
T
Always store in a dry place
G
Do not use to pick up liquids
H
Avoid sharp objects
I
Do not pick up hot cinders or lighted cigarette ends
J
Do not use near flammable gases
K
Avoid tugging on the mains cable and check cable regularly for
damage
L
Note: Do not use your cleaner with a damaged cable. If
damaged the cable should be replaced at an Electrolux
Service Centre
M
U
W
The Plug must be removed from the socket-outlet before
cleaning or maintaining the appliance
All service and repairs must be carried out by authorised
Electrolux service staff
N
O
P
Q
Your Excellio features
X Mains cable
Y
I
A
B
C
d
D
E
e
g
c
F
G
i
k
H
Cable rewind pedal 5210
Combi rewind button 5225/28/29/40/45
Electronic suction control indicator 5210/25/28/29
Steptronic suction control indicator 5240
Remote suction control indicator 5245
Dust bag indicator
Cover release catch for accessory compartment
Cover release catch for dust bag compartment
Hose connection
Carrying handle
Power outlet (for the use of power driven tools)
5225/28/29/40/45
Parking position for tube and nozzle 5210
Parking position and standby function 5225/28/29/40/45
HEPA filter indicator 5240/45
On/Off switch
Storage slot for floor nozzle and extension tubes when not
in use
Remote control module with On/Off button, electronic suction
control and Max button for extra powerful suction 5245
8
For healthier homes
k
J
p
q
r
Getting the best results
The Micro filter 5210 should be changed every fifth dust bag.
Carpets: Use the floor nozzle with the lever in this position.
To change Micro filter:
Hard floors: Use the floor nozzle with the lever in this position.
D) Open the filter cover.
Loose rugs/curtains/lightweight fabrics: Reduce the
suction power. Use the floor nozzle for loose rugs and the
upholstery nozzle for curtains, cushions etc.
E) Discard the unit. Put in a new filter unit and close lid.
The HEPA filter should be cleaned when the indicator light is
on 5240/45 or twice a year on average 5228/29.
Lamps, pictures and bookshelves: Use the dusting brush.
To clean HEPA filter:
Confined areas: Use the crevice nozzle for crevices, corners
and radiators.
F) Open filter cover and remove filter unit.
For peak performance the dust bag must be changed when
full. The dust bag indicator window will gradually turn red
when filling and completely red when full. If the dust bag
should accidentally get broken in the cleaner, take the Excellio
to an Electrolux Service Centre for cleaning.
G) Rinse the inside (dirty side) of the filter under tap water only.
Do not use cleaning agents and avoid touching the
delicate filter surface. Tap the filter frame to remove
excess water. Repeat cleaning procedure four times and
allow the filter to air dry. The original filtering performance is
now restored. Replace unit back into cleaner and close
cover.
To check the dust bag, the cleaner must be switched on,
with all attachments connected and off the floor.
Troubleshooting
Dust bag indicator and changing the dust bag
The dust bag full indicator may signify that the bag is blocked
(occasionally caused by very fine dust) which will cause loss of
suction and may result in overheating. If this occurs change
the dust bag even if it is not full.
To change the dust bag:
A) Release catch and swing back lid
B) Pull the sliding tab to remove the dust bag.
C) Insert new dust bag by sliding the bag slots into the holder.
Close lid
We recommend the dust bag is changed:
* after using a carpet cleaning powder
* if there is a bad smell from the cleaner, then you should also
change the filter
Note: Use only Electrolux original dust bags and filters:
Dust bag (ref E41)
Motor Protection filter (ref EF19)
Micro filter (ref EF17)
Washable, reusable HEPA filter (ref EF25a)
Dust bag safety device
1. Power: If the electric power does not come on,
disconnect from mains and check plugs, cable and fuses
where appropriate.
2. Blockages/dirty filters: The cleaner may switch itself off
in the event of a severe blockage or excessively dirty filter(s).
In such cases, disconnect from mains and allow to cool for
20-30 minutes. Clear blockage and/or replace filter(s) and restart.
The clearing of blocked hoses is not covered by the guarantee.
To avoid blockages and maintain suction efficiency, the floor
nozzles should be cleaned regularly using the hose handle.
Please also see Electrolux additional information towards the
back of this booklet.
3. Water: If water is sucked into the cleaner the motor must be
changed at an Electrolux Service Centre.
Change the batteries in the Remote control module 5245
when flat. We recommend alkaline batteries. NB! Do not throw
the batteries among other rubbish. Put them in a special
recycling container. If the batteries are flat you may start the
cleaner by pressing the button at the parking position.
If you have any comments on the cleaner or the Instructions
for use Booklet please e-mail us on: [email protected]
To avoid damaging the cleaner do not use it without a dust
bag. A safety device is fitted which prevents the cover closing
without a dust bag. Do not attempt to force cover shut.
Changing the filters
There are two filters inside your Excellio cleaner. Never use the
cleaner without the filters in place. The Motor Protection filter
should be changed twice a year on average (or more frequently
if necessary).
To change Motor Protection filter:
A) Release catch and swing back lid.
B) Lift holder and remove filter.
C) Insert new filter and replace holder. Close lid.
ANY PROBLEMS?
Something missing?
Don't understand the instructions?
Need more help?
DON'T TAKE
IT BACK TO THE SHOP
We are only a telephone call away.
CUSTOMER HELPLINE for the UK
08706 055 055
Local call cost Australia wide: 1300 369 333
Deutsch
5210 • 5225 • 5228 • 5229 • 5240 • 5245
Die Reinigungsgeräte von Electrolux sind mit unterschiedlichen
Spezifikationen und Zubehörteilen lieferbar. Beim Lesen dieser
Bedienungsanleitung bitte auf die Modellnummer Ihres Geräts
achten.
A
C
D
L
O
G
H
I
Zubehör für Ihren Excellio
Staubbeutel
Teleskoprohr
Drehbarer Schlauch und Griff mit manueller
Saugleistungsregulierung 5210/25/28/29/40
Drehbarer Schlauch und Griff mit Fernbedienung 5245
Umschaltbare Bodendüse für Teppiche und harte Böden
5210/25/28/29
Umschaltbare Bodendüse für Teppiche und harte Böden
5240/45
Fugendüse
Polsterdüse
Saugpinsel
Für Ihre Sicherheit
Der Electrolux Excellio ist nur für den privaten Einsatz gedacht und für
maximale Sicherheit und Leistungsstärke konzipiert. Bitte beachten
Sie die folgenden einfachen Sicherheitsvorkehrungen:
L
M
N
O
P
Q
R
S
T
U
W
Der Excellio ist doppelt isoliert und darf nicht geerdet werden
Der Excellio ist nur von Erwachsenen zu bedienen
Stets an einem trockenen Ort aufbewahren
Nicht zum Aufsaugen von Flüssigkeiten verwenden
Scharfe Objekte nicht aufsaugen
Keine heiße Asche oder glühende Zigarettenspitzen aufsaugen
Nicht in der Nähe entflammbarer Gase verwenden
Nach Möglichkeit nicht am Hauptkabel zerren; das Kabel
regelmäßig auf Schäden überprüfen
Inbetriebnahme
• Prüfen, ob der Staubbeutel eingesetzt ist.
• Schlauch so weit einschieben, bis er hörbar einrastet.
(Zum Lösen Öffnungstaste nach innen drücken.)
• Teleskoprohr auf Schlauchgriff und Bodendüse stecken. Zum Lösen
5210/25/28/29 drehen und abziehen. Zum Lösen 5240/45
Sperrtaste drücken und auseinanderziehen.
• Kabel an die Stromversorgung anschließen. 5210 ist mit
Kabelautomatik ausgestattet – vor dem Einsatz darauf achten, daß
das Kabel nicht verdreht ist. (Zum Zurückspulen Fußpedal treten.
Hinweis: Bitte den Stecker festhalten, damit er nicht Sie oder
die Maschine trifft.) 5225/28/29/40/45 ist mit einer Kombispule
ausgestattet. Stellen Sie den Kombi-Rückspulknopf auf QR, um
das Kabel nach Bedarf automatisch auszufahren/
einzuziehen. Stellen Sie den Kombispulenknopf auf Q, damit das
Kabel ausgefahren bleibt.
• Zum Einschalten des Staubsaugers den Ein-/Aus-Fußschalter
drücken. Der Bereitschaftsmodus wird durch Drücken des Ein-/Aus
-Fußschalters aktiviert 5245. Um den Staubsauger wieder zu
starten, drücken Sie die Ein-/Aus-Taste der Fernbedienung 5245.
• Zur Erhöhung/Reduzierung der Saugstärke die Saugregler am
Staubsaugerkörper 5210/25/28/29/40 oder an der
Fernbedienung 5245 einstellen. Die Saugstärke kann auch durch
Öffnen/Schließen der Öffnung am Schlauchgriff reguliert werden
5210/25/28/29/40.
E
A
B
C
D
E
F
G
H
I
J
Hinweis: Den Staubsauger nicht mit fehlerhaftem Kabel
verwenden. Beschädigte Kabel sollten in einer Electrolux
Kundendienststelle ausgewechselt werden
K
Vor dem Auswechseln des Filters oder des Staubbeutels den
Stecker aus der Steckdose ziehen
M
Alle Wartungs- und Reparaturarbeiten sind von zugelassenen
Electrolux Kundendienstmitarbeitern durchzuführen
N
L
O
P
Q
Ausstattung Ihres Excellio
X Netzkabel
Y
I
A
B
C
d
D
E
e
g
c
F
G
i
k
H
Tiptronicpedal zur Kabelautomatik 5210
Kombi-Rückspulknopf 5225/28/29/40/45
Elektronische Saugsteuerungsanzeige 5210/25/28/29
Tiptronic-Saugsteuerungsanzeige 5240
Saug-Fernsteuerungsanzeige 5245
Filterwechselanzeige
Öffnungstaste für Zubehörfach
Öffnungstaste für Staubraum
Schlauchanschluß
Tragegriff
Anschluß (für den Einsatz von Elektroteilen)
5225/28/29/40/45
Feststellposition für Rohr und Düse 5210. Feststellposition
und Bereitschaftsfunktion 5225/28/29/40/45
HEPArefilteranzeige 5240/45
Ein-/Aus-Schalter
Stellhilfe für nicht benutzte Bodendüse und
Verlängerungsrohre
Fernsteuerung mit Ein-/Aus-Taste, elektronischer
Saugsteuerung und Max.-Taste für besonders starke
Saugleistung 5245
For healthier homes
k
J
p
q
r
10
Die besten Ergebnisse erzielen:
Teppiche: Bodendüse mit Pedal in dieser Stellung verwenden.
Glatte Böden: Bodendüse mit Pedal in dieser Stellung
verwenden.
Der Mikrofilter 5210 sollte jeweils nach fünf Staubbeuteln
ausgewechselt werden.
Auswechseln des Mikrofilters:
Lose Teppiche/Gardinen/leichte Stoffe: Saugleistung
reduzieren. Bodendüse für lose Teppiche und Polsterdüse für
Gardinen, Kissen usw. verwenden.
D) Filterabdeckung öffnen.
E) Filterteil entfernen. Neues Filterteil einsetzen und Abdeckung
wieder schließen.
Lampen, Bilder und Bücherregale: Saugpinsel verwenden.
Der HEPA sollte bei Aufleuchten der Anzeige 5240/45 oder ca.
zweimal im Jahr 5228/29 gereinigt werden.
Enge Räume: Fugendüse für Ritzen, Ecken und Heizkörper
verwenden.
Filterwechselanzeige und Auswechseln des Staubbeutels
Optimale Leistung ist nur möglich, wenn volle Staubbeutel
rechtzeitig ausgewechselt werden. Die Filterwechselanzeige
wird beim Füllen des Staubbeutels allmählich rot und ist bei
vollem Staubbeutel ganz rot. Wenn der Staubbeutel im
Staubsauger aus Versehen reißt, lassen Sie den Staubsauger
in einer Electrolux Kundendienstzentrale reinigen.
Zum Prüfen der Filterwechselanzeige muß der Staubsauger
eingeschaltet sein. Alle Geräteteile müssen angeschlossen
sein und dürfen keinen Bodenkontakt haben.
Die Anzeige für einen vollen Staubbeutel kann auch auf einen
verstopften Staubbeutel hinweisen (gelegentlich durch sehr feinen
Staub verursacht). Eine Verstopfung reduziert die Saugleistung
und könnte zu Überhitzung führen. In diesem Fall den Staubbeutel
auswechseln, auch wenn er noch nicht ganz voll ist.
Auswechseln des Staubbeutels:
A) Öffnungstaste des Straubraumes betätigen und Abdeckung
öffnen.
B) Gleitlasche herausziehen und Staubbeutel entfernen.
C) Zum Einlegen des neuen Staubbeutels diesen in die
Führungshalterung schieben. Abdeckung schließen.
Wir empfehlen den Staubbeutel auszuwechseln:
* nach Verwendung eines Teppichreinigungspulvers
* wenn ein vom Staubsauger ausgehender, unangenehmer
Geruch feststellbar ist; in diesem Fall sollten Sie auch den
Filter auswechseln
Hinweis: Nur Originalstaubbeutel und -filter von Electrolux
verwenden: Staubbeutel (ref. E41) – Motorschutzfilter
(ref. EF19) Mikrofilter (ref. EF17) Waschbarer,
wiederverwendbarer HEPA-Filter (ref. EF25a)
Staubbeutel-Sicherheitsvorrichtung
Um eine Beschädigung des Geräts zu vermeiden, nicht ohne
Staubbeutel verwenden. Der vorhandene
Sicherheitsmechanismus verhindert ein Schließen der
Abdeckung ohne eingelegten Staubbeutel. Nicht versuchen,
die Abdeckung mit Gewalt zu schließen.
Auswechseln der Filter
Ihr Excellio-Staubsauger ist mit zwei Filtern ausgestattet.
Den Staubsauger nie ohne Filter benutzen. Der Motorschutzfilter
sollte ca. zweimal im Jahr ausgewechselt werden (bzw. bei
Bedarf häufiger).
Auswechseln des Motorschutzfilters:
A) Öffnungstaste betätigen und Abdeckung öffnen.
B) Halterung anheben und Filter entnehmen.
C) Neuen Filter einsetzen und Halterung wieder aufsetzen.
Abdeckung schließen.
Reinigen des HEPA:
F) Filterabdeckung öffnen und Filterteil entnehmen.
G) (Verschmutzte) Filterinnenseite nur unter fließendem Wasser
ausspülen. Keine Reinigungsmittel verwenden und die
emfindliche Filterfläche nach Möglichkeit nicht
berühren. Zum Entfernen von Wasserresten leicht gegen
Filterrahmen klopfen. Reinigungsvorgang viermal
wiederholen. Filter an der Luft trocknen lassen. Die
ursprüngliche Filterleistung wird damit wiederhergestellt.
Filterteil wieder in den Staubsauger einsetzen und
Abdeckung schließen.
Fehlersuche und -behebung
1. Strom: Sollte keine Stromzufuhr vorhanden sein, Netzstecker
rausziehen und entsprechende Stecker, Kabel und Sicherungen
überprüfen.
2. Verstopfung/verschmutzte Filter: Der Staubsauger kann
sich bei einer schweren Verstopfung oder übermäßigen
Filterverschmutzung selbst abschalten. In diesen Fällen
Staubsaugerstecker aus der Steckdose ziehen und Gerät 20-30
Minuten abkühlen lassen. Verstopfung entfernen bzw. Filter oder
Staubbeutel auswechseln und Staubsauger wieder einschalten.
Das Säubern verstopfter Schläuche ist nicht durch die
Garantieleistung gedeckt. Um Verstopfungen zu vermeiden und eine
wirksame Saugleistung zu gewährleisten, sollten die Bodendüsen
regelmäßig mit Hilfe des Schlauchgriffs abgesaugt werden.
Bitte auch die zusätzlichen Electrolux-Informationen weiter
hinten in dieser Anleitung lesen.
3. Wasser: Wenn Wasser in den Staubsauger aufgesaugt wird,
muß der Motor in einer Electrolux Kundendienststelle
ausgewechselt werden.
Wechseln Sie leere Batterien der Fernbedienung 5245 aus. Wir
empfehlen den Einsatz von Stahlakkus. Hinweis: Entsorgen Sie
die Batterien nicht mit anderen Abfällen. Werfen Sie sie in einen
speziellen Recycling-Behälter. Wenn die Batterien leer sind,
können Sie den Staubsauger durch Drücken der Taste an der
Feststellposition starten.
Falls Sie irgendwelche Anmerkungen zu dem Gerät oder der
Bedienungsanleitung haben, wenden Sie sich bitte an an
unsere E-mail Adresse: [email protected]
The
Global Appliance Company
Français
5210 • 5225 • 5228 • 5229 • 5240 • 5245
Electrolux propose une gamme d'aspirateurs possédant des
caractéristiques et des accessoires différents. Veuillez vous
reporter au numéro du modèle lorsque vous lisez cette
brochure.
A
C
D
L
O
G
H
I
Les accessoires de votre Excellio
Sacs à poussière
Tube télescopique
Tuyau flexible avec réglage de débit d'air sur la poignée
5210/25/28/29/40
Tuyau flexible avec commandes à distance 5245
E
Suceur combiné tapis/sols durs 5210/25/28/29
Suceur combiné tapis/sols durs 5240/45
Suceur long
Petit suceur
Brosse meubles
L'aspirateur Excellio d'Electrolux est réservé uniquement à l'utilisation
domestique et a été conçu pour assurer une sécurité et des
performances maximales. Veuillez suivre ces simples précautions :
L'Excellio a une double isolation et ne doit donc pas être
raccordé à la terre
C
E
F
G
H
I
L'Excellio ne doit être utilisé que par des adultes
Toujours ranger l'aspirateur dans un endroit sec
J
Ne pas aspirer de liquides
K
Ne pas aspirer d'objets pointus
L
Ne pas aspirer de braises chaudes ou de mégots
incandescents
M
Ne jamais aspirer à proximité de gaz inflammables
N
Éviter de tirer sur le cordon d'alimentation et vérifier
régulièrement qu'il ne soit pas endommagé
O
A noter : Ne pas utiliser votre aspirateur avec un cordon
endommagé. Si le cordon est endommagé, il doit être
remplacé par un centre service agréé Electrolux
Q
P
Y
I
A
B
C
d
D
E
e
g
c
F
G
i
k
H
Débrancher l'appareil avant toute opération d'entretien
Toutes les révisions et réparations doivent être effectuées par
le personnel des centres services agréés Electrolux
Mise en marche
• Vérifier que le sac à poussière et les filtres sont en place.
• Insérer le tuyau flexible jusqu'à ce que le cliquet s'enclenche.
(Appuyer sur le cliquet vers l'intérieur pour le dégager).
• Raccorder le tube télescopique sur la poignée du flexible et au
suceur tapis/sols durs en les poussant ensemble. Pour démonter
5210/25/28/29 tourner et séparer en tirant. Pour démonter
5240/45 pousser le cliquet d'enclenchement et séparer en tirant.
• Tirer sur le cordon d'alimentation et le brancher sur le secteur.
Le 5210 est équipé d'un enrouleur automatique. Il suffit d'appuyer
sur la pédale pour enrouler le cordon. Les modèles
5225/28/29/40/45 sont équipés d'un enrouleur Autoreverse
Combiné. Avec le bouton en position, il fonctionne comme un
enrouleur confort. Le cordon s'enroule et se déroule
Votre Excellio possède les caractéristiques
suivantes :
X Cordon d'alimentation
A
B
D
Assurer votre sécurité
L
M
N
O
P
Q
R
S
T
U
W
automatiquement. Avec le bouton en position QR, le cordon peut
être verrouillé en position déroulée. Mettre le bouton en position Q
pour enrouler le cordon.
• Appuyer sur la pédale marche/arrêt pour la mise en marche de
l'aspirateur. Pour les modèles 5245, il faudra également actionner
le bouton Marche/Arrêt sur la poignée du flexible.
• Pour augmenter/réduire l'aspiration, régler les variateurs de
puissance sur le corps de l'aspirateur 5210/25//28/29/40. Sur
5245 équipés de commandes à distance, régler la puissance
d'aspiration en actionnant les touches "+" et "-". Appuyer sur le
bouton "MAX" pour obtenir une aspiration plus forte. Pour
retourner au niveau d'aspiration sélectionné auparavant, appuyer
sur le bouton "+" ou "-". NB. : La commande à distance est
destinée uniquement à un usage domestique. Sur les modèles
5210/25/28/29/40, la puissance peut être modulée à l'aide du
régulateur situé sur la poignée du flexible.
k
J
p
q
r
Pédale d'enrouleur de câble 5210
Enrouleur autoreverse combiné 5225/28/29/40/45
Variateur électronique de puissance 5210/25/28/29
Variateur de puissance à impulsion 5240
Recepteur commande à distance 5245
Indicateur de remplissage du sac à poussière
Cliquet de dégagement du couvercle du compartiment
d'accessoires
Cliquet de dégagement du couvercle du compartiment du
sac à poussière
Raccord pour tuyau flexible
Poignée de transport
Prise (pour brosse électrique) 5225/28/29/40/45
Position "Parking" pour tube et suceur 5210
Position "Parking" et veille 5225/28/29/40/45
Indicateur de colmatage du Filtre HEPA 5240/45
Pédale marche/arrêt
Position "Parking" vertical
Poignée de commandes à distance avec Marche/Arrêt,
Variateur de puissance et position max 5245
Comment obtenir les meilleurs résultats
Moquettes : Utiliser le suceur combiné avec le levier dans
cette position.
Sols durs : Utiliser le suceur combiné avec le levier dans cette
position.
Tapis/rideaux/tissus légers : Réduire la puissance
d'aspiration. Utiliser le suceur combiné pour les tapis et le petit
suceur pour les rideaux, les coussins etc.
Lampes, tableaux et rayons de bibliothèque : Utiliser la
brosse meubles.
Espaces restreints : Utiliser le suceur long pour les fentes,
les coins et les radiateurs.
Indicateur de remplissage du sac à poussière et
comment changer le sac à poussière
Pour un fonctionnement optimal, il convient de changer le sac
à poussière lorsqu'il est plein. L'indicateur de remplissage du
For healthier homes
sac à poussière deviendra rouge à mesure qu'il se remplit, et il
sera complètement rouge lorsqu'il sera plein. Si le sac à
poussière se rompt accidentellement dans l'aspirateur, il faut le
faire nettoyer dans un centre service agréé Electrolux.
Pour vérifier le sac à poussière, l'appareil doit être branché,
avec les accessoires raccordés et non en contact avec le sol.
L'indicateur de remplissage du sac à poussière peut indiquer
que le sac est colmaté (de temps à autre ceci est causé par de
la poussière très fine) ce qui entraîne une perte d'aspiration et
peut provoquer une surchauffe. Si ceci se produit, il convient
de changer le sac à poussière même s'il n'est pas plein.
Lorsque vous aspirez des poussières très fines, de la farine ou
d'autres particules semblables, les pores du sac à poussière
se colmatent rapidement, surtout si vous utilisez un sac vide.
Pour diminuer cet effet, il est conseillé d'aspirer, au préalable, la
valeur d'une poignée de coton.
Pour changer le sac à poussière :
A) Dégager le cliquet et rabattre le couvercle.
B) Tirer sur la patte glissante pour enlever le sac à poussière.
C) Mettre en place le sac neuf en faisant glisser les ergots
dans le support prévu à cet effet. Fermer le couvercle.
Nous recommandons de changer le sac à poussière :
* après l'utilisation d'une poudre de nettoyage pour moquette
* si une mauvaise odeur émane de l'aspirateur, alors vous
devez aussi changer les filtres
Note : N'utiliser que des sacs à poussière et des filtres
originaux Electrolux : Sac à poussière (réf. E15 ou E18)
Filtre de protection du moteur (réf. EF19) Microfiltre (réf.
EF17) – Filtre HEPA lavable et réutilisable (réf. EF25a)
Si vous rencontrez des difficultés pour l'achat des sacs à
poussière et des filtres, ou pour avoir l'adresse du Centre
Service Agréé le plus proche de votre domicile, téléphonez au
Service Conseil Consommateurs : 03 44 62 24 24.
ELECTROLUX L.D.A. - 43, avenue Félix Louat - 60300 SENLIS
Tel : 03 44 62 24 24
Télex : 155530 ELUX FR Télécopieur : 03 44 62 23 94
SNC au capital de 1 000 000 F. - R.C.S SENLIS B 409 547 585
Sécurité de présence du sac à poussière
Afin d'éviter d'endommager l'aspirateur, ne jamais l'utiliser
sans sac à poussière. Il est muni d'un dispositif de sécurité
pour empêcher que le couvercle ne se referme sans sac à
poussière. Ne jamais essayer de fermer le couvercle en forçant
Changer les filtres
Votre aspirateur Excellio contient deux filtres. Il ne faut jamais
utiliser l'aspirateur sans que les filtres de protection soient en
place. Il convient de changer le filtre de protection du moteur
deux fois par an en moyenne (ou plus fréquemment si
nécessaire).
Pour changer le filtre de protection du moteur :
A) Dégager le cliquet et rabattre le couvercle.
B) Soulever le support et enlever le filtre.
C) Installer le nouveau filtre et replacer le support.
Fermer le couvercle.
Il convient de changer le microfiltre 5210 tous les cinq sacs à
poussière.
12
Pour changer le microfiltre :
D) Ouvrir le couvercle du filtre.
E) Jeter le filtre usagé. Mettre un filtre neuf complet et fermer
le couvercle.
Il convient de nettoyer le filtre HEPA lorsque le voyant
lumineux est allumé 5240/45 ou deux fois par an en moyenne
5228/29.
Pour nettoyer le filtre HEPA :
F) Ouvrir le couvercle et enlever le filtre.
G) Rincer l'intérieur du filtre (côté sale) uniquement à l'eau du
robinet. S'abstenir d'employer des produits de
nettoyage et éviter de toucher la surface délicate du
filtre. Tapoter le cadre du filtre pour enlever l'eau superflue.
Répéter le nettoyage quatre fois et laisser sécher le filtre à
l'air. Celui-ci a maintenant retrouvé sa capacité de filtrage
originale. Le remettre dans l'aspirateur et fermer le
couvercle.
Gestion des pannes
1. Alimentation : Si le courant électrique n'arrive pas,
débrancher l'appareil et vérifier les prises, le câble et les
fusibles si nécessaire.
2. Blocages/filtres sales : L'aspirateur peut s'arrêter en cas
de blocage grave ou si un ou des filtre(s) est/sont
excessivement sale(s). Dans de tels cas, débrancher l'appareil
et laisser refroidir pendant 20-30 minutes. Enlever ce qui cause
le blocage et/ou remplacer le(les) filtre(s) et remettre l'appareil
en marche.
Veiller à ce que la grille de sortie d'air ne soit pas bloquée ou
obstruée lors du nettoyage des escaliers ou d'espaces étroits.
Le débouchage des tuyaux flexibles bloqués n'est pas couvert
par la garantie. Afin d'éviter les blocages et maintenir
l'efficacité de l'aspiration, le suceur combiné doit être
régulièrement nettoyé en utilisant la poignée du tuyau flexible.
Veuillez également vous reporter à la fin de cette brochure pour
plus d'informations sur Electrolux.
3. Eau : Si de l'eau est aspirée dans l'aspirateur, il est
nécessaire de changer le moteur dans un centre service agréé
Electrolux.
Changer les piles dans le module télécommandé 5245
lorsqu'elles sont épuisées. Nous recommandons des piles
alcalines. A noter : S'abstenir de jeter les piles parmi les
autres détritus. Veuillez les placer dans un conteneur de
recyclage. Si les piles sont épuisées, vous pouvez mettre en
marche l'aspirateur en appuyant sur la rainure de la position
veille.
Si vous avez des remarques concernant cet aspirateur ou ce
mode d'emploi, vous pouvez nous les envoyer par internet à :
[email protected]
The Global Appliance Company
Electrical supply (UK and Ireland only)
Before you start … check the voltage
Before connecting the cleaner to an electrical supply ensure that the
voltage marked on the data plate (on the underside of the cleaner)
is correct for your electrical supply. If it is not, do not use the cleaner
but refer back to your dealer.
Connecting to your electricity supply
Permanently connected to the cleaner is a mains supply (2-core)
cable fitted with a non-rewirable plug incorporating a 13A fuse.
In the event of the fuse requiring replacement the fuse cover should
be removed using a small screwdriver. The old fuse MUST be
replaced by a 13A ASTA approved BS1362 fuse and the fuse cover
must be replaced before the plug is used again. In the event of loss
of the fuse cover, replacements can be obtained from your
Electrolux dealer or Electricity Board and must be of the same
colour as indicated by the coloured insert on the base of the plug.
If difficulty is experienced in obtaining a replacement, contact your
nearest Electrolux Service Centre. (Please see the separate
Electrolux Service Organisation leaflet).
In no circumstances must the plug be used without a correct
fuse cover fitted.
If the plug that is fitted to your appliance is not suitable for your
socket outlet, it must be cut off and the appropriate plug fitted.
Remove the fuse from the cut off plug. The cut off plug should then
be disposed of to prevent the hazard of shocks in case it should be
plugged into a 13 amp socket in another part of your home.
The wires in the mains cable of this appliance are coloured in
accordance with the following code:
Blue:
Neutral.
Brown:
Live.
As the colours of the wires in the mains cable of this appliance may
not correspond with the coloured markings identifying the terminals
in your plug, proceed as follows:
The wire which is coloured blue must be connected to the terminal
which is marked with the letter N or coloured black.
The wire which is coloured brown must be connected to the
terminal which is marked with the letter L or coloured red.
Page 63
If using a three-pin plug, do not make any connection to the terminal
marked with the letter E or by the earth symbol
or coloured
green or green-and-yellow. This cleaner is double insulated and no
earth connection is necessary.
It is in your interest to ensure that the plug is correctly attached to
the mains cable. In case of doubt, have it done by a qualified
electrician, as Electrolux cannot regard the repair of faults on the
plug connection as a service that can be given free of charge under
the terms of the guarantee.
As a general guide to fitting any plug
• Ensure the lengths of wire inside the plug are prepared correctly.
• Connections should be firmly made after all conductor strands
are entered into the terminal posts.
• When preparing the cable ends take care not to damage the
outer sheath, or the insulation surrounding the inner conductors.
• Tighten all screws.
• Replace the top cover of the plug and secure.
English: Electrolux decline all responsibility for all damages arising
from any improper use of the appliance or in cases of tampering
with the appliance.
Italiano: L'Electrolux declina ogni responsabilità per i danni
derivati dall'uso improprio dell'apparecchio o se stesso è stato
manomesso.
Electrolux reserve the right to alter product appearance and/or
specifications without notice. Not all models featured are available
in all countries.
L'Electrolux si riserva il diritto di modificare l'aspetto del prodotto
e/o le sue caratteristiche tecniche senza preavviso. Non tutti i
modelli descritti sono disponibili in tutti i Paesi.
Electrolux vacuum cleaner features and accessories are protected
worldwide by Patents or Registered Designs.
Le caratteristiche e gli accessori degli aspirapolvere Electrolux sono
protetti in tutto il mondo da brevetti o come modelli depositati.
Deutsch: Electrolux übernimmt keine Verantwortung für Schäden,
die durch den unsachgemäßen Einsatz des Geräts oder unbefugten
Eingriff in den Staubsauger entstehen.
Português: A Electrolux não aceita qualquer responsabilidade por
danos resultantes do uso impróprio do aparelho ou em casos de
interferência indevida com o mesmo.
Electrolux behält sich das Recht vor, Form bzw. Eigenschaften des
Geräts ohne Vorankündigung zu ändern. Alle abgebildeten Modelle
sind nicht in allen Ländern erhältlich.
A Electrolux reserva-se o direito de alterar o aspecto do produto
e/ou as especificações sem qualquer aviso. Nem todos os modelos
apresentados estão disponíveis em todos os países.
Electrolux Staubsaugereigenschaften und Zubehörteile sind
weltweit durch Patente oder eingetragene Designs geschützt.
As características e acessórios dos aspiradores Electrolux estão
protegidos mundialmente por Patentes ou Designs Registados.
Français: Electrolux décline toute responsabilité concernant tous les
dommages découlant d'une mauvaise utilisation de l'appareil ou
en cas de modification de l'appareil.
Nederlands: Electrolux wijst alle verantwoordelijkheid af voor
eventuele schade die voortkomt uit het niet-geëigend gebruik van
het apparaat of in gevallen waarbij op het apparaat krachtig wordt
gedrukt.
Electrolux se réserve le droit de modifier l'aspect du produit et/ou
les caractéristiques sans préavis. Tous les modèles présentés ne
sont pas disponibles dans tous les pays.
L'aspirateur Electrolux et ses accessoires sont protégés dans le
monde entier par des Brevets ou des Modèles Déposés.
Electrolux behoudt zich het recht voor om het uiterlijk van het
product of specificaties zonder wederbericht te veranderen. Alle
modellen die besproken worden zijn niet verkrijgbaar in alle landen.
De functies van de Electrolux stofzuiger zijn beschermd door
patenten of gedeponeerde ontwerpen.
Español: Electrolux declina toda responsabilidad de cualquier daño
ocasionado por el uso incorrecto de este aparato o en casos en que
se haya reformado indebidamente.
Dansk: Electrolux fralægger sig ethvert ansvar for skader forårsaget
af forkert brug af støvsugeren samt ændringer udført på apparatet.
Electrolux se reserva el derecho de alterar la apariencia del
producto y/o las especificaciones sin previo aviso. No todos los
modelos presentados se hayan a disposición en todos los países.
Electrolux forbeholder sig ret til at udføre ændringer på produktets
udformning og/eller specifikationer uden varsel. De beskrevne
modeller er ikke alle til rådighed i alle lande.
Las funciones del aspirador y los accesorios Electrolux están
protegidos en todo el mundo por Patentes o Diseños Registrados.
Electrolux støvsugerens udstyr og tilbehør er beskyttet globalt
under patenter eller registrerede varemærker.