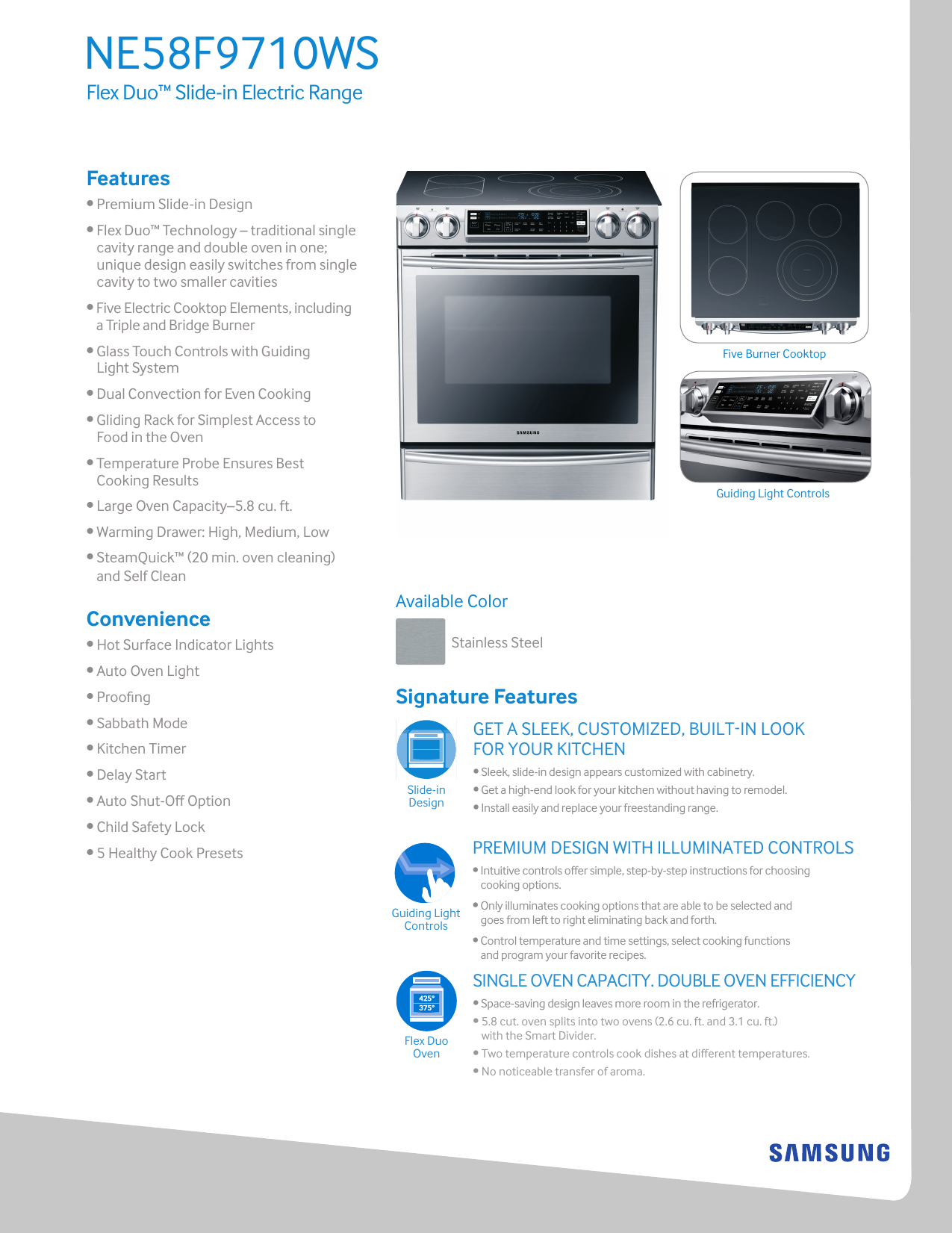 NE58F9710WS
Flex Duo™ Slide-in Electric Range
Features
• Premium Slide-in Design
• Flex Duo™ Technology – traditional single
cavity range and double oven in one;
unique design easily switches from single
cavity to two smaller cavities
• Five Electric Cooktop Elements, including
a Triple and Bridge Burner
• Glass Touch Controls with Guiding
LightRange
System
Slide-in Electric
NE58F9500SS
• Dual Convection for Even Cooking
CORE MESSAGING
Five Burner Cooktop
Available Colors:
Stainless
Steel
• Gliding Rack for Simplest Access to
Food in the Oven
• Temperature Probe Ensures Best
Cooking Results
Get
a custom look with a Slide-in range
• Large Oven Capacity–5.8 cu. ft.
Guiding Light Controls
• Warming Drawer: High, Medium, Low
• SteamQuick™ (20 min. oven cleaning)
and Self Clean
Convenience
• Hot Surface Indicator Lights
Enjoy a sleek, built-in look with our
Slide-in Design. Get simple, step-bystep instructions
for choosing cooking
Available
Color
settings with Guiding Light Controls. And
cook multiple dishes at once with an
Stainless
extra-large
oven. Steel
• Auto Oven Light
Signature Features
• Proofing
• Sabbath Mode
GET
A SLEEK,
SLEEK, CUSTOMIZED, BUILT-IN LOOK
GET A
FOR
YOUR KITCHEN
CUSTOMIZED,
HIGH-END
• Kitchen Timer
• Delay Start
• Auto Shut-Off Option
Slide-in
Slide-in
Design
Design
FOR design
YOURappears
KITCHEN
•LOOK
Sleek, slide-in
customized with cabinetry.
• Get a high-end look for your kitchen without having to remodel.
• Install easily and replace your freestanding range.
• Child Safety Lock
PREMIUM DESIGN WITH ILLUMINATED CONTROLS
• 5 Healthy Cook Presets
(NE58F9710WS shown)
DESIGN
WITH
•PREMIUM
Intuitive controls
offer simple,
step-by-step instructions for choosing
cooking options. CONTROLS
ILLUMINATED
Guiding
Light
Guiding Light
Controls
Controls
• Only illuminates cooking options that are able to be selected and
goes from left to right eliminating back and forth.
• Control temperature and time settings, select cooking functions
and program your favorite recipes.
EXTRA-LARGE
OVEN
SINGLE
OVEN CAPACITY.
DOUBLE OVEN EFFICIENCY
YOU
TO
COOK
•ALLOWS
Space-saving
design
leaves
more room in the refrigerator.
DISHES
•MULTIPLE
5
.8 cut. oven splits
into two ovens (2.6 cu. ft. and 3.1 cu. ft.)
AT
withONCE
the Smart Divider.
Flexcu.
Duo
5.8
ft.
•
Two temperature controls cook dishes at different temperatures.
Oven
Large Capacity
• No noticeable transfer of aroma.
5.8
cu
ft.
NE58F9710WS
Flex Duo™ Slide-in Electric Range
Installing Your Range
30" minimum clearance between
the top of the cooking surface and
the bottom of an unprotected wood
or metal cabinet; or 24" minimum
when the bottom of the wood or metal
cabinet is protected by not less than
1/4" flame retardant millboard covered
with not less than no.28 MSG sheet
steel, 0.015" stainless steel, 0.024"
aluminum or 0.020" copper.
Electric Ceramic Cooktop
30"
30"
** 15"
• Right Front: 6/9/12", 3.0 KW
• Left Front: 7", 1.8 KW (bridge)
• Right Rear: 6", 1.2 KW
• Left Rear: 7", 1.8 KW (bridge)
• Center: 7", 100 W
Dual Oven (with Divider)
• Hidden Bake Element: 3000 W
• Bake: 175°F - 550°F
• Convection Bake: 175°F - 480°F
• Convection Roast: 175°F - 480°F
• Variable Broil (Low – High)
• Convection Element/Heater: 1250 W
• Proofing
• Sabbath Mode
** 18" minimum between the countertop
and the adjacent cabinet bottom.
Warming Drawer
IMPORTANT: To eliminate the risk of burns or fire caused by reaching over heated surface units, cabinet storage
space located above the surface units should be avoided. If cabinet storage is to be provided, the risk can be reduced
by installing a range hood that projects horizontally a minimum of 5" beyond the bottom of the cabinets.
• Capacity – 0.7 cu. ft.
• Heating Performance: 600 W (4 pass)
• Temperature Settings: High, Medium, Low
Warranty
One (1) Year All Parts and Labor
Five (5) Years Electric Cooktop
Product Dimensions & Weight (WxHxD)
Outside Dimensions:
31" x 36-36 4/5" (Adjustable) x 26 19/64"
Dimensions
Weight: 209 lbs.
31"
29 13/16"
/64"
Shipping Dimensions & Weight (WxHxD)
39
/64"
39
Dimensions:
32 7/8" x 43 45/64" x 30 1/8"
Weight: 234 lbs.
Color
Glass cooktop overlaps and sits on top of your
kitchen countertop to give a built-in look.
Cut out space for the range is 29 13/16 .
Stainless Steel
Model #
NE58F9710WS
UPC Code
887276988153
2.4"
Adjustable Height
36-364/5"
26 19/64"
Actual color may vary. Design, specifications, and color availability are subject to change without notice. Non-metric weights and measurements are approximate.
©2013 Samsung Electronics America, Inc. 85 Challenger Road, Ridgefield Park, NJ 07660. Tel: 800-SAMSUNG. samsung.com. Samsung is a registered trademark of Samsung Electronics Co. Ltd.

* Your assessment is very important for improving the work of artificial intelligence, which forms the content of this project