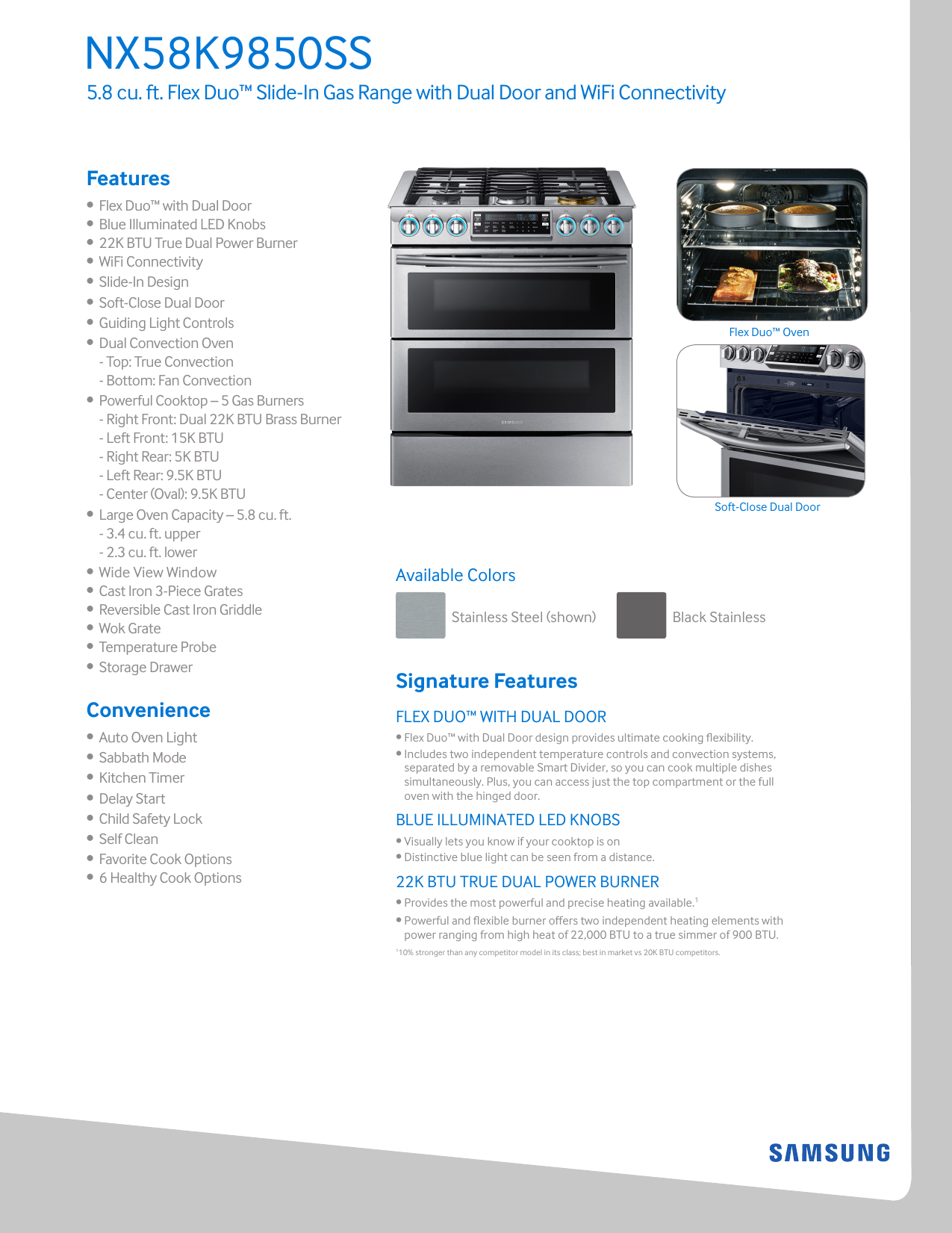 NX58K9850SS
5.8 cu. ft. Flex Duo™ Slide-In Gas Range with Dual Door and WiFi Connectivity
Features
•
•
•
•
•
•
•
•
•
•
•
•
•
•
•
•
Flex Duo™ with Dual Door
Blue Illuminated LED Knobs
22K BTU True Dual Power Burner
WiFi Connectivity
Slide-In Design
Soft-Close Dual Door
Guiding Light Controls
Dual Convection Oven
- Top: True Convection
- Bottom: Fan Convection
Powerful Cooktop – 5 Gas Burners
- Right Front: Dual 22K BTU Brass Burner
- Left Front: 15K BTU
- Right Rear: 5K BTU
- Left Rear: 9.5K BTU
- Center (Oval): 9.5K BTU
Large Oven Capacity – 5.8 cu. ft.
- 3.4 cu. ft. upper
- 2.3 cu. ft. lower
Wide View Window
Cast Iron 3-Piece Grates
Reversible Cast Iron Griddle
Wok Grate
Temperature Probe
Storage Drawer
Convenience
•
•
•
•
•
•
•
•
Auto Oven Light
Sabbath Mode
Kitchen Timer
Delay Start
Child Safety Lock
Self Clean
Favorite Cook Options
6 Healthy Cook Options
Flex Duo™ Oven
Soft-Close Dual Door
Available Colors
Stainless Steel (shown)
Black Stainless
Signature Features
FLEX DUO™ WITH DUAL DOOR
• Flex Duo™ with Dual Door design provides ultimate cooking flexibility.
• Includes two independent temperature controls and convection systems,
separated by a removable Smart Divider, so you can cook multiple dishes
simultaneously. Plus, you can access just the top compartment or the full
oven with the hinged door.
BLUE ILLUMINATED LED KNOBS
• Visually lets you know if your cooktop is on
• Distinctive blue light can be seen from a distance.
22K BTU TRUE DUAL POWER BURNER
• Provides the most powerful and precise heating available.1
• Powerful and flexible burner offers two independent heating elements with
power ranging from high heat of 22,000 BTU to a true simmer of 900 BTU.
10% stronger than any competitor model in its class; best in market vs 20K BTU competitors.
1
NX58K9850SS
5.8 cu. ft. Flex Duo™ Slide-In Gas Range with Dual Door and WiFi Connectivity
INSTALLING YOUR RANGE
* 30" minimum clearance between
the top of the cooking surface and
the bottom of an unprotected wood
or metal cabinet; or 24" minimum
when the bottom of the wood or metal
cabinet is protected by not less than
1/4" flame-retardant millboard covered
with not less than no.28 MSG sheet
steel, 0.015" stainless steel, 0.024"
aluminum or 0.020" copper.
Total Power (BTU)
61K BTU
31"
*30"
Power Source
120V/60Hz
Stainless Steel Five-Burner Cooktop (BTU)
** 18"
•
•
•
•
•
** 18" minimum between the countertop
and the adjacent cabinet bottom.
Right Front: 22K (Dual Brass Burner)
Left Front: 15K
Right Rear: 5K
Left Rear: 9.5K
Center (Oval): 9.5K
Oven: 5.8 cu. ft. Capacity
IMPORTANT: To eliminate the risk of burns or fire caused by reaching over heated surface units, cabinet storage
space located above the surface units should be avoided. If cabinet storage is to be provided, the risk can be reduced
by installing a range hood that projects horizontally a minimum of 5" beyond the bottom of the cabinets.
•
•
•
•
•
•
•
•
Upper Capacity: 3.4 cu. ft.
Lower Capacity: 2.3 cu. ft.
True Convection
Bake: 175°F–550°F
Variable Broil: Low-High (400°F - 480°F)
Convection Bake: 175°F–550°F
Convection Roast: 175°F–550°F
Sabbath Mode
Warranty
One (1) Year All Parts and Labor
Five (5) Years Gas Cooktop
Product Dimensions & Weight (WxHxD)
Dimensions
Actual Oven Dimensions:
25" x 19" x 21 1/8"
31"
29 15/16"
/64"
39
/64"
39
Outside Net Dimensions:
29 15/16" x 36 3/16" x 26 7/16"
Weight: 248 lbs.
Shipping Dimensions & Weight (WxHxD)
Glass cooktop overlaps and sits on top of your
kitchen countertop to give a built-in look.
Cutout space for the range is 29 15/16 .
Dimensions:
33 1/16" x 41 3/4" x 30 5/16"
Weight: 270 lbs.
Color
Model #
UPC Code
Stainless Steel
NX58K9850SS 887276132129
Black Stainless Steel NX58K9850SG 887276144368
2.4"
36 3/16"
26 7/16"
Actual color may vary. Design, specifications, and color availability are subject to change without notice.
Non-metric weights and measurements are approximate.
©2016 Samsung Electronics America, Inc. 85 Challenger Road, Ridgefield Park, NJ 07660. Tel: 800-SAMSUNG. samsung.com.
Samsung is a registered trademark of Samsung Electronics Co. Ltd.

* Your assessment is very important for improving the work of artificial intelligence, which forms the content of this project